Asheville: San Francisco of the East
Many different nicknames have been attributed to Asheville over the years. The quirky city in North Carolina's Blue Ridge mountains has long been known as an artistic oasis. It's one of the most artsy cities in the Southeast. In fact, it even ranked number 25 on the Top 30 Creative Small Cities List. Art galleries, studios, and a variety of performing art venues populate the small, yet bustling city. Exciting art festivals are always on the calendar, lending the city its' nickname of "San Francisco of the East."
Artists flock to Western North Carolina to take advantage of the beauty of this mountainous region. Surrounded by tranquil mountains and over 200 waterfalls, the area is quite visually inspiring. The creative spirt of the city and natural beauty of the Appalachians has easily made Asheville the artist haven of the South.
Below are a few great art related attractions and events to check out during your visit
River Arts District
This funky riverfront neighborhood is known for its' many artist studios. Back in the 80's, industrial buildings were put to good use via studio transformation. In 1994, the first studio stroll took place. Today, the River Arts District is the hub of everything creative. In May and November each year, over 200 studios open to the public in the district's largest event. From glass blowing demonstrations, to special classes, to ongoing events, there is always something going on. Most notably, on Second Saturdays, you can stroll the galleries while enjoying live demos, wine tastings, and live music.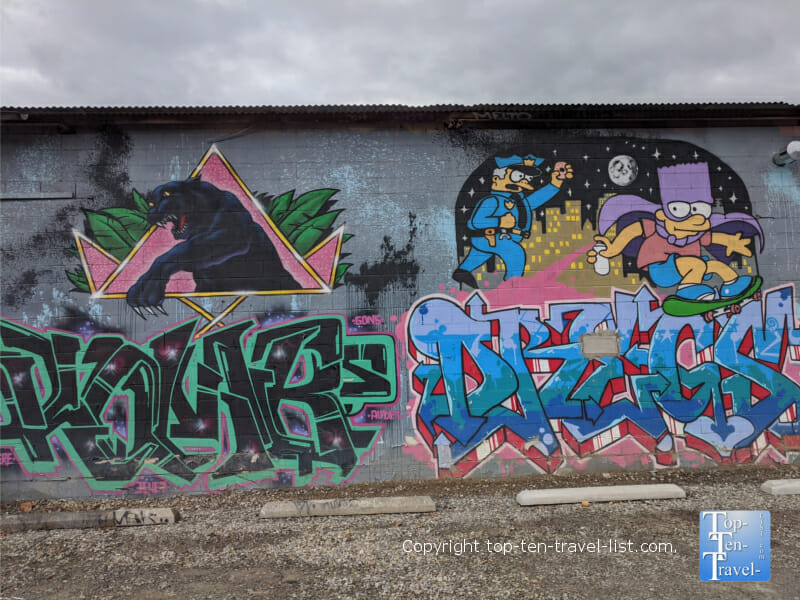 Definitely check out Foundation Woodworks, Jonas Gerard Fine Art gallery, and St. Clair Art Studio. As you take a stroll around, you will notice many, many colorful murals and graffiti art covering the buildings. Also while you are in the vicinity, there are numerous local breweries, coffee shops, and attractions to enjoy including Grind AVL, the Grail Moviehouse, and New Belgium Brewing. One of Asheville's most eclectic coffeehouses, Summit, resides in a reformed warehouse. They serve great coffee, pastries, and the vibe is unique. White Duck tacos, serving great tacos in a funky setting, is another tour favorite.
Woolworth Walk
The historic downtown Woolworth store, established in 1938, was transformed in 2000 into a massive gallery space. Today over 170 independent artists display their creative works here. It has become a tourist favorite over the years. No visit to downtown would be complete without taking a stroll through this creative wonderland. Prepare to feel inspired, motivated, and in awe by some of these outstanding works by local artists. For anyone seeking a unique decoration you can't find at a typical mall, Woolworths is the place for you. Just about every medium is represented here with beautiful pottery, paintings, jewelry and much more.
Also on site, you will find a retro 50's style diner known as The Soda Fountain, at one point the Woolworth Luncheonette. Here you can enjoy old fashioned ice cream sodas, floats, sundaes, and various other treats in a nostalgic setting. Besides a variety of ice cream treats, you can also fuel up with a sandwich, soup, salad, or burger.
Woolworth Walk artist directory
Grovewood Village
Conveniently situated adjacent to the prestigious resort, Grovewood Village is a wonderful add on activity if you are staying at the Omni, dining at the Blue Ridge Artisanal Buffet or grabbing a drink at the lobby bar. This historic gem was once site of the Biltmore Industries' weaving and woodworking operations. Since 1992, eight working artist studios have opened here. Today you can shop for unique art pieces, explore an antique car museum, take a self guided tour of the homespun museum, and explore a beautiful outdoor sculpture garden. A few of the unique sculptures…
History tours are available. Also, open studio art tours offer guests the unique opportunity to learn more about the creative process. Sister shop, Gallery of the Mountains, is located inside the Omni. Do take advantage of the wonderful breakfast buffet in the Blue Ridge dining room. Featuring floor-to-ceiling windows facing the mountains, Blue Ridge offers the top views in WNC. Plus, the food, service, and ambiance are all top knotch.
Read more about the history of Grovewood Village
Asheville Museum of Art
Although fairly small and pricey, the Asheville Museum of Art is worthy of a visit. Keep in mind that Bank of America card holders get in free the first full weekend of each month (Museums on Us program). The permanent collection highlights contemporary artwork of the 20th and 21st century with a focus on the
Southeast. Check the website for a list of upcoming Special exhibitions (a recent exhibition included works from the Andrew Wyeth family). Tip – be sure to take in the wonderful view via the top floor!
The Art museum is located within walking distance of many great local restaurants. One of my favorites is Mehfil Indian restaurant which offers an amazing lunch buffet at an affordable price. The buffet features numerous vegetarian and chicken based entrees, popular appetizers such as pakoras and tandoori veggies, delicious naan bread, and amazing rice pudding for desert. As a bonus, the design of this place is gorgeous, especially the colorful umbrellas adorned on the ceiling. A great compliment to a day at the museum.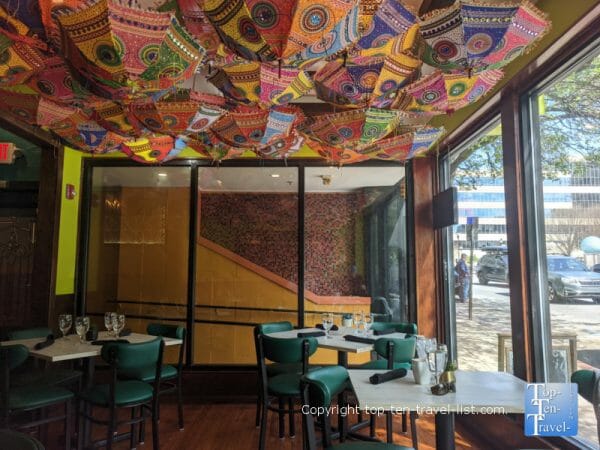 Kress Emporium
This unique hidden gem is many times overlooked by tourists. Featuring the works of over 100 regional artists, it's definitely worthy of a look by any art lover. From photography, to jewelry, to fashion and home goods, you will find just about everything and anything here. Every time I walk around I see so much originality and passion. Prices range from expensive to fairly affordable. There are many knick knacks and smaller pieces which you can save as later birthday, Christmas gifts, etc.
Whether or not you plan on doing any shopping, it's a must visit if just to treat your eyes to some outstanding works of art. Equally impressive as the more popular Woolworths, Kress is another one for the bucket list. Like the Woolworth, the Kress building also offers historical significance. At one point, the building stood as one of many S. H. Kress and Co. "five and dime" department store chains. The neoclassical building, built in 1928, was designed by architect E.J.T. Hoffman.
Kress Emporium artist directory
Downtown Asheville Art District
There are many unique galleries downtown to explore. The best time to check these out is during the First Friday Art Walks (Apr-Dec). A few of the best include: Momentum Gallery, Lexington Glass Works, Benjamin Walls Gallery, Mark Bettis Gallery, and Bender Gallery. The Downtown Asheville Arts District has a handy downloadable map available on their website. Also, you can pick one up at most galleries. Also be sure to take a self-guided tour along the Asheville Urban Trail. You will see 30 public art sculptures including "Cat Walk" featured above. See interactive map on their website for full details.
In addition to award-winning galleries, independent restaurants, coffee shops, and boutique shops populate the downtown. A few of my favorite local downtown dining options: Blue Dream Curry, Mehfil Indian, Jerusalem Garden Cafe, and High Five Coffee. Check out my full Asheville downtown dining guide.
Southern Highland Craft Guild
Southern Highland Craft Guild represents 800 local artists in 9 different Southeastern states. The Guild operates several galleries including one in Biltmore Village and another on Tunnel Road. Additionally, the Folk Art Center is one of the most popular stops on the Blue Ridge Parkway. Not only is the center worth visiting, but the drive over from Asheville is quite beautiful.
Inside the Folk Art center, you will find Allanstand Craft Shop (est. 1895), the oldest craft store in the US. Here you will find unique jewelry, pottery, textile, and glass pieces from more than 400 Southeastern artists. Daily craft demonstrations take place from March – December. Also of interest is a permanent collection featuring Appalachian crafts from from 1855 to the late 20th century.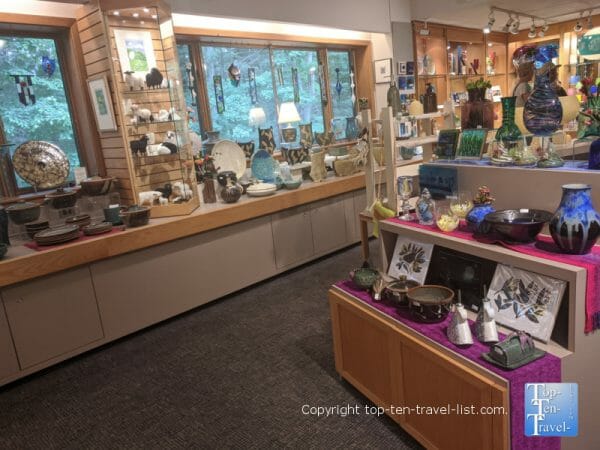 Read about the history of the Southern Highland Craft Guild
Bonus – A gorgeous section of the Mountains-to-Sea trail begins here. This lengthy trail runs along the Parkway for over 1000 miles, although you can complete a small section at the Folk Art Center. On an interesting side note, this was President Obama's hike of choice while vacationing in 2010.
Asheville art events & festivals
Downtown Asheville Art Walk – First Friday art walks take place between 5-8pm, April through December. During this time, you can take a self-guided tour of more than 20 galleries.
Art in the Park – This popular event is held on Saturdays on select dates in June and October. Local artists showcase at this event, so it's a great way to support the community. It's held in Pack Square and walkable to many great dining establishments. Pack's Tavern, Bargello, and Green Sage Cafe are all recommended.
National Gingerbread Competition – This beloved 30+ year old holiday tradition is held each December at the Omni Grove Park Inn. A panel of renowned judges (including celebrity chefs) judge the creative entries based on style, difficulty level, etc. Each gingerbread house must be 75% edible. Many of the houses are unbelievable! This is a must visit for art lovers. Note: non resort guests must pay a hefty parking fee.
See more pics from the National Gingerbread Competition
LEAF Festival – The 2 day summer festival features art, music, and food related activities. The event is held in Pack Square and admission is free. If you are up for a bit of competition, sign up for the Art Dash 5k. This eclectic run features art and music along the way.