Attraction of the Week: The National Gingerbread Competition at the Omni Grove Park Inn
At one point or another, we have all probably attempted to create the perfect gingerbread house only to end up with a crumpled disaster. Unfortunately, the image of the perfect looking gingerbread house featured on those kits is far from reality, with it being near impossible to recreate. Fortunately, you can view amazing gingerbread creations from talented artists via the National Gingerbread Competition, held annually at the Omni Grove Park in Asheville, North Carolina.
Now in its 28th year, the magnificent National Gingerbread Competition still continues to wow guests from around the world. This long-running tradition has been attracting top-knotch talent from around the country since its' inception. World-renown pastry chefs comprise the judging panel, handing out more than $25,000 in prizes based on a criteria of factors including uniqueness, difficulty, and precision.
Fans of the classic A Christmas Story will love this one!
This log cabin is truly amazing!
The really unique aspect of this gingerbread competition is that each house is truly unique. The majority of the displays are anything but standard, and the amount of creativity put into each individual design is truly astonishing. Although it doesn't always look the case, each house is 100% edible and made out of at least 75% gingerbread. All the houses are so wonderful – the judges really must of had their work cut out for them choosing the top 10 in each category!
2018 was a very impressive year, with winning creations ranging from an Alice in Wonderland teacup scene, to a cuckoo clock, to Monopoly game board.
The overall winner was a stunning creative interpretation of Santa's workshop. Take a look below at this marvelous creation.
As you stroll around the grounds of the resort, you will see a section dedicated to the top 10 in 3 categories (Teen, Youth, and Adult). Here are my 10 favorites across all categories, not including the fabulous creations mentioned above, which are nothing short of amazing as well. Although it was hard to narrow it down to just 10, these displays were both creative, difficult, and aesthetically pleasing to my eye.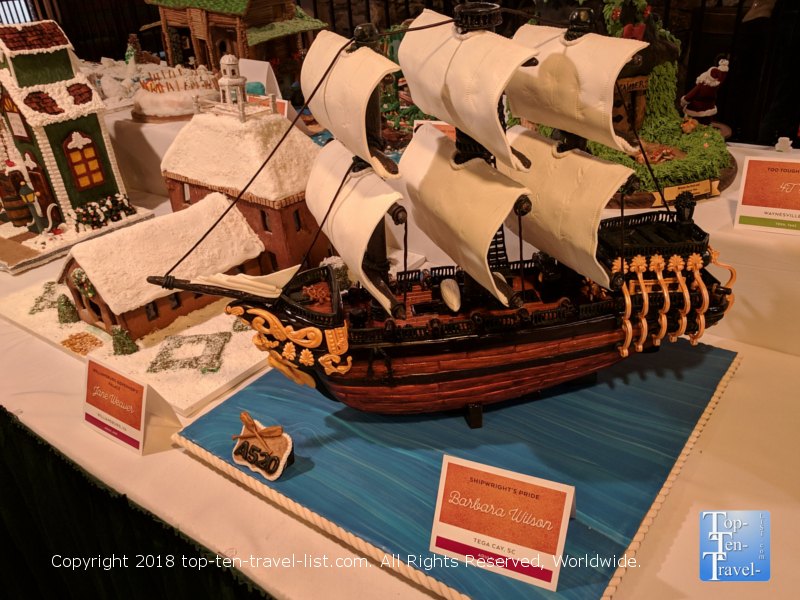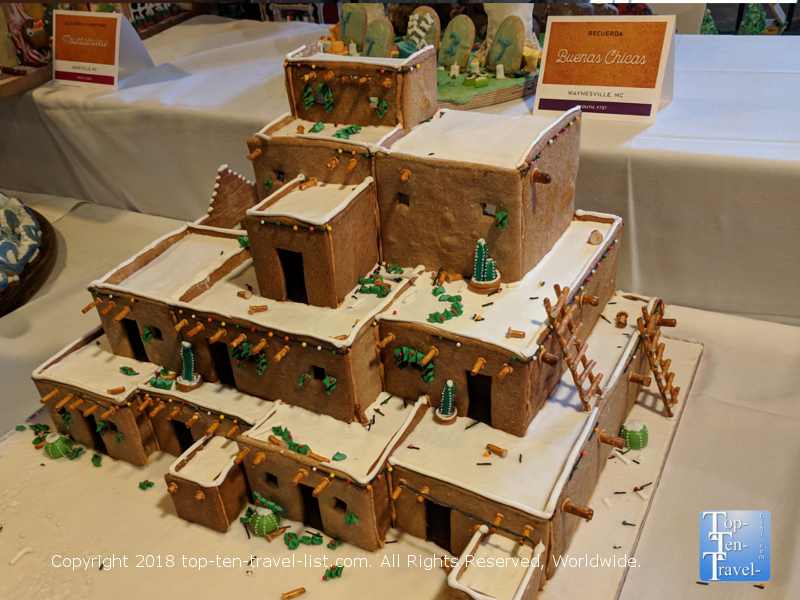 The Omni Grove Park resort really is stunning with majestic views of the Blue Ridge mountains in every direction. They also put up gorgeous Christmas decorations, both inside and outside the property.
There are 2 massive stone fireplaces where you can sit and relax with a homemade Salted Hot Cocoa from a cute little stand made completely out of gingerbread. This decadent hot chocolate has been voted one of the best in the country – at 10 bucks a glass, let's hope so!
Viewing times/parking info: The public is invited to view the entries the entire month of December, although a $25 parking fee is required.
What else to do while you are here:  Breakfast at the Blue Ridge Artisanal Buffet, which features stunning views of the mountains via floor-to-ceiling windows, is a nice accompaniment to a morning out at the resort. The buffet offers traditional breakfast foods as well as specialty selections like made-to-order omelets, fresh squeezed juices, a chia pudding bar & oatmeal bar, and even a doughnut bar!
Rooms at the resort are extremely pricey (not the best value IMO), and thus, it is probably a better value to simply view the houses, enjoy a hot cocoa by the fire, and enjoy a nice breakfast.
There are a number of boutique shops with great Christmas decor to stroll around.
Overall, anyone who loves gingerbread houses should place a trip to the Omni Grove Park high on their Christmas bucket list!