12 Must Try Restaurants in Asheville, North Carolina
Asheville is widely considered to be one of the best foodie cities in America, often ranking in the top ten destinations for food lovers. There are more than 100 restaurants downtown alone, plus 10+ craft breweries and many unique coffeehouses. The city receives tourist traffic from around the country with visitors eager to try out the eclectic offerings.
Food tours are one way to take in a little bit of the scene with the help of an expert guide. Or, for a cheaper alternative, spend the weekend indulging in the local food offerings. In addition to trendy fare, you will also find a number of well established restaurants. If you love expanding your culinary palate via new and adventurous foods, then Asheville is definitely the destination for you!
1. Vinnie's Neighborhood Italian
Highlight: Authentic Italian fare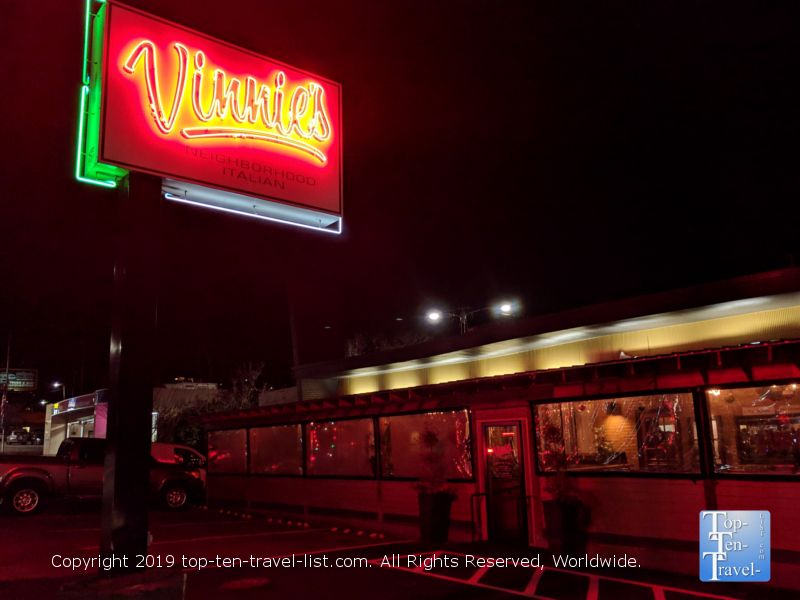 Vinnie's is the place to go for authentic Italian cuisine. On a cold windy winter day, nothing really tastes better than a comforting Italian dish. Vinnie's serves "old school" Italian fare in a cozy, laid-back dining room. The ambiance and food are reminiscent of something you would find in the Northeast, rather than the Carolinas.
All of the food is homemade and delicious. With so many enticing options, choosing which way to go can be an overwhelming experience. You really cannot go wrong with the pizza here – it's the best in town. As far as entrees go, treat yourself to the delicious Baked Ziti. Also be on the lookout for weekday specials like Lobster Ravioli on Mondays and Fresh made Gnocchi on Wednesdays. Overall, this is a fantastic restaurant with the best overall food, ambiance, and service in town.
2. Chai Pani
Highlight: Amazing Indian street fare
Chai Pani is a wonderful Indian restaurant specializing in authentic street fare. This place is a bit different than your typical Indian restaurant as there is no lunch buffet. Chai Pani translates into tea and water, which in India is slang for going out for a snack. At Chai Pani, you will get to test out Indian snacks and street fare for a most unique experience. This award winning restaurant has received much praise including a prestigious James Beard chef nomination. The focus on using healthy fresh ingredients and eco friendly materials is another bonus.
While there are many goodies on the menu, I recommend going with a Thali plate for new visitors. This meal includes a platter of regional dishes at an affordable price. You will pick either the veg or non-veg special of the day, which will be served alongside basmati rice, daal, raita, hand-made roti, kachumber, and papadum. So good!
3. Corner Kitchen
Highlight: Best breakfast in town
Corner Kitchen is a wonderful brunch choice away from the heavy downtown tourist traffic. The cozy restaurant is located in a historic home in lovely Biltmore Village. Thus, the quiet setting is just perfect for a relaxing breakfast experience.
Plan your visit during brunch hours for the best overall value and selection. If you are craving breakfast, go with the Biltmore Village Breakfast plate or the Toasted Almond Vanilla and Flax Seed Granola Bowl. They serve coffee from local roaster Pennycup, and it's endless, so you can relax a bit. If you are more in the mood for lunch, try the Tuna Croissant or the Portobello wrap.
4. Mela Indian Restaurant
Highlight: Affordable, diverse lunch buffet
Mela is the best choice in town if you are a fan of Indian cuisine. By far the best lunch value in town, their $10 all-you-can-eat buffet is a real steal. Here you can enjoy traditional Indian favorites like Vegetable Korma, Saag Paneer, Naan bread, pakoras, various soups, and side dishes. Plenty of vegetarian fare on the lineup so no one is left out. Also, the food offerings are spiced just right, not too mild, nor too hot. Mela specializes in Northern and Southern Indian cuisine, with a focus on using local/organic ingredients.
The setting here is beautiful with big windows looking out upon the downtown scene. The brick walls add a nice historic touch. This place is always clean and the buffet is well-maintained despite the busy afternoon crowds. Overall, Mela is a wonderful lunch option for anyone who loves Indian food or is eager to try it out for the first time. Mela is a great introductory Indian restaurant as the food isn't too spicy, the offerings are diverse, and the price is just right.
5. Laughing Seed Cafe
Highlight: 100% vegetarian
Laughing Seed is definitely the way to go if you are following a plant-based or vegetarian diet. The menu is almost entirely vegan, and 100% vegetarian. Unlike some vegetarian restaurants in which most entrees are raw, Laughing Seed offers a mix of raw and comfort style dishes. Also, instead of the typical weird vegan fare, Laughing Seed offers vegetanarized versions of popular mainstream dishes. The place is rather large and decorated quite nicely as opposed to the cramped bland decor you find at most veg restaurants.
The menu is really diverse with everything from raw salads, to enchiladas and curry dishes, to sandwiches on the diverse lineup. There really is not a more unique place in town for vegetarians. Where else can you enjoy a 100% vegetarian Sunday Brunch, seafood free Crab Cakes and Grits, and a creamy vegan truffle mac and cheese? A few great entrees to start with include a vegetarian version of the classic Farmer's Pie, French Onion soup, and a delicious Spinach Manicotti Pesto.
6. White Duck taco
Highlight: Creative tacos served a la carte
White Duck is a trendy a la carte taco shop where you can mix and match all sorts of eclectic tacos. First off, start with their chips and queso – the best app! If your visit falls during the winter, be sure to try out the Southwest corn chowder soup. As for the tacos, you will be treated to a host of options. From a Spicy Chicken buffalo, to Bangkok shrimp, to a vegan Banh Mi Tofu, there is a bit of something for everyone at White Duck. These tacos are stuffed to the brim and extremely filling – just 2 is is usually plenty!
The setting is extremely casual and the decor pleasing and colorful. This is a great place to kick back and enjoy a fun meal. Drink selections include margaritas, sangria, tecate, and a few craft beers. White Duck has that funky vibe that put Asheville on the map as a weird eclectic destination. This place is so popular that it has expanded to include locations in Nashville, Greenville, and Charlotte! It's a must try while in town!
7. Biscuit Head
Highlight: Self serve jam bar with a dozen plus flavors
You cannot leave the South without trying a cathead biscuit. These gigantic biscuits, "as big as a cat's head," are the best breakfast treat in town. While you will pay for it with a lengthy wait (a line often wraps around the building just after opening), Biscuit Head is Asheville's most iconic restaurant. The wait is worth it for one awesome biscuit. Order your biscuit with a gravy flight of your choosing, or pick and choose amongst flavorful jams (plus various honey and butter flavors) from the self service bar.
No matter how you like your biscuit (topped with honey, jam, butter, or gravy), you will likely come back for more before your vacation is over. The Half Breakfast deal which includes 2 eggs, a side, and a biscuit is definitely the best way to go here. And, for all those seeking vegan and gluten-free fare, no need to fret as there is still a biscuit for you (GF & vegan!) and even a delicious dairy free gravy!
8. Tupelo Honey
Highlight: Best southern style fare in town
Since opening in Asheville back in 2000, Tupelo has become one of the trendiest regional chains in the Southeast. Highlights at this Southern style eatery include scratch made Southern biscuits, and other southern staples like Sweet Potato Pancakes, Shrimp and Grits, and Low Country Catfish.
First off, you will be brought out a plate of piping hot biscuits, served alongside jam and honey. These really are the best part of the meal and really what brings many back time and time again. Brunch is the best meal here, and fortunately, served all day so you will never miss out! The Old Skool Breakfast Bowl which includes eggs, black eyed peas, cheddar cheese, potatoes, salsa, and cheese grits is definitely the way go go. And don't feel bad treating yourself to a stack of sweet potato pancakes.
If lunch is more your style, you cannot go wrong with the Farm Fresh Vegetable Plate. Pick 4 sides of your choosing (must trys include the mac and cheese and creamy tomato soup).
9. Blue Ridge Artisanal Buffet
HIghlight: Incredible mountain views
If amazing views is what you are after, look no further than any restaurant inside the luxurious Omni Park Grove Inn. This amazing property offers a bird's eye view of the mesmerizing Blue Ridge mountains. The Blue Ridge Artisanal Buffet is the resort's premier restaurant. Floor-to-ceiling windows overlook the mountains for the most awe inspiring setting in town. It's definitely a contender for the state's most scenic restaurant!
Fortunately, the food and service are just as noteworthy as the scenery. This is no ordinary breakfast buffet. You will find tons of extras here including a made-to-order omelet bar, a chia pudding and oatmeal station, a doughnut bar, and fresh squeezed juice drinks. The coffee is amazing too – no need to stop anywhere else. Service is always tremendous and the buffet is never too busy.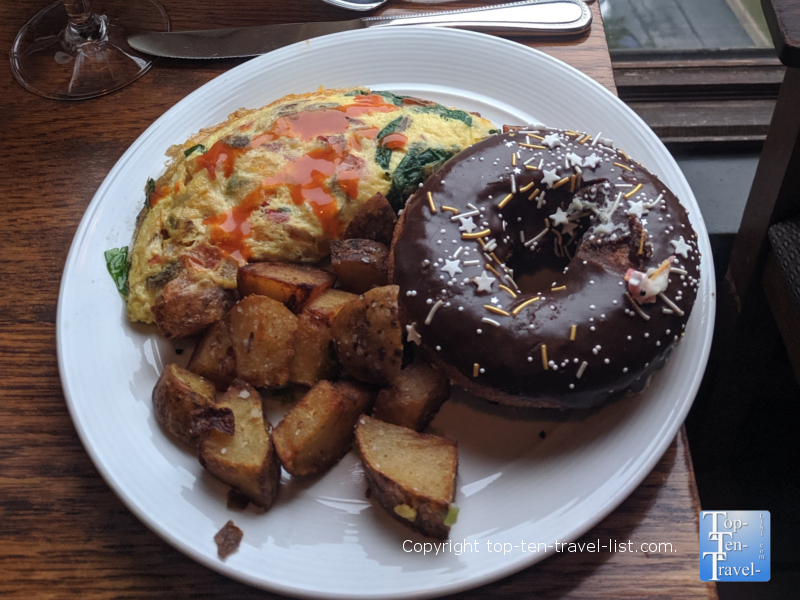 This is not a cheap buffet, however, you get what you pay for, namely great food, views, and service. Also be on the lookout for special holiday buffets (the Thanksgiving and Christmas buffets truly are extravagant!) and weekend seafood nights.
10. Moose Cafe
Highlight: Rustic southern ambiance
The Moose Cafe is the place to go if you are seeking a traditional Southern country style restaurant. Think Cracker Barrel. The ambiance is cozy and casual- perfect for anyone seeking a laid-back dining experience. The big draw here is an all-you-can-eat breakfast deal. For just 10 bucks, you can feast on as many eggs, potatoes, and biscuits as you want. The cute rustic decor and Southern hospitality make this one stand out a bit from the rest of the more sophisticated foodie style establishments in the city.
The cafe is located next to the Western North Carolina farmer's market which you should definitely swing by before or after your meal. The food is made fresh on-site using local ingredients from the market. If you love Southern style fare (and lots of it), you will love the Moose Cafe. Bonus: there is a cute gift shop on-site specializing in Southern style decor.
11. Well-Bred Bakery Cafe
Highlight: Best pastries in town
The Well-Bred Bakery Cafe is another great dining option in the Biltmore Village area. In fact, it is right across the street from the Corner Kitchen. If Corner Kitchen looks too busy, you can always hop across the street for equally delicious food. This cafe specializes in quick fare like pastries and quiche. Everything in the pastry case really is too tempting – it's no surprise that this place was voted the best bakery in Western North Carolina!
Making a final decision on just what to order will be the hardest part of visiting this amazing bakery. If you are craving something savory, I highly recommend the tomato and smoked gouda quiche. The breakfast burritos are another filling delicious choice. For those who prefer something sweeter to get started in the morning, there are endless options. Muffins, scones, coffee cake, pies, cakes, cookies…the diversity of choices is incredible. The French Toast casserole is one excellent option.
Gluten-free and vegan options are available and marked as so, so no one is left out! Also, locally roasted coffee and espresso drinks if you need a caffeinated boost. The setting is cozy and casual, and thus, perfect for anyone who wants to bypass anything too trendy and busy.
12. Apollo Flame Bistro
Apollo Flame is the place to go for Mediterranean fare in Asheville. Although the menu does not look like much, the food here is absolutely fantastic! I had one of the best pitas ever at this local gem. The Greek salads alone make this place worthy of a visit. Also keep and eye out for their daily specials – order the Baked Spaghetti, if available! And, if you have room left over (not likely!), treat yourself to an authentic Greek dessert!
The menu is diverse with a mix of Greek and Italian fare. Unfortunately, there are no traditional Greek favorites like spanakopitas on the lineup, however, still plenty of enticing choices. The decor is a bit limited, however, the space is clean and the ambiance and service are both very welcoming. Apollo is a great local family-run restaurant away from all the crazy downtown crowds!