8 Great Breakfast Destinations in Asheville
Before exploring any one of the 200+ waterfalls, the Blue Ridge Parkway, or beautiful hiking trails in Western North Carolina, you will want to fuel up with a healthy breakfast. The appeal of many of these outdoor destinations lies in their desolateness. Thus, due to a lack of commercialization, you will want to grab something to eat before you head out. Asheville (a great base for exploring the wonders of WNC) is a foodie destination with plenty of interesting choices across the culinary board. While a number of these top rated foodie establishments are highly overrated, there are a handful of gems to be found here and there.
Below are several fantastic breakfast restaurants to check out prior to your morning adventures.
1. All Day Darling
Highlights: Delicious pastries, amazing Shashuka, shady patio seating, serves award winning Counter Culture coffee
Vegan/GF options: Most items can be made GF and DF including pancakes and avocado/almond butter toast
Location: Montford neighborhood (102 Montford Ave)
This hidden gem in the historic Montford neighborhood serves specialty espresso drinks, plus a unique breakfast menu featuring specialty toasts, GF pancakes, fried chicken biscuits, and breakfast bowls. The highlight here is the Shashuka, a delicious Middle Eastern dish consisted of poached eggs in a savory tomato based sauce, served with pita bread and sautéed kale. A number of specialty toasts including mushroom & brie, smashed avocado, and almond butter with fresh fruits and oats, are a healthy alternative to the standard eggs, fried potatoes, and meat breakfast. Enjoy whole grain sourdough or opt for GF toast.
All Day serves award winning Counter Culture coffee, a roaster based out of Durham. In addition to the standard drip and espresso based drinks, a number of specialty options are on the lineup. The Golden Mocha (turmeric, chocolate, cardamom, ginger, espresso, and milk) is a nice immunity boosting choice. Another interesting selection is the Hemp Latte featuring CBD extract, honey, ginger, sea salt, and oat milk (note 18+ only).
All Day is located inside a beautiful space with large open windows. The setting is casual, so it's a perfect stop before enjoying the great outdoors. If the weather is nice, there is a relaxed shady patio to linger over a cup of coffee.
What to do nearby: Take a walk or bike ride around French Broad River Park. This shady riverside park connects to the 2.8 mile long French Broad River Greenway, a great place to enjoy a leisurely weekend workout in a pretty setting.
2. Ivory Road Kitchen
Highlights: A beautiful covered patio, scratch meals, affordable pricing, peaceful rustic location
Vegan/GF options: Items which can be made vegan are marked, GF bread available
Location: 1854 Brevard Rd, Arden, NC 28704
This charming local family-owned restaurant features a cozy setting and a beautiful patio for dining outside during the milder spring and fall seasons. Ivory Road is a fantastic choice for anyone who wants to explore the food scene outside of the busy downtown limits. This cafe is located near the North Carolina Arboretum, and thus, a great brunch choice prior to hitting the trails. The setting is very casual and relaxed, so you can come in pre-hike without worrying about a stuffy vibe.
The breakfast menu is quite small, although there are plenty of choices for everyone including a few vegetarian options. The best entree here is the Hash Soul bowl featuring roasted potatoes, roasted bell peppers and Brussel sprouts, your choice of meat or veggies, cheddar cheese, an optional fried egg, and siracha aioli. Add on a side of multigrain toast (served with jam and honey butter) and a cup of local coffee (from Asheville roaster High Noon). The Southern Skillet featuring cheddar cheese grits is another favorite. Ivory Road makes everything on-site and works with a variety of local companies.
What to do nearby: Explore the North Carolina Arboretum, home to a world class bonsai garden and 10 miles of maintained hiking trails.
3. Biscuit Head
Highlights: Amazing homemade cathead biscuits, self-service jam bar & gravy flights, allergy friendly
Vegan/GF options: Biscuits (GF & vegan option), 2 veggie gravies, 3 GF gravies, various sides
Location: Downtown Asheville (417 Biltmore Ave), west Asheville (733 Haywood Rd), south Asheville (1994 Hendersonville Rd)
"Put some south in your mouth" at longtime favorite Biscuit Head. Known for their humongous cathead biscuits, this tourist favorite (opened in 2013) has spread to include 3 Asheville locations. A line often begins to wrap around the building just after opening. The biscuits, although delicious enough plain, can be served alongside a gravy flight or topped with jams (from over a dozen flavorful options) of your choice via a self-service bar. The Half Breakfast special (2 eggs, a side, and a biscuit) is a real steal at just 6 bucks. In an overpriced tourist town, this is hands down the best breakfast value. GF/vegan biscuits, as well as a tasty vegan sweet potato coconut gravy will please those avoiding wheat/dairy.
If you are heading out early for a hike, consider visiting the less hectic South Asheville location. The food quality is the same, although the line is always much shorter. Take a seat on the covered patio, enjoy a cup of coffee from local roaster Pennycup, and enjoy the tastiest biscuit in town.
What to do nearby: Take a hike at the Collier Cove Preserve, a little known quiet gem featuring fantastic views of the Butler Mountain range via a moderately steep 1 mile hike.
4. Blue Ridge Artisanal Buffet at the Omni Park Grove Inn
Highlights: Amazing mountain views via floor-to-ceiling windows, excellent variety, omelet bar, delicious coffee
Vegan/GF options: Fresh squeezed juiced drinks, chia seed pudding, assorted GF pastries/bread
Location: Omni Park Grove Inn (290 Macon Ave)
For the best breakfast in town, along with the most picturesque views, there is no better choice than the Blue Ridge Artisanal Buffet at the luxurious Park Grove Inn. First off, the views here are tremendous – totally enchanting. Second, the food offerings are diverse & plentiful, with everything from juiced drinks, to donuts, to chia seed pudding on the lineup. The quality is actually quite good here versus a traditional buffet which tends to put all the focus on quantity. To top it off, their coffee is also excellent. Service is always professional and prompt.
A bit pricey at $28 bucks a person, but worth it for the terrific range of offerings and incredible vistas. After your meal, there are plenty of resort shops to browse. Take a coffee to go and enjoy the stunning mountain vistas from a vantage of viewpoints. If you feel like shelling out big bucks (it's not cheap!), consider a treatment at the award winning spa. Note – During the winter they host an incredible gingerbread competition. Around the holidays, you will want to view these artistic masterpieces and then treat yourself to a salted caramel hot cocoa by the massive fireplace.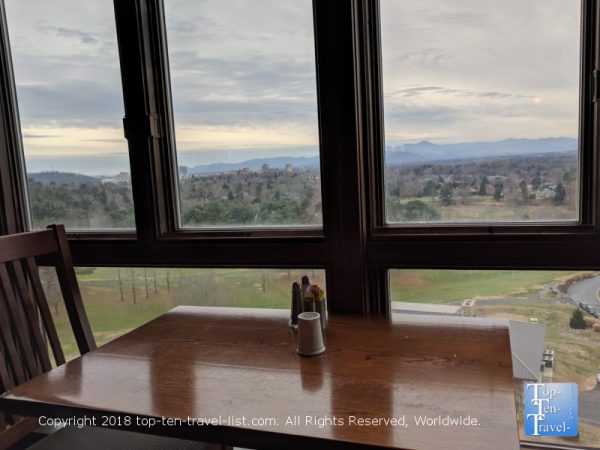 What to do nearby: Check out Grovewood Village, a living historic landmark home to an antique car museum and numerous galleries. Listed on the National Register of Historic Places, Grovewood once housed the weaving/woodworking operations of Biltmore industries.
5. Tupelo Honey
Highlights: Homemade biscuits, southern style fare, trendy ambiance
Vegan/GF options: Very limited options
Location: Downtown Asheville (12 College St) & south Asheville (1829 Hendersonville Rd)
This farm-to-table new Southern restaurant has been growing strong since its' beginnings in Asheville back in 2000. Today, you can enjoy creative Southern fare in 11 states. All entrees are made from scratch using responsibly sourced ingredients. Chef Eric Gabrynowicz is a 4 time semifinalist for the prestigious James Beard award and was voted "People's Best New Chef of New York" in 2012 by Food and Wine Magazine. Brunch is the best time to visit, both to avoid the heavy crowds, and to enjoy delicious "hard to duplicate at home" morning fare.
First off, you need to start with a plate of their cathead buttermilk biscuits, delicious topped with either whipped butter or honey. The brunch menu is diverse and includes creative options such as Mountain Blueberry Pancakes, Fried Chicken and a Cathead Biscuit, and the flavorful "Old Skool Breakfast bowl" which features 2 eggs, rosemary and parmesan potatoes, salsa, cheddar cheese, roasted red pepper sauce, heirloom grits, and goat cheese. Also, you will definitely want to add a short stack of their delicious sweet potato pancakes for a mere 5 bucks.
What to do nearby: Enjoy a coffee and authentic New Orleans's style beignets at Bebbette's New Orleans Coffee House and shop the small boutiques at The Grove Arcade. Also, there is a great champagne bar/bookshop inside The Grove called Battery Park.
6. Abeja's House Cafe
Highlight: Latin inspired menu
Vegan/GF options: Huevos Rancheros (GF, V), Vegan burrito, GF biscuits and toast, GF pancakes, GF tacos
Location: South Asheville (1550 Hendersonille Rd)
Abeja's is a local Latin American cafe tucked away in a quiet strip mall. It's the perfect choice for anyone seeking a quiet dining experience away from the downtown tourism. They also open quite early if you need to get on the road. Although the menu is a bit overpriced, they serve the best variety of Mexican breakfast entrees including Huevos Rancheros, breakfast tacos, burritos, and chilaquiles. Plenty of GF and vegan choices on the menu including gluten-free toast, tortillas, pancakes, and biscuits. Most entrees can be made vegan by substituting tofu. As a bonus, they use a lot of organic ingredients.
The inside décor is visually bland, although they do offer a nice little covered patio. The setting is a bit more relaxed and low key than most of the more popular breakfast establishments. The Huevos is their signature dish, and fortunately can be made vegetarian. Although quite good, severely overpriced at $10 bucks with a noticeable lack of potatoes, as well as the typical corn tortillas. Overall, Abeja's is one of the better "healthy-ish" early riser breakfast destinations in an area where everything seems to open quiet late.
What to do nearby: Tour the historic Biltmore Estate.
7. Moose Cafe
Highlight: Farm-to-table breakfast fare
Vegan/GF options: Limited
Location: 570 Brevard Rd
This farm-to-table Southern style cafe is popular with tourists seeking a hearty Southern style breakfast. Featuring an all-you-can-eat buffet which includes scrambled eggs, hash brown casserole, grits, bacon, and homemade biscuits and jam for just 11 bucks, this hearty special will definitely fill you up for your day's adventure. If you are planning on crushing along the Blue Ridge Parkway or hiking in the beautiful Pisgah National Forest, this is a great place to fuel up. It opens early and you get plenty of food for your money.
On-site is a nice little gift shop where you can pick up a Southern souvenir. As the line is usually quite long, you will want to get out here early to avoid the crowds.
What to do nearby: Pick up some fresh local fruit and produce at the WNC Farmer's Market, open year-round.
8. Green Sage Cafe
Highlight: Healthy fare, lots of vegetarian options
Vegan/GF options: Plant based bowls, Apple sunflower oatmeal, smoothies & juice drinks, Mediterranean omelet
Locations: 633 Merrimon Ave, 5 Broadway St (downtown), 1800 Hendersonville Rd (South Asheville)
Green Sage is the place to go if you are seeking a healthy and/or allergy friendly breakfast option. They offer many vegetarian, vegan, and gluten-free selections. Also, over 95% of the food is organic, the salmon is wild caught, beef is grass fed, and they do not use any GMO's as ingredients. They serve coffee from award winning company, Larry's, which is certified organic and fair trade.
There are a number of fruit filled smoothie on the menu and all use almond milk as a base, and thus, they are suitable for anyone with dairy allergies. Menu highlights include a Mediterranean Omelet, Chia seed pudding topped with wild blueberries, granola, and bananas, and scrambled eggs (sub tofu) sautéed with kale and onions, served with a side of local ciabatta toast and root hash. The best (and most filling) entree is the Pure Vida Bowl. This savory dish includes 2 eggs (or sprouted tofu) sautéed kale and onions, root hash, black beans, brown rice, and avocado salsa. It's by far the most delicious healthy breakfast dish in Asheville.
With 3 locations, Green Sage is super convenient, no matter where your day's adventures may take you. The Merrimon location is spacious, super clean, and not as heavily trafficked as the other two.
What to do nearby: Take a stroll around the Botanical Gardens of Asheville featuring 10 acres of pristine gardens highlight plants native to southern Appalachia.
A few decent coffeehouses serving great breakfast
High Five – The best local coffeehouse in the city. 3 convenient locations including a quaint shop featuring a brick patio in the Five Points historic neighborhood. Top notch bagels and the best veggie cream cheese anywhere!
Sweeten Creek – Local coffeehouse serving coffee from Roast Magazine's Roaster of the Year. Also serves local pastries, muffins, and NY style bagels. Great quiet setting away from the tourist crowds!
City Bakery – Great local coffeeshop serving locally roasted Dynamite coffee and the most delicious pastries in town. 2 convenient Asheville locations to choose amongst including a downtown storefront with a cozy setting.
Well Bred Bakery – Voted best bakery in WNC since 2014. Serves award winning pastries, plus quiche and breakfast burritos. Fantastic location inside Biltmore Village, a historic shopping and dining neighborhood.