12 Must-Do's while visiting Asheville, North Carolina
Asheville, North Carolina is the cultural and recreational oasis of Western North Carolina. Known for its' strong arts scene, variety of foodie restaurants, and craft brewery scene, this trendy city continues to make headlines. However, too little is said about the city's proximity to beautiful natural wonders. Being located in the picturesque Blue Ridge mountains region, endless hiking trails and magnificent waterfalls lie just a short drive away.
Of course, the region is also rich in historical significance. The stately Biltmore Estate is by far the most popular attraction in town, if not the entire state. America's largest privately owned home comes in at a whopping 178,926 square feet! George Vanderbilt, grandson of railroad tycoon Cornelius Vanderbilt, built the mansion between 1889-1895. The lavish mansion first opened to the public in 1930 in hopes of boosting tourism during the depression. Today, the grandiose surroundings continue to impress visitors around the world.
The Biltmore aside, here are 12 fun things to do and see during your Ashville visit!
1. Drive the Blue Ridge Parkway
Although it would be quite tiresome & time consuming to drive the entirety of the 469 mile long Blue Ridge Highway, you can enjoy the same tremendous views via an enjoyable daytrip. Fall is the prime time to visit as bright golden and red hues line the entire byway. Although winter takes on its' own barren Narnia-like charm, the road is often closed due to heavy snow.
Spring and summer afford the prime opportunity to enjoy the region's stunning waterfalls and hiking trails. The 20 mile drive to Craggy Gardens, one of the most breathtaking viewpoints along the drive, is a nice short daytrip option. Other interesting sights within a reasonable drive of Asheville include Linville Falls, Graveyard Fields, and the Museum of North Carolina minerals.
Check out this convenient Blue Ridge Parkway map to plan your journey.
2. Test out your old-time gaming skills at The Asheville Pinball Museum
Nostalgic pinball museums & arcades seem to be all the rage today. This one is particularly unique due to the all-you-can-play (no time limit) for one price format. No need to carry rolls of quarters, simply play to your heart's desire. For just 15 bucks you can step back in time to the days when classic video games ruled over smartphones. 75 classic pinball machines and video arcade machines will make you feel as if you time traveled back to the 80's.
What's even more – you can play your old faves on classic NES, Super Nintendo, and Sega systems! See if you can still remember all the tricks of Super Mario 3, Sonic, and Super Mario Land.
The Pinball Museum is the perfect activity for a super hot or rainy day when all the wonderful state parks are out of question. Just be aware that everyone else will likely be thinking the same thing! This place gets extremely busy so avoid weekend nights, if possible. Be prepared for a possible wait any day (entrance is limited to 80 people at a time).
3. Check out the foodie scene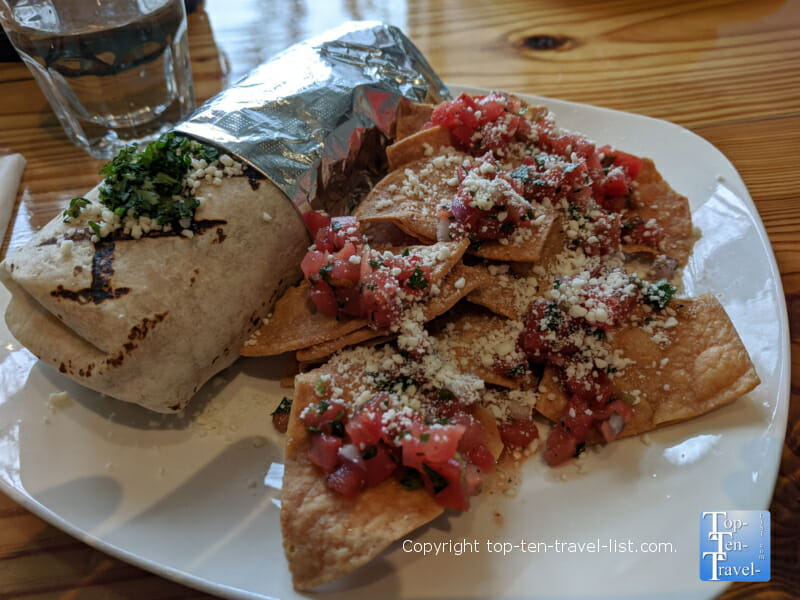 Asheville is widely known for its' diverse foodie scene. Craft breweries, farm-to-table restaurants, Southern style comfort eateries, and quality ethnic restaurants dominate Main Street. As you will likely be up and ready to go early in the morning (prior to exploring the great outdoors), you will likely be seeking a great breakfast to fuel up pre-workout.
On the trendy side, Biscuit Head is a very popular hipster foodie haven. Here you can order a southern style biscuit "as big as a cat's head", served alongside a gravy flight or topped with a variety of jams from a self-service jam bar. Green Sage is the perfect choice for health conscious diners as they use all organic produce and serve a majority plant based menu.
More great breakfast choices in Asheville
A few other restaurants to check out include:
Blue Dream Curry House – Trendy Indian restaurant serving International curries using local ingredients.
Laughing Seed – The best vegetarian choice in town. The menu is nearly 100% plant based and the ambiance much more attractive than your typical vegan restaurant.
Vinnie's neighborhood Italian – This is a great choice outside of the busy downtown region. Quality Italian fare at affordable prices, along with great service and a nice patio for those mild summer nights.
White Duck taco – Trendy place to grab a few tasty tacos and a craft beer. Tacos are served a la cart so you can mix and match. At least one vegetarian option is available daily. Excellent chips and queso!
If you prefer a sampling of the best the city has to offer, consider the Asheville foodie tour. Also check out my full guide to the best Asheville restaurants.
4. Stay, spa, and/or dine at the Omni Park Grove Inn
The exclusive Omni is a stunning 4 star property nestled in the beautiful Blue Ridge mountains. If you don't mind splurging a bit, this is the best place to stay in town. The world class subterranean spa, wonderful dining options, and Daniel Ross designed golf course are a few of the standout amenities.
Gorgeous mountain scenery surrounds the property
If the resort is beyond your budget, I still recommend making your way over here for breakfast at the Blue Ridge Artisanal Buffet. This wonderful buffet features a diverse assortment of breakfast fare in a gorgeous dining room featuring floor-to-ceiling windows overlooking the Blue ridge mountains. Service is excellent and the coffee is absolutely delicious. Highlights include an omelet and doughnut bar! Gluten-free and vegetarian selections include an amazing chia seed pudding, gluten-free pastries, and fresh juiced squeezed drinks.
If your visit happens to fall during the holiday season, you will want to explore the National Gingerbread competition, the most luxurious of its' kind in the US. This event has been featured on numerous TV shows and is highly regarded to be the most prestigious gingerbread competition in the country. These houses are not your ordinary gingerbread houses, but rather artistic masterpieces. Take a look below at some of this year's winning creations…
5. Plan a daytrip to check out a waterfall or 2
Asheville is located just an hour away from Transylvania County, nicknamed the "Land of Waterfalls." This is an appropriate title as the region is home to more than 200 waterfalls. The triple falls trail at Dupont State Forest is the most impressive of the bunch featuring 3 incredible waterfalls via a moderate 2 mile hike.
If you are not up for a lengthy drive, Catawba Falls is just an impressive and located within 20 minutes of the city. The 1.5 mile trek is moderately easy and the ending vista of a 50 foot beauty makes the small amount of effort more than worth it. This trail is especially scenic come autumn.
Check out 5 additional waterfalls in the Western North Carolina region.
6. Hike to the top of Chimney Rock
Chimney Rock has long been one of the favorite tourist attractions in all of North Carolina. After completing this spectacular climb (appropriately nicknamed the "ultimate stair climber"), you will easily see why. A 499 step (one-way) intense stair climb leads you to the top of this rock outcropping. From here, you will feel as if you are on top of the world as you look out upon the 75 mile long views in front of you, including Lake Lure and the Hickory Nut Gorge.
If you have been busting your butt in the gym lately and are up for the leg & butt blasting challenge, continue on a bit further. Another 300 steps take you up to an even more amazing viewpoint with 360 degree views of the Blue Ridge mountains. Also be sure to hike the Hickory Nut Falls trail which will lead you to a mesmerizing 400 foot waterfall – the 2nd tallest east of the Mississippi.
After your climb, take some time to stroll around Chimney Rock Village – a tacky, but fun area to grab a coffee, a sandwich, browse the shops, etc. Lots of old time nostalgic gifts and Bigfoot souvenirs to enjoy. Oh, and if you are a Dirty Dancing fan you will want to continue on to Lake Lure where you can see the steps that Baby (Jennifer Grey) practiced her dance movies on.
7. Get lost in nature at the Asheville Botanical Gardens
It's quite small at just 10 acres, however, this garden comes in as the perfect little break from all the downtown congestion. It's almost never crowded and admission is free (donations accepted). It truly is an oasis in a bustling touristy city. Views change along with the seasons, with April (wildflower season) and August being peak blooming periods.
Autumn is also quite spectacular as you stroll through the golden hinted landscapes. The cold crisp air, along with the changing colors of the season, brings new life and energy to the gardens. A winter storm transforms the gardens into a Narnia like wonderland where the serene snow covered grounds add a tranquil element not found any other time of year.
Nothing too fancy really, just a great place to enjoy a peaceful nature stroll.
8. Check out the coffee scene
No need to hit the Starbucks drive-thru for your morning caffeine boost. Asheville's thriving independent coffee scene includes a variety of wonderful local roasters. Quality beans and an eclectic ambiance are 2 things you can expect at any Asheville coffeehouse.
Old Europe is a wonderful local coffee and pastry shop downtown. Although this place is packed with people and short on space, they do brew up a nice cup of coffee and whip up the best desserts! If you have a sweet tooth, this is the place to indulge in a macaroon or decadent slice of cheesecake!
Outside of the downtown region, you can kick back and relax at Izzy's Coffee house. Due to its' location, this place retains a local charm more so than the more popular downtown roasters. They serve delicious coffee from renowned roasters like Stumptown (NYC) and Counter Culture (NC).
Double D's win the award for most unique ambiance in Asheville, or elsewhere for the matter. Where else can you sip an espresso in a funky double decker bus?
And for coffee with a view, you really cannot beat High Five at Riverside. At this quaint coffeehouse, you can enjoy a relaxing cup of coffee (they serve delicious Counter Culture) next to the beautiful French Broad river. As the only downside, they only serve in paper cups. However, you can bring your own mug.
Visit the Rankin or Broadway St. High Five location to enjoy your drink in a nice mug. They serve the most amazing bagels in town with homemade cream cheese.
More great coffeehouses in Asheville
9. Explore historic Biltmore Village
Biltmore Village is a charming shopping and dining area located just a few miles outside of downtown. You will find a number of great restaurants, galleries, and boutique shops here. The area is beautifully maintained with lots of mature trees and the historical architecture is beautiful. Well-Bred Bakery & Cafe is a great place to pick up a pastry or decadent treat and they also serve excellent homemade quiche.
Old World Christmas Shoppe, is a festive year-round shop where you can beat the rush and stock up on a few early holiday gifts.
Andaaz is a wonderful local Indian restaurant. The food is authentic and delicious and the decor gorgeous.
10. Pick up a new book and enjoy a drink at Battery Park Book Exchange
Battery Park Book Exchange is one of the most popular tourist hotspots in downtown Asheville. Here you can browse through rooms and rooms of books while enjoying a cup of coffee or even a glass of champagne. The ambiance is very luxurious and just perfect for anyone who loves wine and books.
11. Bird watch and Beaver Lake Sanctuary
Beaver Lake Sanctuary is a nice place to escape nature for an hour or so. The preserve is shady and cool – a perfect place to take a break from the summer heat. Keep your eyes peeled for an exotic variety of birds and other small mammals.
This preserve is home to a number of short nature trails so you can get in a little bit of fresh exercise without going all out.
12. Treat yourself to a liquid truffle at French Broad Chocolate Lounge
French Broad Chocolate Lounge is a bit different than your ordinary coffeehouse as their specialty is the other most popular caffeinated beverage – hot chocolate. On a cold winter's day, nothing really warms you up like the perfect mug of hot cocoa.
For an insanely decadent treat, try a Liquid Truffle, an extremely indulgent 4 ounce shot of pure chocolate available in many tempting varieties. Try the salted caramel or lavender and honey. If you would rather go the traditional route, simply order a hot cocoa topped with whipped cream, Either way, you cannot go wrong. They also offer cakes, cookies, gelato, and chocolate treats so really this is the best place in town for a decadent dessert!