Hiking Hotspot: Triple Falls at Dupont State Forest
The Western North Carolina region is loaded with breathtaking waterfalls. From roadside wonders, to those requiring a hard trek along an unmaintained trail, there are unending cascading beauties to explore in this region. The best waterfall hikes include those such as the Triple Falls trail within the Dupont State Forest, in which you will see multiple waterfalls in exchange for a hike of no more than moderate intensity.
If you find yourself visiting a nearby city like Greenville or Asheville, the Dupont State Forest is an easy 1 hour drive from either, and well worth the trek for the opportunity to see 3 gorgeous waterfalls via a relatively easy hike. This hike is challenging enough to provide a great workout, yet not tough enough to draw away beginning hikers. The payoff is big as you will see several incredible waterfalls in exchange for minimal effort.
The Dupont State Forest
The 10,400 acre Dupont State Forest is located between Transylvania and Henderson counties in the small community of Cedar Mountain. Mountain biking, hiking, kayaking, and horseback riding are the favorite past times here, especially during the mild spring and summer months. Diverse habitat includes cove forests, Upland oak forests, riparian areas, granite domes, mountain bogs, lakes, streams, and waterfalls.
There are over 80 miles of trails within this diverse forest, the best being the Triple Falls hike. This trail draws heavy traffic, due to the immense beauty and easy access from numerous tourist cities like Greenville, SC and Asheville, NC. The Triple Falls hike makes for a wonderful day trip for nature lovers, photographers, and fitness enthusiasts alike.
The state has seen a boost of tourism due to the immense popularity of The Hunger Games franchise. The Hunger Games was filmed at various locations throughout this area, including the Triple Falls waterfall, as you will see below. Regardless of whether or not you are a fan, this is one of the best bang-for-your-buck waterfalls hikes in the region!
The hike to see all 3 waterfalls is a little over 3 miles round trip. Of course, you can decide to turn around at any point.
High Falls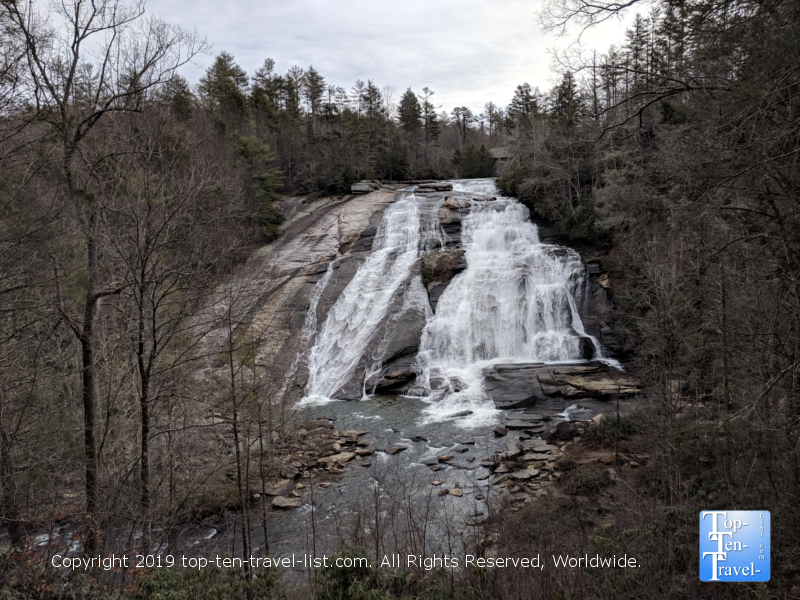 From the High Falls parking lot (located next to the visitor's center), the trek to see High Falls, a stunning waterfall with a 120 foot drop, is just 0.6 miles. You can stop here, turn around, and simply enjoy the 1 mile hike to this gorgeous waterfall, or continue on to Triple Falls. There is a great overlook here where you can take some nice photos. You can also hike a bit further to the base for an up close view.
A short 0.2 mile detour brings you to a historic covered bridge. It's worth the side trek to see this gorgeous landmark.
Triple Falls
After hiking another 0.7 miles or so, you will arrive at the spectacular overlook for Triple Falls. Triple Falls is a spectacular three-tiered, 125 foot drop waterfall.
There is a staircase which goes down to the center of the falls. This scene may seem familiar as it was featured in The Hunger Games.
Hooker Falls
From Triple Falls, you can continue on a bit over a half mile to Hooker Falls. Although not quite as impressive as the others, you might as well see the last waterfall while you are already this far along. Despite the waterfall being just 14 feet tall, it's very wide and holds an impressive volume of water. Although this is the smallest falls of the 3, the setting is very peaceful, making this a great place to relax for a bit or grab a snack before embarking on the return route.
Additional Info
Location: The visitor's center is located at 89 Buck Forest Rd. in Cedar Mountain, NC.
Parking is free.
Plan at least a few hours for the entire hike. Bring with a few snacks and plenty of water. The trail is often muddy, so hiking shoes come in handy. Also, there are no restaurants in close proximity, so it's best to fill up with a great breakfast or lunch before heading out for this hike.