15 Rainy Day Activities in Greenville, South Carolina
For the most part, Greenville sees an abundance of sunny, mild days throughout the year. However, like every other region in the Southeast, heavy rain is a common occurrence. The city sees 51 inches per year, which is well above the US average of 38 inches. Summer and winter are typically the rainiest times of the year, so if you are visiting at this time, you will want to have a few backup indoor activities lined up on your itinerary. Fortunately, there are more than enough activities to keep you busy on a rainy day in Greenville.
Hopefully, you luck out and the skies are clear so you can enjoy the many beautiful hikes and waterfalls in the Blue Ridge region. However, a little bit of rain does not necessarily have to put a damper on your trip plans. There is plenty enough to do and see to keep you busy for the weekend, most notably exploring the city's charming, old-fashioned Main Street.
Let's look at the top 15 things to do on a rainy day in Greenville
1. Explore the collection at the Greenville Museum of Art
The Greenville Museum of Art is pretty small, yet still an interesting place to kill an hour or so. A rainy day is the perfect setting for a relaxing stroll around an art museum. While limited, the collection does include many beautiful paintings by renowned artist Jasper Johns. Additionally, the museum houses the largest collection of watercolors by Andrew Wyeth. This museum is always quiet and well-maintained. Best of all, admission is free all the time!
2. Plan a coffee date
While there are more than a few Starbucks lining Main Street, you will also find a number of great independent coffee shops. A few fantastic options include Methodical (rated one of the best roasters in the country), Old Europe (specializes in decadent European pastries), and Coffee Underground (a long running favorite housed in a dark cozy space). Pictured above is the beautiful Blue Willow China used by Methodical. Not only do they win the award for best coffee presentation in town, but they also serve the highest quality drinks.
Check out 5 other great coffeeshops in Greenville
3. Treat yourself to an amazing breakfast
Nothing really brightens a glum morning more than a nice filling breakfast. No need to resort to a chain as Greenville is well known for its' thriving foodie scene. If you are craving something sweet, head downtown for a sweet or savory crepe at Bonjour. Looking for something more traditional? You really cannot go wrong with Stax Omega Diner, voted one of the best diners in the South. For foodie fare, grab a steamed bagel sandwich at Sully's or a cathead biscuit with a gravy flight at Biscuit Head. If your visit falls on Sunday, definitely splurge on Soby's wonderful brunch buffet.
More great breakfast choices in Greenville
4. Take a drive out to a roadside waterfall
While rainy days are not ideal for any type of outdoor recreation, this does not mean that nature is necessarily off limits. Assuming it is not raining too hard, you can at least drive out to one of the wonderful roadside waterfalls. The Upstate is home to dozens of gorgeous waterfalls including numerous easy access roadside options. Wildcat Branch Falls is the closest to Greenville (just 20 min north of the city). And although short on the distance, definitely not short on the views! Looking Glass Falls is a bit farther out, although definitely one of the most magnificent in the region!
5. Treat yourself to a gelato
Did you know that ice cream actually warms you up due to the high fat content? Thus, a cold rainy day is the best excuse to treat yourself to a creamy treat. Downtown Greenville is loaded with treat shops including an abundance of local ice cream shops. Spill the Beans is a popular spot for local gelato. You really cannot go wrong with a scoop (or 2) of homemade Italian gelato. Available in over a dozen flavors, deciding which way to go is the hard part here. As an added bonus, you can grab a window seat and enjoy lovely views of Falls Park.
6. Browse the shops on Main Street
Downtown Greenville is home to the quintessential Main Street. As local mom and pop shops continue to close around the country, everyone appreciates a traditional tree-lined Main Street. You will find a number of interesting boutique shops lining Main, enough to occupy at least a few hours of your time on a rainy day.
Check out Mast General Store, Oil & Vinegar, and Southern Culture for starters. And be sure to treat yourself to some fresh flavored popcorn from Poppington's (try the dark chocolate sea salt)! Bonus: they use GMO free oils and offer vegan/GF selections.
Greenville downtown shopping & dining directory
7. Test your old fashioned gaming skills at Dave and Busters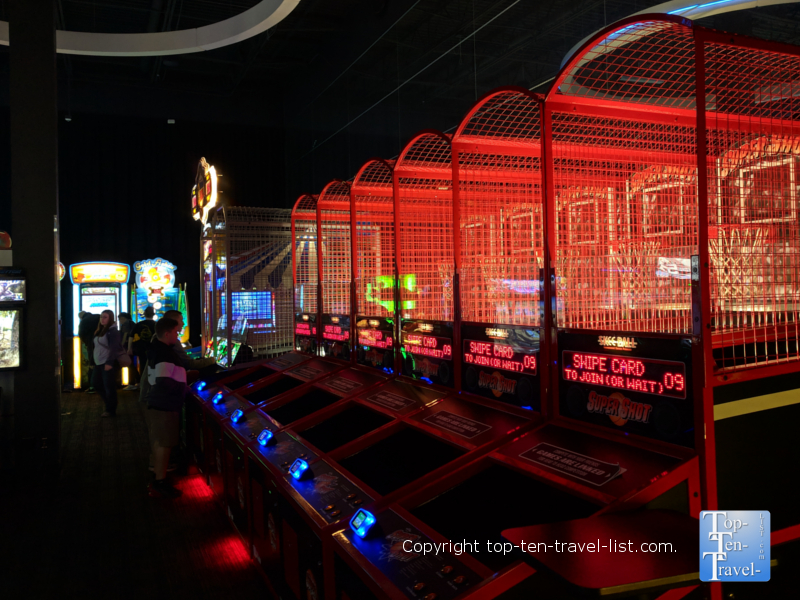 Dave and Busters is the place to go for some old-fashioned gaming fun. If you have never been here before, you are in for a blast. Enjoy timeless arcade/carnival and ticket redemption style games like skee-ball, the goldfish toss game, the clown ball game, and many others. There's also a full restaurant and bar on-site. Really, a great place to be on a rainy day! Be on the lookout for special deals including eat and play combos. For hours of indoor fun, you really can't beat D&B.
D&B also offers a great NFL game day special which includes all-you-can- eat wings/fries and a $10 game card for just 20 bucks. Lots of big screens to take in the games and plenty of great drink specials make it a favorite on football Sunday.
8. Browse for record deals at Horizon
Horizon Records is a great little independent record shop specializing in both old and new records. In addition to the new releases, you can browse through a large selection of oldies priced under $10. I have found so many classics here, adding to my collection with each visit. The quirky Bohemian Cafe is located just next door if you are looking for an eccentric place to eat.
9. Treat yourself to a massage
You will find both big chain and local massage therapy options throughout Greenville. Out of the big chains, Hand and Stone is the best option. All the staff are highly trained, the space is always super clean, and everyone is really friendly. Get your first massage for just $70 – by far one of the best deals in the city. River Falls Spa is a popular luxury option on Main Street if you prefer to keep close to the tourist center.
10. Detox at Drift Spa
Infrared sauna and float therapy are two interesting modern means of detoxing and alternative health. On cold rainy and snowy days, I love treating myself to a healing infrared sauna session. There are numerous benefits to infrared therapy including muscle and joint pain relief, stress reduction, cellulite reduction, and overall detoxification. The temp is set around 140, with the option for 30 or 45 min sessions. The sauna is big enough for 2, although there will be an extra charge.
11. Treat yourself to a wonderful dinner
Greenville has been making headlines in recent years for its' terrific foodie establishments. There are so many interesting dining choices throughout the city. Main Street alone is home to over 100 unique restaurants. From a French bistro overlooking beautiful Falls Park, to award-winning new southern style cuisine, to upscale Italian, to sports bars, there's an option for everyone. Handi Indian, Greektown Grill, Pomegranate on Main, and Kitchen Sync are some of the top spots to place high on your must try list. Definitely try the Southern style tomato pie at Kitchen Sync pictured above!
12. Swing by the Shoeless Joe Jackson museum
Shoeless Joe Jackson, famous for the notorious Chicago Black Sox Scandal of 1919, lived and die in the Greenville area. His home is now open for tours and loaded with interesting baseball memorabilia. Anyone who loves "America's favorite past time" definitely needs to check this nostalgic museum out. Free tours are available for any baseball lovers (any anyone else seeking a fun affordable rainy day activity) out there!
13. Stroll around Haywood Mall
Haywood Mall is the premier mall in the state of South Carolina. It's the largest in the state and home to 2 floors of retail fun. Nothing too fancy in terms of decor, however, it's clean and well maintained. There is nothing better than browsing around a big lively mall on a rainy day. As an added bonus, there is a Cheesecake Factory, a Starbucks, and numerous other chain restaurants on-site. And be sure to treat yourself to a reflexology session at Total Health massage – it's the best in the region!
14. Go vintage hunting
You will find a number of vintage/thrift shops throughout the area. Who wants to waste a nice day shopping? A rainy day, on the other hand, offers the perfect ambiance for hunting down hidden treasures. Both Greenville and the nearby community of Travelers Rest offer an abundance of shops which will impress even the most avid bargain hunter. Check out Rocking Horse Antiques in Greenville and Country Antiques in Travelers Rest.
15. Cozy up with a great novel
While Barnes and Nobles is a great place to pick up a few books, and relax with a rich cup of coffee, there are a number of independent shops to check out while you are in Greenville. M. Judson, located downtown in a historic courthouse, is the most popular with tourists. While scanning for your next novel, you can also enjoy dessert, a glass of wine, coffee, and specialty tea. For the bargain hunters out there, Mr. K's offers the biggest and best selection of used books and movies in the Upstate.
More rainy day fun
See a movie at Regal Hollywood on Woodruff Rd. Prices are high for the area, although it's the cleanest theater in town.
Spend the day catching up on some reading at the Hughes Main Library.
Go bowling. Bowlero is a popular choice.
See a show at The Peace Center.
Grab a Starbucks inside the Hyatt Regency downtown. The ambiance, which includes an atrium and giant ceilings, is gorgeous!