7 Must-Try Breakfast Spots in Greenville, SC
They say breakfast is the most important meal of the day. in Greenville, it's also the most popular meal of the day. Every weekend, the streets of downtown Greenville are flooded with tourists willing to wait in long lines to get into the hottest breakfast restaurants. As trendy breakfast & brunch restaurants are most popular today, there is no shortage of interesting options.
Greenville, an emerging foodie destination in the Upstate South Carolina region, is becoming one of the most popular tourist destinations in the South. The quaint Main Street, lined with over 100 unique restaurants, draws tourists from all over. Before embarking on your outdoor adventures in the Blue Ridge mountains, fill up at one of these great restaurants! You will need the energy for your long drive!
Here are a few of the top breakfast spots you will want to check out!
1. Stax's Omega Diner
Best for: Anyone who loves hearty traditional breakfast fare & an old school diner ambiance.
Highlights: Home-cooked food, excellent coffee, old-fashioned diner style atmosphere, locally owned, diverse menu including vegetarian & GF options, far away from the tourist crowds
Stax's Omega is hands down the best place to treat yourself to a great breakfast in Greenville. First off, it's not downtown, so you can skip the hassle of finding parking and maneuvering through big crowds. Second, the menu is huge with choices for even the pickiest eaters. Third, the dining room is huge, clean, and attractively decorated. There is also a nice patio for the warmer season. And, last but not least, the service is always super friendly.
The Stax menu is huge with options for everyone, a rare find in a small city like Greenville. Those needing gluten-free and/or vegetarian fare should be pleased. From savory skillets and omelets, to crepes and waffles, there are abundant choices for everyone here.
The omelets are amazing – the only place in town to make them right! Also, the breakfast potatoes are the best!
I recommend the Market Skillet, loaded with eggs, veggies, potatoes, and cheese, and served with a biscuit/toast -a satisfying and extremely filling dish.
Those with a sweet tooth may want to indulge in Ghiradelli Chocolate Chip pancakes or Strawberry French toast. And, rare for a diner, Omega serves excellent coffee, and thus, there is no need to make a separate coffee run.
Southern Living rated Stax as one of the best diners in the South. This award comes at no surprise given the excellent food quality, great ambiance, and top notch service.
Update: The Stax menu unfortunately seems to get pricier and pricier. Also, I have heard rumors that the kitchen is dirty and some guests have reported seeing roaches. Quite unfortunate as the breakfast was pretty delicious.
2. Sully's Steamers
Best for: Foodies not afraid to try something new!
Highlights: unique steamed bagels not found elsewhere, plenty of dietary friendly options, delicious coffee, quick service
Sully's is a unique place where instead of ordering a standard bagel with cream cheese, you can try a steamed bagel topped your choice of condiments. When you steam a bagel all of the flavors mesh together nicely for the perfect tasty, albeit extremely messy treat. Sully's offers a number of creative selections, so you can try something completely different on each visit.
Sully's offers a wide range of bagel sandwich varieties, with options ranging from a breakfast, meat lover's, and veggie loaded bagel. They even offer a vegan hummus option. My personal favorite is the Green Vegas (veggie cream cheese, sprouts, avocado, lettuce, & honey mustard). Bagels themselves come in a variety of styles (multi-grain, plain, everything, sesame, cinnamon raisin etc.), and they even offer a millet/flax gluten-free version for anyone avoiding wheat.
The Green Vegas
These bagel sandwiches are a bit pricey at 6 to 9 bucks a piece, although you are paying for the creativeness. Bonus: Sully's serves Methodical coffee, the best coffee roaster in the city, and one that frequently ranks as the best in the state. Treat yourself to a cup of this wonderful coffee while you are here and save yourself the extra hassle of hitting the Starbucks drive-thru. If you have the extra time, do stop by Methodical. The presentation in gorgeous Blue Willow china is quite out of the ordinary!
If you are in a hurry, Sully's is a great choice as you can get in and out of here in less than 30 min. And thus, Sully's is the best quick choice in downtown Greenville.
3. Biscuit Head
Best for: Biscuit lovers! Jam, honey, gravy, it doesn't matter how you like your biscuit, Biscuit Head has you covered!
Highlights: Super affordable, the most delicious (and biggest) biscuits in town, awesome jam bar with over a dozen creative flavors, a frequent diner card (buy 10 meals, get 1 free), trendy, hip ambiance
Biscuit Head is an extremely popular Southern style breakfast gem known for serving huge biscuits ("as big as a cat's head" as their slogan goes). Biscuit Head opened in the foodie haven of Asheville, NC back in 2014. What a great business decision to open in Greenville, as this place is bustling every weekend!
The humongous biscuits can be paired with a gravy flight (choose amongst several creative options including a vegan mushroom gravy), served alongside several breakfast sides (try the moon fries!) , or simply topped with any assortment of jams (over a dozen flavors are available) from the self serve bar.
Biscuit with Fried Chicken Gravy
The famous jam bar – All sorts of fun homemade flavors on the lineup…apple pie, mixed berry, blueberry to name a few
The best deal here is the Half Breakfast special, which includes a biscuit and 2 sides for just 6 bucks.
Vegan or gluten-free? Don't worry – there is still a biscuit for you. Although the dairy-free/gluten free version isn't quite as tasty, it's decent enough, especially when topped with delicious flavored jam or honey.
Half Breakfast special – An amazing deal!
The line is often super long, so if crowds bother you, you may want to get here right at opening, or better yet, avoid weekends altogether. Fortunately, they usually have tasty comp coffee out while you wait!
4. Tupelo Honey
Best for: Anyone seeking to indulge in Southern style breakfast fare
Highlights: Tasty southern style entrees, delicious biscuits, friendly service, affordable breakfast deals, upscale ambiance, within walking distance to numerous shops
Tupelo Honey is a popular southern chain which started in Asheville in 2000 and has since spread to include many locations across the Southeast. Tupelo is very popular with the weekend brunch crowd, for good reason. Everything is made from scratch here with a focus on local ingredients.
The scratch-made biscuits here, brought out piping hot alongside honey and local jam, are really the main reason to visit Tupelo.
Homemade biscuits, served with jam and honey. So good!
At Tupelo, you will want to forgo the traditional breakfast fare, in favor of trying out a Southern specialty like Sweet Potato pancakes, Shrimp and Grits, or Pecan Pie French Toast. The Old Skool Breakfast Bowl (eggs, potatoes, black eyed peas, salsa verde, cheddar cheese, and goat cheese grits), is the way to go if you are looking to keep it simple, yet still flavorful.
The Old Skool Breakfast Bowl
The Sweet Potato pancakes are definitely worthy of the caloric splurge. Don't worry -you will easily burn those calories off (and more) on the Swamp Rabbit trail or any nearby hike.
The delicious Sweet Potato Pancakes with eggs overeasy and potato cracklins
5. Soby's Brunch Buffet
Best for: Weekend Brunch goers
Highlights: Wonderful Sunday brunch, beautiful ambiance, shady outdoor patio, excellent service, the most delicious desserts
Soby's is the place to go for Sunday brunch, hands down. No other restaurant in town can match the elegance, number of brunch offerings, and quality offered at this popular weekend buffet. First off, there is a made-to-order omelet station. Second, there are more than enough breakfast and lunch offerings. And most important, the dessert display is incredible.
Soby's serves the best omelets in town next to Stax's Omega. Croissants, fresh fruit, grits, and French toast are just a few of the breakfast offerings. Salmon, various salads, breakfast meats and more are on the lineup!
Wow what a desert spread! Fortunately, the portions are super small so you can mix and match to your heart's desire!
The ambiance is perfect for a family gathering or upscale date. Soby's interior features gorgeous decor. Or, you can opt to enjoy the patio during the nicer seasons. Overall, at a price tag of $19 per person, Soby's is the best bang-for-your-buck brunch experience considering the upscale ambiance, service, and food presentation. Unfortunately, mimosas and other specialty drinks are not included, although the excellent coffee takes out the hassle of visiting a separate coffeeshop.
Update: Soby's no longers offers their brunch buffet. However, you can still order many delicious entrees a la cart including Challah French Toast and Fried Green Tomato Benedict.
6. Passerelle Bistro
Best for: Nature lovers. Check out that view!
Highlights: Prime location next to Falls Park, beautiful patio, great coffee, tasty French fare
Passerelle is a charming French bistro with a prime location right next to Falls Park, the oasis of Greenville. You really cannot miss this one due to its' attraction location overlooking Reedy River Falls. Fortunately, the food offerings here are just as great as the view.
The best time to visit this restaurant value-wise is at brunch. At this time, you will find a number of attractive brunch offerings, all reasonably priced, considering the magnificent views. From a Quiche, to a Croque Monsieur, to a Crab Benedict, there are enough interesting options on the lineup to please just about anyone. However, more-often-than-not the simplest options are best. Consider the Passerelle breakfast, featuring 2 eggs, potato croquettes, and a toasted croissant.
And, if you are up for a real treat, don't hesitate ordering one of the chef prepared desserts. The dessert sampler pictured below is a real steal for just 13 bucks. You are on vacation – go ahead and treat yourself! And be sure to enjoy an espresso – Passerelle serves excellent regular and specialty coffee.
Great food presentation and an elegant setting make this one of the better date destinations in town. Unfortunately, the surly service could be improved.
Make a reservation early in the morning and be sure to request a seat facing in the falls. What a perfect weekend brunch date destination!
7. Roost
Best for: Anyone staying at the Hyatt Regency downtown, a quiet ambiance, farm-to-table fare
Highlights: Farm-to-table food, excellent buffet, gorgeous setting, beautiful patio, walking distance to many shops
Roost is a gorgeous farm-to-table restaurant located inside the beautiful Hyatt Regency. This hotel is located on Main Street, within walking distance to pretty much everything of interest. The swanky setting and organic offerings make it a popular choice with foodies. The ambiance here is usually pretty quiet as tourists head towards the trendier options in town. And thus, Roost is actually a good choice if you are seeking to avoid the crowds!
The patio is one of the best for people watching
A full breakfast buffet is offered on weekends for $21 a person ($15 for the continental). Not a bad value considering it includes coffee and made-to-order omelets and waffles. Nothing too out of the ordinary here, although you will find all the standard breakfast favorites such as scrambled eggs, fruit, potatoes, yogurt, and biscuits and gravy on the lineup.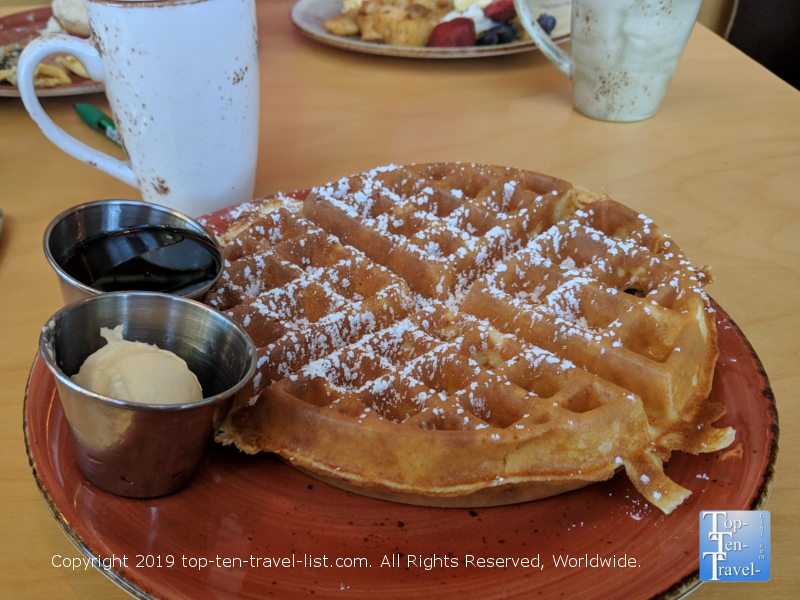 If you are heading out for a long bike ride or hike, breakfast at Roost will definitely leave you full an satisfied with plenty of energy to take on any adventures in the beautiful Upstate.