The Top Restaurants to try in Greenville SC
Greenville has become the foodie haven of the Southeast. Tourists flock here to indulge in Southern style BBQ, traditional cathead biscuits, as well as all sorts of international cuisine. The city really is giving nearby foodie hotspots like Asheville and Charleston some intense competition. The quaint downtown region is lined with over 100 unique dining options, so you will never run out of new options during your visit. Below are a few of the best restaurants in Greenville to check out!
Best breakfast: Stax Omega Diner
This delicious homestyle diner serves up the best breakfast in town. In fact, Southern Living Magazine even rated it one of the top 15 diners in the South. At Stax, you will find your standard gigantic diner menu, filled to the brim with hearty choices to fill up on before you explore the great outdoors. You really cannot go wrong with a delicious skillet, a plate of specialty pancakes (try the Ghirardelli chocolate chip), or a fluffy plate of French Toast. Their home fries are definitely the best! The house coffee is pretty decent as well (and unlimited) so no need to hit the Starbucks.
Oh, and breakfast is not the only time to visit. Check out the wonderful vegetable plate for lunch where you will get to pick and choose 4 sides, served with cornbread and a fresh loaf of hot bread.
The decor is cozy and the service is friendly just like you would expect at any local diner. This place does tend to get busy on weekends. To avoid a lengthy wait, be sure to arrive before 9am. Service is hit or miss, and could definitely be a bit friendlier considering the high price point. Update: Recent reviews suggest that this diner has gotten a bit dirty, unfortunately.
Location: 72 Orchard Park Dr, Greenville, SC 29615
Best biscuits: Biscuit Head
Biscuit Head originated in the foodie haven of Asheville, and has now expanded to include a location in downtown Greenville. "Put some south in your mouth," as their popular slogan goes, and treat yourself to a traditional cathead biscuit.
Never heard of a cathead biscuit? Basically these biscuits are much larger than your standard biscuits, hence "as big as a cat's head." Try your biscuit with a gravy flight or top with homemade jams from the dozen plus jam flavor bar.
Gluten free & vegan biscuits are available for those with dietary restrictions. Plus, vegan butter and gravy, so this is one of the best choices for anyone with dietary concerns!
Location: 823 S Church St unit c, Greenville, SC 29601
Best Chinese food: Lieu's Chinese Bistro
Lieu's is the place to go for traditional Chinese food. This one is located on Woodruff Rd, far away from the craziness downtown, and thus, the dining experience is a bit more peaceful. The veggie egg rolls are the highlight here, so treat yourself to a few. The fried rice is decent enough, not the best, but probably the best you will find in Upstate SC. They offer a nice variety of affordable lunch specials.
The decor is a bit bland, nevertheless, at least it is quiet compared to the small congested restaurants downtown. Service is always professional and the food is always fresh, hot, and nicely presented.
Location: 1149 Woodruff Rd, Greenville, SC 29607
Best healthy fare: Roost
Roost is a farm-to-table restaurant located inside the beautiful Hyatt Regency in downtown Greenville. They offer a fantastic soup & salad lunch buffet known as the "Harvest Table." All the produce is fresh and the soups are made fresh on-site. Broccoli cheddar, minestrone, creamy tomato…there is something different on the lineup every day. Various sides (potato salad, pesto tortellini, black beans, pizza) are often served alongside the salad bar. Health conscious diners will be pleased to know that Roost sources local ingredients whenever possible.
They also offer a daily breakfast buffet, as well as a popular Sunday Brunch. The Sunday brunch menu is quite extensive, featuring both breakfast and lunch fare.
A few of the selections available at the breakfast buffet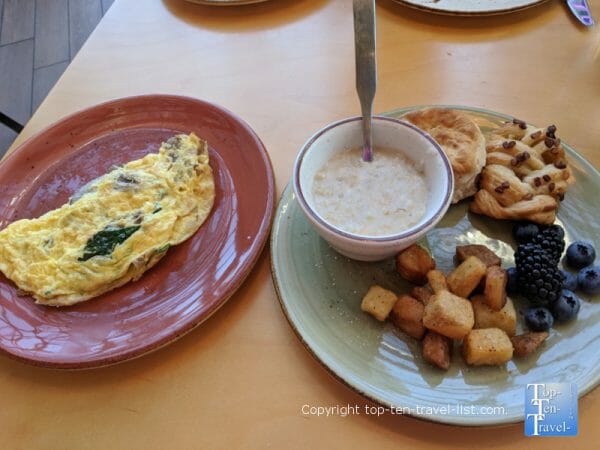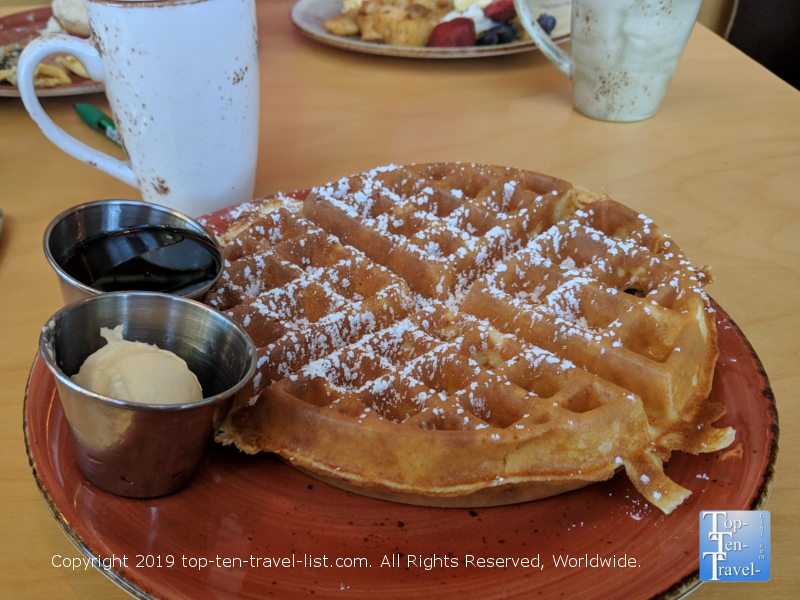 The decor is beautiful and contemporary, and overall, it's a great place to take a date. They also offer patio dining, with the breezy space easily being one of the best people watching destinations in town.
Location: 220 N Main St, Greenville, SC 29601
Best lunch deal: Handi Indian Buffet
If you like Indian food, you will want to give Handi Indian a chance while in town. While the food is a bit too spicy for my taste, you really cannot beat the value here. The buffet line is so fresh and clean with plenty of vegetarian options like veggie korma, fresh naan bread, and the best pakoras. Do not leave without treating yourself to a bowl of rice pudding for dessert!
Handi by far is the best Indian restaurant in the Upstate. To top it off, service is always fabulous and the decor really is exotic. Overall, Handi really is one of the best places in town for a fancy afternoon date!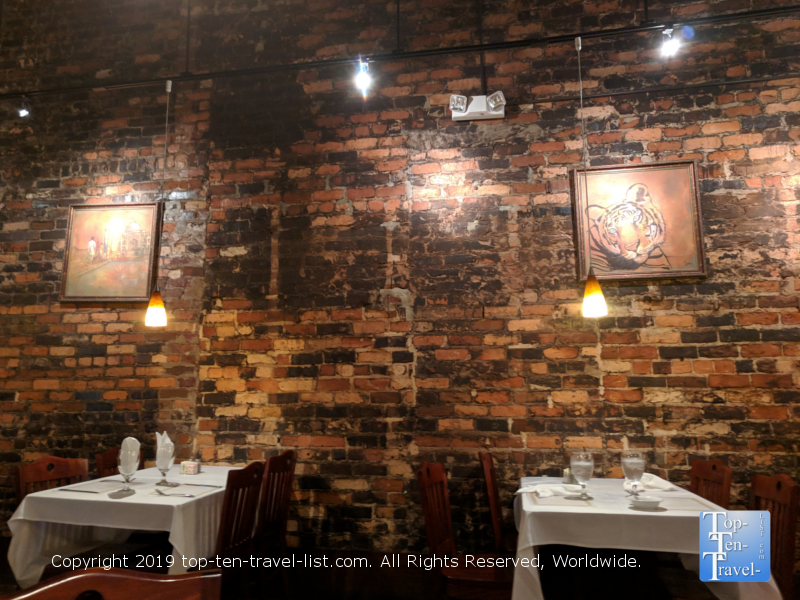 Location: 18 N Main St, Greenville, SC 29601
Update: Handi unfortunately closed in 2022.
Best cheap eats: Todaro Pizza
Todaro Pizza is one of the relative newcomers to the Greenville downtown dining scene. This NJ style pizza shop operated in Clemson for many years before adding a second location to Greenville. In addition to a great all-you-can-eat lunch buffet (everyday but Saturday), they also offer $10 large pizzas on Mondays and dollar slices on Wednesday nights, from 6-10pm. The pizza is actually pretty decent, so really this is a steal. As expected, this place can get pretty crowded if you do not arrive on the dot.
The ambiance is super casual, thus, making Todaro's a great place to catch a game or meet up with friends. They offer a sizeable patio which is nice for dining anytime outside of the super hot summer season. They even have bags (cornhole), making this the best place in town to hang out and socialize. Grab a few drinks ($1 Miller High Life) and slices of pie and enjoy a cheap night out on the town!
Location: 116 N Markley St Suite 100, Greenville, SC 29601
Best view: Passerelle Bistro
Passerelle Bistro is a favorite of tourists due to its' prime location next to beautiful Falls Park. As you feast on French fare, you will be treated to a prime view of Reedy River Falls. The patio is shady with lots of pretty trees. The ambiance is romantic, and thus, perfect for a weekend date. Outside of the oftentimes surly service, this is one of downtown Greenville's top brunch destinations.
Try the Passerelle Breakfast plate, which includes 2 eggs, delicious potato croquettes, and a croissant. The Chicken Salad Croissant is another nice light choice. The house coffee here is great and they also serve espresso drinks.
If you are not full, go on ahead and treat yourself to the dessert sampler, featuring a chef's selection of housemade pastry treats. It's huge -you will have leftovers for sure!
Location: 601 S Main St, Greenville, SC 29601
Best Sunday Brunch: Soby's
Soby's is the place to be for Sunday brunch. The tasty spread includes an assortment of breakfast and lunch fare. Highlights include made-to-order omelets and a huge dessert buffet including a chocolate fondue station. The ambiance here is classy, making it a great Sunday date choice.
The buffet line is always super clean and the presentation of the food very inviting. At $19, it's relatively affordable considering the amount of offerings. Unfortunately, service is a bit slow on busier weekends.
It can get pretty crowded, so reservations are recommended. Update: The buffet is no longer offered, however, you can enjoy delicious a la carte entrees.
Location: 207 S Main St, Greenville, SC 29601
Best quick breakfast: Sully's Steamers
Sully's is a unique bagel shop where you can order far beyond the standard bagel and cream cheese. While these are not authentic NY style bagels, the creative offerings make it a fun new place to try for breakfast. From a veggie based "Green Vegas," to a meat loaded "Sinful Steamer," there's something for everyone here. Even those avoiding gluten can opt for a millet/flax sourdough bagel.
The wait can be a bit of a hassle, so try to get here early (by 9am or so) if your visit falls on a weekend. Bonus: they serve coffee from Methodical, the best roaster in town.
Location: 6 E Washington St, Greenville, SC 29601
Best pizza: Frankie's NY Pizza
Unfortunately, Greenville lacks quality Italian restaurants. That being said, Frankie's is the top place in town to enjoy an authentic NY style pie. This is more of a pick up place than a sit down restaurant. Regardless, the pizza is definitely the best in town.
Not only is the pizza great, but they also serve terrific garlic knots. The Baked Ziti is a great alternative for anyone craving a quality authentic pasta dish.
Location: 101B The Parkway, Greenville, SC 29615
Best Greek food: Greektown Grille
Greektown Grill is not only the best Greek restaurant in town, but also one of the best Greenville restaurants period. They serve authentic Greek fare and offer a huge menu of Greek favorites to choose amongst. This is where you will find the best spanakopitas in the Upstate.
Their lunch specials are amazing. Try a pita with the best homemade french fries in town for just 10 bucks. The ambiance is great too with pretty murals adorning the walls.
Great deal, great ambiance, and great food! Be sure to check this place out for lunch during your time in Greenville!
Location: 400 E McBee Ave, Greenville, SC 29601
Best tacos: White Duck
White Duck is another Asheville favorite which eventually expanded into Greenville. This is a fun place where you can order eclectic tacos a la carte and try out unique craft beers. The menu is pretty creative and they always offer at least one gluten-free and vegan selection. The apps are pretty great too. Try the chips and queso! Delicious!
The restaurant is located in the trendy Hampton Station, which is home to numerous other attractions include Due South Coffee Roasters and a popular Craft Axe throwing shop.
Bonus: Free car charging for anyone with an electric vehicle.
Location: 1320 Hampton Ave Suite 12B, Greenville, SC 29601
Best eclectic fare: Kitchen Sync
Kitchen Sync is a wonderful addition to the Greenville dining scene. This farm-to-table neighborhood restaurant serves up homemade farm fresh fare. It is Greenville's only certified green restaurant. Everything here is fresh and more on the healthy side, so it is a great choice for anyone looking for a quality, health conscious meal.
If you happen to visit during the summer treat yourself to the Southern style Tomato Pie dish – you will not be dissapointed. Other fantastic choices include the Shrimp Scampi and any of the creative Pizza selections. As far as appetizers go you cannot beat the Sweet Potato Hummus. If you have room left over, you will want to treat yourself to one of the best scratch made desserts in town. Don't hesitate and go for the delicious S'mores!
Address: 1609 Laurens Rd, Greenville, SC 29607
Best southern style food: Tupelo Honey
Tupelo Honey is a very popular Southern chain which originally opened in Asheville. The downtown Greenville location is particularly popular for Sunday brunch. Here you can feast on all sorts of specialty Southern style dishes including Shrimp and Grits, Sweet potato pancakes, and a fantastic Black Eyed Peas breakfast bowl. Start your meal off on a delicious note with fresh Southern biscuits served with honey and local jam. These are by far the most delicious biscuits in town.
Lunch at Tupelo Honey is also fantastic. They offer a variety of lunch combos priced under 15 bucks where you can choose 1/2 sandwich and 2 sides. The vegetable plate is another fantastic deal. For just $15, you can pick amongst a variety of sides for a healthy, delicious lunch. This is one of those places where you get so filled up from the biscuits that it is hard to make room for any appetizers. If you do decide to test one out, go for the Chef's mason jar dips or the pimento nachos.
Address: 1 N Main St Ste T, Greenville, SC 29601
Best international fare: Pomegranate on Main
At Pomegranate on Main, you can enjoy authentic Persian cuisine in a beautiful dining room featuring gorgeous local artwork. Likewise, the outdoor patio is a great place to people watch on nice summer days. For lunch, I would recommend trying a Kabob or a fresh wrap, along with a trio of delicious authentic Mediterranean inspired dips.
Overall, this is a great choice for a relaxed lunch date. The food, service, and setting are all right on point.
Address: 618 S Main St, Greenville, SC 29601
Best casual dining downtown: Rick's Deli
Although often overlooked, Rick's Deli is a nice choice for a casual, quick lunch. They serve fresh sandwiches, wraps, and deli sides. This is a great place to dine prior to attending any event downtown. I recommend the Blackened Shrimp and Cheese Tortellini or the Chicken Philly Cheesesteak. Every sandwich comes with a fresh deli side. You cannot go wrong with a classic macaroni or potato salad, although the homemade fries are tasty as well!
The quick service, affordable pricing, and quality fare make it a good choice for anyone seeking an affordable meal prior to attending any of Greenville's numerous year-round events.
Update: Rick's' Deli closed in 2022.
Best Asian food: Yellow Ginger
Yellow Ginger is a hidden treasure tucked away in a tiny strip mall north of downtown. This is the place to go for international Asian fare. From the outside, it may not look like much, however, the decor inside is pleasant and the food pretty excellent.
Here you can try dishes from various regions in Southeast Asia including Malaysia, Singapore, Hong Kong, and Thailand. Start with an order of homemade eggs rolls and lettuce wraps (both available vegetarian). Next enjoy a steaming bowl of traditional Egg Flower soup – it's delicious and so comforting on a cold winter's day! In terms of entrees, there is no shortage of interesting selections. Consider the Pad Chai, the Thai Red Curry Bowl, S.E. Asian fried rice, or the Singapore Rice Noodles.
Address: 2100 Poinsett Hwy, Greenville, SC 29609
Best hidden gem: Olympian Grille
Olympian Grill is another great Greek restaurant. The benefit of visiting this restaurant over Greektown Grill is the lack of crowds, due to the attractive quiet location north of downtown near Furman University. Olympian is a laid-back local establishment with a friendly vibe. Not much in the decor department, although the restaurant is clean and well-maintained. The menu is huge, the pricing very affordable, and the service always fantastic.
The spanakopita plate here is absolutely delicious and includes a side and fresh hot rolls served with herbed butter. They also make one of the best pizzas in town! Lots of choices here for everyone, with both Greek and Italian fare on the menu!
Note: The Greenville location has closed. It's worth making the trek over to the Simpsonville location for the delicious authentic offerings. Located at 7 Five Forks Plaza Ct. in Simpsonville.
Best pastries: Swamp Rabbit Cafe
Swamp Rabbit Cafe is one of the weekend breakfast favorites in town amongst both locals and tourists. If you have ever read anything about Greenville, you probably know about the Swamp Rabbit trail. This recreational path, which is popular with both bikers and joggers, has numerous starting points including the most popular access point behind the Swamp Rabbit Cafe.
Before embarking on the trail, treat yourself to a hot brewed cup of coffee (From wonderful NC based roaster Counter Culture) and a delicious homemade pastry at Swamp Rabbit Cafe. The Swamp Rabbit Cafe is a healthy co-op/coffeehouse, and all of the treats are made using local ingredients. The enticing display makes it hard to choose as everything looks more than edible.
They usually have pretty good donuts (GF available) and the cinnamon rolls are amazing. And best of all, the chocolate croissant, is never a disappointment. Oh, and if you happen to visit during the fall, treat yourself to the Pumpkin Spice Latte made with real pumpkin!
Address: 205 Cedar Lane Rd, Greenville, SC 29611
Most relaxing brunch: Bonjour
Bonjour is a charming little crepe shop located in the midst of all the bustle downtown. The setting is very nice, and yet this place remains attractively undiscovered. Thus, if you are looking for a peaceful brunch experience, Bonjour is the place to be. At Bonjour, you can indulge in all sorts of crepes, whether sweet or savory. They also serve wonderful Counter Culture coffee, and refills are unlimited.
As nice as the indoor setting is, the outdoor patio is a prime place for people watching during the nicer season. The Mushroom, Spinach, & Cheese crepe is a wonderful savory option. If you are craving something a bit sweeter, try the Creme Brulee or Bananas Foster crepe. Pricing is definitely on the high side considering the small serving sizes.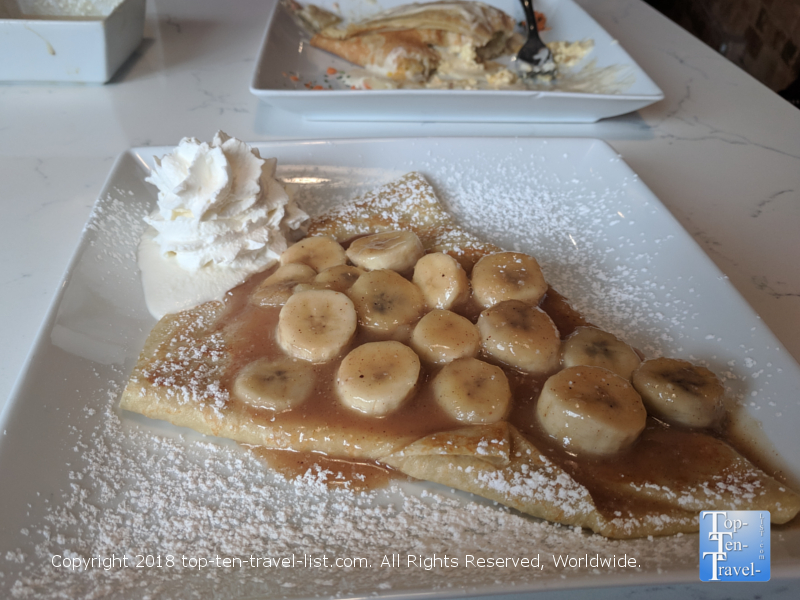 Address: 20 S Main St, Greenville, SC 29601