50 Things to do in Upstate South Carolina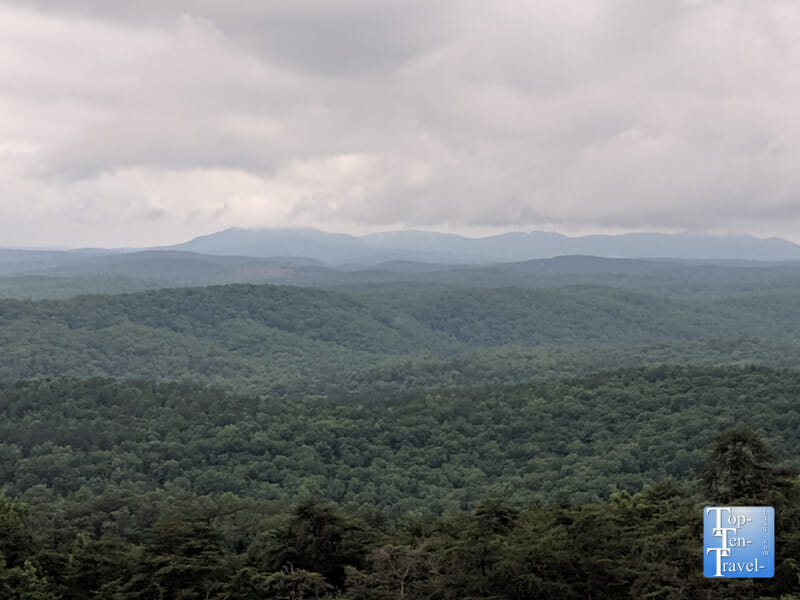 The Upstate South Carolina region is quickly becoming the hottest destination in the entire South. Today, it is more common to hear of people heading to Greenville than more popular Southern destinations of yesterday like Charleston, Atlanta, and Savannah. The town's slogan, Yeah, that Greenville, refers to Greenville's up-and-coming status as the new "it town." The hub of the Upstate easily outshines the 30+ other Greenvilles across the US.
Greenville is the trendiest new foodie destination and continues to receive praise for its' popular farmer's market and festivals. In addition to a tree-lined downtown lined with popular restaurants, the city offers close proximity to the great outdoors. The Upstate region is a natural paradise with endless options for hiking. While vacationing in the Upstate, you will have access to hundreds of hikes and waterfalls, great local restaurants, cultural attractions, and much more.
Below is a handy guide to the top 50 things to do & see in Upstate South Carolina. Try incorporating at least a few of these attractions into your itinerary during your time out here! There is just so much to see and do…so let's take a look at the best-of-the-best for starters!
1. Leaf peep at Caesar's Head
The Upstate sees some pretty gorgeous fall foliage year after year. Of course, it is not comparable to New England, the Mid-Atlantic, and the high altitude Western regions. However, the leaf peeping is much better than you would expect for the South. The best part of all is that the South's foliage season tends to be the longest.
Caesars Head is the hotspot of the Upstate come fall due to the gorgeous medley of foliage which covers the entire park grounds. The drive over from Greenville is particularly impressive with all the bright hues of autumn painting the background. A gorgeous overlook within the park looks out upon the foothills of the Blue Ridge mountains. With golden and red hues splashed across the mountains, it is an awe-inspiring sight.
Raven's Cliff Falls is the most popular hike within the park. The ending view looks out unto the highest waterfall in the state. The trek is just 2.2 miles although pretty steep. Trust me, it's worth the workout in the end to see this 400 foot waterfall wonder. Seeing the trees alive with bright color, the mild refreshing temps, crunching on fallen leaves – everything we love about fall can be enjoyed each October at Caesars Head.
Location: 59-95 Caesars Head Dr, Cleveland, SC 29635, Parking: $3 per adult.
2. Take a stroll around Falls Park
By now, you have most likely heard about beautiful downtown Greenville. The centerpiece of this bustling downtown district is Falls Park, a 23 acre nature oasis located right in the heart of the city. The mighty waterfall draws crowds from all around the Southeast and elsewhere. So many repeat visitors flock back time and time again to enjoy the beautifully landscaped gardens and mesmerizing waterfall of Falls Park.
Location: 601 S Main St, Greenville, SC 29601
3. Bike the Swamp Rabbit trail
The 22 mile paved multi purpose Swamp Rabbit trail is considered to be the recreational oasis of the Upstate. Cycling has become a popular pastime due to the numerous convenient starting points all over the city. Most of the trail is shady, and thus, suitable even during the hot, sunny summer season. While the views are nothing to rave about, there are enough trees to give the path a nice nature ambiance. It's the best place in the Upstate for a lengthy workout, for sure.
The best starting point begins right behind the Swamp Rabbit Cafe, a trendy local co-op/coffeehouse. Grab a delicious pastry (I recommend the Chocolate croissant) and a cup of coffee (they serve rotating blends from Counter Culture, an awesome Durham, NC based co.) and head out for a leisurely ride. From here, you can head right into downtown Greenville. This is a great tactic to avoid the hassle of finding parking!
And do pick up some farm fresh produce & a fresh loaf of homemade Stecca bread.
Swamp Rabbit Cafe access: 205 Cedar Lane Rd, Greenville, SC 29611
4. Get back to nature at Lake Conestee Park
Escape the clutter and tourist congestion of Greenville for a relaxing nature stroll at Lake Conestee, one of the few places to hike within the city. Here, you will find a handful of really easy nature trails, plus a paved multi use path (great for biking) which runs across the park. Lake Conestee is a picturesque place to spend an hour or 2 getting back to nature, birdwatching (over 200 species have been identified), and simply breathing in the fresh air.
Location: 601 Fork Shoals Rd, Greenville, SC 29605
5. Check out the last remaining covered bridge in South Carolina
There is nothing like seeing a historic covered bridge as so few remain today. At one point, there were thousands upon thousands of covered bridges in the country. Today, less than 1000 remain! Take a look at a few of the most beautiful lasting covered bridges. One of these historic treasures, Campbell's covered bridge, still stands strong as the last remaining covered bridge in South Carolina.
Whether surrounded by lively green trees in the spring/summer, colorful foliage in the fall, or a light dusting of snow in winter, Campbell's is one of the most popular photography spots in all of the Upstate. The 38 foot long wooden bridge, which was constructed back in 1909, is still in near-perfect condition.
Location: 171 Campbell Covered Bridge Rd, Landrum, SC 29356
6. Enjoy a bird's eye view of the mountains at Bald Rock Heritage Preserve
One of the best & most easily accessible viewpoints of the Blue Ridge foothills is found at Bald Rock Heritage Preserve. Although this is simply a short detour along the Cherokee Foothills Scenic Drive, it's worth a stop for the amazing 360 degree view. If you find yourself heading out to a park this way (such as Caesar's Head), be sure to hop out of the car for a few minutes to stretch your legs and enjoy the scenery.
Sadly, much of the area has been graffitied despite numerous warning signs. Although this does take a bit away from the view, nonetheless, the mountain vistas are breathtaking. This preserve is part of the massive Mountain Bridge Wilderness area, a vast track of uninterrupted land encompassing numerous state parks. Autumn lovers will definitely want to place this viewpoint high on your to-do list!
Location: US 276 near Cleveland (about 4.5 miles south of Caesars Head).
7. Enjoy a hearty breakfast at Stax Omega Diner
Stax Omega has been ranked as one of the top diners in the South by Southern Living Magazine. This is by far the best place in the Upstate for traditional breakfast fare. This classic diner serves everything from savory skillets, to specialty pancakes and waffles, to sweet crepes. Their house coffee is excellent too and they also offer a full specialty espresso menu.
A few worthy entrees to consider include a delicious Veggie Skillet, the seasonal Red Velvet Pancakes, and the Blueberry French toast. No matter what you decide to go with, the cozy atmosphere, great service, and delicious fare will likely leave you planning your return visit. If you feel like picking up a few treats for later, the adjacent Stax Bakery whips up the best muffins, cakes, pies, and treats in town.
Location: 3529, 72 Orchard Park Dr, Greenville, SC 29615
8. Check out Wildcat Branch Falls
Wildcat Branch Falls is the most easily accessible waterfall in the Upstate. First off, it's located right off the Cherokee Foothills Scenic Byway. Second, it requires absolutely no hiking. For anyone not interested in breaking a sweat while on vacation, this is definitely the waterfall for you! This powerful 30 foot cascade is a mesmerizing sight, and one of the few no-effort roadside options.
Location: 5500 Geer Hwy, Cleveland, SC 29635
9. Search for books while sipping coffee at Joe's – Update closed
Joe's Place is one of the few independent bookstores in the Upstate. In an area overloaded with chains, Joe's comes in as a refreshing change of pace. This bookstore/coffee shop is located in a historic home just off of the Main Street. Fortunately, it remains off-the-radar due to the hidden location.
At Joe's, you will find rooms and rooms of used & new books to browse through, along with cozy little nooks where you can catch up on some reading. Treat yourself to an espresso or glass of wine and enjoy finding your next great novel! Locals have been enjoyed the cozy atmosphere, friendly service, and special events at Joe's for years – now it's time to let tourists in on the secret!
Location: 2 Williams St, Greenville, SC 29601
10. Kayak & hike at Paris Mountain State Park
Paris Mountain State Park is the place to go for basically any type of recreational activity, whether it be hiking, biking, or kayaking. This peaceful park is located just north of Greenville and is a popular weekend hiking destination for many locals.
Trails include numerous easy-moderate options. Nothing really too strenuous here, thus making it a great place to enjoy a nature trail as opposed to a rough & tough hike. Lake Placid is a low-key lake which is perfect for kayaking and paddle boating. Rentals are conveniently available on-site. The beautiful forest scenery surrounding the lake really creates a picture-perfect setting for a day of lakeside fun-in-the-sun.
Location: 2401 State Park Rd, Greenville, SC 29609, Admission: $6 per adult
11. Check out the legend behind Issaqueena Falls
Issaqueena Falls is just one of several beautiful waterfalls in the Walhalla area. Legend says the falls are named in honor of Issaquena, an Indian who warned white settlers of an imminent attack. Legend goes that she jumped over the falls after being chased by the Indians.
Issaquena is one of the best waterfall options in the area for those who prefer to limit the hiking. This one requires a super short 5 minute walk to an observation deck. From here, you will have a prime view of this 100 foot tall beauty.
Location: Stumphouse Tunnel Rd, Walhalla, SC 29691 (Parking $2).
12. Spend the day cooling off on Lake Keowee
While the Upstate offers no shortage of lakes, most of them are busy all summer long. With South Carolina's hot & humid climate, this comes at no surprise. Lake Keowee is one of the more laid-back of the bunch. This undervisited gem is an ideal place to spend a quiet day having some fun-in-the-sun. Enjoy swimming, boating, fishing, or hiking -there's enough to do here to justify the drive for sure.
The 1.5 mile long Natural Bridge Nature Trail is a great place to start. This shady nature trail features great woodsy scenery and a small waterfall. Due to the uphill nature, you will definitely get in a workout, so you can skip the gym for the day plus enjoy the added bonus of spending time in nature.
Location: 108 Residence Dr, Sunset, SC 29685
13. Enjoy the peace & quiet at Pleasant Ridge County Park
Pleasant Ridge is a former state park which sees little traffic as it is located a bit off-the-beaten-path in far northern Greenville county. Featuring a 1 mile nature trail to a waterfall, a 6 mile mountain biking trail, and picnicking facilities, it's the perfect spot to enjoy a few hours in nature.
The park was actually developed as a state park to attract tourism in the 1940's. However, tourists favored nearby parks like Jones Gap and Caesar's Head, and thus, Pleasant Ridge was turned over to the Greenville County Recreation department. Today, it remains a quiet alternative to the bigger state parks in the region.
Location: 4232 SC-11, Marietta, SC 29661
14. Enjoy a traditional Southern style cathead biscuit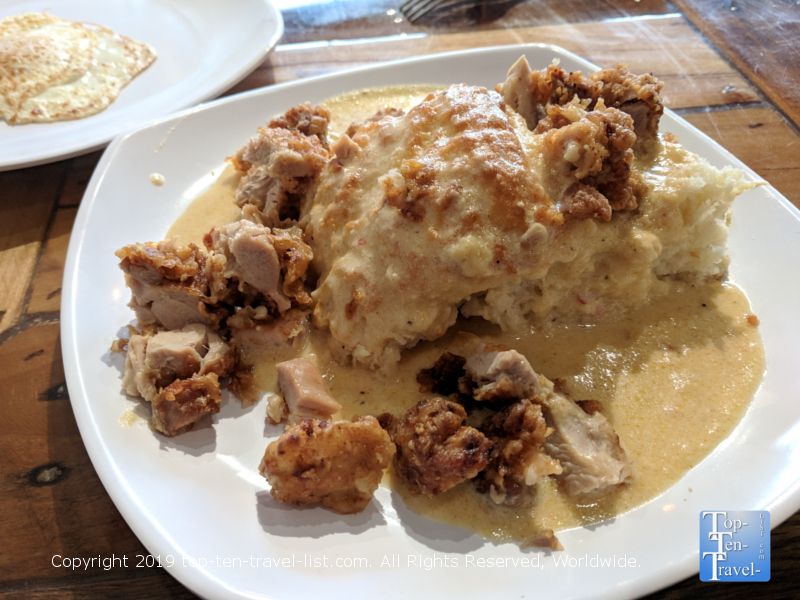 Cathead biscuits have long been a staple in Southern cuisine. These humongous biscuits, which are "as big as a cat's head," hence the name, are a must try. Biscuit Head is the place to go for these traditional Southern biscuits. Whether served alongside a flight of gravy, or topped with jam (pick and choose from the self service 12+ flavor jam bar), these biscuit are a tasty treat well worth the wait!
Be aware that this place is so popular that a line begins to form shortly after opening! Fortunately, this location does not see half the traffic that the original location in Asheville sees. However, with Greenville's ever growing popularity, who knows what will happen in the future! Enjoy all the biscuits you can while in the South as no one else does biscuits quite the same!
Location: 823 S Church St unit c, Greenville, SC 29601
15. Take a stroll around Main Street Greenville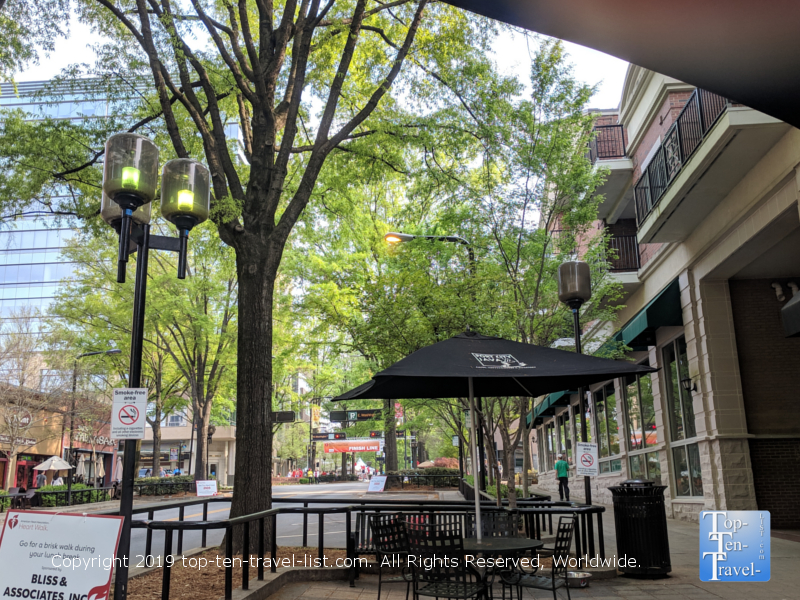 Downtown Greenville is considered to be the prime attraction of the Upstate. It's the central gathering point for tourists vacationing to the region. In between exploring the great outdoors, you will have 100's of unique restaurants, coffeehouses, ice cream shops, and specialty shops to browse up and down this tree-lined traditional Main Street.
You will also find local theaters, a great art museum, and numerous small galleries. The landscaping is beautiful with tall trees lining the street, flowers planted everywhere spring & summer, more than 50 interesting art pieces, and pretty fountains. And of course, when you need a break from it all, you can simply escape to leafy Falls Park, conveniently located in the midst of the city.
More info on downtown Greenville
16. Treat yourself to a mocha at Methodical Coffee
Methodical is the top artisan coffee roaster in the Upstate. This company has won numerous awards over the years including best of the Southeast. They use only the best in espresso equipment and employ trained baristas who really know what they are doing. Specialty brewing methods like pour over and Siphon coffee are on the menu. For anyone who likes their morning joe a big sweeter, hands down, they make the best mocha.
To top it off, the ambiance is great. Very retro and trendy. Nice place to meet up with friends or take a casual date. The coffee presentation in pretty Blue Willow china mugs is a nice treat in the days of Starbucks paper cups. Great outdoor patio too – perfect for people watching during the warmer season.
Location: 101 N Main St, Greenville, SC 29601
17. Hike to Station Cove Falls
Station Cove is a beautiful multi-step waterfall in the Walhalla region. This one is super close to Issaqueena, so you can easily combine both into a single trip to save yourself some time. The hike to get to this mesmerizing waterfall is just a little bit over a half of a mile. Nothing too strenuous here, and thus, you can relax and enjoy the woodsy setting without struggling to get to the end.
While parking is limited during prime season, this hike is surprisingly super tranquil and basically desolate the entire winter season. If you do not mind cold temps, the often times icy scenery and quiet solitude of the forest can actually be seen as an advantage over intense heat & loud touristy summer crowds.
Location: Oconee Station Rd, Walhalla, SC 29691
18. Shop & dine in downtown Spartanburg
Although not as trendy nor as hyped up as downtown Greenville, Spartanburg's Main Street offers plenty to see and do. Unique restaurants and shops make up the bulk of the downtown. Little River Roasting Company is a great independent coffeehouse. Located next door is an excellent local bookshop called Hub City Books. They offer a nice collection of super cheap used books, as well as a sizeable selection of regional history books.
The Crepe Factory is the ideal place for sweets lovers to start their day. A welcoming ambiance plus over a dozen crepes to try out make this the breakfast hotspot in town! Additionally, Spartanburg is home to a multitude of artsy offerings including a large performing arts theater, an art museum, an a free history museum.
More info on downtown Spartanburg
19. See one of the highest waterfalls east of the Rockies
Making the drive out to Upper Whitewater Falls is a must-do for nature lovers and photographers. While technically in North Carolina, it's close enough to the South Carolina border, and thus, not too far out of reach for anyone vacationing in the Upstate. A short 1/4 mile trail leads you to a magnificent overlook of 411 foot plunging Whitewater Falls. Lower Falls plunges another 400 feet for a stunning combined height of 811 feet! The area is pretty rugged, with the undeveloped land surrounding the falls adding a picture-perfect natural touch.
If you are up for a stair climbing session (150+ steps), you can continue on to an even better overlook of the falls. In return for your butt blasting workout, you will be treated to a really clear view of the falls with no obstruction whatsoever. Whitewater is hands down one of the best sights in the region, one not to be missed by any waterfall lover!
Location: Hwy 281 Sapphire, NC 28774
20. Check out the state's oldest and most haunted bridge
Poinsett Bridge is the oldest standing bridge in the state. The bridge was built in 1820 and is said to possibly be the oldest bridge in the entire Southeast. What once was part of a road which ran from Columbia to Saluda mountain is now completely isolated in the midst of a dense forest. The eerie vibe with the Gothic architecture & isolated setting is a bit creepy. To no surprise, the bridge is one of the most haunted sites in the entire state.
Ghost hunters love coming here to observe paranormal activity. To this day, many visitors report odd noises and ghost sightings. Do ghosts really roam about or does the otherworldly architecture and remote mountain setting play tricks on your mind? I guess you will have to find out for yourself! Or wait for Ghost Adventures to test the area!
Location: 580 Callahan Mountain Rd, Landrum, SC 29356
21. Enjoy the best Greek food in the Upstate at Greektowne Grille
Greektown Grille is the place to go in the Upstate if you are a fan of Greek food. This local gem is located off the hectic Main Street, and thus, offers a quieter ambiance. Plus, it's much easier to find parking away from the tourist congestion. Greektown offers a wonderful menu of traditional Greek fare. The perfectly made spanakopitas are what really bring me back time and time again.
Lunch is the best time to plan your visit due to the fantastic specials. The pitas are amazing and served with the most delicious homemade fries in town! Lots of goodies on the menu here including fabulous appetizers and desserts. Come check it out for yourself!
Location: 400 E McBee Ave, Greenville, SC 29601
22. Check out Yellow Branch Falls after a major rainstorm
Yellow Branch Falls is one of those waterfalls which you have to time just right to see it in its' best light. You could be looking at an extremely powerful waterfall or a mere trickle depending on just how well you time your visit.
A day or 2 after a major storm is when this mesmerizing waterfall is at its' best. While not overly tall at a mere 50 feet, what Yellow Branch lacks in height it makes up for in its' unique layout consisting of many levels of varying intensities.
Location: Sc Hwy 28 Walhalla, SC 29691
More info on Yellow Branch Falls
23. Browse for old fashioned gifts at Mast General Store
Mast General Store is a favorite of many tourists for its' old time nostalgic vibe. An old-fashioned candy counter and a huge retro toys and games section will make you feel like you have taken a step back in time as soon as you enter the doors.
They also carry a wide selection of outdoor gear and apparel, Greenville themed gifts, and tons of Southern style novelty items (jams, honey, cookbooks, decor, etc.). The old time popcorn counter by the register is another cute throwback to the past.
Location: 111 N Main St, Greenville, SC 29601
24. Enjoy the greenery at Hatcher Woodland Preserve
There may not be many places to enjoy nature in the immediate Spartanburg vicinity, however, the one place that does exist is pretty nice. Hatcher Woodland Preserve is a tranquil space to enjoy light walking, birdwatching, and rejuvenating amongst the sights and sounds of nature.
It's not very big at just 10 acres, yet large enough to add on as a sidetrip if you plan on exploring downtown Spartanburg. The gardens are green and well-maintained, with the highlight being the pretty waterfall pictured above.
Location: 832 John B White Sr Blvd, Spartanburg, SC 29306
25. Treat yourself to the best breakfast buffet in the Upstate at Soby's
Soby's is a Greenville downtown restaurant favorite known for their new Southern style cuisine. While the food offerings are great anytime of the week here, nothing quite beats the Sunday brunch buffet spread. Featuring made-to-order omelets, a full medley of breakfast offerings, lunch salads, and a full tantalizing display of desserts, you really can't go wrong choosing Soby's for your Sunday Brunch.
The beautiful ambiance includes gorgeous decor and brick walls, alongside a shady summertime patio. This is a classy place which is just perfect for a date, celebration, or family gathering.
Location: 207 S Main St, Greenville, SC 29601
26. Take a stroll around Furman Lake
Furman University has been rated one of the most beautiful college campuses in America. On the grounds of this private university lies a tranquil lake with a 1.5 mile paved walking path around it. Fortunately, this trail is open to the public with free parking available after 5 on weekdays and anytime on weekends.
Additionally, 13 miles of maintained hiking trails are available throughout the wooded grounds of the campus. What's more – one of the best sections of the Swamp Rabbit trail starts right behind the lake.
Location: 3300 Poinsett Hwy, Greenville, SC 29613
27. Relive baseball history at the Shoeless Joe Jackson museum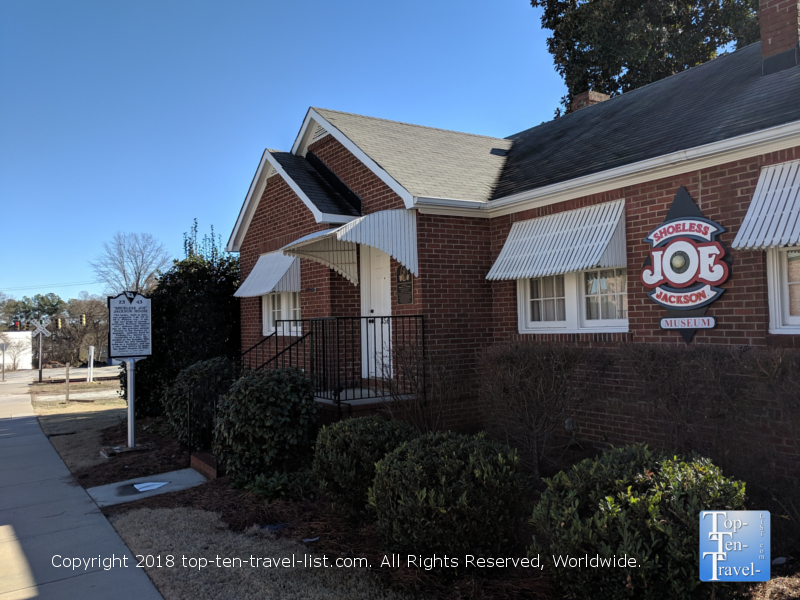 Any baseball fans will definitely want to carve out an hour or so to explore the Shoeless Joe Jackson museum in downtown Greenville. Shoeless Joe Jackson, notorious for the Chicago Black Sox scandal of 1919, lived and died in the Greenville area. His actual home is now open for tours with dozens upon dozens of memorabilia pieces to check out. Best of all, admission and tours are absolutely free!
Location: 356 Field St, Greenville, SC 29601
28. View the exhibits at the Greenville County Museum of Art
The GCMA is one of the best art museums in the Southeast. The museum's claim to fame is housing the largest collection of watercolors by talented artist Andrew Wyeth. Although quite small, the museum features many gorgeous pieces, as well as various special exhibits throughout the year.
Location: 420 College St, Greenville, SC 29601
29. Ice skating on Main
The highlight of a winter visit to the Upstate is Ice on Main. Every November, a real ice rink comes to Main Street. The rink is no Rockefeller Center, however, the twinkling lights, holiday tunes, and cityscape setting do make it one of the most romantic places for a winter date. It's one of the only real ice rinks in the region. Bring your own skates to save yourself 5 bucks.
Location: 206 S Main St, Greenville, SC 29601 ($10 admission includes skate rental).
30. Visit the South Carolina Botanical Gardens
A wonderful free botanical garden is located on the grounds of Clemson University. This is an easy daytrip from Greenville, and thus, a must- see by garden lovers. This place is huge with over a dozen gardens spread out over a huge 295 acre space of land. Nature trails, colorful flowers, streams, waterfalls, lake views…it's a gorgeous place for anyone who loves nature.
The diversity of gardens here is pretty impressive. You will see everything from cacti to hydrangea during your visit. Also on-site is a great little geology museum featuring a large collection of minerals and fossils.
Location: 150 Discovery Ln, Clemson, SC 29634
31. Hike the Carrick Creek Nature trail at Table Rock State Park
Carrick Creek is a quaint easy nature trail featuring a waterfall. The hike is located within Table Rock, a state park more well-known for its' namesake trail. As this climb up to Table Rock is extremely hard and only suitable for the most advanced of hikers, Carrick Creek is a much better choice for the casual tourist. This one is shady and short – perfect for the hot summer season.
Location: 158 E Ellison Ln, Pickens, SC 29671 (Fee: $5 per adult)
32. Shop for retro goods at the Vintage Warehouse
The Vintage Warehouse is a massive indoor market in Spartanburg. From furniture, to art, to vintage clothing, you will find just about anything and everything here. The 30,000 square foot space includes handcrafted and repurposed vintage items from over 50 given vendors at any time, so plan a bit of time to browse through everything.
Location: 1201 Union St B, Spartanburg, SC 29302
33. Pick your own produce at a local farm
There are numerous great family farms all around the Upstate. Stewart Farms in Simpsonville is a great choice near Greenville. Fall is the best time to plan your visit as you get to enjoy the traditional experience of taking a wagon ride out to the patch and cutting your own pumpkin. Spooky nighttime wagon rides are also available.
During the spring season, you can pick your own strawberries. Summertime, you can purchase fresh produce grown right on-site. If your visit falls during the winter season, be sure to stop by to pick up a fresh poinsettia (available in red, white, marble, pink, and burgundy!).
Location: 6600 SC-92, Enoree, SC 29335
34. Try a slice of traditional Southern style tomato pie
I never had a slice of tomato pie until dining at Kitchen Sync in Greenville. This summertime Southern dish really is a savory treat worth making a special visit for. Kitchen Sync has won numerous awards and is currently one of the highest rated, most popular dining establishments in Greenville.
Kitchen Sync is Greenville's only certified green restaurant. The delicious handcrafted cuisine, dedicated to using healthy ingredients, and unique vibe definitely place it high up on the Upstate dining must-try list.
Location: 1609 Laurens Rd, Greenville, SC 29607
35. Enjoy the serenity at Cedar Falls Park
Cedar Falls is another great low key park in Greenville county. This one features a beautiful 200 foot wide waterfall, several nature trails along the river, and plenty of picnicking facilities. When you need a break from all the tourist congestion, head over to Cedars Falls for a recovery walk. Offering a much needed tranquil atmosphere to get away from it all, Cedar Falls works as the perfect nature escape.
Location: 201 Cedar Falls Rd, Fountain Inn, SC 29644
36. Take in some culture at the Chapman Center
The Chapman Center is a wonderful place for history buffs and art lovers to take in some regional culture while visiting the area. Featuring an art museum, a local history museum, a theater, and a science center, there is more than enough to do here to keep you busy for a while. Best of all, you will not have to break the bank. The art museum and history museum are completely free, and the science center just 5 bucks.
Location: 200 E St John St, Spartanburg, SC 29306
Check out this year's lineup of performances by the highly regarded Ballet Spartanburg.
37. Hike to the highest waterfall in the state
Raven's Cliff is a 400 foot waterfall wonder within Caesar's Head State Park. Although the trek to the overlook involves a challenging 2.2 mile mostly uphill climb, it's worth it in the end to see the state's tallest waterfall. Save this one for the height of fall as you will be surrounded by the gorgeous colors of the season.
Location: 8155 Geer Hwy, Cleveland, SC 29635
38. Hit the road for a scenic drive
Being in the foothills of the Blue Ridge mountains, the Upstate area offers no shortage of beautiful country drives. One of the best is the Cherokee Foothills Scenic Highway 11, a 130 mile drive which was once used by the Cherokees and the French & English fur traders. This picturesque drive begins in a Traveler's Rest, a small community located just 10 minutes north of Greenville. And do try out some boiled peanuts (you will see various stands along the route).
Location: 3751 Highway 11 Travelers Rest, SC 29690
39. See 2 waterfalls via 1 short hike
Reedy Cove Falls aka Twin Falls is aptly named for the 2 adjacent waterfalls that join together on Reedy Cove Creek. The highest of the 2 plunges 75 feet. Both these waterfalls are so powerful – it really is an amazing sight to see. Once you see this beauty, you will agree that it is definitely one of the more impressive waterfalls in the state.
Location: Water Falls Rd, Sunset, SC 29685
40. Take in the beauty of King's Creek
King's Creek is another waterfall stunner in the Upstate. This one is 70 feet tall and spectacularly shaped. Aesthetically speaking, it's definitely one of the most mesmerizing of the Carolina waterfalls. The trail is a little over half a mile each way and moderate in difficulty.
The best part of all is that the trail remains really isolated, possibly due to a hidden starting point near a campground. Due to its' location in the dense Sumter National Forest, the trail is very woodsy and shady enough for a summer hike.
Location: Burrells Ford Campground Tamassee, SC 29686
41. Winterfest at Carowinds
Carowinds is a popular theme park lying on the border of the Carolinas, and thus easily accessible to residents of both states. The theme park is pretty large, incorporating a mix of both family friendly and thrill rides. Not only will you find carnival favorites like the Zephyr and Himalayan, but also heart pounding roller coasters.
The best time of the year to visit is during the seasonal holiday spectacular known as Winterfest. During this time of year, the park is transformed into a winter wonderland with over 5 million colorful lights, a 70 foot Christmas tree, specialty food and drink, and best of all, incredible shows. The singers/dancers are all so talented and the shows are perfectly choreographed.
Location: 300 Carowinds Blvd, Charlotte, NC 28273
42. Relax at Chau Ram County Park
This small, but pretty park in beautiful Oconee County has been referred to as one of the hidden gems of the Upstate. The highlight here is a beautiful 40 foot waterfall, conveniently located right near the parking area, so you do not have to hike to see it. On the other hand, if you are up for a bit of hiking, there are several pretty nature trails to enjoy.
Other amenities include a small beach, picnicking facilities, playgrounds, and a 160 foot suspension bridge over the Chauga River.
Location: 1220 Chau Ram Park Rd, Westminster, SC 29693 (Fee: $3 per person).
43. Hike to the Jones Gap waterfall
Jones Gap State Park is adjacent to Caesars Head in a beautiful expanse of untouched forested land known as the Mountain Bridge wilderness area. Like Caesar's Head, this state park offers a variety of trails and typically sees tremendous foliage during the fall season. This park is home to 2 gorgeous waterfalls, with Jones Gap being the easier of the 2. Rainbow Falls, while difficult to access, is one of the nicer waterfalls around.
What Jones Gap has over Caesars Head is lower visitation rates. Because of the low traffic, the trails are much more peaceful here. The trek to the Jones Gap waterfall is just a mile each way and not overly difficult. In fact, it feels more like a quaint nature stroll rather than a hike, so it's a great choice for families and casual hikers. The best part of all is that you basically get to enjoy the waterfall pretty much to yourself as most hikers tend to bypass this one in favor of Rainbow Falls.
Location: 303 Jones Gap Rd, Marietta, SC 29661 (Fee: $6 per adult)
44. Hike at Croft State Park
Croft State Park is located just minutes from downtown Spartanburg. The land which the parks sits on was used as a US Army training camp in WW2. Today, locals enjoy using the various trails for hiking, horseback riding, and mountain biking. Lake Craig is a hotspot for fishing and canoeing.
A great place to start is the 1.5 mile nature trail. This is a hiking only trail, and thus, quiet and secluded much of the time. Pines and hardwood trees provide a pretty setting for an hour or so out in nature. The trail is easy and well-marked, and overall, it's an enjoyable way to get in a workout.
Location: 450 Croft State Park Rd, Spartanburg, SC 29302 (Fee: $3 per person).
45. Be on the lookout for special events
The Greenville area in particular offers an abundance of events all year-round. Most popular is the TD Saturday Farmer's Market, which runs from May through October. You will find a huge offering of local goods here including fresh produce, farm fresh dairy, as well as jams, honey, spices, and much more. Enjoy a cup of joe from a local roaster, pick up a fresh loaf of bread, and treat yourself to a croissant from the Swamp Rabbit Cafe.
Additional events to check out
Artisphere -A 3 day art festival which attracts talent from all over the country.
Festival of Trees – Every December, dozens of locally decorated trees adorn the atrium of the gorgeous Hyatt Regency hotel downtown.
Moonlight Movies – Every May & September, the city of Greenville hosts free movies at Falls Park. Additionally, they usually screen a Christmas classic sometime in December.
Fall for Greenville – A multi day food fest featuring fare from over 40 local restaurants.
Full lineup of Greenville events
46. Enjoy healthier treats at the Swamp Rabbit Cafe
Swamp Rabbit Cafe is the place to go if you enjoy healthy, organic local food. This co-op/coffeehouse in Greenville is known for their fresh baked pastries, farm fresh produce, great coffee, and fresh homemade breads. The delicious spread of pastries includes croissants, cinnamon rolls, and doughnuts (they even offer a gluten/dairy free option). Other light breakfast fare includes quiche, oatmeal, and breakfast sandwiches.
Their homemade Stecca bread is pretty amazing, so be sure to pick up a loaf. The serve Counter Culture Coffee, a Durham, NC roaster known for their high quality blends. The outdoor patio is the perfect place to linger with your coffee during the nicer months. Best of all, you can hop right on the Swamp Rabbit trail after breakfast as it is located right behind the cafe.
Location: 205 Cedar Lane Rd, Greenville, SC 29611
47. Dine next to Reedy River waterfall
Passerelle is a quaint French bistro known for its' picture perfect location looking out upon Falls Park. It's hard to miss this restaurant with its' prime location adjacent to beautiful Reedy River Falls. Make a reservation for the patio (outside of the hot summer season of course) and enjoy a leisurely brunch where the scenery is just as good as the food.
The Passerelle Breakfast plate is a nice choice – the potato croquettes and croissants are both excellent. If you are up for something sweet, treat yourself to the chef dessert sampler. Let's just say you will have leftovers for a few days! The coffee here is excellent and unlimited so you can linger on longer, enjoying the tranquil setting. On one sour note, the service is often quite rude.
Location: 601 S Main St, Greenville, SC 29601
48. Take in the serene views at Spoonauger Falls
Although it is quite a drive from Greenville, Spoonauger Falls is one of the prettiest waterfalls in the Upstate. Unfortunately, getting to the trail is another story! The trailhead/parking area is not marked, and thus, you can easily miss this one. Spoonauger is located off of the Chattooga River trail. Once you find the trail, it's easy from here.
The trek to Spoonauger takes just ten minutes or so. The natural surroundings are gorgeous and the trail is never overcrowded. The lovely waterfall cascading down a rock wall is nature at its' best. Tip: combine this waterfall with nearby King's Creek for a nice little daytrip.
Location: Burrells Ford Rd. Mountain Rest, SC (look for the Chattooga River trail sign located about 0.5 miles from the Burrells Ford campground parking area.
49. Treat yourself to a luxury foot soak
Wake Foot Sanctuary, a popular foot pampering spa in Asheville, has recently opened a second location in Greenville. Although getting a simple foot soak sounds pretty basic, it comes in as a real treat after a weekend full of hiking. If your feet are sore after many days of exploring the great outdoors, a relaxing, rejuvenating foot soak might sound good. The entire experience is so relaxing, from the hot neck wrap, to the refills of hot water, to the quiet spa like ambiance.
Wake offers 10 different luxury foot soak experiences, from a calming lavender chamomile blend, to a stimulating wintergreen and rosemary soak. For an extra fee, you can add on a reflexology or hand and arm massage. No matter which soak you choose, you will definitely walk out with soft feet and a refreshed mind!
Location: 108 W Broad St, Greenville, SC 29601
50. Spend the morning being active at Cleveland Park
Cleveland Park is the best local park in the Upstate. You can basically do anything active here. Whether it be tennis, volleyball, bike riding (the Swamp Rabbit trail connects here), or basketball, this is the place to go for a morning workout. Check out the fitness trail which is lined with about 10 diverse stations. If that isn't enough, the small Greenville Zoo is also located here. Also be sure to take a walk around the beautiful Rock Quarry Garden.