10 things to do this winter in Upstate South Carolina
While the Upstate South Carolina region generally sees milder winters than much of the country, the temps are usually still cold enough to limit most outdoor activity. Occasional light snowstorms are not all that uncommon. With daily highs hovering in the low 30's-upper 50's on average, and lots of dreary rainy days on the forecast, this is not the best time of the year to enjoy the beautiful natural surroundings abundant throughout the Upstate.
Visiting during the winter season does however offer several benefits. First off, this is the slow season, so if you do venture off to explore the beautiful hiking trails in the Blue Ridge mountains, you will enjoy a much more tranquil setting. Second, hotels tend to be cheapest this time of year. Most importantly, the very popular Main Street in downtown Greenville, is usually quite empty, and free parking is easily found.
Here are 10 fun things to do this winter season in the Upstate SC region
1. Check out a museum
There are numerous small museums throughout the Upstate, nothing too spectacular, however, good enough to kill a few hours on a cold day. The best-of-the-best is the Greenville County Museum of Art. This small, yet impressive art gallery houses the largest collection of watercolors by renowned American artist, Andrew Wyeth. Admission is free! Special exhibits change throughout the year – check the website for more details. Location: 420 College Street
Other interesting Upstate museums
*The Shoeless Joe Jackson Museum – A must see for baseball/Field of Dreams movie fans. See the home where Shoeless Joe Jackson lived, browse through various memorabilia, and learn more about the history of the infamous Chicago Black Sox scandal. Free admission! Tours available. Location: 356 Field Street
*Zentrum museum – Learn more about the history of the classic luxury car at the only BMW museum in North America. Free admission! Location: 1400 SC – 101 Greer
*Upcountry History Museum -Not a great value in my opinion, however, if you are a history buff and interested in learning more about the history of this region, you may want to consider a quick stop here. Location: 540 Buncombe St
*Spartanburg Art Museum – A small free museum spotlighting contemporary works of art. Not as impressive at the Greenville museum, but worth a quick look if you are in the vicinity. Location: 200 E. John St
2. Explore Greenville's foodie scene
Since your outdoor recreational opportunities will be extremely limited this time of year, now is the time to explore the unique restaurant scene. The city continues to receive praise for its' diverse foodie scene, with new and interesting restaurants continuously opening up downtown. Last year, People magazine ranked Greenville "one of the top 10 foodie cities in America."
Main Street is where you will find the majority of independent restaurants. Additionally, downtown Traveler's Rest, Spartanburg, and Simpsonville are currently getting into the trendy foodie scene. Tandem Creperie in Traveler's Rest is a popular breakfast spot which serves great coffee and delicious crepes. As a bonus, it is conveniently located en route to many natural attractions in the Blue Ridge mountains.
For now, you will want to mostly focus on downtown Greenville. This small city downtown is home to more than 100 unique local coffee houses, restaurants, and breweries.
Here are a few excellent local restaurants to check out
Sully Steamers -Amazing steamed bagels in every combo imaginable – messy, but delicious!
Biscuit Head – Giant cathead biscuits, either paired with a unique gravy flight or topped with flavorful jams from the unique 10+ self service jam and honey bar
Handi Indian – Best Indian food in town (although a tad on the spicy side), excellent diverse lunch buffet with plenty of vegetarian options.
Roost – Excellent restaurant inside the Hyatt Regency on Main. The focus is on organic and local ingredients. Great selection of healthy salads and wraps, as well as an all-you-can-eat breakfast buffet.
Greektown Grille – Delicious homemade Greek food in an attractive space. The Spanakopita and pitas are both amazing! Best French fries in town too!
A full guide to the best Greenville restaurants
3. Explore the independent coffee scene
Like many bustling cities today, Greenville's indie coffee scene continues to expand. Tourists and locals alike appreciate the superior quality and local charm of these coffeehouses, as opposed to the common big chains.
Here are a few of the best-of-the-best the region has to offer
*Methodical -Highest quality beans in the area. Has won numerous awards over the years. Beautiful 2 story layout and amazing handcrafted espresso drinks. Location: 101 N. Main
*Coffee Underground – Long running local favorite located in a dark cozy space. Perfect laid-back ambiance for working or meeting up with friends. Serves great veggie quiche! Location: 1 E. Coffee St
*Spill the Beans – Decent coffee and delicious gelato, nice views of the falls, cozy setting for a rainy/cold day. Location: 531 S. Main
*Swamp Rabbit Cafe – Local coop and coffeehouse which serves the best pastries in town. Options include chocolate croissants, vegan donuts, scones, and much more! Beautiful patio seating. Location: 205 Cedar Lane Rd
More info on Greenville's coffee scene
And, if you prefer hot chocolate, you really cannot beat the decadent housemade hot cocoa at Methodical. It's a bit pricey at $3+ a mug, but an indulgence well worth the splurge!
4. Lace up your skates and hit the rink
Ice skating is a great way to burn tons of calories, get into the holiday spirit, and feel youthful again. Ice on Main opens in late November, right in the center of bustling Main Street. As downtown Greenville is home to the only real outdoor rink in South Carolina, it's definitely worth a look for any winter enthusiasts visiting over the holiday season.
Spartanburg's Skating on the Square is also quite popular, although Greenville's rink is much more festive.
If indoor skating is more your thing, check out Skating on the Big Ice. This popular event is held on various weekends in January and February at the Bon Secours Wellness Center.
Location: 206 S. Main St
5. Take a brisk walk around Falls Park
Winter is a great time to enjoy Greenville's number one attraction, Falls Park on the Reedy. Home to a pedestrian suspension bridge, quaint nature trails, a beautiful waterfall, and pretty landscaped gardens, this park is considered the oasis of Greenville. Due to the pretty natural setting, this park draws big crowds, especially during the summer. During the quiet winter months, the ambiance is much more tranquil.
While winter temps are often quite cold (bundle up and grab a hot cocoa!), crowds are basically non existent. And thus, you will basically get to enjoy the entire park to yourself! After your walk, treat yourself to a nice lunch at Passerelle, a French bistro which was recently ranked as one of the most romantic restaurants in the world.
Location: 601 S. Main St
6. Browse through unique shops & galleries
A number of interesting shops line downtown Greenville, including mainstream retailers as well as unique boutique shops. From high end designer shops, to gourmet food specialties, to a gem shop where you can hunt for your own treasures via flume mining, there are more than enough shops to keep you busy on a cold day.
Here are few of the best downtown Greenville shops to incorporate into your visit:
*Mast General Store – Old-fashioned general store with an old time candy counter, nostalgic toys and games, outdoor gear, holiday gifts, books, southern style foods, and much more.
*Poppington's Gourmet – Delicious homemade popcorn in a variety of interesting flavors. Lots of cute gift sets and knick knacks.
*CR Tea Company – Specializing in over a hundred different loose leaf tea combinations, in green, black, and herbal based blends. Enjoy a cup of tea in the cozy setting or purchase your own bag to brew at home. The Pumpkin Cream, Strawberry Fields, and Lavender Limoncello are great selections.
*Oil & Vinegar – Specialty oils and vinegar, plus tons of great gift sets.
Tip: Stop by the visitor's center (206 S. Main) to pick up a handy map of the downtown.
If you prefer bargain hunting…
*Antique shops – There are numerous antique shops lining the tiny town of Travelers Rest (just north of Greenville) if you love hunting for unique treasures. Rock House Antiques (415 Mauldin Ave) is a popular choice for vintage hunters in the Greenville area.
*Horizon records – Tons of new and used records, plus DVD's and Blu Rays. Huge clearance section of records for just a buck. Located just outside of downtown Greenville at 2 W. Stone Ave.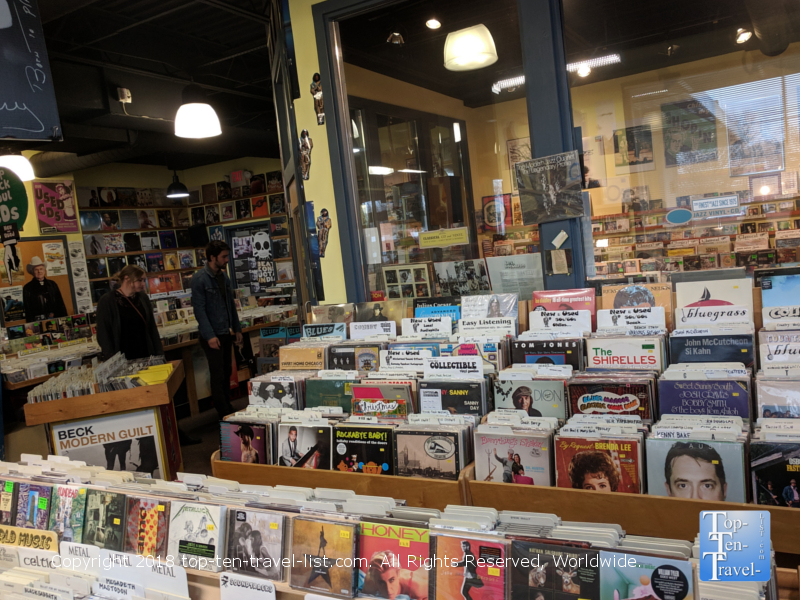 Check out Visit Greenville's full guide to shopping in the area
7. Check out a roadside waterfall
The Upstate SC region is loaded with amazing waterfalls. Access to many of these require a lengthy trek, while others are conveniently located right off the highway. Wildcat Branch falls is a roadside wonder conveniently located just 20 minutes north of Greenville. If you are up for an invigorating winter hike, there is a moderate 1 mile hike to another gorgeous waterfall.
More roadside beauties
Twin Falls – This beautiful set of waterfalls is located in Pickens County and requires a simple 10 minute hike – not a bad trade off for such a wonderful view!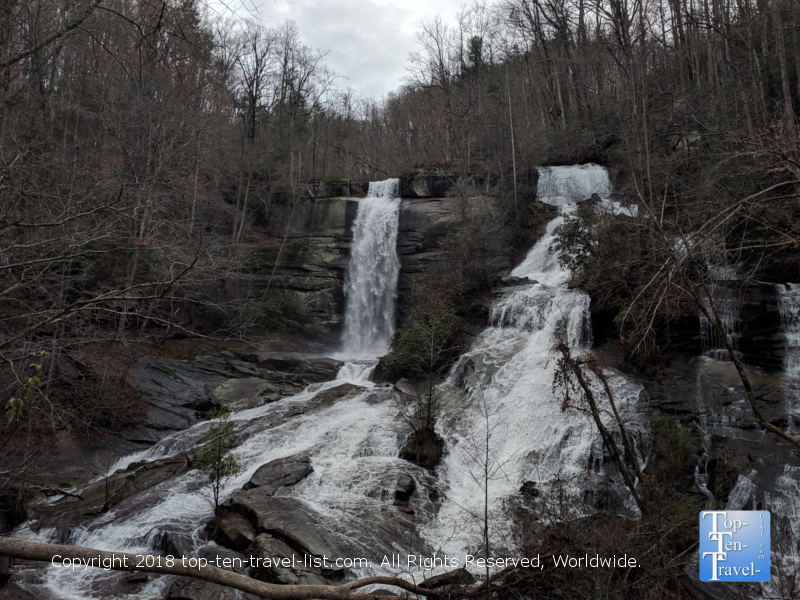 Issaquena Falls – A quick 5 minute stroll leads you to an observation deck of this beauty.
Full guide of the best South Carolina waterfalls
8. See a show
Winter is a great time to cozy up inside with a great play, symphony production, or special event. Fortunately, there are plenty of interesting events and special holiday extravaganzas this time of year.
The Peace Center, the Bon Secours Wellness Arena, and the Greenville Little Theater always offer an interesting lineup of events. Be on the lookout for special holiday productions from November-January.
9. Plan a day trip to the Omni Grove Park Inn
The Omni Grove Park Inn resort in Asheville, NC transforms into a gorgeous winter wonderland each December. Home to the prestigious National Gingerbread Competition and decked out in festive Christmas decor, this is the place to go for an over-the-top Christmas celebration.
The Gingerbread competition features hundreds of elaborate, totally edible, and totally creative gingerbread houses which are festively displayed throughout the property. Past winners have included a monopoly board game, reindeers playing poker, and an old-fashioned Grandfather clock.
This "A Christmas Story" creation was my favorite gingerbread display this year.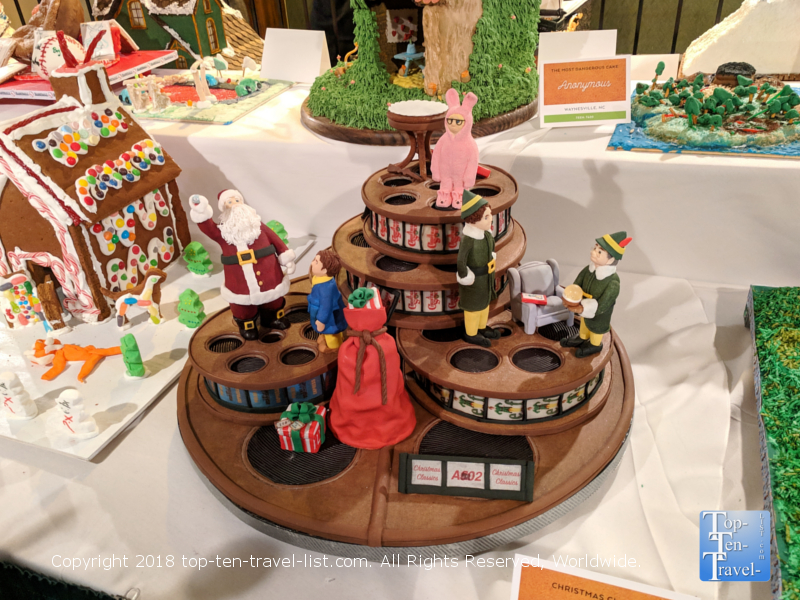 Be sure to treat yourself to a salted hot cocoa. Cozy up to one of the lobby's massive 14 foot stone fireplaces. Or treat yourself to a delicious, albeit pricey brunch at the Blue Ridge Artisanal buffet, featuring an elaborate lineup of breakfast fare plus amazing views of the Blue Ridge mountains.
Location: 290 Macon Ave.
Check out more pics from the 2018 National Gingerbread Competition
10. Carowinds Winterfest
Carowinds is a theme park which sits on the border of North and South Carolina. During the holiday season, they put on a spectacular Christmas extravaganza. From themed shows, to live holiday dance shows in front of a giant Christmas tree, to holiday shops and themed sweet treats, this park is transformed into the ultimate winter wonderland. Many of the rides are still open during the event.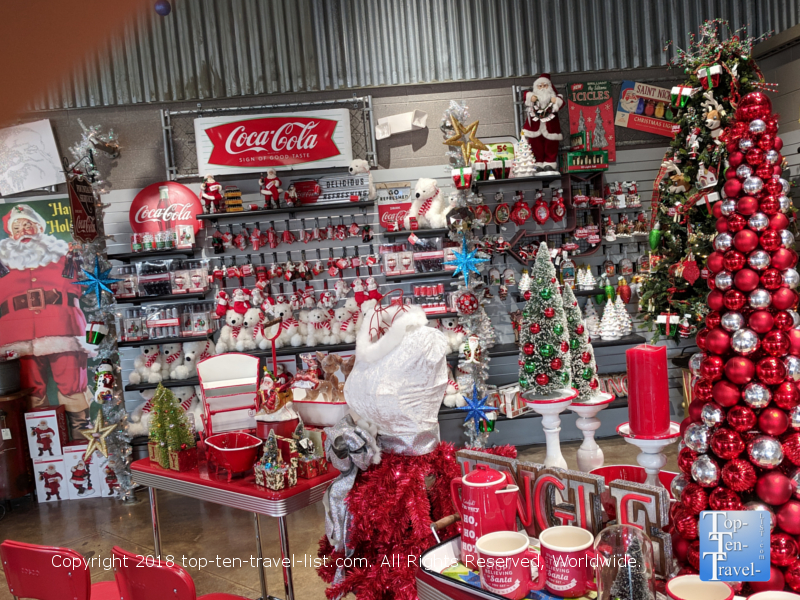 This is a great day trip for anyone staying in Greenville as the drive is just under 2 hours. Featuring 4 million lights, special shows, special holiday events, and an ice rink, it's easily the best Christmas event in the Upstate, and thus, definitely worthy of the trek. Keep in mind that many rides are closed during this time. Also, the park tends to get insanely crowded which means long ride wait times.
Location: 14523 Carowinds Blvd. Charlotte