Attraction of the Week: Paris Mountain State Park
The Upstate South Carolina region offers no shortage of natural attractions. Nestled in the foothills of the Blue Ridge mountains, the area has long been a haven for hikers and outdoor adventurous types. Greenville, located in the heart of the Upstate, is a popular base for exploring the great outdoors. Now a bustling city with an extremely popular Main St., many tourists today seek a quiet place to escape the congestion.
One such place is Paris Mountain State Park, one of the few outdoor destinations which does not require a lengthy drive out of the city. The park is located just 15 minutes from downtown, making it a convenient escape for adventure seekers looking to enjoy a bit of solitude away from the city. We all know that nature is good for us (I recommend reading The Nature Fix). Thus, spending a few hours in the great outdoors is a great way to get in a little exercise, breathe in fresh unpolluted air, and rejuvenate in natural surroundings.
Hiking at Paris Mountain
Most trails within the park fall into the easy to moderate range. One great option for most everyone is the Lake Placid Loop, a simple 0.75 mile trek around the lake. This is more of a nature trail for those who want to simply enjoy the fresh air, bird watch, and look out for small wildlife. The Mountain Creek trail is a nice moderate trek of just over a mile. And, for those up for a bigger adventure, Sulphur Springs involves a more strenuous trek, in exchange for more fantastic scenery.
A few views from the Lake Placid loop & Mountain Creek trail during the colorful fall season.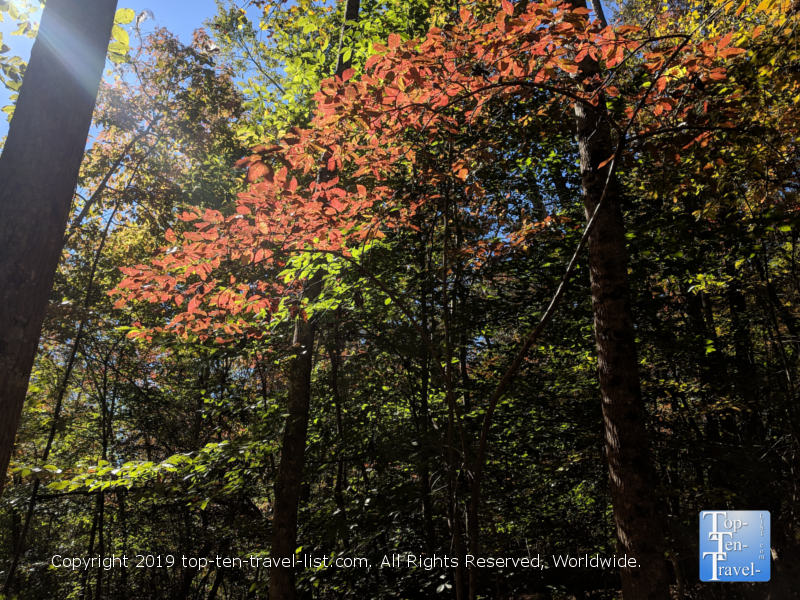 Lake Placid
Lake Placid is a 13 acre lake, popular with kayakers, fishers, and swimmers. A small portion of the lake is open for swimming (included with admission). Bass, catfish, and bream are stocked in the lake, with bass fishing reported as excellent. Kayak and pedal boat rentals are conveniently available on-site, with the setting tranquil and scenic for either activity.
The beautiful natural setting also automatically makes it a great place for a summer picnic. Even the visitor center is a beautiful place to relax. Here, you can kick back, and enjoy the lake scenery via an Adirondack chair.
Although Paris Mountain has become quite popular with local hikers and cyclists, remaining busy year-round, it still makes for a great natural escape from Greenville. Once you see how busy downtown Greenville has become, you will be seeking a quiet oasis, if only for an hour or 2!
Notes
Unfortunately, this park charges for trails maps, which is a bit ridiculous considering the entry fee. I recommend scanning the Paris Mountain trail map online to save yourself a few bucks.
It can be a bit of a hassle finding parking on the weekends. I recommend getting here early in the morning, and avoiding Saturdays altogether.
Trails can be really muddy, especially following a big storm. Always wear appropriate hiking shoes for this hike, and all others.
Additional Info
Paris Mountain State Park is located at: 2401 State Park Rd, Greenville, SC 29609.
Hours are 8am-8pm, 7 days a week
Admission fees are $6 per person ($3.50 ages 6-15)
Pets are allowed, although they must be kept on a leash no longer than 6 feet.