3 Days in Greenville, South Carolina
Greenville, South Carolina is quickly becoming one of the most highly touted travel destinations in the Southeast. As of 2019, the city is the 4th fastest growing in the US. At one time, Greenville was known as the "Textile Capital of the World." Today, the economy is booming with manufacturing and technology being at the forefront.
Tourism is also growing at a rapid pace, particularly the culinary and entertainment scene. The tree-lined pedestrian Main Street has come a long way since its' decline in the 70's. Today, the area is thriving with local boutique shops, trendy restaurants, local coffeehouses, and art galleries. A diverse range of events are on the lineup any given weekend. The prime tourist driver is the beautiful Reedy River Falls located in Fall Park.
Below is a sample 3 day weekend itinerary for visiting Greenville. As the city is located within a quick drive to the Blue Ridge mountains, dozens of scenic state parks and gorgeous waterfalls, are easily accessible via a quick daytrip. Keep this in mind when planning your itinerary.
Day 1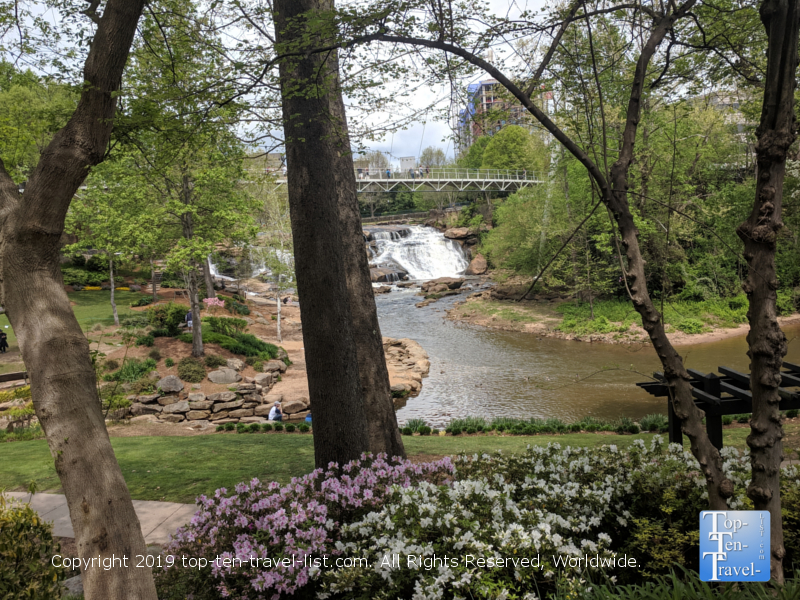 3:00pm – Check into the Hyatt Regency in downtown Greenville. You will definitely want to book a hotel downtown so you can conveniently walk to all the attractions, shops, and restaurants. The Hyatt is the nicest option downtown, being that it is a modern hotel walkable to most everything. Amenities include a great on-site farm-to-table restaurant, a beautiful atrium, and an indoor swimming pool.
4:00pm – Grab a drink and a few light appetizers at Orb Lounge. This attractive bar is located in the beautiful atrium area. Or opt for a caffeinated treat from the convenient on-site Starbucks. I prefer the blonde roast coffee. However, if you are visiting during the hot summer season, go ahead and treat yourself to the S'Mores Frappuccino!
5:00pm – Head out for an early dinner to beat the crowds! This area can get swamped, especially if there is a special event. Pomegranate on Main is a wonderful laid-back authentic Persian restaurant. They serve excellent Kabobs, plus they have the nicest patio in town.
7:00pm – Take an evening stroll around Falls Park. If you are craving something sweet for dessert, there is a gelato shop right next to the park. If you happen to be visiting during the summer months, there will most likely be an event going on. From late May-early August, be on the lookout for the Upstate Shakespeare festival.
More nightly entertainment
Check for current shows at The Peace Center
Jack & Diane's dueling piano bar
Up on the Rooftop bar
Blues Boulevard Jazz
Treat yourself to a frozen yogurt at Blueberry Frog.
Day 2
7:00am – Get up early to take advantage of the cooler weather and lack of crowds. Start with a delicious craft coffee at Methodical, rated amongst the best roasters in the South. Take a morning stroll around Falls Park and enjoy the cool, crowd-free views of the waterfall and landscaped gardens. From May-October, a popular farmer's market is in full swing on Main St. Stop by for fresh produce, local fruit, and other treats.
8:00am – While you are in Greenville, you will definitely want to check out the food scene which has placed the city on many foodie lists. Tupelo Honey, a great Southern style breakfast place, serves the tastiest biscuits in town. If you are looking for something a bit quicker, Sully's Steamers is a local favorite serving steamed bagels in all sorts of tempting combinations.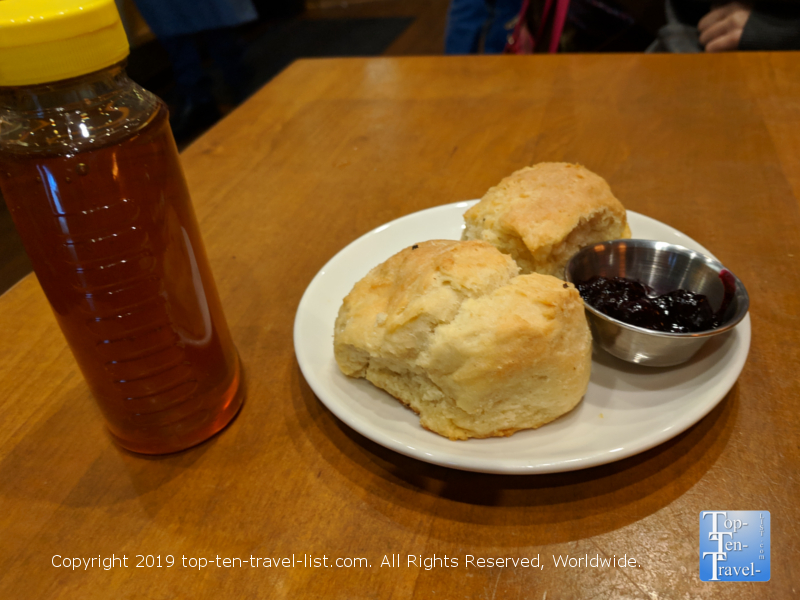 9:00am – As the city is located in the heart of the Upstate, near the beautiful Blue Ridge mountains, you will want to take some time to explore the great outdoors. Here are a few of the best waterfalls within an hour drive. If you are short on time, Wildcat Falls is located roadside, just 20 minutes outside of the city.
Noon – After working up a sweat on the trails, fill up with a excellent lunch buffet at Handi Indian. Although it's a bit on the spicy side, this buffet overs a terrific assortment of Indian favorites including various vegetarian selections. Great Naan bread, pakoras, and samosas! The ambiance is great too! Update: Handi is unfortunately closed.
2:00pm – Spend the afternoon exploring the boutique shops. It will likely be way too hot to do anything else, especially during the peak of summer. Mast General Store, Horizon Records, Poppington's, and The Spice and Tea Exchange are a few of the hotspots to check out. If you have time, check out the Greenville Museum of Art, featuring a small, yet impressive collection including the largest collection of watercolors by artist Andrew Wyeth.
5:00pm – Treat yourself to a delicious dinner at Greektown Grille. The spanakopitas and pitas here are amazing! Plus, they have the best french fries in town! Not a fan of Greek? Other decent choices include Jianna (Italian) and Roost (modern American).
7:00pm – Stop by Joe's Bookstore for a coffee or glass of wine. This local coffeehouse/bookstore is loaded to the brim with rooms and rooms of books, including many rare finds. There are plenty of cozy seats and the ambiance is perfect for a quiet night out on the town. Update: Joe's is closed.
Day 3
7:00am – Get up early once again to beat the heat. Fortunately, Sunday mornings are much quieter. On the downside, many businesses are closed. Luckily, many of the best restaurants and shops are still open. Port City Java is a great coffeehouse which offers a light, medium, and decaf roast (free refills!), along with tasty homemade muffins in an assortment of flavors. They have a nice big patio so you can enjoy the milder morning air.
8:00am – If you feel like staying close to the downtown region, opt for a refreshing bike ride along the Swamp Rabbit trail. This 20= mile long path has several access points, including one near Cleveland Park downtown. If you are willing to drive, the nicest portion runs near Furman University. Another great natural attraction nearby is Lake Conestee Nature Park. This small preserve offers a variety of short trails and is a great place to get in light exercise which looking out for small forms of wildlife.
Check out the Swamp Rabbit trail map to plan your ride. Also, bike rentals are various businesses throughout town. Reedy Rides offers half day rentals for just 20 bucks.
10:00am – Treat yourself to a quick meal before checking out. Biscuit Head is a popular choice. Here you can try a homemade biscuit, served with a gravy flight or pick and choose your own jam toppings from a self-service jam bar.
Note: The Hyatt Regency holds luggage, so if you have extra time before your flight, I recommend checking out one of the beautiful state parks in the region. Caesar's Head, Jones Gap, Dupont, and Table Rock State Park are a few of the best options within an easy hour drive.
This itinerary is based on a summer visit. Obviously, activities will need to be adjusted based on the time of year you visit. Here are a few things to do during the fall and winter season in Greenville.
Tips for a great Greenville visit!
Book your hotel in advance. Rooms typically fill up fast during the busy summer season.
If you have the availability, the spring and fall season are much more pleasant, both in terms of crowd levels and weather. If you really want to avoid crowds, you cannot beat the calm winter season – you will have Falls Park completely to yourself!
Take the free trolley downtown if you wish to avoid lengthy walking. Hours are 6-11pm on Friday, 10am-11pm on Saturdays, and 1-8pm on Sundays.
You do not need a car if you do not plan on venturing outside of downtown. The downtown is small and easily walkable. Bike rentals are also available.