Hiking Hotspot: Raven Cliff Falls at Caesars Head State Park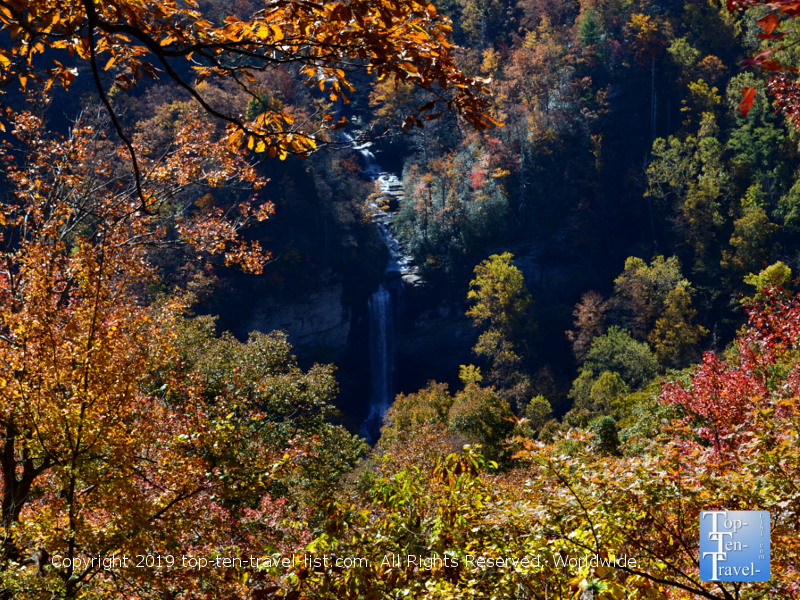 Caesars Head State Park is one of the most popular parks for hikers, outdoor enthusiasts, leaf peepers, and photographers visiting Upstate South Carolina. Caesars head joins with nearby Jones Gap State Park. Together, the 2 parks comprise a 13,000 acre stretch of land referred to as the Mountain Bridge Wilderness area. The two parks offer more than 60 miles of trails, some easy, others intense all day adventures. In any case, being prepared with adequate water, snacks, and appropriate workout wear is crucial.
Caesars Head gets its' unique name from an overlook at the top of a rocky outcrop of the Blue Ridge escarpment. Some believe that this rock looks like Julius Caesar's head. The escarpment is basically an area where the Blue Ridge mountains end and the rolling foothill scenery begins. The Cherokee Indians referred to the escarpment as "The Blue Wall." There are multiple theories as to the unique naming. The most likely explanation involves an explorer, naming it in honor of his dog, Caesar, who fell off a cliff.
Caesar's Head overlook
Regardless of whether or not you are a hiker, you will want to visit Caesars Head, if only to admire the beautiful 360 degree views via the 3200 foot high overlook. From here, you can see Table Rock mountain, and on a clear, day, Paris Mountain near Greenville. Fall is the best time to plan your visit as amazing golden hues color the background.
Also, if you are into bird watching, Caesars is an official North American Hawk Migration site. September 1st-December 1st it's possible to see thousands in a single day.
The story behind Devil's Kitchen
Another must-do if you do not plan on hiking (to justify the lengthy drive over from Greenville/Asheville) is to check out the interesting backstory behind Devil's Kitchen. This narrow passageway located between 2 massive rocks is just large enough for one person to squeeze through at a time.
The crack in the rock is likely the result of intense pressure from freezing water. However, local myths and legends state that the devil himself spilled hot liquid on the rock, thereby forming the crack!
*You will want to avoid this one if you are at all claustrophobic!*
The Raven Cliff Falls trail
The most popular trail at Caesars Head, and rightfully so for the incredible scenery, is the Raven Cliff falls trail. This 2 mile out-and-back trail leads you to a breathtaking vista of 420 foot tall Raven Cliff falls.
The hike is a bit challenging with numerous steep sections and an overall elevation gain of about 700 feet. Nevertheless, it's still one of the better bang-for-your-buck hikes in the area considering the beautiful ending vista of the waterfall. Not to mention the gorgeous forested views throughout!
With the immense popularity, you would think the trail would be super congested, although this is not necessarily the case. Caesars Head is home to miles and miles of trails, thus helping to disperse the traffic a bit. Despite the popularity of the park in general, Caesars Head is a place where you can enjoy the tranquility of nature, far away from any city setting.
Fall Foliage Hotspot
As this is a hardwood forest, the leaf peeping is pretty amazing during the peak of fall (usually mid November). Bright golden and reddish hues surround you on both sides of the trail. An abundance of hickory and oak trees easily makes this one of the best fall foliage destinations in the Upstate.
A look at the fall foliage from Nov. 2018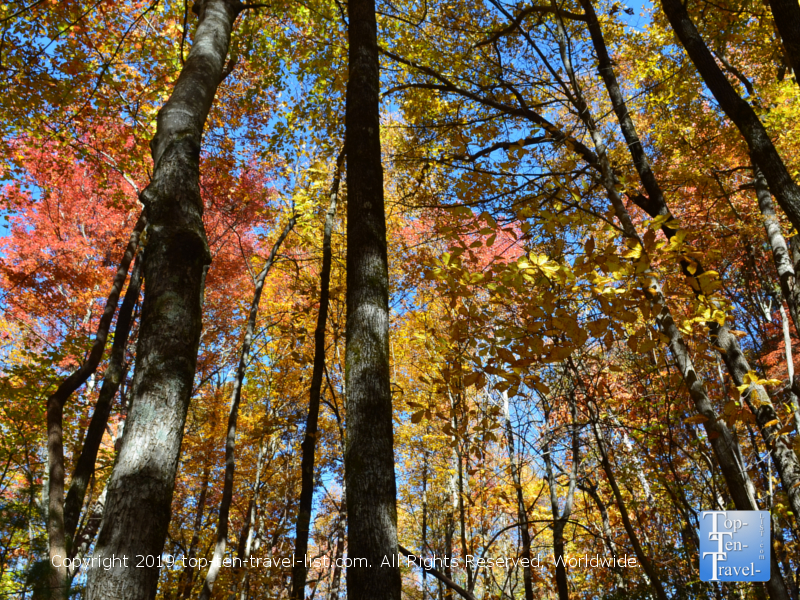 A great day trip from either Greenville or Ashevile
Conveniently, Caesars Rock is located about an hour from both Greenville and Asheville. Both of these bustling, fast growing cities are immensely popular for their thriving downtown and foodie scenes. Unfortunately, the bulk of tourists in both cities often forget about the beautiful recreational opportunities nearby.
Caesars Head is a wonderful daytrip from either city as there are a wide range of hikes available. Whether you are an avid hiker, or simply seeking a quiet nature trail, there are so many options. The drive to get to the park is as picturesque as the hiking itself, with US 276 loaded with incredible foliage every November.
Hiking Details
Location: 8155 Geer Hwy Cleveland, SC 29635 Admission fee: $3 per person
Hours: Trails close 1 hour before dark, year-round. Park hours are 9am-6pm (9pm during daylight savings time).
Distance: 2 miles out-and-back
Difficulty: Moderate
Elevation Gain: 700 feet
*Pets are allowed – although they must be on a leash less than 6 feet*
A few helpful tips for a great hike at Caesars Head
Bring with plenty of water and a few snacks. I recommend using a camelbak for a hike of this intensity.
Wear hiking shoes. This area gets plenty of rain, and therefore, trails are often muddy. Plus, the shoes will give you more traction. Also, it's always best to check the forecast beforehand – you don't want to get stuck on the trail in the rain. Fortunately, the fall season is pretty dry.
Bring with a zoom lens to get a great picture of the waterfall. Although the waterfall looks fantastic in person, it is quite far away from the overlook, picture-wise. Unfortunately, I forgot my lens!
Fill up with a great breakfast prior to heading to the park. The drive, the hike itself, and finding parking add much more time than you think. Here are 5 great breakfast restaurants to check out in Greenville before leaving for the park. If coming from Asheville, here are the top breakfast destinations.