10 Must-See Blue Ridge Parkway Attractions near Asheville, NC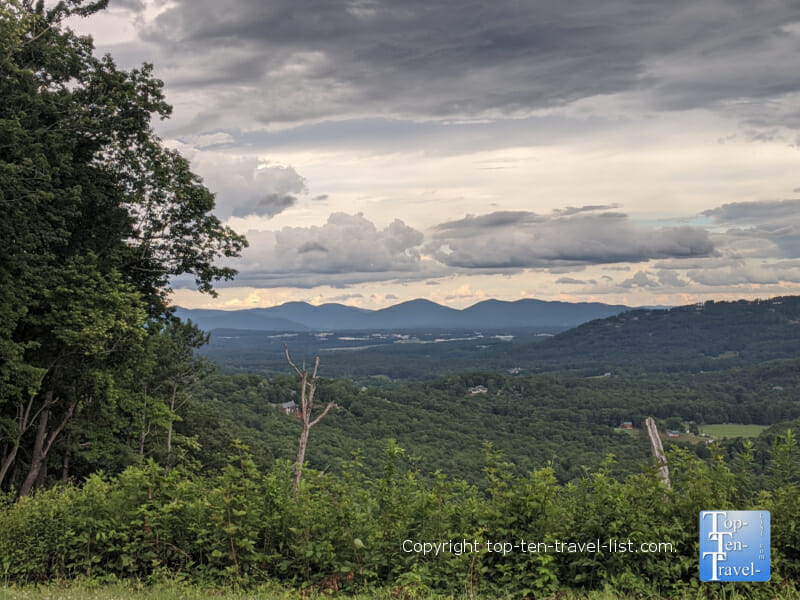 Known as "America's Favorite Drive," tourists flock from all over the US to enjoy the immense beauty of this 469 mile long drive. According to the NPS, the Blue Ridge Parkway is the most visited park in the country with over 14 million visitors per year! The scenic road stretches from the Shenandoah National Park in Virginia to the Great Smoky Mountains. However, it's much more than a simple drive. Along the way, you will find numerous picturesque overlooks of the dramatic Blue Ridge mountains, as well as many state parks, historical attractions, and museums.
Asheville is the perfect starting point for exploring the Parkway. This small urban hub is home to a thriving foodie, beer, and art scene, and thus, there are plenty of things to do in town after a long day on the road.
Below are 10 of the best Blue Ridge Parkway attractions located within a 1.5 hour drive of Asheville.
1. Linville Falls
Milepost 316
Distance from Asheville: 55 miles (~1 hour)
One of the most spectacular waterfalls in Western North Carolina is conveniently located within close proximity to Asheville on the Blue Ridge Parkway. Linville Falls, an impressive 3 tiered, 150 foot waterfall, is located within the Linville Gorge, a beautiful wilderness area which is often referred to as "the Grand Canyon of the Southeast." The Cherokees called the gorge "the river of many cliffs." Linville Gorge is one of the first designated wilderness areas in the country. Although it is far from the tallest falls in the region, the dense trees which surround the falls create a picture-perfect setting for photography.
The hike is just 1.5 miles roundtrip and moderate in intensity with several steep sections. Beautiful oak, birch, and hemlock trees provide plenty of lovely greenery along the way. There are 4 breathtaking overlooks of the gorge area, the most impressive offering a fabulous view of the upper falls. Overall, this hike is the most spectacular on the Blue Ridge Parkway. It's rustic, beautiful, and dazzling during leaf peeping season.
2. Mt. Mitchell State Park
Milepost 355.4 (Located 2.5 miles off the Parkway)
Address: 2388 State Hwy 128 Burnsville, NC 28714
Distance from Asheville: 34 miles (~1 hour)
Visiting Mount Mitchell State Park is a worthwhile addition to your WNC bucket list. This dramatic mountain stands 6684 feet making it the highest point east of the Mississippi. The breathtaking mountain can be viewed via the View Mt. Mitchell overlook at Milepost 349.9. However, it's worth the short detour to explore the state park. Along with an observing area providing a bird's eye view of the Black Mountain range, there's a fantastic shady picnicking area here, plus several hiking trails ranging in intensity.
Because of the high altitude, it's always much cooler here than surrounding lower altitude areas. As you stroll along the Balsam nature trail (an easy, enjoyable 3/4 mile trail), the fresh scent of Christmas is in the air thanks to the presence of plenty of Fraser fir trees. Interpretative signs guide you along the native flora and fauna. Be on the lookout for black bears as well as many species of birds typically found in northern climates (i.e. the winter wren). Overall, Mt. Mitchell is a fabulous place to spend the day in uninterrupted natural surroundings.
3. Grandfather Mountain
Milepost 305 (Located 1 mile off the Parkway)
Address: 2050 Blowing Rock Highway, Linville, NC 28646
Distance from Asheville: 71 miles (~1.5 hours-2 hours)
From the famous Mile High swinging bridge, visitors at Grandfather Mountain can enjoy dramatic panoramic views of the Blue Ridge mountains. The bridge dates back to 1952 and still stands strong as America's highest suspension footbridge. While a walk along the bridge is the most popular thing to do here, hiking, picnicking, and scenic drives can all be incorporated into your itinerary for a full day out. Trails range from easy nature paths to strenuous backcountry adventures. If you wish to skip the park attractions, you can opt to hike into the park for free via 2 off mountain trailheads.
The 2 mile drive to the summit is very scenic with numerous overlooks and picnicking spots along the way. Consider packing a lunch to enjoy amongst the woodsy surroundings. Also be sure to stop by the nature museum which features exhibits on native birds, wildlife, as well as the history of the region. Furthermore, a series of wildlife habits feature native animals in settings resembling their natural habitat in the wild.
4. Craggy Gardens
Milepost 364
Distance from Asheville: 20 miles (~40 min)
One of the most popular tourist destinations near Asheville is the Craggy Gardens overlook. The Craggies are a beautiful subrange of the Blue Ridge mountains located at 6105 ft. Because this Parkway stop is located just a few miles south of Mt. Mitchell, you can easily combine the 2 attractions for a nice half day out. Tourists flood the area in early summer to enjoy the colorful rhododendrons which bloom in the area. Along with a scenic overlook, there is a visitor center, hiking trails, and a large picnicking area.
Consider hiking the short, but steep Craggy Pinnacle trail for a dazzling view of the mountains. A short trek of just 20 min will enable you to view the lovely rhododendrons, plus enjoy a bird's eye view of the dramatic scenery. On a side note, the name "Craggy" comes from the jagged look of the terrain. Overall, Craggy Gardens is a great daytrip destination from Asheville, with plenty of relaxing things to do for the nature lover. Layer up – it can get pretty cold this high up anytime of the year!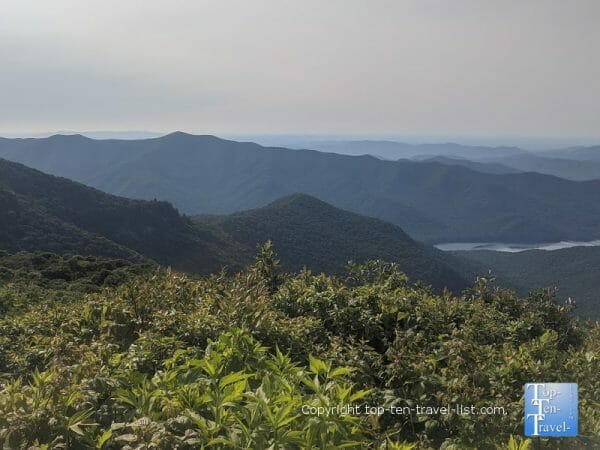 5. Folk Art Center/Mountains-to-Sea trail
Milepost 382
Distance from Asheville: 12 miles (~25 min)
Anyone interested in exploring Southern Appalachia's rich arts and crafts history will want to plan a trip to the Folk Art Center. There are several interesting exhibits to browse through here including a permanent exhibit highlighting art from AD 1000 to today. Also notable – The Allanstand Craft Stand is the oldest craft stand in the US, having been established in 1895. Lots of unique pottery pieces, glass blown art, and much more to explore here. More than 800 crafters from 9 Southeastern states are represented by the Southern Highland Craft Guild.
Artisans are on site demonstrating their work from 10am-4pm, March-December. This is the most popular stop along The Parkway, so expect crowds during high tourist season (summer and fall). Note: There is a hiking trail on-site right next to the art center. Combine the 2 for a nice morning out.
6. Chimney Rock State Park
Milepost 384.7 (located 20 miles from the Parkway)
Address: Highway 64/74A Chimney Rock, NC 28720
Distance from Asheville: 28 miles (~1 hour)
Fitness buffs will want to plan a daytrip to Chimney Rock to embark on the challenging 499 step climb up this ancient 500+ million year old monolith. For all your hard effort, you will be rewarded with an incredible vista of the Hickory Nut Gorge, a gorgeous 14 mile long canyon. There are numerous overlooks along the way where you can soak in the beauty of the Blue Ridge region. By far, this state park offers some of the most mesmerizing views in all of Western North Carolina.
While you are here, be sure to take the short stroll (about a mile) to Hickory Nut Falls. This waterfall stands a whopping 404 feet, making it the state's 2nd tallest waterfall after 411 foot high Upper Whitewater Falls. It's totally worth the little effort required to stand under this impressive falls and feel the rush of water. On a side, note, movie buffs should recognize this beauty from The Last of the Mohicans.
After your hike, take a stroll around Chimney Rock Village. Enjoy the bistros, boutique shops, and old timey general store. If you have the extra time, continue on a mere 20 miles to Lake Lure. This magnificent lake, "rated as one of the top 15 in the world," by National Geographic, was used to film several scenes in Dirty Dancing.
7. Mountains-to-Sea Trail
Milepost 382
Distance from Asheville: 12 miles (~25 min)
An easy section of the super lengthy Mountains-to-Sea trail conveniently begins at the Folk Art Center. If you are already planning on visiting the art center, you can combine these 2 great attractions in a single visit. This long trail starts near the Smoky Mountains and continues on to the Outer Banks for a total distance of 1175 miles. A popular 71 mile long rugged section begins in Asheville, however, there are a number of shorter sections for anyone who wants to enjoy just a little bit of nature without going all out.
A short well maintained section of this trail begins at the Folk Art Center. This trail is pretty popular with tourists and locals due to the easy accessibility. More avid hikers can continue on further to the Haw Creek overlook for spectacular mountain views. Additionally, another short section of this trail connects to a 1.5 mile loop trail at the Blue Ridge visitor center at Milepost 384.
8. North Carolina Arboretum
Milepost 393.6 (located adjacent to the Parkway)
Address: 100 Frederick Law Olmsted Way, Asheville, NC 28806
Distance from Asheville: 10 miles (~20 min)
60 acres of well maintained gardens and 10 miles of rustic hiking trails come together at the beautiful North Carolina Arboretum. Anyone who appreciates hiking, nature, and flowers will want to plan a visit here. The extensive bonsai collection is one of the best you will find anywhere in the country. The collection includes 100 species of bonsai (50 exhibited at one time) of Asian, European, and American origin. Each is cultivated with a Southern Appalachian touch to reflect the region's heritage.
On-site you will find 10 miles of hiking trails including a relaxing 1 mile nature stroll, a moderate 2 mile trek through the woods, as well as a strenuous 4 mile trail for the more adventurous hiker. After working up a sweat, take a break for a leisurely lunch at Bent Creek Bistro, where you can enjoy locally sourced foods amongst the natural surroundings.
9. Roaring Fork Falls
Milepost: 344.1 (trailhead is 2.6 miles from the Parkway)
Address: 208 Busick Work Center Rd, Burnsville, NC 28714
Distance from Asheville: 47 miles (~1 hour and 15 min)
Roaring Fork is one of many gorgeous waterfalls easily accessible via the Blue Ridge Parkway. This one is really great for almost anyone as the hike is short with barely any elevation gain. A simple stroll of just over a half mile leads you to a 100 foot tall waterfall wonder. Truly, this waterfall is completely mesmerizing. And surprisingly, this trail sees very little tourist traffic! The walk through the forest is so peaceful and tranquil, making this the perfect choice for anyone looking for a solitary adventure in the beautiful (but often very busy) Blue Ridge region.
10. Richard Balsam overlook/trail
Milepost: 431.4
Distance from Asheville: 49 miles (~1 hour)
One memorable photo stop along the Parkway is the Richard Balsam overlook, the highest point on the Parkway. There is a large sign here that you can take a quick photo next to. As the altitude is 6053 feet, there are lots of lovely pines, plus the temps are 15-20 degrees cooler. This can be a real treat on a hot Carolina summer day. Also, you will want to hike the moderate 1.5 mile loop to the summit of Richard Balsam. The summit, located at 6410 ft, is the highest on the Parkway.
The Richard Balsam trail meanders around a gorgeous high elevation forest with mossy spruce and fir trees. It's so quiet, refreshing, and cool. The smell of pine makes it feel like Christmas anytime of the year. More likely than not, you will get to explore the natural beauty of the forest all to yourself. Note: trail access is closed in winter. Parking is located at the beautiful Haywood Jackson Overlook, just down the road from the Richard Balsam overlook. No need to stop at a restaurant as there is a scenic picnic area here overlooking the mountains.
A few more great Parkway stops near Asheville
Looking Glass Falls – A mesmerizing, powerful 60 foot tall roadside waterfall. No hike required. Always crowded. Exit at Milepost 412.
Tom's Creek Falls – Under visited, off-the-beaten path 80 foot tall double tiered waterfall accessible via an easy 1/2 mile hike. Exit at Milepost 317.4
Soco Falls – Short trail to 2 side by side waterfalls. Hidden gem on the Cherokee Indian reservation. Exit at Milepost 455.7.
Graveyard Fields – Popular 2.3 mile loop trail featuring mesmerizing mountains views, several waterfalls, and amazing fall color. Located at Milepost 418.8.