Hiking Hotspot: Roaring Fork Falls
The Roaring Fork Falls trail is located in the beautiful Pisgah National forest in the Blue Ridge region of Western North Carolina. Surprisingly, this trail receives little foot traffic despite its' easy accessibility from the Blue Ridge Parkway. The trail begins in Burnsville, about 2.5 miles from Parkway Milepost marker 344.1. The Pisgah National Forest is gorgeous in any season, but even more so during the colorful autumn months. Regardless, this hike is worth the small amount of effort required, anytime of the year! Because of its' convenient location, you can easily access many gorgeous Parkway sights from here for a full daytrip.
The hike to Roaring Fork Falls
This hidden gem of a waterfall is located within the beautiful Black Mountains region of Western North Carolina. The setting is very rustic with barely any crowds in sight. If you are seeking a gorgeous trail to get lost in nature minus the tourists, this is one of the better options near the Parkway. The hike consists of a simple half mile mile hike through the woods on a mostly flat gravel path. There is little elevation gain, and thus, this one should be easy enough for casual walkers. Because this path is so easy, it is a perfect option for families, seniors, and dog walkers, along with anyone else who wants to take it easy and enjoy nature.
The ending payoff is a grand 100 foot waterfall surrounded by greenery. The many cascades create a picture-perfect sight which photographs beautifully. A truly beautiful wonder of nature with minimal effort required on your part. Water flow will be the strongest during the rainy spring/summer season, with fall being the most scenic time of year with lovely foliage encompassing the forest. Time your hike early in the morning for the best photos.
Address & Parking info
Roaring Fork Falls is located at: 208 Busick Work Center Rd, Burnsville, NC 28714. There is a small dirt parking lot (no fee). You will see the trail sign across the street. The trail is well maintained and marked. Follow the signs to the falls. Arrive early to ensure parking.
Where to eat nearby
Assuming you are staying in Asheville, you will want to fuel up prior to hitting the road as the drive is just over an hour. A few great breakfast restaurants which open early include the following:
All Day Darling – Serves delicious Counter Culture coffee (a premier NC based roaster), fantastic bagel sandwiches and pastries. Also known for their Shashuka, a Middle Eastern dish featuring poached eggs in a savory tomato sauce, served with pita. Opens at 7am.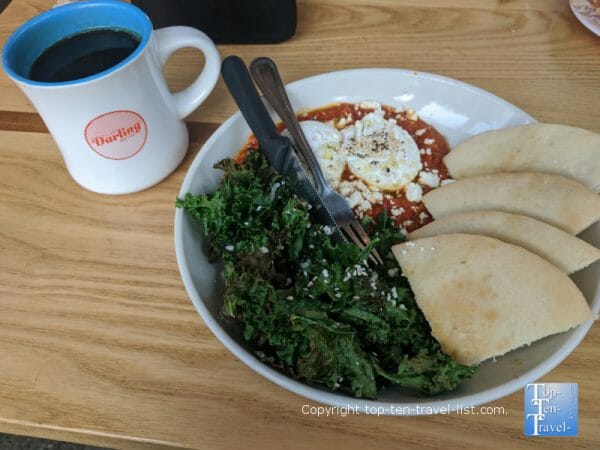 Abeja's House Cafe – Decent Latin American restaurant serving a creative menu of Mexican breakfast dishes including Huevos Rancheros, tacos, and burritos. Many GF and vegetarian options. Opens at 7am.
City Bakery – Great local bakery and coffeehouse with 2 convenient locations including a spacious downtown cafe. Delicious coffee from local NC roaster Dynamite, awesome pastries (cinnamon rolls, croissants, poptarts). Opens at 7:30am.
What to do nearby
Check out downtown Black Mountain. This rustic Main Street features a number of local boutique shops, cafes, and galleries. It has been rated one of the prettiest small towns by Trip Advisor users. It's a great place to stop for lunch after your hike. Treat yourself to a healthy sandwich and bowl of homemade soup at local favorite, the Veranda Cafe. If you need a pick me up, The Dripolator is a cozy local coffee hangout.
Take a cruise on the Blue Ridge Parkway. In addition to fabulous overlooks of the mountains, there are a number of great attractions in the vicinity including Mt. Mitchell State Park (the highest point east of the Mississippi at 6684 feet) and Crabtree Falls (a moderate 2.5 mile loop to a breathtaking waterfall).