20 Great Coffeeshops Across the US (Part 2)
I love visiting new independent coffeehouses on my travels. These local java joints are seemingly popping up just about everywhere today, with a wide range of options available pretty much anywhere you go today. Featuring higher quality beans, friendlier service, a local charm, and a more eclectic ambiance, it's no surprise that local coffeehouses are giving the big chains a run for their money.
Below are 20 unique coffeehouses to check out during your travels. As a bonus, most of the coffeehouses on this list are located nearby a natural wonder, tourist attraction, or some other site of interest.
1. Presta Coffee Roasters
Location: Tucson, Arizona
Highlight: An amazing location in a shared use, open air, vibrant courtyard
What to do nearby: Hike iconic Tumanoc Hill
Presta is an amazing single origin coffee roaster located at Tucson's popular Mercado San Agustin. Out of all the fantastic local coffeehouses scattered about Tucson, Presta is the best-of-the-best due to the attractive setting. Relaxing at Mercado on a beautiful 80 degree desert morning is the perfect way to start your day in "The Old Pueblo."
The drinks from Presta never have that horrible burnt flavor common at most big chains. Rather, the beans are always roasted light with each unique flavor spotlighted in each cup. While sipping an expertly made espresso drink from Presta (served in a pretty mug – no paper cups here!), you can also treat yourself to the best breakfast tacos in town from Seis, also located at Mercado.
Presta is known as a third wave roaster. Third wave is basically a movement dedicated to producing artisanal coffee through sustainable sourcing and light roasting to highlight the subtle flavor of the beans. Not a coffee drinker? Presta also serves wonderful loose leaf teas including an incredible Prickly Pear flavor from a local tea company.
The setting at Mercado is super casual and just perfect for anyone going on to explore area hikes and natural attractions post-breakfast (workout attire is commonplace here!). The steep 1.5 mile hike up iconic Tumanoc Hill, featuring amazing overviews of the city, is located just minutes away.
2. Roadrunner Coffee
Location: Tucson, Arizona
Highlight: Beautiful outdoor patio
What to do nearby: Enjoy a peaceful nature hike along the Linda Vista trail
Roadrunner is another terrific independent coffeehouse in Tucson, this one featuring an excellent daily organic roast, the friendliest baristas in town, and a beautiful outdoor patio with plenty of desert landscaping. If you love sipping your coffee outside while listening to the birds chirping and enjoying the quiet ambiance of the morning hours, plan for a stop at Roadrunner.
Roadrunner was started by a former Seattle resident who wanted to bring the iconic coffee culture of the PNW to the desert. Although ownership has changed, the top notch standards of providing excellent coffee are still in place. Roadrunner partners with a local organic roaster and serves a wide array of drinks including nitro coffee and seasonal drinks. Love that they offer a free refill so you can linger on the beautiful patio longer!
3. Savaya Coffee
Location: Oro Valley, Arizona
Highlight: A patio facing the gorgeous Santa Catalina mountains
What to do nearby: Hike at Catalina State Park
Despite an odd location at the Encantada Steam Pump apartment complex, Savaya is another excellent addition to the Tucson coffee scene. This one is located in Oro Valley, a gorgeous suburb just north of Tucson. The convenient location across from Catalina State Park makes Savaya the perfect stop prior to a morning spent exploring the beautiful Sonoran desert.
Savaya offers 2 different daily drip options which you can sample before committing to a purchase. They also offer all the typical espresso drinks, plus Kafette, which is Turkish style coffee (the world's oldest coffee) – and definitely something to try if you are up for something a bit out of the ordinary.
Savaya roasts their own beans and only sources single origin, organic, fair trade beans. Savaya says "coffee is meant to be had black, and we'll prove it to you with the single origins we have out and available at any of our stores." Every sample I have tried has always been unique and delicious. The Americano is always smooth if you prefer espresso. And for those who prefer something cold on a hot desert day, cold brew is a nice alternative.
The inside is colorful and cozy with plenty of seating, however, it's best to enjoy your drink on the small patio while gazing out at the beautiful Catalina mountains and pretty mesquite trees planted around the property. There are now 5 Savaya locations scattered around the metro, with the Oro Valley location being the most scenic & peaceful of the bunch.
4. Exo Roast
Location: Tucson, Arizona
Highlight: Top notch coffee
What to do nearby: See a show at the historic Fox Theater
Exo Roast is another specialty third wave roaster, this one located in Tucson's growing downtown district. The trendy hipster, industrial chic ambiance draws big crowds on the weekends. This place is housed in a beautiful old building with the brick walls and historic charm adding much character.
Although it can get a bit cramped on busy weekends, Exo actually serves the highest quality single origin coffees in town.
If you are looking for a top notch espresso, cold brew, drip coffee, or mocha, this the place to go. Exo also serves the most delicious pastries, including an amazing carrot cake muffin. Exo serves one of the best mochas I've ever had, this coming from someone who prefers black coffee. If you have a sweet tooth, you will want to give this one a try for sure.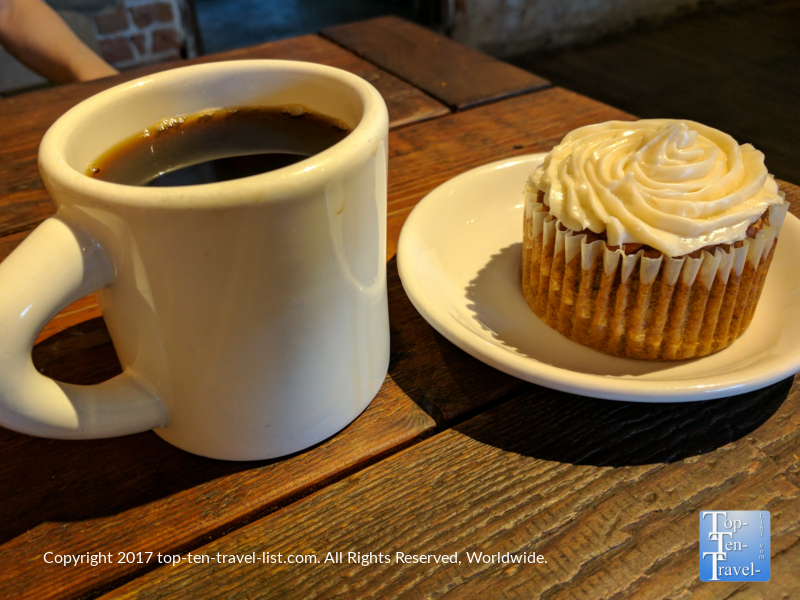 If you are visiting Exo Roast, you might as well check out some of downtown Tucson's best attractions. The Fox Theater is a gorgeous historic property which screens old movies and offers a full lineup of interesting events throughout the year.
5. Methodical Coffee
Location: Greenville, South Carolina
Highlight: Frequently ranks as one of the best roasters in the South
What to do nearby: Take a stroll around downtown Greenville, home to numerous boutique shops, restaurants, and galleries.
Methodical is making waves in the coffee scene, and is frequently rated as one of the best roasters in the Southeast. Located in trendy downtown Greenville, South Carolina, this shop is very busy most weekends. This is not a surprise as the coffee is terrific, the presentation in pretty china cups is just perfect for a morning date, and the 2 floor layout appealing.
Methodical serves single origin coffee by way of a variety of brewing methods including pour over, Siphon, cold brew, and espresso using the renowned Slayer machine. The resulting coffee is super flavorful and you can actually taste each flavor note in each cup of coffee.
If you are looking for a great place to grab an expertly made drink before exploring downtown Greenville, Methodical is an excellent place to treat yourself. Be sure to check out Mast General Store (right next door), a cute old-fashioned shop specializing in outdoor apparel, old-fashioned nostalgic gifts, and an old-time candy store. Additionally, here are 5 Greenville breakfast restaurants to add to your must-do itinerary.
6. Port City Java – Update closed (note there are many other locations throughout NC)
Location: Greenville, South Carolina
Highlight: A beautiful courtyard overlooking Main St.
What to do nearby: Grab a delicious steamed bagel at Sully's Steamers (available in all sorts of veggie & carnivorous combinations).
Port City Java is a Southeastern chain which opened in Wilmington NC in 1995. Today, there are several locations throughout the Carolinas, plus a pretty nice one in DC (near the wonderful Saturday Eastern Market). The Greenville, SC location is one of the better options in this bustling downtown. Port City is cheaper than nearby coffeeshops, is home to the best outdoor patio, and is the only downtown coffeehouse to offer a free refill!
Featuring a quaint shady courtyard setting, a variety of daily coffees including a fair trade organic option and a single origin, a huge lineup of mochas, frappes, & lattes, and all the usual espresso based drinks, Port City is a great stop before exploring downtown Greenville.
Port City typically offers both a specialty and house roast, as well as a flavored and decaf option, and the coffee is never too bitter, nor too sweet. They also serve some tasty house made pastries including the most delicious seasonal red velvet muffin.
7. Pexioto
Location: Chandler, Arizona
Highlight: Top notch coffee – the best in Phoenix
What to do nearby: Take a walk around the beautiful tree-lined downtown district of Chandler, home to numerous restaurants and shops.
Peixoto is a wonderful local coffeehouse in Chandler, a nice suburb located about 30 minutes south of Phoenix. They serve the best coffee in the metro area, no question. Peixoto specializes in coffees from their family farm in Brazil. The beans are roasted pretty light for a nice delicate flavor.
The interior is very hip and industrial and always busting with people. When the weather is nice, you can take a seat on the small outdoor patio and enjoy the fresh mild dry desert air.
If you are looking for a great place to wake up with an excellent cup of joe before exploring all the natural attractions around the Phoenix region, Peixoto is a great place to begin your adventures.
8. Press Coffee
Location: Scottsdale, Arizona
Highlight: Beautiful waterfront location
What to do nearby: Start off with breakfast at Butter's (right down the street) then take a ride/walk on the Scottsdale Greenbelt, followed by a visit to the Odysea Aquarium (one of the country's newest aquariums).
Press is hands down the most relaxing spot to grab a coffee in the Phoenix metro area. The beautiful location on the Scottsdale Greenbelt allows you to sip your coffee while enjoying a rare glimpse of water in the desert – not something you see everyday!
The coffee here is fantastic, the patio shady and covered, and the service always quick and friendly. Beans are roasted in-house and are organic/fair trade. The company works with local dairy and bakery companies, so the pastries are definitely worthy of a try. Oh, and the mocha is really fantastic!
After your coffee break, take a nice bike ride along the Scottsdale Greenbelt, located just a step away, with no need to find parking again. This beautiful path is loaded with more greenery that you would ever expect to see in the desert.
9. Sip Coffee and Beer
Location: Scottsdale, Arizona
Highlight: Attractive hip ambiance, serves coffee & wine
What to do nearby: Explore Old Town Scottsdale (unique Southwestern shops, galleries, & restaurants) or enjoy a gorgeous hike at the Scottsdale McDowell Preserve.
Sip Coffee Bar is a trendy coffeehouse that also serves beer and wine. It's very popular with the student crowd due to its' proximity to Arizona State. Sip is also conveniently located super close to Old Town Scottsdale, so if you plan on exploring this touristy part of town, you may want to swing by Sip for a caffeinated boost.
The atmosphere at Sip is casual with plenty of cozy seats and board games if you feel like hanging around for a bit. They also have a cozy patio, although the seats tend to fill up fast, particularly on weekends. Sip offers drinks using a variety of brewing methods including chemex, aeropress, and pour over. If you are looking to keep it simple, their coffee of the day is always perfectly brewed.
10. Tranquil Buzz Coffeehouse
Location: Silver City, New Mexico
Highlight: An artsy, eclectic interior design theme
What to do nearby: Explore Gila Cliff dwellings, City of Rocks
Tranquil Buzz is an eclectic coffeehouse in Silver City, a small artistic Southern New Mexico community. Not surprisingly, this high altitude town is popular with Arizona and New Mexico residents fleeing the intense summer heat of the lower desert. Adventure seekers come to Silver to explore nearby natural attractions. Gila Cliff Dwellings and The City of Rocks draw thousands of tourists each year.
Silver City's small downtown is becoming more popular, with numerous foodie establishments and art galleries opening up by the year. The city's architecture is colorful and out of the ordinary, and so is the eclectic interior of Tranquil. As you walk in, you will be wowed by the colorful eclectic design theme which includes all sorts of funky art and Southwestern charm.
The coffee here is great too of course, and definitely the highest quality you will find in this small town. You will also find nice selection of teas and amazing quiche! The service is super friendly and the place has that charming local ambiance which you do not find at the common chains. It's a must stop for coffee lovers visiting Silver City!
11. White Dove
Location: Flagstaff, Arizona
Highlight: A cozy ambiance away from the tourist crowds
What to do nearby: Hike the gorgeous Aspen Nature Loop at Arizona Snowbowl
White Dove is one of many great independent coffeehouses in Flagstaff. This high altitude mountain town in Northern Arizona is extremely popular with Southern Arizona locals fleeing the heat of the summer season, as well as Grand Canyon tourists. This small shop on the more peaceful Eastern side of town tends to receive less traffic than those closer to downtown.
At White Dove, you can enjoy quality espresso and coffee drinks in a cozy local setting, White Dove is the perfect stop prior to exploring all the great natural attractions surrounding Flagstaff. The cozy fireplace and dim interior makes it a great winter choice. When you want to warm up with a hot drink following your winter adventures, you can't go wrong with a stop at White Dove.
White Dove now offers housemade pastries, crepes, and small breakfast plates so you can fuel up before your outdoor adventures while also enjoying a great cup of joe.
12. Sips – Update: Sips has changed ownership
Location: Tampa, Florida
Highlight: Friendly local vibe, fun seasonal decor
What to do nearby: Take a bike ride along the Upper Tampa Bay trail
Sips is the friendliest local coffeeshop in Tampa Bay. This hidden gem is hidden away in the quiet Carrollwood neighborhood, and thus, it never receives too much tourist traffic. The staff is super friendly, the décor cute and seasonal, and the coffee always delicious.
The drink presentation is always fantastic here and they change their mugs along with the seasons. Their bagels are surprising delicious and they offer a small, yet enticing selection of pastries. Do splurge on a slice of delicious coffee cake!
Unfortunately, Sips changed ownership. The vibe is more bland now and they no longer offer bagels or mugs for in house coffee.
13. Izzy's Coffee Den
Location: Asheville, North Carolina
Highlight: Cozy ambiance away from the busy downtown
What to do nearby: Grab breakfast at Biscuit Head, a local favorite featuring gigantic biscuits, gravy flights, and a dozen plus flavor jam bar.
Asheville has been making waves for its' foodie scene for a while now, and this diverse lineup includes a range of diverse coffee houses. Izzy's serves high quality coffee at 2 convenient locations. If you are looking to avoid the crowds, opt for the Haywood Rd location, located just outside of the busy downtown district.
Fall is patio season – check out the bright fall foliage across the street!
The ambiance is cozy and relaxed with plenty of seating as well as a nice patio for the summer season. Izzy's rotates beans from notable roasters such as Stumptown (started in Portland and rated one of the best coffeeshops in the world), local favorite Mountain Air, and NC renowned roaster Counter Culture. Beer, wine, and in-house snacks including bagels and a few vegan options are also on the lineup.
All the usual espresso drinks, a daily roast by the 3 roasters listed above, plus a few specialties like a Mexican mocha can be found on the menu. In the summer, go ahead and treat yourself to a frozen mocha. Or better yet, treat yourself to a "healthier" frozen green tea for a boost of antioxidants to go along with the caffeine boost.
14. Bird Rock Coffee Roasters
Location: La Jolla, California
Highlight: High end coffee, located in a beautiful downtown
What to do nearby: Watch for sea lions at La Jolla Cove beach
Bird Rock is a San Diego area third wave coffee roaster specializing in roasting direct trade and ethically sourced beans. They now operate 5 locations including a charming cafe in La Jolla's beautiful downtown district. Roast magazine awarded Bird Rock with the prestigious title Roaster of the Year back in 2012. To this day, Bird Rock continues to be one of the best-of-the-best in the San Diego region.
If you plan on strolling around La Jolla's downtown or hitting gorgeous La Jolla Cove beach, be sure to make time for a coffee break at Bird Rock. The laid-back setting and breezy patio make it a perfect compliment to a lazy day out at the beach.
15. CFS Coffee
CFS is the best place to enjoy a local coffee experience in the Orlando area. Unknown to many, the coffee scene in Orlando is pretty exciting. While Orlando is known as the "fast food capital of America," there are still many local cafes to enjoy. One of these is CFS, with 6 convenient locations around the metro.
CFS serves delicious 100% Colombian coffee. The best part of the experience here is the colorful mugs which they serve the coffee in. In addition to great drip, they serve a number of specialty drinks.
The real highlight here is the extensive food menu which includes a number of health conscious choices. They really offer a lot more than your typical coffee shop pastries. The best treat here is the Sweet Toast, featuring a nut butter of your choice, topped with fresh fruit, coconut shreds, almonds, and hemp seeds.
For anyone with a dairy or gluten allergy, this is the place to go in Orlando. Acai smoothie bowls, protein smoothies, and GF Yucca Waffles are a few of the interesting selections available.
16. Alfred Coffee
Location: Brentwood, California
Highlight: Great people watching patio
What to do nearby: Hike the Los Liones trail
Alfred Coffee is a charming coffeehouse located in a tranquil section of L.A.'s Brentwood neighborhood.
Today, there are multiple L.A. locations, plus one in Austin, San Francisco, and two in Tokyo. The Brentwood shop is quite nice as it is located on a beautiful tree-lined street. Sipping an expertly made espresso on the patio, while enjoying the mild weather, is the perfect way to start any day in beautiful Southern California.
Alfred brews Stumptown coffee, a Portland based roaster which is widely considered one of the best in the country. Stumptown now has locations all over the country, and many coffeehouse now brew their coffee as well because it is so spectacular. Alfred also serves delicious pastries.
The L.A. based chain is most well-known for their "But First, Coffee" slogan which can be seen throughout their fashionable shops as well as on numerous coffee related knick knacks and merchandise. You may have seen this catchy phrase in various media and on coffee products, however, Alfred actually trademarked the slogan.
17. Caffe Nero
Location: Boston, Massachsuetts
Highlight: Gorgeous library-like interior
What to do nearby: Take a stroll around Boston Public Garden
Caffe Nero is one of Boston's best coffeehouses. Not only does Caffe Nero serve excellent espresso, but the design of the coffee shop itself is amazing. The London based chain (which now has 800 locations in 10 countries) now operates a number of coffeehouses throughout the Boston region.
Caffe Nero is well-known for their Italian style espresso, however, they do also offer drip coffee at their US locations. Try a slice of apple coffee cake or a pain au chocolate to go along with your drink.
Espresso aside, the real highlight of visiting Caffe Nero is the amazing ambiance – this place has much more character than you typically find at your standard coffeehouse. The inside is very cozy with an elegant library style appeal. Many have stated that they feel like they have walked into a Harry Potter set with the grand fireplace and elegant decor.
Caffe Nero is definitely the coziest choice during Boston's cold winter season. Really, what could be better than arriving at a cozy coffeehouse on a freezing day, brushing the snow off your coat, taking a seat next to a gigantic fireplace, and enjoying a hot perfectly made espresso?
18. Caffe Vittoria
Location: Boston, Massachusetts
Highlight: A quaint old world romantic ambiance, Excellent desserts!
What to do nearby: Enjoy dinner at one of Boston's iconic North End Italian restaurants.
Vittoria is a quaint cafe in Boston's historic North End neighborhood. This is the perfect post-dinner choice for an amazing cup of coffee and wonderful pastry. This shop is more well-known for their enticing display of pastries, although the espresso here really is amongst the best in the city. To date, the mocha here has been the best I have ever tasted.
The cafe was established in 1929, making it the first Italian cafe in Boston. The old-world historic charm gives this cafe a romantic ambiance not found elsewhere in the city, making it the perfect place for an after dinner date. After trying one of Boston's fabulous North End Italian establishments (I recommend Giacomo's), head straight over to Caffe Vittoria for a wonderful espresso, served alongside a rich slice of tiramisu or cheesecake.
19. Thinking Cup Coffee
Location: Boston, Massachsuetts
Highlight: A wonderful patio
What to do nearby: Walk the historic Freedom Trail
Thinking Cup Coffee is a local Boston area chain with a few convenient downtown locations. They are the first coffeehouse in the city to serve exclusively Stumptown and third wave coffee roaster products. Stumptown, a famous Portland originated roaster, has been rated "the best coffeehouse in the world" by numerous reputable sources including The New York Times & Food & Wine magazine.
Besides coffee, Thinking Cup offers a number of great breakfast dishes, along with a few lunch sandwiches. They offer a good sized selection of gluten-free fare including a seasonal flourless chocolate torte and chocolate chip cookies. Vegans will love the chia seed pudding! Dietary restrictions aside, their macaroons are outstanding!
One location is just steps away from Boston Common, and thus, a perfect stop for a light breakfast and coffee before strolling around this gorgeous iconic city attraction. The Newbury Street location is more spacious with a wonderful (although very busy) outdoor patio. If you can score a seat, the patio is the perfect place to kick back, enjoy the mild spring and fall weather, and people watch.
20. Pastiche Fine Desserts
Location: Providence, Rhode Island
Highlight: The best desserts in the city
What to do nearby: Treat yourself to dinner at one of the city's acclaimed Italian restaurants.
Pastiche is the best coffee and pastry shop in the Providence, Rhode Island region. The quaint European style cafe is beloved for its' scrumptious assortment of pastries. Homemade treats include tempting choices such as cheesecake, cannolis, eclairs, lemon squares, muffins, scones, brownies, and much more. If you have a sweet tooth, you will definitely want to swing by Pastiche during your time in Providence.
The cafe is located on a quiet side street in the Federal Hill neighborhood, a small section of the city regarded as one of the best spots for Italian dining in New England. Stop by Pastiche for a rich dessert and espresso after trying out one of the nearby Italian restaurants (I recommend Andino's).
For more great coffeehouses across the country, be sure to check out my Unique Coffee Shops Part 1 post.