10 things to do in downtown Tucson
There is so much to do and see in the vibrant desert oasis of Tucson. Jam packed within this picturesque Southwestern city, you will find endless interesting things to do. From unique cultural attractions, to mesmerizing state and national parks, to some of the best Mexican food in the country, this Sonoran Desert hotspot is one to add to the bucket list.
Although the majority of the truly spectacular sights lie within the gorgeous cacti studded Sonoran desert surrounding the city of Tucson, there are a number of interesting attractions within the city limits. If you find yourself venturing into the downtown Tucson district, a number of fantastic local restaurants and coffeehouses, boutique shops, and historical attractions are sure to keep you busy.
Here are 10 must-do's while exploring downtown Tucson
1. See a show at the Fox Theater
Seeing a show at the gorgeous historic Fox Theater, known as "the crown jewel of Tucson," should be your number one priority when visiting downtown Tucson. Not surprisingly, the 1930's era theater remains one of Tucson's most beloved attractions. On an interesting architectural side note, the Fox is the only known example of a Southwestern Art Deco movie house.
The theater screens a wide array of events from concerts, to ballets, to seasonal productions, to classic film screenings. Seeing White Christmas and It's a Wonderful Life on the big screen during the holiday season is a must. What a treat to see these beloved classics on the big screen in such a gorgeous old-fashioned theater!
I highly recommend checking Fox's lineup of events to see if there is anything interesting going on during your visit. As the theater hosts over 100 events per year, more than likely this will be the case. The Fox gives both locals and tourists the rare opportunity to see classic films in a beautiful timeless theater – "the way they were meant to be seen."
Fox location: 17 W. Congress Street (Both free and metered parking are available on nearby side streets).
2. Enjoy old time arcade fun at D&D Pinball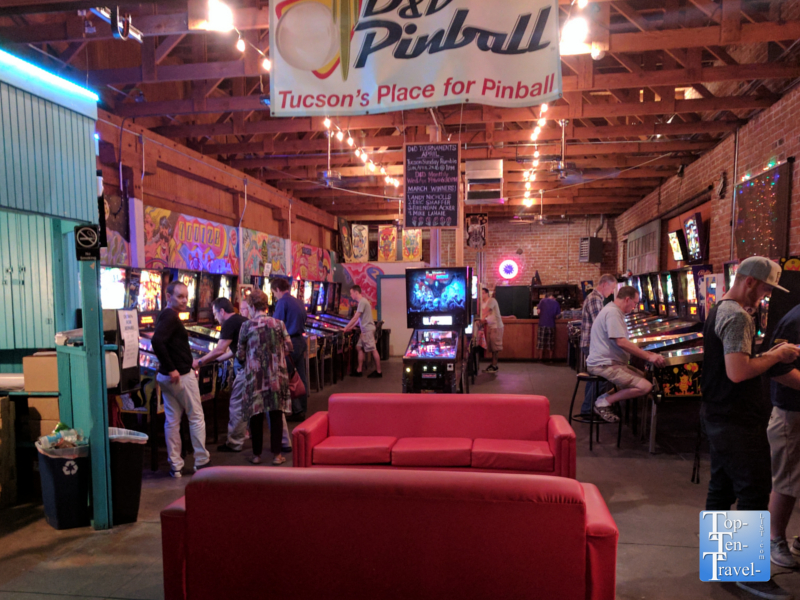 D & D Pinball is a fun throwback to the past, particularly for anyone who grew up in the golden age of pinball (1940's-80's) and/or classic arcades (1970's-80's). These classic pinball museums are seemingly popping up all around the country today. Although not as impressive as the The Pinball Hall of Fame in Vegas (the largest in the country), D&D is a definite must-see for any pinball lover visiting Tucson.
Classic pinball machines from the 50's through the 90's will take you back to the past. 90's kids will love the classic Super Mario Brothers arcade game! And who remembers those old fashioned claw games where it's next to impossible to actually win the prize? All games cost just 25-75 cents per play, so this is a great budget friendly activity.
Bonus – D&D is located on trendy 4th Avenue, so you will be in close proximity to eclectic local shops.
D&D location: 331 E. 7th Street. Free parking is available, although a bit limited in the evening hours.
Update: D & D is now closed. However, you can play their machines at varius local businesses including Copper Mine Brewing.
3. Visit the El Tiradito shrine
The El Tiradito shrine is an interesting historical site located in the Barrio Historico section of downtown Tucson. This Catholic shrine is said to be the only one in the US dedicated to a sinner buried in unconsecrated ground. The man buried here is said to have died fighting for a woman that he loved.
The legend revolves around a man named Juan Oliveras. Juan, who lived in the 1870's, fell in love with his mother-in-law, and thus, was murdered by her husband in jealous rage. For his sin, he was not allowed to be buried on consecrated ground. People began to light candles asking for Juan's forgiveness.
Today visitors continue to light candles and leave prayers and memorials. Legend says that if you light a candle and it remains lit throughout the night, your wish will come true.
While you are in the Barrico area, take a walk or drive around and enjoy the beautiful colorful Sonoran architecture.
El Tiradito location: 750 S. Convent Avenue. Free parking is available.
4. Brunch at the Hotel Congress
The Hotel Congress, a historic hotel built in 1918, located in the center of downtown Tucson, is most well-known as being site of the capture of bank robber John Dillinger in 1934. Asides from its' popularity with tourists as a great lodging choice, the hotel is also well regarded for its charming cafe.
Cup Cafe is one of the best places for Saturday/Sunday brunch in Tucson. Lots of great dishes comprise the menu including a fantastic Cast Iron Baked Eggs dish and the best Huevos Rancheros in town. The cafe features a beautiful covered outdoor patio which is perfect for brunching during the milder months.
Club Congress, also on-site, is a popular music venue which hosts all sorts of events throughout the year. Esquire Magazine has rated it "one of the best bars in the US."
Hotel Congress location: 311 Congress Street (Free parking on nearby side streets)
5. Explore the Tucson Museum of Art
Tucson is home to a strong and vibrant art scene. On any given weekend, you can find an art fair or market featuring locally made artisan goods. The city is loaded with all sorts of unique galleries and boutique Southwestern shops featuring handmade treasures which you will not find anywhere else. The Wall Street Journal even referred to the city as "a mini-mecca for the arts."
One must-do downtown is a stroll around the free Tucson Museum of Art. The collection is quite impressive for a city of just 1 million. The 8000+ collection focuses mainly on contemporary and modern art, with sections devoted to Western and Native American, Latin American, and Asian art. Additionally, the museum hosts a number of festivals throughout the year including a fantastic Holiday Artisans market.
Cafe a la C'Art is a wonderful on-site restaurant which ranks as one of the best museum restaurants in the US. Highlights include an amazing patio and a colorful interior. Try a delicious skillet served alongside house made bread. Bonus points for the full espresso bar and amazing selection of homemade pastries and desserts!
Museum of Art location: 140 N. Main (Free parking)
6. Relax at a local coffeehouse
A number of fantastic local coffeehouses can be found scattered amongst the downtown region. Tucson is home to an impressive independent coffee scene. Two notable roasters located downtown are Cartel Coffee Lab (started in Tempe) and Exo Roast (started in Tucson).
Both are housed in beautiful spaces, with Exo Roast featuring historic brick walls and a trendy industrial hipster setting, while Cartel features a huge space with an eclectic mix of southwestern and modern decor.
Both serve delicious espresso drinks and single origin coffees, with Exo known for its' wonderful pour over options and cold brew. Try the carrot cake muffin at Exo and the coffeecake at Cartel (both pictured below!)
Both of these roasters roast their coffee on the lighter side, so the complexity of the subtle flavors of each bean shows up in each cup.
Location: Cartel (210 E. Broadway), Exo ( 403 N. 6th Avenue).
7. Check out the shops, events, & entertainment offerings of 4th Avenue
4th Avenue, a quirky section of downtown Tucson, is home to a number of funky restaurants, eclectic shops, galleries, and souvenir shops. Caruso's Italian Restaurant is the must try in terms of food here – this long running Italian favorite offers authentic fare in a cozy laid-back setting. Excellent lasagna and ravioli here!
A few interesting shops to check out include Antigone Books (the first solar powered bookstore), Generation Cool (nostalgic toys & games from the 80's and 90's), Gone 2 Pieces Mosaic design (mosaic art is so amazing!), La Iguana Art Gallery, Rustic Candle Company, and How Sweet It Was Vintage store.
Entertainment options include D&D Pinball, The Rogue Theater, and Tucson Improv. If you need a caffeine fix, check out Cafe Passe, a cute local cafe featuring local art and a nice little patio.
Signature events include the Fourth Avenue Winter Fair, the Spring Street Fair, and the Super Summer Sale. Check out the 4th Avenue events page to see what's going on during your visit.
8. Take a walk across Rattlensake bridge
Rattlesnake Bridge is one of numerous unusual landmarks around the Tucson area. Every area has its' quirky landmarks and attractions and Rattlesnake Bridge is just one of these oddballs sites to check out if you are into weird roadside attractions. Located just east of downtown region, you will find a bridge shaped like a diamondback, complete with fangs and a curvy tail.
Artist Simon Donovan won an award from the Federal Highway Administration for his clever design which was ranked as one of the best road projects in the nation. You can walk across the bridge or bike the Rillito River path which crosses it at one point. It's just a quick stop, but worth the detour if you are a fan of seeking out the unusual.
Bridge location: Broadway at Euclid (small free parking lot available).
9. Dine & Drink at Mercado San Agustin
Mercado San Agustin is the central gathering hotspot near downtown Tucson, and is a favorite of both locals and tourists. This shared used open air courtyard is home to a number of specialty restaurants and shops including the wonderful Seis Kitchen (home to the best breakfast tacos & burritos in town), Presta coffee (one of Tucson's top roasters), and La Estrella bakery (offering amazing homebaked traditional Mexican pastries).
On a cool dry desert morning, you can linger in the cozy courtyard for hours enjoying the laid-back ambiance, great Mexican food, and amazing drinks. And, I have enjoyed brunch at Mercado more than a dozen times since relocating to Tucson! There really is no better choice for breakfast.
Really, one cannot leave Tucson before indulging in some authentic Mexican breakfast fare at Seis (I recommend the Chile Verde Con Papas tacos ). After a delicious breakfast, challenge yourself to an invigorating hike up Tumanoc Hill!
Mercado location: 100 South Avenida del Convento (Plenty of free parking – get here early to avoid a lengthy wait to order tacos!).
10. Hike up Tumamoc Hill
Tumamoc Hill is an iconic landmark for urban recreation within the Tucson city limits. Because it is located within such close proximity to Mercado San Agustin, this is the perfect stop before or after indulging in some tasty breakfast tacos at Seis Kitchen. Plus, you can conveniently grab your morning coffee here too!
The steep 1.5 mile climb up the paved trail is quite a tough challenge, although well worth it for the extraordinary scenery, which includes overlooks of both the city and mountains. Beautiful Saguaros and other exotic desert cacti line the trail. Thankfully, the U of A Science center opened up this beautiful space to the public.
As one of the top sunrise hikes in the region, Tumamoc is well worth the early alarm wakeup (even on vacation!). Where else can you enjoy a magnificent sunrise with a silhouette of a cactus comprising the backdrop? In other words, don't sleep in!
Tumamoc location: Tumamoc Hill Rd (free parking although the odds of finding a spot increase the earlier you arrive).
More fun if you have extra time!
Here are a few additional attractions to check out in the downtown vicinity
Drive up "A" mountain. In 1910, students of the U of Arizona adorned this iconic mountain with an 160 foot tall basalt rock "A." The drive to the 2897 foot peak (Sentinel) is short and scenic with a nice overlook of the city from atop.
Bike the Santa Cruz river path – This uninterrupted flat bike path is a picturesque means of getting in some exercise. The Rillito River Path and Canada del Oro Path in Oro Valley are much more scenic, however, this is a great option if you are looking for a convenient place to bike near downtown.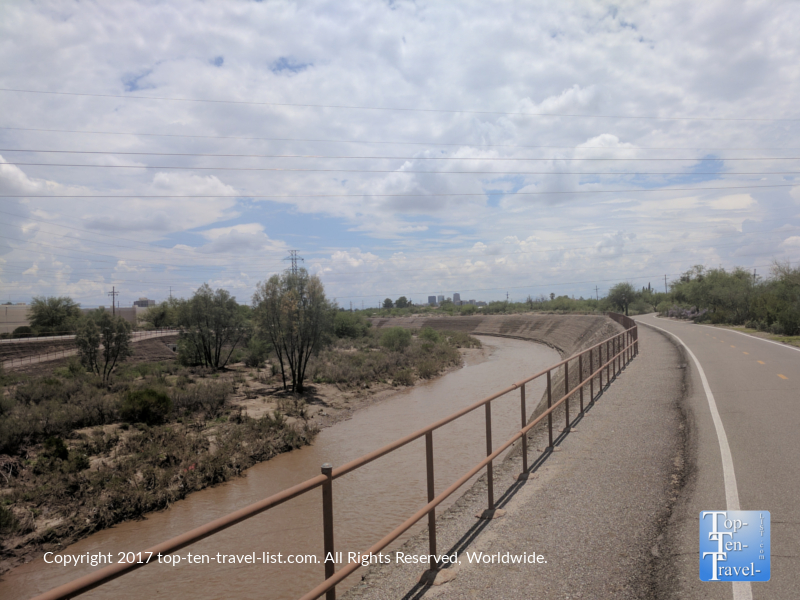 Explore the Center for Creative Photography- This free museum located on the grounds of the University of Arizona is home to the full archives of over 60 notable photographers.
Breakfast at Maynard's – Maynards is a wonderful restaurant located in the historic train depot. Featuring a beautifully designed interior, a spacious outdoor patio, great service, excellent drinks, affordable pricing, and a wonderful menu, this is another go-to for brunch.
Lunch at Reilly's Craft Pizza or 47 Scott -Both are great restaurants which feature excellent lunch specials and an attractive modern interior.