18 Must-Try Restaurants in "The Old Pueblo"
Tucson is an emerging foodie destination well known for its' vibrant Mexican food scene. The city is home to "the best 23 miles of Mexican food in the country." There are numerous authentic Mexican restaurants, both casual and upscale throughout town. And, if tacos and burritos are not your thing, there are plenty of other great ethnic choices to check out. Tucson was the first city declared a Unesco city of Gastronomy. To this day, the city continues to receive ongoing press for its' expanding food scene.
On any given weekend, you will find a number of farmer's markets, eclectic culinary classes, and numerous food related events and festivals such as the Gelato Festival, The Tucson 23 Mexican Food Festival, and the Tucson Tamal and Heritage Festival. New restaurants, focusing on creative Southwestern cuisine, continue to sprout up all around town. Here are a few of my top picks.
1. Seis Kitchen
Seis Kitchen would be my number one pick for new tourists visiting Tucson. The original Seis location at the Mercado San Agustin plaza is the place in town for breakfast tacos and burritos. Featuring a diverse range of cuisine from 6 regions of Mexico, Seis allows you to sample the best of Mexico's street food scene right here in Tucson. The delicious Chilli Verde taco, which includes scrambled eggs, potatoes, cheese, and fire roasted chilis, is my taco of choice.
The setting in the beautiful courtyard at Mercado is wonderful being that it is one of the few shaded patios within the city. Another benefit of dining at Seis is access to numerous other shops and restaurants including the very popular La Estrella bakery which specializes in authentic Mexican pastries. Presta Coffee is one of the best roasters in Tucson, and conveniently located within the courtyard. Definitely enjoy an expertly made espresso along with your tacos!
What to do nearby: Hike Tumanoc Hill, Drive up A Mountain, Hike the Bowen Hidden Canyon trail
2. The Polish Cottage
The Polish Cottage is a wonderful local restaurant specializing in authentic Polish cuisine. The colorful, cozy space resembles an old-style Polish Cottage and is really charming and worthy of a visit just for this fact alone. The Polish Cottage has so much character in comparison to many of the bland chain restaurants overpopulating the metro. The food here will seem a bit overpriced to those coming from big cities, however, it is one of the few places to get decent pierogies in the state, so quite warranted.
The Polish Combo Plate is the best place to start. The combo plate includes a stuffed cabbage roll, hunter's stew, smoked polish sausage, pierogi, and a roll. The vegetarian version (my preferred choice) includes your choice of 6 pierogis, 2 potato pancakes, and a traditional Polish salad. Pierogi choices include sweet farmer's cheese, sauerkraut and mushroom, or beef and cheese.
The Polish Cottage is a bit out of the way and unfortunately not really located near any of Tucson's best attractions. Regardless, it is definitely worth the drive if you are a fan of quality homemade Polish food.
What to do nearby: Enjoy the shady 18 hole mini golf course at Golf N' Stuff, Take a stroll around Aqua Caliente Park.
3. Cafe a la C'Art
The cozy little cafe inside Tucson's Museum of Art has been rated as one of the best museum restaurants in the country. Featuring an eclectic Southwestern styled dining room, a beautiful shady outdoor patio (perfect for cool fall and spring mornings), and a menu comprised of numerous regional dishes, it really is a must-try when visiting Tucson, even more so if you are interested in exploring the diverse art scene, in and around downtown.
Acclaimed Chef Mark Jorbin studied at the Scottsdale Culinary Institute and has incorporated many Southwestern style elements into the menu offerings. This cafe serves up some pretty tasty breakfast fare. Recent selections have included: a delicious market skillet loaded with fresh veggies and rosemary potatoes and served with homemade multi grain bread, house made granola and yogurt, lemon poppy seed waffles, and a southwestern style avocado toast.
The enticing dessert counter will tempt you to indulge in a sweet treat, whether it be the wildly popular wildberry cake, a red velvet cookie, or even a decadent gluten-free brownie. A full espresso bar is also available, so you can save yourself the hassle of an extra coffee run.
What to do nearby: The Tucson Museum of Art's collection is pretty impressive for a small city.
4. Cup Cafe
Cup Cafe is a charming local favorite inside the historic Hotel Congress. This downtown Tucson landmark which was established in 1919, is to this day is a hotspot for the city's big events. As it is popular with locals and visitors, Cup Cafe tends to get pretty busy during brunch hours. Despite the often lengthy wait, Cup Cafe is worthy of a visit as one of the best breakfast spots within the city. Cup Cafe offers a historic charm not really found elsewhere in Tucson, thus the appeal.
Weekend brunch is the best time to plan your visit so you can take advantage of dining outside on the lovely shady patio. By far, the top choice here for breakfast is the Cast Iron Baked Eggs dish. Consisting of 2 poached eggs, ham, leeks, shallots, gruyere cheese, cream, herbs, and potatoes (and served alongside toast), this savory dish is amongst the best breakfast plates in the city, and one of the few I have found myself ordering twice just because it was so delicious. Other must-trys include the homemade Quiche of the day and the Cinnamon pancakes.
What to do nearby: See a show at the gorgeous historic Fox Theater.
5. Dominick's Real Italian
Tucson is a bit lacking in terms of restaurants serving authentic Italian cuisine for a fair price in a nice setting. A great mid end choice is Dominick's Real Italian, which despite a lackluster strip mall location, is a pretty decent Italian find. You will be treated to a free order of the most tasty garlic knots as you scan the menu. These are indeed good enough to order a second round.
For a starter, you really cannot beat the toasted ravioli, which rivals the best I've tasted. The pizza here is definitely near the tops for Tucson, second only to Rocco's. Another great dish is the Pesto Pasta, a delicious combo of veggies, sun dried tomatoes in a creamy basil nut sauce. Pretty much all Italian food does the trick when you are craving some hearty comfort food, and Dominick's is no exception.
What to do nearby: Hike the Wild Burro trail in the beautiful Tortolita mountains, located in nearby Marana at the Ritz Carlton at Dove Mountain.
6. Maynards
As the sister restaurant of the fantastic Cup Cafe, Maynards is, not surprisingly, another one of the best brunch choices in Tucson. This classy restaurant is located downtown inside the historic train depot. It's the perfect place for a romantic brunch date thanks to the upscale service and classy ambiance. Maynards is divided into a more casual Market section, offering quick bite eats, bakery selections, and happy hour specials, and a more refined Kitchen section, offering a full menu.
The Market is a better choice for those on a tight schedule. During lunch hours, a diverse variety of hot and cold sandwiches are available. For breakfast, you can choose between a tempting selection of pastries, sandwiches, and breakfast burritos. A full espresso bar, featuring coffee from local roaster Caffe Luce is also available. The Kitchen is the place to go for a nice elegant meal. Brunch is my preferred time to visit as they offer a similar Baked Eggs dish as the Cup Cafe. Their Cast Iron pancakes are a great selection for those with a sweet tooth.
What to do nearby: Treat yourself to a quality cup of joe at Exo Roast, the best coffee shop in Tucson.
Update: As of 2023, Maynards only serves dinner. The restaurant closed in 2020 and reopened with a new menu.
7. Original Guadalajara Grill
Guadalajara Grill is an authentic Mexican restaurant owned by Emma Vera, originally from Guadalajara Mexico. If you are seeking a Mexican meal with a bit of pizzazz, Guadalajara is definitely the way to go. The colorful dining room, live nightly mariachi music, and tableside salsa have been drawing in tourists since 2002. Guadalajara offers a diverse food selection, with a bit of something for everyone, with a full vegetarian menu available. Tortillas are made fresh in-house daily.
As far as appetizers go, The Queso Fundido con Chorizo, is a delicious Mexican style fondue with Manchego & Jack Cheese, tomatoes, onions, mushrooms, & garlic. The standout dish here is the Taquitos con Papas. This savory dish includes mashed garlic potatoes stuffed in corn tortillas and fried, served alongside rice, beans, guacamole, and sour cream. This is one hefty dish that will leave you satisfied. Of course, you cannot go wrong with good old-fashioned fajitas either, whether it be chicken, shrimp, or veggies. A variety of combination deals and lunch specials can also be enjoyed.
I recommend visiting the original location on Prince Rd. which is much better than the new location on Oracle.
What to do nearby: Check out the impressive collection at the Center for Creative Photography (always free!).
8. Rocco's Little Chicago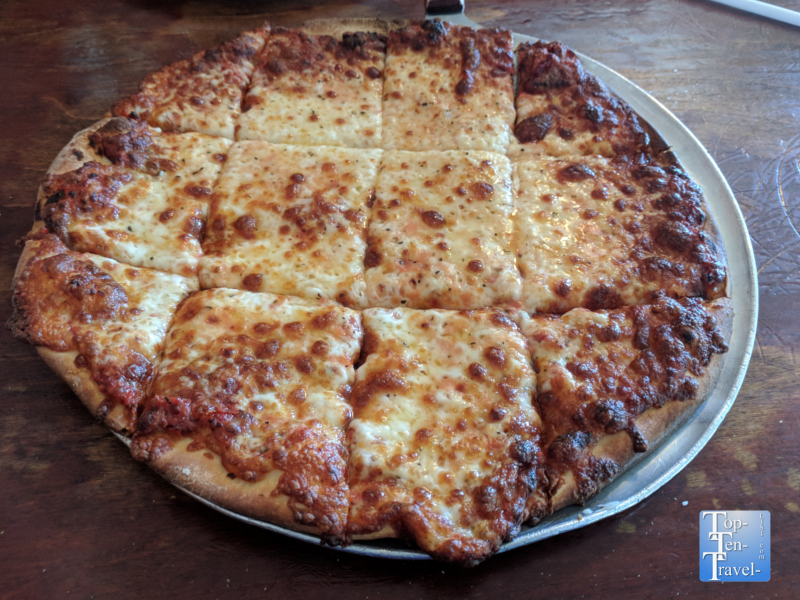 Rocco's is the place to go for delicious Chicago style pizza, whether you are a fan of thin crust or deep dish. While the menu is definitely overpriced (20 bucks for a simple large cheese pizza?), Rocco's does offer some tasty fare in a simple little space reminiscent of many of the local pizza joints you would find throughout the south side of Chicago. The dining/bar area features various Chicago sports themed memorabilia and a full bar. Rocco's did a great job recreating the pizza/pub atmosphere so common throughout the Windy City. There is also a decent sized patio for those cooler winter desert evenings.
Do not leave without trying out the tasty toasted ravioli, which is definitely the best app on the menu. Rocco's also offers a great selection of salads and their garlic bread is also pretty good.  This place will surely please Chicago transplants and visitors alike, as well as anyone else seeking a delicious slice of pie. Pizza made freshly daily with quality mozzarella, as opposed to a generic pre-frozen meal from a national pizza chain. As a former Chicago resident for several decades, I can say that the pizza has passed the test.
What to do nearby: Check out the intricate mini dollhouses at the top rated Mini Time Museum of Miniatures.
9. Le Buzz
Le Buzz, a simple little French style cafe, is extremely popular with locals as it is one of the better places to enjoy both good breakfast fare and good coffee. It gets very crowded on weekend mornings, especially with the fitness crowd. As Le Buzz is located on the way to Mt Lemmon, cyclists tend to quickly fill up the outdoor patio early each weekend. Not surprising really, as they need to fuel up for their 30 mile long, 3000+ ft elevation gain ride up Catalina Scenic Highway.
Le Buzz's coffee is decent, although not quite the best in town. Breakfast portions are small but pretty tasty. The Quiche and breakfast paninis are both wonderful. Le Buzz offers one of the better outdoor patios in town, so if you are seeking a place where you can enjoy a leisurely, long breakfast out with friends and family, Le Buzz offers the perfect laid-back ambiance for doing so.
What to do nearby: Spend the day exploring the pine tree covered trails of Mt. Lemmon, a high altitude summer escape typically about 20 degrees cooler than Tucson. Here are a few of the top things to do at Mt. Lemmon.
10. The Canyon Crown
Unfortunately, there are no Irish pubs to be found anywhere in Tucson-a bit of a disappointment come St. Patrick's Day. They do have a great British Pub, which not only serves some tasty Irish favorites, but also puts on quite the party on March 17th each year. For all your favorite UK inspired foods, head right over to The Canyon Crown for the best pub fare in town, including the best fish and chips. The spinach artichoke dip and Irish Nachos appetizers and their mac and cheese are also worth the calorie splurge.
The ambiance is very cozy and casual here. Really, it's the perfect place to catch a game especially during football season as they have 10 flat screen TVs and Sunday NFL ticket. Canyon has a great beer selection with 20 diverse choices on draft. Overall, The Canyon is the best choice in town for quality pub fare and a lively game day atmosphere.
What to do nearby: Browse around the Madaras Art Gallery.
11. La Placita Cafe
La Placita is the little hidden gem of Mexican cuisine in Tucson. Tucked away in a mostly abandoned strip mall lies this wonderful authentic restaurant which sees little traffic. La Placita offers a great menu of Mexican specialties as well as traditional favorites like fajitas, burros, chimichangas, and enchiladas. If you are up for something new, try out the fantastic Mexican pizza. Oh, and there are 25 different tequilas to choose from here!
The Chili Verde enchiladas and Chicken chimichanga are 2 of the must trys here. Vegetarians will be happy to hear that La Placita is one of the few places in town using canola oil as opposed to lard. They offer numerous vegetarian selections including enchiladas and burritos. The menu is a bit overpriced and they tack on extra charges for everything, however, it's still a decent choice.
The design of this little cafe is simplistic, featuring attractive minimalist Southwestern decor. The casual atmosphere makes it a perfect choice for families and couples seeking a non stuffy, relaxed dinner experience with no reservations required. If you are looking to save a few bucks, you can download a coupon for 20% off on their webpage.
What to do nearby: Take a stroll around La Encantada Mall, a luxury open air mall featuring numerous designer shops and high end restaurants.
12. 47 Scott
47 Scott is a relatively new addition to downtown's growing food scene. This modernly designed restaurant is a great accompaniment to visiting any of downtown's classier attractions like the Fox Theater or the Tucson Museum of Art. Unfortunately, 47 Scott no longer offers brunch fare, which is a bit of a disappointment, as this was the best time to beat the crowds and easily find parking.
However, they do offer a great Happy Hour from 4-6pm daily with various wines and craft beer selections priced at just $4-6 each. Delicious must-try food selections include the mac and cheese (the best in town), stack of grilled cheese, and fried cauliflower, all priced at just 7 bucks during happy hours.
The dinner menu is pretty small although diverse enough, with selections ranging from Phyllo Wrapped Chicken, to Pistachio Crusted Salmon, to a Stuffed Vegetarian Bell Pepper loaded with quinoa, vegetables, spinach puree, and basil walnut pesto. And be sure to treat yourself to a loaf of the crispy baguette, priced at just a buck!
What to do nearby: Check out D & D Pinball, featuring over 2 dozen classic pinball machines priced at just 25-75 cents.
13. Oregano's
Oreganos is an excellent regional Italian chain with many locations throughout Arizona. The owners are originally from Chicago, so it's no surprise that the pizza is top notch. The portions here are huge, prices are very affordable, and the food is excellent. The all-you-can-eat marinara pasta bowl is a steal at just 11 bucks during lunch hours. Apps to try include the Guacamole Pizza and the Boom Dip (a delicious spinach and artichoke dip). Their veggie loaded ginormous salads can easily be split amongst 3-4 people. Oh, and if you have any room left over, you must try one of their delicious giant pizza cookies!
The atmosphere is so cozy and casual here, it really feels like a neighborhood pizza joint rather than a chain. Service is always top notch and the overall vibe just perfect for a casual family celebration or date night. While most chains are easy skips due to the bland setting and food, Oregano's stands out from the bunch by serving fresh in-house made Chicago pizza and various other comfort style foods, all in a creative, attractively designed dining space.
What to do nearby: Check out one of the amazing trails at Catalina State Park.
14. Arizona Inn
The main dining room inside the historic, charming Arizona Inn is a great choice for breakfast, especially during the holiday season. This time of year, the adjacent library is adorned with beautiful decor. For many locals, it has become a local December tradition to open presents in front of the roaring fireplace. This elegant restaurant serves up a delicious brunch every weekend, as well as specialty brunches for holidays. On the menu, you will find both traditional favorites as well as Southwestern specialties like blue corn pancakes served with prickly pear syrup.
The main dining room features a contemporary modern design with elegant decor and place settings. The adjacent Audubon Bar serves the same menu, although the ambiance is more casual with a tropical inspired atrium design.
What to do nearby: Take a stroll around the Reid Park Zoo.
15. The Coronet
The Coronet is a beautiful European inspired restaurant located just outside of downtown Tucson. While the menu is a bit pricey, it's worth the splurge for the eclectic offerings and beautiful setting. The patio is so charming and quaint, and thus, the perfect downtown date destination (during the cooler season of course!). You will find so many interesting choices on the menu and so much more than standard breakfast fare. Dinner is a bit pricey although they offer numerous date night deals.
Coronet works with many local companies including Barrio Bread which is by far the best bakery in Tucson. You must try their sourdough toast while you are here. Recent delicious brunch entrees have included Eggs and Hominy and Eggs Florentine. Their espresso is also quite good, so you can enjoy a nice Americano, Latte, or cup of joe. The Coronet works with many local companies including local roaster Cafe Lucce.
What to do nearby: Take a stroll around the Reid Park Zoo, a small but nicely laid out zoo adjacent to a large community park.
16. Welcome Diner
Welcome Diner is a wonderful old-fashioned diner located just a few miles outside of downtown Tucson. This place has an eclectic 50's style vibe not found elsewhere in the city. The food here is excellent and the portions are huge for the price. They work with lots of local companies, use only high quality ingredients, and make everything from scratch. The staff is always super friendly and there is never a long wait for the food. I love dining at the old-fashioned diner style breakfast bar.
You will find classic choices here and also a few specialties like Huevos Rancheros and a wonderful Roasted Vegetables dish which includes 2 eggs over sauteed squash, peppers, and onions topped with salsa, cotija cheese, and cilantro, served with fresh homemade tortillas and served alongside a huge serving of perfectly cooked hash browns. Be sure to order the biscuits – they are made locally by a wonderful bakery called Barrio Bread.
What to do nearby: Enjoy a leisurely hike or a mountain biking adventure at the beautiful Sweetwater Preserve, featuring 11 miles of interconnected easy-moderate trails.
17. Caruso's
Caruso's is a really good long running Italian restaurant on eclectic 4th Avenue near downtown Tucson. This is the place to go if you are seeking authentic Italian cuisine in a cozy, old world style setting. This Italian restaurant most reminds me of a nice restaurant you would find in Chicago or Boston. They offer all your standard classics here, and even a few vegetarian variations. Both the ravioli and lasagna (both available in meat or veg versions) are excellent choices. The Shrimps and scallops Alfredo is a tasty, decadent choice for seafood lovers.
The vibe here is really quaint and comfortable. It never seems to get too overcrowded due to the semi hidden location on 4th Avenue. Most tourists head over to the more popular Congress Street, which is centrally located and home to more restaurants. If you are craving good traditional Italian, be sure to give Caruso's a try!
What to do nearby: Check out the unique shops on 4th Avenue.
18. La Cocina (now LaCo)
La Cocina is a cute little Mexican restaurant, best known for its' pretty patio. The outdoor dining is romantic with trees and festive lights during dinner hours. While not the best Mexican food in town, it's a good place for anyone seeking a laid-back date destination. There is almost always live music here and the vibe is casual and energetic. The food here is decent, although not great. Breakfast tends to be a better time to visit due to the lack of crowds and more tolerable morning temperatures.
If you are most interested in a touristy ambiance, rather than great food, La Cocina is a good bet. Featuring live music, festive decor, and good happy hour and drink specials, La Cocina is always popular with tourists seeking a fun local restaurant.
What to do nearby: Check out El Tiradito shrine, the only Catholic shrine in the US dedicated to a sinner buried in unconsecrated ground. Visitors light a candle to free the sinner's soul from purgatory, as he died fighting for the love of a woman. Legend says if your candle remains lit throughout the night, your wish will come true.
Other decent choices
Golden Dragon Chinese – Although I have not found a Chinese restaurant I truly enjoy in Tucson, Golden Dragon is a decent enough local Chinese restaurant in Oro Valley, a suburb about 30 minutes north of Tucson. They offer a nice little lunch special which includes soup, an egg roll, and your entree of choice. The ambiance is a bit blah, but the quality of  food here is better than most Chinese places around town.
Tavolino – Tavolino is a nice upscale Italian restaurant with a beautiful patio. On the downside, the vibe is more modern than old-world authentic, however, the food is great. Excellent pesto pasta and delicious appetizer selections here, particularly the fried zucchini smothered in marinara sauce. Tavolino is located in the ritzy Catalina Foothills region. It's right next to the exclusive La Encantada Mall, thus a perfect compliment to an afternoon of luxury shopping.
Vero Amore – Vero is an excellent local Italian restaurant specializing in wood-fired pizzas. They have 2 locations including one at Swan and Fort Lowell which is home to a fantastic outdoor patio with cozy couches and firepits. Nice happy hour deals and super delicious cheesy garlic bread!
Tohono Chul Garden Bistro – The Garden Bistro is located at the Tohono Chul Botanical Garden. While the garden itself is definitely overrated (you can enjoy the same scenery on many hikes for free), the cafe is a nice place for breakfast. The Quiche here is excellent and the outdoor patio is the perfect place to enjoy a light breakfast/lunch almost anytime of the year due to the heavy tree coverage. Also be sure to check out the gift shop – lots of great plants and southwestern souvenirs.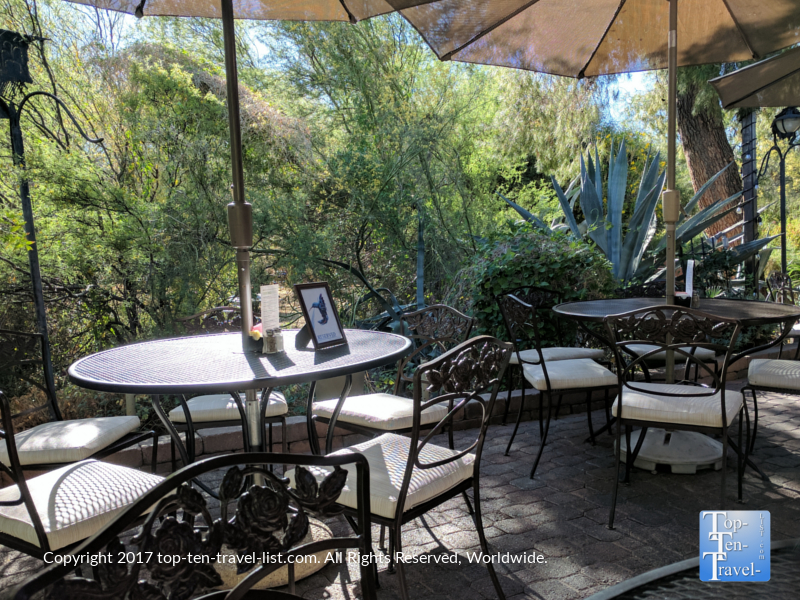 Reilly Craft Pizza – Reilly's is a modern pizza restaurant, housed in a historic building downtown, specializes in wood-fired pizzas. Not much on the menu besides pizza (a few more appetizer selections would be nice), however, the pizza is good enough in itself to warrant a visit.
Grill at Hacienda – The views at this resort restaurant are absolutely gorgeous, especially if you get a window seat facing the gorgeous Catalina mountains. While the food is decent enough, the service could be improved and the coffee is horribly over burnt. Come for the views – not the food! The Grill at Hacienda offers a very popular Sunday all-you-can-eat brunch if you are looking to treat yourself.
Best for special dietary needs – Renee's Organic Oven is a great choice for those needing an abundance of gluten free and/or vegetarian selections. A bit overpriced in my opinion, however, one of the few places in town you can order gluten-free pasta and pasta and vegan cheese for your pizza. Even if you have no dietary restrictions, it's worthy of a visit for the excellent pizza! Picazzo's Organic Italian is a much, much better Arizona healthy Italian chain (100% gluten-free!), unfortunately, their Tucson location recently closed. I recommend checking it out if you are heading towards Phoenix or Sedona.
Best coffee – Check out Roadrunner Coffee (great organic coffee and a nice local vibe), Exo Roast or Cartel (both located downtown in trendy spaces) and Presta (amazing espresso drinks and a beautiful outdoor patio) located at the Mercado San Agustin. Savaya is another great local roasters with many locations. Pictured below is the beautiful Oro Valley cafe across from Catalina State Park.
Cartel is a popular Arizona coffeehouse chain which serves great espresso drinks and homemade treats. The coffee cake is fantastic! Their house roast is a bit on the sweet side, however, the Americano is wonderful!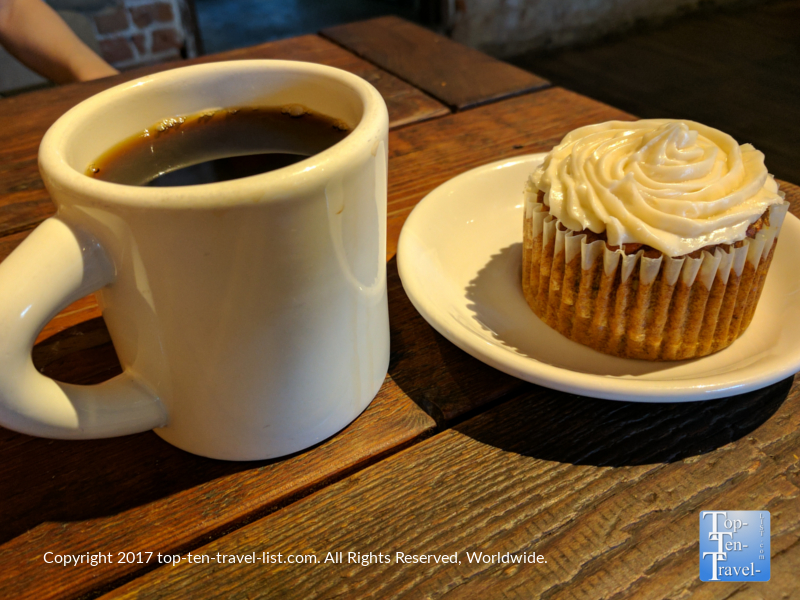 Best Indian food – I am a big fan of Indian food, however, Tucson really lacks a great Indian restaurant. One of the better choices of the bunch is Indian Twist, which serves delicious naan bread and a decent enough lunch buffet. The best Indian food in Arizona is Delhi Palace in Flagstaff, and yes it is worth the 3.5 hour drive!
Best place for a sandwich – Beyond Bread is a very popular regional chain, which offers Panera Bread style offerings. Although the food isn't quite up to par, it's local and probably a bit healthier. Their tomato basil soup is wonderful and the sandwiches are a filling treat after a long hike!
Best cool treat – Frost Gelato, which started in Tucson and eventually expanded to numerous cities around the country is definitely the best place for a delicious cool down treat on a hot day. This excellent authentic gelato shop offers over a dozen flavors which you can sample and mix and match for the ultimate treat. The dark chocolate is the winner here!