Attraction of the Week: Reid Park Zoo in Tucson
Reid Park Zoo is a tiny 24 acre non-profit zoo in Tucson, Arizona. Although quite small, the zoo still houses over 500 animals including several endangered species such as the Gibbon and the Andean Bear. The zoo is nicely landscaped and provides a surprising amount of shade for a desert environment. Surprisingly, a summer morning visit is not that unbearable, that is until temps soar past the 100 degree range (this year the zoo closed early during a rare multi day 110+ heat wave).
The animals all seem to have pretty large enclosures that resemble their natural environment. The zoo is very clean and up kept and the animals all seem to be well taken care of. There is always staff around maintaining the facilities. Reid Park is one of those zoos where you know it is not all about profit, and it is quite evident that the staff has put effort into maintaining a clean and attractive looking zoo.
The zoo is split up into 4 different habitats, with each section set up similar to a little nature stroll. It's impossible to miss any animals due to the trail like layout, so you really do not even need a map. It's very easy to get around and very compact, so you can relax and take your time enjoying each animal as opposed to the normal big zoo experience of rushing to see everything before the park closes. Most of the animals are always out and about, seemingly enjoying themselves. The lions and bears are always particularly lively. Check out this enthusiastic bear in the video below!
The entire zoo can be walked around twice in just an hour or so, meaning a trip to Reid Park definitely is not your typical all day activity like some of the larger zoos, however, it's a great add on activity if you are looking for more to do during your Tucson trip. During the summer season on Friday nights, they offer a special Summer Safari night special event, where you can stroll the zoo after hours with the advantage of cooler temperatures, as well as special live entertainment.
Enjoy a little photo tour of the zoo!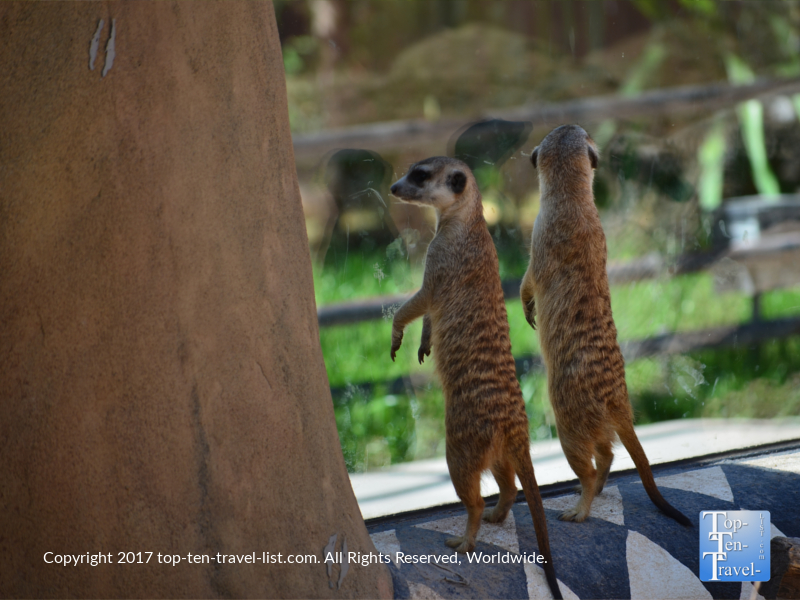 For a full afternoon out, I recommend combining your zoo visit with a picnic/bike ride/stroll around beautiful Reid Park, which is adjacent to this zoo. This gorgeous park is the best way to spend an afternoon out in nature.
Location, Hours, & Pricing Info
Reid Park Zoo is located at: 3400 E Zoo Ct, Tucson, AZ 85716. Hours are as follows: October – May:9 a.m. – 4 p.m., June – September:8 a.m. – 3 p.m. (Closed Thanksgiving and Christmas). Admission is $10.50 per adult, $8.50 for seniors (62+), and $6.50 for kids aged 2-14.