5 Great Coffee Houses in Flagstaff
While staying in Flagstaff, a popular vacation destination for Grand Canyon tourists, one of the first things you will notice is the abundance of coffee shops scattered all around town. Whether a drive-thru, a common chain like Starbucks, or an independent shop downtown, you really can't drive more than a block without running into a new place to get coffee. While you could pick up a quick coffee to-go from a chain or drive-thru, you would be missing out on the unique experience of exploring an independent specialty shop.
Visiting a local coffee house gives you the opportunity to relax, check out local art, find out about local events & activities, as well as enjoy a laid-back place to read and socialize with friends & family. It's a great way to perk up or decompress before/after along day exploring the area's amazing natural wonders. Be sure to check out my list of the 51 most amazing things to do during your Flagstaff vacation.
Flagstaff is home to a surprisingly high number of independent coffee shops for its' small population (just over 70,000 residents), possibly due to the abundance of night owl college students (Flagstaff is home to NAU) combined with lots of road trip travelers en route to the Grand Canyon and other national parks who need a pick me up from all the long hours of driving. After all, coffee is considered a must-have for students cramming for exams as well as wearisome travelers needing a boost: 2 groups which dominate the area. Whatever, the case there is a diverse variety of coffee shops to consider.
After testing them all, there are only a few to which I return again and again. Check out my list of 5 fantastic Flagstaff coffee shops, and feel free to share your personal favorites!
Kickstand Kafe
719 N Humphreys St
Hours: 6am-7pm, 7days a week
Kickstand is a nice quiet, laid-back coffee house located just outside of the downtown neighborhood. Serving great espresso drinks (they use Italian Espresso Coffee and Illy Cafe brand) in a cozy, spacious setting with attractive local art, Kickstand is the perfect choice for those who seek an eclectic coffee shop with a more relaxed vibe.
There are plenty of comfy couches, board games, and in general, more space than the smaller shops downtown. Located on a side street away from all the hustle and bustle, visiting Kickstand is a quieter experience, not to mention a hassle free parking experience.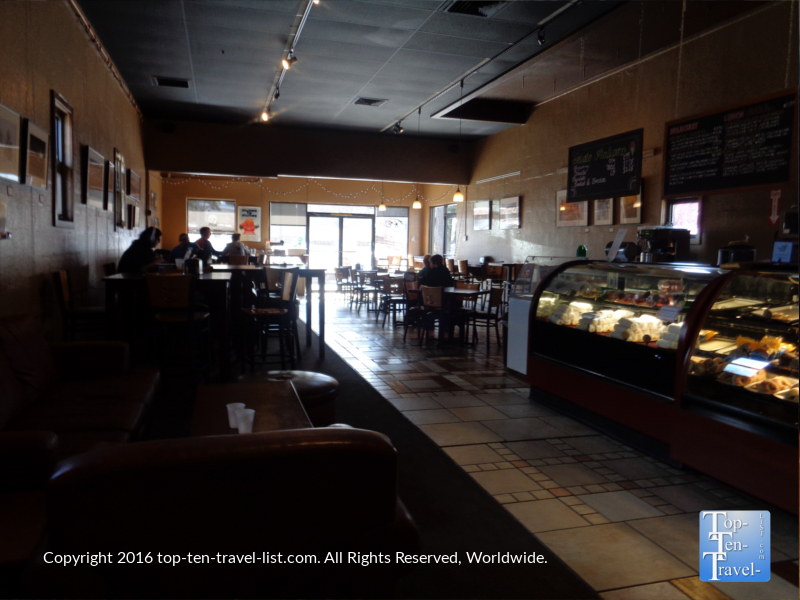 The specialty mochas here are fantastic. Try the Endo, a delicious mint flavored specialty. The basic Americano is really tasty too: probably the richest in flavor in all of town. Drinks are always served piping hot (great for anyone who can't stand lukewarm coffee!) by friendly and fast baristas.
Aside from coffee, they make breakfast burritos fresh daily and offer local pastries and treats from Sugar Mamma's Bakery.
Overall, Kickstand offers the best combination of everything you would look for in a great coffee shop: friendly service, a cozy place to relax, and fantastic drinks.
Late for the Train
22 E Birch Ave & 1800 N. Fort Valley Rd.
Hours: 7am-5pm (open til 6 on Fri & Sat)
Late for the Train is a local Flagstaff roaster that specializes in rich dark roast coffee. They have a location downtown, as well as one along Hwy 180 on the way to the Grand Canyon, Snowbowl, and numerous hiking trails. Both locations are great, although the Fort Valley Rd. shop is less crowded, more convenient to popular outdoor recreational activities, and offers a more unique setting, therefore, making it the recommended of the 2.
This cafe's setting is pretty eclectic being that it is located in an old converted gas station. They kept some of the original architecture while also incorporating modern touches and lots of cute knick knacks like the bumper sticker loaded counter shown below. It's also one of the few places in town where you can sip your drink while gazing at the ponderosa pines. Why so few businesses in this town took advantage of the great natural scenery is beyond me!
Late for the Train is a convenient place to stop for a wake me up drink before exploring the trails or Canyon, as well as an ideal place to relax and recover with a hot drink after a long day of skiing (both Snowbowl and the Flagstaff Nordic Center are just a short drive away) or hiking (check out Aspen Nature Loop or Veit Springs).
Late for the Train roasts their beans on-site and uses seasonal beans for maximum freshness.
Aside from the strong dark roast they are known for (they also offer a medium, although you will find no light roast here), there are some really creative mocha specialties to enjoy. Chocolate lovers must try the Dark Skies Mocha, a simple mixture of dark chocolate and espresso shots which will keep you coming back for more.
If you prefer to keep it simple, you cannot go wrong with their perfectly brewed Americano, which is always made to perfection. It's by far the best tasting Americano in town: smooth, flavorful, with never a hint of burnt or bitter flavor. Late for the Train is one of the few places in town where there is no need to add extra espresso shots as they already have the water/espresso ratio set up just right.
If you want to try something a bit different while in town, check out the Spicy Fireman's Mocha, a hot drink with a double shot of espresso mixed with cocoa, vanilla, almonds, and Mexican Chili spices.
Tea, iced drinks, chai lattes, and a few signature drinks round out the menu. The food menu is limited to a few pre-made burritos, pastries, and treats. Although, I must say the breakfast burritos are pretty tasty: the perfect mini carb boost before any area hike.
The pricing is a bit high here, although you do get what you pay for. The drinks are higher quality and always consistent.
Overall, Late for the Train is a perfect choice for anyone who likes strong dark roast coffee or mocha/latte drinks without fake flavoring. The local atmosphere, dedication of the trained staff, and great menu set it apart from many others in the area.
White Dove Coffee Shop
2211 E 7th Avenue
Hours: 6:30am-6pm (3pm on Saturday), closed Sunday
White Dove is one of the few non-chain choices for coffee on the East side of town. Although it's a bit further away from everything, the vibe is the most local, and the service the friendliest. Here, you are more likely to see locals relaxing as opposed to mounds of tourists.
The space is quaint and cozy with comfortable couches and even a fireplace to warm up by during the colder months. At this laid-back shop, you can kick back for a bit and play a game of chess, read a book, or just relax with friends over a tasty espresso drink.
The coffee itself is pretty decent, not the best in town, but definitely one of the better options. Beans are roasted at Single Speed Coffee Roasters in nearby Williams. The Americano is usually pretty smooth and flavorful, and never too bitter.
The White Chocolate Mocha (I recommend trying it with almond milk for the creamiest texture) is the must try here: a decadent creamy treat to start the day. Also be sure to try the Protestor, a macchiato pulled ristretto with a dapple of foam.
Iced drinks and caffeine-free selections include hot chocolate and seasonal apple cider. A small selection of breakfast and lunch fare (including a few gluten-free treats) are there if you need a small bite to eat.
Overall, White Dove is a quiet, non-touristy option for those looking to take it easy in a non-rushed setting. Whether you are looking to relax, get a little bit of work done, recover after your outdoor adventures, or simply relax in good company with a good drink, White Dove has you covered. By far, the best shop to visit during the winter/snowy season as it offers the coziest ambiance.
Rendezvous Coffee House & Martini Bar at the Monte Vista
100 N San Francisco Street
Hours: 6:30am-2am
Rendezvous is a cozy little coffeehouse/bar located on the first floor of the historic Monte Vista Hotel (est. 1926) in downtown Flagstaff. Known to be one of the most haunted hotels in the country, it is an interesting stop if you happen to be staying in town. The hotel is known for its' many ghost sightings, including repeated reports of the appearance of the "Phantom Bell Boy." Even famous celebrities like John Wayne, who stayed here while filming, reported ghost sightings. Aside from the intriguing history of the hotel, there is a nice little coffee shop which offers the perfect setting for people watching.
Rendezvous serves coffee from local roaster Firecreek. The basic Americano is pretty tasty for a bar, and the classy presentation set it apart from other establishments in town. Additionally, there is a small selections of mochas to choose amongst.
Rendezvous has a unique setup as it is half coffeebar/half cocktail bar. You can choose to sit at the beautiful wood bar or in the side room which houses several huge comfy couches. The large windows allow you to people watch while sipping your drink. There's also a humongous TV where they frequently screen football games, old horror movies, and host special events.
The classy relaxed setting is perfect for a laid-back, yet still stylish coffee drinking experience. After your coffee break, you can stroll the lobby and check out all the ghost stories.
Halloween is the ideal time to visit as you can escape the cold for a bit in a nice warm, cozy atmosphere, gaze out at the fall colors lining the streets of downtown, and enjoy a specialty pumpkin drink.
Overall, Rendezvous is a nice hangout for both visitors and locals. The change from a relaxed coffeehouse by morning, to a lively bar at night is something you don't see everyday.
On an interesting side note, San Francisco Street, was a filming location for one of the Forrest Gump long running scenes. This is the street where Forrest said the "It happens" line.
Bookman's Cafe
1520 S Riordan Ranch St, Flagstaff, AZ 86001
Hours: 9am-10pm
Bookmans, a trade in used books/movies store, is a surprising find for best coffeeshops. Surprisingly, the espresso drinks here are better than those served at some of the highly ranked shops downtown. The Americano and Mochas at Bookmans are always top knotch. They also serve tea from Curran's Specialty Teas, a nice local tea shop in the downtown area. Service is wonderful and the cozy setting inside a bookstore just perfect for bookworms and coffee lovers. You can browse books while you sip your drink or even bring your own stack to trade in. The best part of all is that you can use your trade in credit at the cafe! So turn those books you no longer read and movies you no longer watch into free espresso drinks!
The best coffee shop in nearby Sedona
As Sedona is just a half hour drive away (and an incredibly scenic one at that), I've decided to include the best place to grab a fantastic drink before/after your activities in the area. Be sure to take the Oak Creek Canyon Scenic Drive (Hwy 89a) for one of the most stunning drives in America, complete with breathtaking red rock vistas!
Indian Gardens
3951 AZ-89A
Hours: 7:30am-5pm
Indian Gardens is conveniently located right along scenic Oak Creek Canyon drive, making it a great place to stop for a fantastic drink and breakfast before hitting the Sedona trails. They offer the best drinks, the best breakfast, and the best outdoor seating in the Sedona area.
The drinks at Indian Gardens are always perfect, no matter what you order. The Americano is always perfectly smooth and never bitter or burnt tasting. The Mocha is definitely the best around. Their single origin beans are sourced from small producers in Latin America, Africa, and Indonesia. Local roaster Firecreek roasts the beans in small batches, ensuring fresh coffee all the time. A custom espresso blend and several single origin coffees are offered daily.
For breakfast, the Grains & Greens Bowl and the Breakfast Burritos (made with local tortillas) are both highly recommended.
You can linger in the outdoor garden for as long as you want before exploring one of Sedona's gorgeous hiking trails: the setting is so nice (lush greenery, red rock views, fountains) you will be tempted to order another drink just to stay a bit longer!
Other decent Flagstaff Coffeehouses
Campus Coffee Bean: Campus Coffee Bean is located in a strip mall off Milton Road. It's an okay choice as the drinks are cheap, they offer great 2 for 1 happy hour deals from 4-6 daily, and staff is always pretty friendly. They also serve some great food. On the downside, it's pretty busy all the time and feels more like a cafe than a true coffeeshop.
Macy's: Macy's has a great location downtown in a historic building. The space is cozy with plenty of seating, although it can get incredibly busy and oftentimes you have to sit outside on the curb due to lack of space. Unfortunately, every drink I have tried at this popular shop have been a bit too bitter/burnt tasting. The food on the other hand is quite good, so come for lunch, not your morning coffee!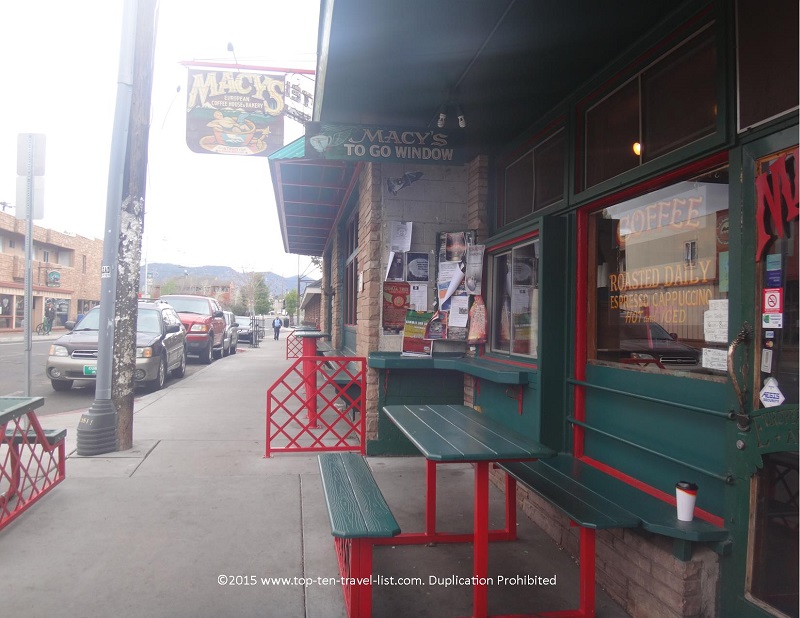 Overrated coffee shops
Matador: Matador is one of the newest additions to the Flagstaff coffee scene. While the convenient location (right on busy Milton Road) is a plus, the espresso drinks are a bit flavorless and burnt tasting. Also, the unattractive setting (just one small table to sit at) easily make this a skip.
Firecreek: Firecreek has a nice location right along Route 66 in downtown Flagstaff. While the espresso drinks are pretty good, they are always understaffed so it typically a long wait to get your drinks. Unfortunately, this usually means cold coffee. If you like your coffee hot, Firecreek is a definite skip. Keep in mind that this cafe can get busy due to the Rt 66 location. The high noise level means it's not the best choice if you are looking to get some work done.
Flagstaff Coffee Company: While the beautiful outdoor patio will initially draw you in, the poor quality drinks will not bring you back. This is unfortunate as they have a gorgeous shady outdoor seating area. Unfortunately, the drinks we tried here were by far the worst in town.
Have you ever tried out any of these coffee shops? What are some of your favorites in the Flagstaff/Sedona area?