8 Great Daytrips to Escape the Phoenix Heat
While the Phoenix metro area is home to a number of unique attractions and offers much in the way of outdoor recreation, the area as a whole is a bit limited in comparison to other similar sized metro areas. Add in 5-6 months of extreme heat and your options become even more limited. Besides a few gems like the Musical Instrument Museum and Scottsdale's Museum of the West, Phoenix lacks the diversity of world class indoor attractions you find in other major cities. Sure, you will find plenty of shopping malls, endless theaters, endless strip malls filled with common chains, and entertainment centers like Dave & Busters, Topgolf, and Escape Room, however, these can be found in almost every major city.
Phoenix is more of a place you visit for the unique desert scenery not found anywhere else in the world. Unfortunately, exploring the majestic Sonoran Desert, which is by far the best thing to do in Phoenix, is basically impossible the entire summer season due to heat exhaustion, as well as dehydration concerns. Extremely low humidity, 110+ degree temps for months on end, and relentless sunshine really are not the best conditions for any type of outdoor activity. Therefore you have 2 options: stay inside all day or set your alarm super early to get out on the trails before the real heat starts.
If you want to be active in the summer as opposed to spending your days cooped up in the air conditioning, a daytrip becomes a necessity. While San Diego & L.A. are typically the roadtrips of choice, these trips are time consuming and expensive, especially during the summer season when everyone else is trying to flee the heat too. Taking advantage of more affordable summer rates at resorts is always an option, although it really is too hot to do much else besides lie in the pool all day. Fortunately, there are many interesting daytrips within a day's drive, all of which offer a break from the brutal heat. Below are 8 fantastic daytrips within a 4 hour drive of the metro area.
Sedona
Sedona, a growing tourist hotspot just 2 hours north of Phoenix, is home to mesmerizing red rock sandstone formations, and is easily one of the most beautiful places in the entire country. If you only have time for one daytrip from Phoenix, Sedona is definitely the way to go for the immense beauty alone. I would even venture to say that if you have to choose between Sedona and Grand Canyon, Sedona definitely wins for the world class red rock scenery, amazing diversity of hikes, and picturesque drives which rival the most scenic in the country. Many Sedona trails are shady, particularly West Fork along the Oak Creek drive and Fay Canyon, one of Sedona's easiest, yet most scenic hikes.
Because the altitude is a bit higher (4300 ft), the temps are slightly cooler in the summer, on average only reaching the mid-upper 90's or so and much cooler in the morning (60's & 70's are the norm). While this may still seem pretty hot, compared to 115+, it feels drastically cooler. Take a drive along Oak Creek Canyon where the elevation slowly climbs 3000 feet over the course of 14 miles. It's much cooler in the canyon, and more importantly, very shady with all the leafy trees. Near the end of the drive, near Flagstaff, the altitude climbs up to 7000 feet, the temp drops even more, and the landscape transforms into lush pine covered forests.
Sedona is home to hundreds of miles of jaw dropping hiking trails, many of which are short & shady, and thus, perfect for summer. Here are 5 of my favorite easy Sedona trails to get you started. While more moderate in intensity, the stunning Devil's Bridge hike is amongst the most spectacular in the state. If you are reasonably in shape you will want to put this one near the top of your list. A stroll of about 2 miles leads you to the largest sandstone arch in Sedona where you will have some pretty great photo opportunities.
Don't worry if you are not a hiker – there are many ways to take in the breathtaking scenery including scenic drives (check out Oak Creek as well as the Red Rock Scenic Byway), swimming holes (check out Slide Rock State Park's natural sandstone waterslides), trolley tours, and a fun little shopping/dining area known as Uptown Sedona where you can find all sorts of Southwestern restaurants, galleries, and specialty shops, all while enjoying some fabulous red rock scenery in the background. Jeep tours are overpriced & overrated in my opinion, although the trolley ride is a good alternative for those not interested in hiking.
For more great views, simply head over to any Sedona restaurant -most of which have shady patios facing the red rocks. Check out my list of the top restaurants in Sedona.
You will also want to make time for a visit to the Chapel of the Holy Cross, a gorgeous Roman Catholic church designed by a student of Frank Lloyd Wright. This church really is unique as it was built between 2 rock formations – the overlook here is home to perhaps the most jaw dropping views of all. It's no surprise that this was rated as one of the top 7 man made wonders in Arizona. In a state with many wonders, this says a lot.
Sedona is also well-known for its' strong New Age community, so there's lot to do in the way of New age shops, psychic readings, spiritual healing, aura reading, etc. – if that's your thing. If you are into mystery & the supernatural, a night tour of Bell Rock – rumored to be a UFO sighting hotspot – is an interesting evening activity. You will also want to check out one of Sedona's vortex sites. Vortex sites are believed to be areas of intense natural positive energy where visitors claim to feel rejuvenated or healed of various ailments. The whole Sedona area is considered to be an energy vortex, with some sites stronger than others, particularly Boynton Canyon (my personal favorite), Airport Mesa, Cathedral Rock, & Bell Rock.
The best place to eat in Sedona, be it for breakfast or lunch, is Indian Gardens located on the scenic Oak Creek Canyon drive. They have a gorgeous shady patio with lots of leafy trees, plus delicious food and the best coffee in Arizona. The focus on using non-GMO local ingredients is also a plus. The breakfast burrito and Grains and Greens bowl are 2 excellent choices. I highly recommend picking up a loaf of their amazing homemade sourdough bread. They also offer lots of healthy salads and sandwiches to bring along for a picnic or hike. The drive over here is beautiful enough in and of itself to warrant a visit.
Overall, Sedona is the perfect daytrip destination for hikers, photographers, nature lovers, and anyone else seeking a beautiful place to escape the Phoenix heat. As a resident for several years, I have basically seen it all, and therefore, have compiled a list of the best-of-the-best Sedona has to offer – check out my list of 29 must-do's in Sedona.
Distance from Central Phoenix: About 2 Hours
Top things to do: Devil's Bridge hike, Oak Creek Canyon Drive, West Fork trail, breakfast at Indian Gardens, Red Rock State Park, Chapel of the Holy Cross, Doe Mountain trail, Teacup Trail, Strolling around Uptown, Brunch at the gorgeous Enchantment Resort
Where to eat: Indian Gardens, Cucina Rustica, Hideaway House, Pisa Lisa, Che-Ah-Chi, Picazzo's, Barking Frog, The Black Cow (great homemade Prickly Pear ice cream)
Flagstaff
Flagstaff is a mid-size, high altitude mountain community about 2 hours north of Phoenix. The town is most well-known for being home to Northern Arizona University, as well as its' close distance to the Grand Canyon (1.5 hrs). Flagstaff is also a popular roadstop for those traveling west on I-40 towards Vegas and Los Angeles.
Of course, it is also a very popular destination with Phoenix locals seeking to escape the summer heat. Flagstaff is one of America's highest elevated towns at 7000 ft, and thus, summer temps barely climb above the mid 80's. Compare this to the unending 110+ summer temps in Phoenix and you will easily see why Flagstaff is so popular come summertime. Plus, most Flagstaff trails sit at about 8000-9000 feet, so you will experience even cooler temps while hiking. The summer scenic chairlift ride at the Arizona Snowbowl ski resort will take you up to "the coolest spot in Arizona." This should be a real treat if coming from Phoenix during the summer season.
Flagstaff is located amidst the largest ponderosa pine forest in the world, and thus, the views around town are pretty much polar opposite of that which you find in the cacti studded Sonoran Desert. Many of the higher elevated trails feature an attractive mix of pondersoa pines and aspens. The aspens in town turn a brilliant fall color, thus making Flagstaff a prime place for leaf peeping, even rivaling some of the best places in New England. I highly recommend checking out a few trails during Flagstaff's amazing fall color season – here are my top leaf peeping trails in Flagstaff.
The town is also home to the beautiful San Francisco Peak Mountains, the highest range in Arizona with Humphrey's standing tall at 12,637 feet. Great views of the peaks are accessible at various locales around town, with the best views enjoyed via a short 2 mile nature stroll at Buffalo Park. The challenging Slate Mountain trail, about 30 minutes outside of town, by far offers the most magnificent views and is definitely worth a trek if you are an avid hiker. The incline is gradual, so the hike does not feel as difficult as it would seem and is much, much easier and more scenic than Humphrey's Peak.
Also, look into the Sunset-Wupatki Scenic Drive, which connects Sunset Crater and Wupatki National Monument as there is a really scenic overlook known as Bonito Meadow where you will get a pretty nice view of the peaks and Sunset Crater. Late summer is the best time to visit as the meadow is loaded with colorful wildflowers.
Flagstaff has been nicknamed"The city of 7 wonders" for the 7 gorgeous natural landmarks that surround the town. Of these, Walnut Canyon is the top sight to check out if you are limited on time. This magnificent 20 foot long, 400 foot wide, and 1/4 mile deep canyon can be explored via numerous trails. The Island Trail involves a semi challenging 240 foot step climb, which rewards in return with big views. The trail will also take you past several ancient cliff dwellings occupied in 1100 AD by the Singua tribes.
Being adjacent to the largest Indian reservation in the country (Navajo nation), the Flagstaff region is rich in Native American history with numerous attractions (The Museum of Northern Arizona), ancient petroglyph evidence (check out Picture Canyon Natural Area and Veit Springs), and cultural events celebrating Native American heritage throughout the year.
Other things to do in Flagstaff include strolling the shops and galleries of the historic downtown neighborhood, mountain biking along the 50+ miles of trail known as the FUTS, and checking out the wonderful local coffee scene. Of course, you must also take a drive along the incredible Oak Creek Canyon drive (mentioned above), which starts just 7 miles or so out of town. Check out my list of 50 fun and free things to do in Flagstaff for full details on all the unique things to do in this area.
The restaurant scene in Flagstaff is just mediocre, with the exception of the incredible Delhi Palace, a wonderful authentic Indian restaurant with the best lunch buffet. This was the first Indian restaurant I've ever tried, and to this day, I've not found one that even comes close. My other top choice would be Salsa Brava, an excellent local Mexican restaurant known for their endless salsa bar and stuffed sopaipillas, a fried pastry popular in New Mexican cuisine. This Rt 66 favorite was even featured on Food Network's Diners, Drive Ins, and Dives. Additionally, here is my full list of the best restaurants in Flagstaff to check out during your visit.
Distance from Central Phoenix: 2 hours and 15 min
Top things to do: Hiking at Arizona Snowbowl, Walnut Canyon, Oak Creek Canyon Scenic Drive, Inner Basin trail, See a show by the wonderful Flagstaff Symphony Orchestra
Where to eat: Delhi Palace, Horsemen's Lodge, Salsa Brava, Charly's at the Weatherford, Downtown Diner, Mix
Prescott
Prescott is a small community in the Verde Valley region of North Central Arizona. Although it is most popular with retirees due to the small town vibe and mild climate, it's also a popular summer escape for Southern Arizona residents seeking a place to enjoy the outdoors in a cooler setting. Prescott is surrounded by the beautiful Prescott National Forest, which is home to an abundance of forested hiking trails and numerous lakes.
While the town isn't exactly overflowing with attractions and things to do, it's a decent escape for those looking for a quick day trip which offers "cooler-than-Phoenix weather" and recreational opportunities in a nice forested setting. Prescott's altitude is about 5000 feet, so you can expect temps similar to Sedona – typically in the upper 80's-low 90's on average. Like Sedona, there are numerous shady trails in the area, so hiking is still possible in the heat of summer.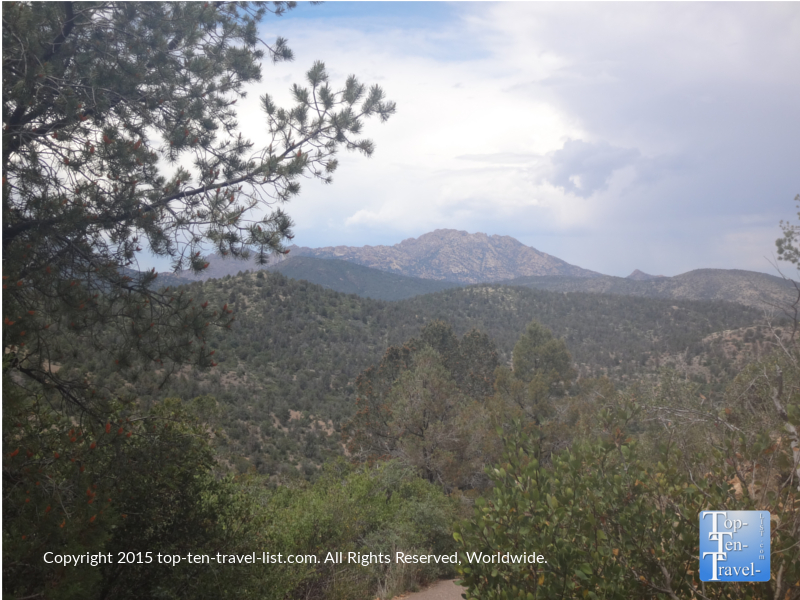 Prescott's best feature is its' historic, charming downtown, which has earned it the nickname of "Everybody's Hometown." This old-fashioned Main Street is home to lots of local restaurants, boutique shops, and businesses. Victorian style architecture gives the town a unique historical look & feel not really found elsewhere in Arizona.
Old-fashioned Western cowboy culture is alive and thriving with Whiskey Row (a block of old-fashioned, historic saloons) still standing strong as the city's most popular attraction. You will find all sorts of Western and cowboy apparel shops and a few small western themed museums. You may also want to check out the World's Oldest Rodeo, a 4th of July tradition dating back to 1888.
Ongoing events at the historic Yavapai County Courthouse like farmer's markets, concerts, and a really nice Christmas lights festival (Prescott has been named "Arizona's Christmas City")make downtown the central gathering place for both locals and tourists.
The best thing to do while in town is taking a leisurely bike ride or stroll along the gorgeous Peavine National Recreational trail, one of the few remaining rail trails in Arizona. It's very easy and really scenic with unending views of Watson Lake and the Granite Dells rock formations. This is a great place to enjoy the outdoors, particularly if you are coming from a congested, busy city like Phoenix or Tucson. The trail is in the middle of nowhere and very quiet with absolutely no business in sight – basically the complete opposite of what you would find in the big Arizona cities.
Other must do's in Prescott include visiting the small non-profit Heritage Park Zoo, taking a stroll around beautiful Willow Lake, renting a kayak or paddleboat on Lynx Lake, and challenging yourself to the uphill climb up beautiful Thumb Butte.
While in town, I recommend planning for a dinner Papa's, a great authentic local Italian restaurant. As far as coffee goes, Wild Rose and Cuppers are both decent local choices, with each offering a quaint outdoor patio to enjoy the cooler summer weather.
Overall, Prescott is a nice day trip choice for those seeking an Arizona city with small town, historic charm and plenty of outdoor recreational activities like hiking, boating, and biking. Visiting Prescott and enjoying the small-town, local ambiance is a refreshing change of pace from overly corporate Phoenix. Check out my full list of things to do in Prescott.
Distance from Central Phoenix: 1 Hour 45 min
Top things to do: Peavine National Recrational Trail, Thumb Butte trail, Lakeshore Trail at Lynx Lake, Lakeside trail around Willow Lake, Hiking trails at Watson Lake, Explore the shops, museums, and galleries downtown, Coffee at Wild Rose, Hiking the Constellation Trail Loop
Where to eat: Papa's Italian, Rosa's Pizzeria, Cuppers Coffeehouse, Bistro St. Michael, El Gato
Grand Canyon South Rim
The Grand Canyon is another great day trip from Phoenix, although this one is a bit further at just under 4 hours, yet of course worth the trek to see one of the 8th world wonders. It's crazy to think that the canyon is not actually one of the 7 wonders of the world, although it is one of several attractions considered to be an 8th world wonder. Regardless, it's definitely worth the trek if you are already staying in Arizona. Few natural sights are as mesmerizing as this 1 mile deep, 18 mile long, 277 mile long geologic wonder.
Many are surprised to learn that the weather at the Grand Canyon is not too bad during the summer season compared to Phoenix, courtesy of the high altitude (7000 ft). Expect the temps to be in the 80's on average, although the intense sunshine at this high up can make it feel much warmer. However, it is extremely dry just like Phoenix, so you still have to take extra precautions to avoid dehydration and altitude sickness, especially if you plan on hiking.
As one of the country's most magnificent natural wonders, it's obviously a must to visit the Grand Canyon while in such close proximity. Staying at the canyon is great, although hotels are often booked out months in advance, and the closest big town (Flagstaff) is very pricey for this exact reason. A daytrip this long is quite tiresome, although it is something you may never have the chance to see again. Plus, there's enough interesting things to do at the canyon, not to mention unique sites & detours along the drive (Flagstaff, Sedona, etc.), so in reality it's not that bad.
Must do's at the Canyon include strolling a section of the 14 mile Rim trail and enjoying the scenic overlooks, as well as the historical interpretative trail. Hiking the South Kalibab trail, which takes you into the heart of the canyon, is a must for any adventure seeker. Not only is the scenery out-of-this-world, but it is also super quiet with barely a person in sight after the first turn around, and thus, you truly feel as if you have the canyon all to yourself. Those not keen on hiking in such intense high altitude conditions, can opt for a guided mule ride along the same trail. Other unique ways to take in the scenery include helicopter rides and whitewater rafting trips.
The North Rim of the Grand Canyon is perhaps even more amazing and also much less congested, although quite a trek at nearly 6 and a half hours from Phoenix. If you do decide on visiting, I recommend booking a stay at the Jacob Lake Lodge several months in advance.
As one of the top world wonders ,the Grand Canyon is a must-see for everyone, and even more so for avid hikers whom can take advantage of the wonderful trails which travel through the heart of the canyon.
Check out my full guide to visiting the South Rim of the Grand Canyon
Distance from Phoenix: 3hr, 45 min
Top things to do: Mather Point overlook, Rim Trail, Hiking the South Kalibab trail, Yavapai Point Overlook
Where to eat: El Tovar Restaurant
Williams
Williams,  a tiny town in Northern Arizona which sees a tremendous amount of tourist traffic each summer, is nicknamed "the gateway to the Grand Canyon." The small town is just 1 hour from the canyon and also home to the very popular Grand Canyon Railway. If you would like to enjoy a stress free mode of transport to the canyon, the Railway is an option, although it is pricey and your time at the canyon will be limited. Thus, I believe driving is the better way to go. However, Williams is still worth visiting for several reasons.
First off, it's home to Bearizona, frequently rated as one of the best drive-thru wildlife parks in the country. Second, the town was the last Rt 66 town to be bypassed by the new highway (I-40), and thus, retains a lot of historic RT 66 charm in the way of themed restaurants, memorabilia shops, and museums.
Lots of cute Rt 66 shops/restaurants/memorabilia
Third, the weather here is much cooler during the summer months, barely ever exceeding the 80's. There are a number of great trails within the Kalibab National Forest including the challenging, yet very scenic Kendrick Mountain trail. For an easier trek, check out the short stroll to Keyhole Sink, where you will be treated to views of a seasonal waterfall. You will also be able to explore some pretty cool interesting old pictographs here – they are a bit hard to find so bring binoculars if you have them.
Also while in Williams, be sure to check out the massive gift shop at the Railway depot. Even if you are not taking the train, this gift shop is worth a look – they basically have anything & everything Arizona related in here. It's a great place to stock up on gifts!
Distance from Phoenix: 2.5 hours
Top things to do: Bearizona, Hiking the Kendrick Mountain trail, Strolling around downtown Williams, Rt 66 museums & gift shops
Where to eat: Pine Country Restaurant
Payson/Pine/Strawberry
Another great daytrip from Phoenix lies just a few hours away in the beautiful Mongollon Rim region of the state. The Mongollon Rim is a grand 2000 foot escarpment which stretches over 200 miles from Central Arizona (near Payson) all the way over to the New Mexico border. This region is most well known for its' beautiful limestone and sandstone cliffs, leafy fall foliage, and many beautiful hiking trails within the Tonto National Forest.
The picturesque Rim Drive begins near Payson and stretches on for 45 miles passing beautiful lakes and towering pines forests. There are numerous things to do along the way including scenic overlooks, hikes, and fishing. The drive is pretty desolate compared to other scenic drives in Arizona and you may possibly see some wildlife along the way. Black bears are frequently sighted, so keep your eyes peeled. Climate in the region varies based on the altitude (which ranges from 5000-7000+ ft), although temps usually do not top the 90's, so you are looking at a 20-30 degree drop from Phoenix.
Pine and Strawberry are 2 quaint tiny towns in the region, which are both popular during the summer months due to the mild climate and pretty pine scenery. Numerous cabin rentals fill up fast as Southern Arizona locals flock to the area to escape the desert heat. Both towns offer an abundance of antique shops (check out the gigantic Moose Mountain Gifts store). There is also a nice local honey stand on the side of the road offering all sorts of unique flavors – rude employees, but great honey!
Strawberry is home to the oldest standing schoolhouse in Arizona. Other than that, hiking & mountain biking are the main thing to do in this region and there are plenty of trails in the surrounding Tonto National Forest which are tolerable during the summer months due to the mild climate/hefty tree coverage. I recommend checking out the beautiful Horton Creek trail which takes you past a number of serene creeks. In terms of dining, The Randall House in Pine is a nice choice due to the cozy shady outdoor patio, homestyle menu, and friendly service.
The highlight of this region is Tonto Natural Bridge State Park which is home to the largest natural travertine bridge in the world. There are several trails here which take you to the same stunning endpoint right under the bridge where you will find a pretty little waterfall and natural pools: a rare & wonderful sight in Arizona. The trails are mostly shady and particularly scenic in fall due to the presence of many deciduous trees.
At just under 2 hours, the Mongollon Rim is a reasonably quick daytrip from Phoenix. If you are a hiker or antique shopper, this region should offer plenty enough to do in return for the 2 hour drive.
Distance from Phoenix: 2 Hours
Top things to do: Mongollon Rim Scenic Drive, Tonto Natural Bridge State Park, Horton Creek Trail, antique shopping
Where to eat: Randall House, La Sierra Mexican Restaurant, Gerardo's Firewood Cafe
Saguaro Lake
Saguaro Lake is the most scenic of the 4 major lakes near Phoenix. It's also one of the easiest to get to as it's just a half hour or so outside of Mesa. While this daytrip technically does not offer a respite from the heat as the altitude is the same as Phoenix, you will have a big lake to cool off in. Also, the fantastic Desert Belle cruise operates a narrated, air conditioned cruise here. New tourists, especially those not keen on the idea of setting an alarm super early to hike in the desert (in still brutally hot 90+ degree conditions), can opt for a relaxing cool cruise as an alternative means to enjoy the unique desert scenery.
Named after the majestic Saguaros which surrounds the lake, Saguaro is by far the most picturesque of the major Phoenix area lakes due to the exotic desert landscapes and terrific mountain scenery.
The cruise is quiet, relaxing, and very picturesque. The tour guides here are the most friendly and knowledgeable of all the guides in the Phoenix area. You will learn lots of new and interesting facts about the desert in general, as well as the plants and animals that call this unique habitat home.
Plenty of birdwatching opportunities and the possibility of seeing rare wildlife keeps the cruise even more interesting. Our cruise was limited to the bald eagle sighting below, however, mountains lions, bobcats, and javelina are often sighted, especially on early morning cruises. Our tour guide even mentioned a very rare black panther sighting.
If you prefer, you can rent a pontoon for the day or go swimming at Butcher Jones recreation area. There is also a nice restaurant overlooking the lake called the Lakeshore Restaurant.
The drive over on the picturesque Apache Trail Scenic Drive is loaded with grand vistas of the Superstition mountains and the stately Saguaro, as well as many other diverse cacti plants. Along the way, you have the option of stopping at Goldfield, a recreation of a ghost town with lots of opportunities for fun including mine tours, gold panning, historic saloons, and Arizona's only narrow gauge railroad.
Distance from Phoenix: 1 hour
Top things to do: Desert Belle Cruise, hiking at Lost Dutchman State Park, Visiting Goldfield Ghost town
Verde Valley
The Verde Valley is a picturesque region in North Central Arizona, which not only offers a respite from the heat, but also offers easy access to a number of natural attractions. Although Sedona is a part of this area, I wanted to signal it out as it is by far the top daytrip from Phoenix. Other towns in the Verde Valley which are less impressive but still worth a look if you have extra time include Jerome, Cottonwood, Camp Verde, and Clarkdale.
Temps in the Verde Valley are considerably cooler than Phoenix in the summertime as most towns reside at an altitude of around 5000 ft or so. One of Arizona's last free flowing rivers, the Verde River, flows though the area and provides a habitat for rare plant and wildlife. You may want to check out Dead Horse State Park in Cottownood or the Verde River State Natural Area.
Fossil Creek Wilderness, a very popular swimming hole with a waterfall, is one of the most popular attractions in the area, particularly during the hot summer months. The extremely rough 14 mile road to get to the falls (about an hour drive), lengthy hike, and hassle of getting to a very overcrowded place make it an easy skip for me, however, if you are interested in seeing a natural swimming hole and waterfall in Arizona despite insane crowds, you will now have to apply for a permit just to park.
There are much better things to do in this area including Montezuma Castle, Out of Africa Wildlife Park, various hiking trails & state parks, along with exploring the quaint historical communities of Cottonwood and Jerome.
Montezuma castle is one of the area's most interesting historical sights. This 1000 year old , 5 story ancient Singua dwelling, which was occupied between 1100-1435 AD, is known to be one of the best preserved cliff dwellings in the country. The layout resembles modern apartment style living.
Out of Africa wildlife park is another nice place to check out if you have the time. This non-profit wildlife sanctuary is known for their great shows which includes a wonderful Tiger Splash program and an interesting hands-on snake program. A narrated bus safari tour takes you past zebras and giraffes roaming about in a setting mimicking their natural environment. The walk around section is a bit unattractive due to the barren desert scenery and honestly way too hot for the summer. Otherwise, the park is a great place to check out, especially during your birthday month when admission is free!
If you are a wine lover, you will want to check out the small town of Cottonwood, located on the Verde Valley Wine trail. There are lots of tasting rooms here where you can sample all sorts of local Arizona wines. Burning Tree Cellars is one of the nicest options and they have a great outdoor patio too. The small downtown is home to numerous local restaurants and shops. Paradise Point Cafe is a cute little local business which serves delicious homemade treats (try the German chocolate cake!). Also check out  the Old Cottonwood jail where Al Capone's name is found carved outside an old cell.
Jerome is another interesting place to visit if you happen to be in the area. This former copper mining town saw a massive population decline and almost became a ghost town at one point, however, now stands strong as a very popular tourist destination. Jerome is known as "the largest ghost town in America." Today, the small town resembles anything but a ghost town as art galleries, boutique shops, restaurants, and bars over flood the tiny downtown. Foodies and art lovers flock to the town particularly during the monthly art walk.
Like Cottwonood, Jerome is also part of the Verde Valley Wine trail, with numerous tasting rooms featuring Arizona local wines. Cellar 433 is the best choice due to the gorgeous scenery which you can enjoy via the patio.
Jerome has a long history of paranormal activity, so much so that at one point the town actually published a paranormal newspaper known as the Jerome Ghost Post. The ghost legends still remain and the same eerie hauntings from year's past are still reported today. Ghost hunters regularly visit the area, attempting to communicate with these long standing spirits. The especially creepy Jerome Grand Hotel offers ghost tours through an eerie old building which used to be a mental institution. Not surprisingly, the hotel goes all out for Halloween, attracting Halloween lovers and ghost hunters from all over.
Dining at the appropriately named Asylum Restaurant is the best choice for lunch/dinner as the food is great and the views even better. This gorgeous restaurant has a decent sized patio which overlooks the beautiful Verde Valley region. Like the hotel, they also go all out with Halloween decor, both inside and out. 
Jerome is the coolest weather-wise of the 3 major Verde Valley cities, with an altitude of around 5000 feet, and summer temps barely exceeding the 90's. Sedona is the next coolest with an altitude of 4000 feet and temps typically hovering in the high 90's and occasionally the low 100's. Cottonwood and Camp Verde, which are located at about 3000 feet, are a bit hotter and see temps in the low 100's, yet are still at least 10 degrees cooler than Phoenix! All areas within the Verde Valley are much cooler at morning and night than Phoenix, so try to plan any outdoor activities at dawn and dusk.
These are some of my favorite daytrips within a 4 hour drive of Phoenix. If you are not up for a lengthy drive, there are still plenty of things to do around the Phoenix metro area during the hot summer season. There is simply much more to do when you add daytrips into the mix. Keep in mind that the weather is atrociously hot in the morning and evening hours too (not just during the heat of the day!), so you will be limited to indoor attractions, waterparks/pools, and super early morning hikes. Check out my list of the best things to do when it's too hot in Phoenix.