5 Beautiful Sedona Summer Hikes
While the 90-100 degree summer days in Sedona may feel like a welcome respite to the many Southern Arizona daytrippers who frequently flee up north to enjoy the cooler weather, for most tourists, hiking during Sedona's hot summer season is not ideal. Add in blazing sun and little to no shade, and many of Sedona's stunning hikes are definitely off limits. The fall and spring seasons are by far the best time weather-wise to enjoy unending views of the enchanting red rock formations in a comfortable setting.
If you do intend on visiting Sedona in the summer, there are numerous shorter, flatter, & shadier hikes which offer many of the same gorgeous red rock views as the longer more intense trails. Planning accordingly and setting out early in the day will ensure that you can take in the wonders of this incredible area without risking dehydration and heat exhaustion.
The easier hikes listed below will allow you to take in the tremendous red rock scenery, which has earned Sedona the nickname "Red Rock Country," without being out in the heat/harsh sun for too long. While not necessarily the most jaw dropping options in town, the hikes listed below are all picturesque, relatively easy without major elevation gain, and somewhat shady. Sedona summer mornings temps typically range in the pleasant 60-70 degree range, but rise rapidly by mid-morning, so it's best to hit the trails as early as possible!
Here are 5 short picturesque Sedona hikes to add to your summer itinerary
1. Fay Canyon
Fay Canyon is my top hiking choice during the summer season. Not only is this hike super short and shady with barely any elevation gain, it's also jam packed with gorgeous red rock views. You do not have to sacrifice the big views here. Despite the short distance, you will get to enjoy numerous unique rock formations, watch for wildlife (black bears have occasionally been sighted!), and explore the diverse plant life found throughout the Red Rock Secret Wilderness. This hike is located about 20 minutes outside of town, however, the drive over to the trailhead is absolutely gorgeous.
If you are up for a bit of challenge and want to see a truly impressive sight, you can take a short side trail to a natural arch formation. This detour (unmarked) is located about 1/2 mile into the trail and is definitely worth the extra trek for the unique lookout.
Distance: 1.1 miles out-and-back
Location: Boynton Pass Rd Sedona, AZ 86336 (Free parking)
Additional info on the Fay Canyon trail
2. Templeton Trail
The Templeton Trail is another short, mostly flat trail which offers stunning vistas of Cathedral Rock, one of Sedona's most powerful vortexes. Vortexes are areas of enhanced natural energy where thousands of people have reported a feeling of motivation or extra energy. Starting at the Cathedral Rock trailhead, you will simply follow the route of Templeton as opposed to following the tourists who will begin the intense climb up the Cathedral Rock formation. While Cathedral is one of Sedona's most stunning hikes, it's quite challenging, completely devoid of shade, and thus, better suited for the cooler months.
On the contrary, the Templeton, is a quiet enjoyable trail which can be enjoyed any season. At just 2 miles round-trip, the Templeton is the perfect option for a quick stroll before the harsh heat of the afternoon sun hits. It's also quite shady for more than half the route. This is one of the few trails where you will get to stroll along a portion of the beautiful creek. It is a very underused trail. And thus, one of the more peaceful hiking experiences you will find in Sedona.
Distance: 1 mile out-and-back
Location: Back O' Beyond Rd Sedona, AZ 86336 (Free parking)
Additional info on the Templeton trail
3. West Fork trail
The West Fork is a gorgeous creekside hike located near the half way point of the incredible Oak Creek Canyon scenic drive. This 14 mile drive, consists of jaw dropping scenery & drastic elevation changes, with everything from red rocks to ponderosa pines providing the stunning natural backdrop. The West Fork is the most popular trail within the massive Coconino National Forest, which stretches on for over a million acres between Flagstaff and Sedona. The West Fork sees most of its' visitors during the summer (when Southern Arizonians flock up to enjoy the cooler temps) and again in the fall when the path is lined with bright fall foliage.
This trail is one of Sedona's most unique. Besides being surrounded by gorgeous deciduous trees and magnificent red rock views, there are 13 fun and slightly challenging creek crossings. Due to the ample shade coverage, West Fork is by far the best summer option in Sedona. This trail is quite long at nearly 7 miles RT, however, it is very flat and the scenic natural surroundings make the time fly by. Regardless, if you would rather keep it short, you can simply go out-and-back to your comfort level.
Before your hike, enjoy breakfast at nearby Indian Gardens. In addition to fabulous food, the coffee is great, and the garden patio is beautiful.
Distance: 3.5 miles out-and-back (Entrance fee is $10 per car)
Location: Mile marker 384 on Oak Creek Drive (State Rt 89a)
Additional info on the West Fork trail
4. Wilson Canyon
Wilson Canyon is a scenic 1.5 mile out-and-back trail which starts at the very popular Midgley Bridge overlook on Oak Creek Canyon drive. This is one trail you will want to arrive at extra early as parking is limited and fills up fast. Keep in mind that Midgley Bridge is one of Oak Creek's most popular viewpoints. The short trek through Wilson Canyon is shady and cool, so fortunately you won't have the sun beating down on you constantly. Isolated wilderness awaits you as soon as you leave the Midgley bridge area. Plant life is diverse here and consists of live shrub oak, Arizona cypress, & various cacti species, and wildlife is also plentiful.
Wilson lacks some of the big red rock views of others on this list (although the beginning does feature some outstanding vistas). Don't let that deter you – this one offers serene views of the Red Rock Secret Wilderness and ample shade coverage. Relax and take your time hiking this one and enjoy the lush natural surroundings.
Distance: 1.5 miles out-and-back (Free parking)
Location: Hwy 89a (about 2 miles in from the north end of Oak Creek Canyon drive near Sedona)
Additional info on the Wilson Canyon trail
5. Boynton Canyon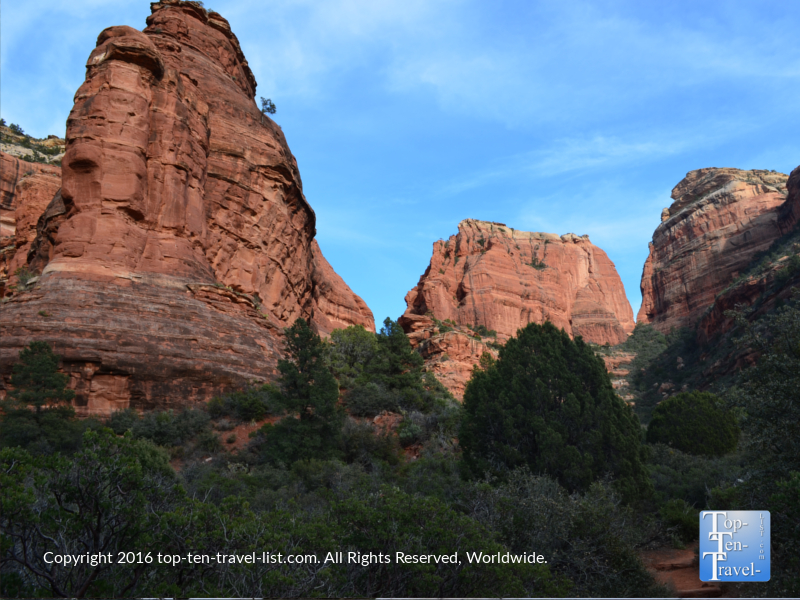 Boynton Canyon is one of Sedona's most interesting hikes. Featuring diverse scenery changes, powerful vortex energy (Boynton is one of 4 vortex hikes), and wide open views of towering red rock formations, it's a must-hike while in town. Fortunately, this trail is mostly shady, and therefore, a great summer choice. Although Boynton is nearly 3 miles each way, the trail is mostly flat with minimal elevation gain. Despite the immense beauty, it remains pretty quiet and you should not see more than a handful of hikers around at any give time.
This trail is really unique in that you start off surrounded by big towering red rock formations and end up strolling through a shady canyon and forest. One time in the spring we began the trail in the harsh sun and ended up putting on gloves as we trekked through some lingering snow in the forest! As diversity of landscapes and weather go, Boynton is as exciting as it gets in Sedona.
Distance: 3 miles out-and-back
Location: Dry Creek Rd Sedona, AZ 86340 (Free parking)
Additional info on the Boynton Canyon trail
A few helpful tips
*Hiking in the morning is definitely preferable to sunset hiking. Temps are considerably cooler in the mornings vs. when the hot sun is setting.
*Wear a camelback to ensure you have a consistent supply of water. A few electrolyte containing snacks is also a good idea. Fill up at the wonderful free spring water tap along Oak Creek Canyon drive near mile marker 387. You will see a bunch of cars parked along the side of the road filling up.
*Carry a hiking stick (can be found at any gift shop in the Uptown area) and wear appropriate workout apparel and hiking shoes)
*Avoid weekends, if possible. Sedona is really busy most summer weekends and holidays. Visiting during the week will ensure a more peaceful trip, ease of finding parking, a shorter wait at restaurants, etc.
*The best breakfast & coffee in town can be found at Indian Gardens. Other decent choices are Che-Ah-Chi at the Enchantment Resort, The Heartline Cafe, and Red Rock Cafe.
*In terms of hotels, The Inn Above Oak Creek is a wonderful budget friendly choice with rooms overlooking the creek, a decent continental breakfast, 24/7 coffee, and a convenient central location.