17 Fun Things to do in Orlando Besides Theme Parks
Who says you can't have a fantastic time in Orlando without visiting a theme park? Aside from the world famous Disney and Universal theme parks, the Orlando area is home to a number of beautiful parks, interesting museums, great local restaurants and shops, a handful of waterfront attractions, entertaining shows, and much more.
All too often Orlando visitors come and go without taking time to explore anything besides the theme parks. This is a shame as there is much more to explore in Orlando. While the theme parks are more than worthy of a visit, you would be missing out by not looking into some of the other activities found throughout the Orlando metro area.
Take a look below at a list comprised of 17 non-theme park attractions & activities in the Orlando metro area. Also, feel free to share a few ideas of your own!
1. Take a relaxing stroll around Tibet-Butler Nature Preserve
Orlando's small 440 acre nature preserve allows visitors to take a glimpse into the natural scenery of Florida. Take this opportunity to escape the crowds and intense heat of the afternoon sun for a relaxing and shady walk through this quiet preserve. Peaceful views of Lake Tibet-Butler along with beautiful flatwoods and wetlands provide the perfect setting for a scenic stroll.
Six short trails, varying in length from 1/2 mile to several miles, are available for everyone from those wanting a quick natural escape, to those looking for a half day nature outing. Keep your eyes peeled for possible wildlife sightings: gopher tortoises, bobcats, and bald eagles are occasionally seen.
2. Have dinner at a fun themed restaurant
Both Disney Springs and Universal City Walk are home to several great theme restaurants. By choosing one of these fun restaurants you can still feel like you are part of the excitement without visiting a theme park. Some of the fun choices in Downtown Disney include Planet Hollywood, House of Blues, Rainforest Cafe, and Raglan Road Irish Pub.
Universal City Walk is home to options such as Jimmy Buffet's Margaritaville, Hard Rock Cafe, Bubba Gump Shrimp Company, and NBA City. Any choice you pick is sure to lead to an entertaining night filled with fun food, service, and music.
3. View the world's largest collection of Tiffany glass at the Charles Homer Morse Museum of American Art
This Winter Park museum happens to contain the largest collection of works by Louis Tiffany, a late 19th century designer famous for his impressive collection of lamps, pottery, paintings, and jewelry. Every piece is absolutely gorgeous; the small admission price enables everyone to see this impressive collection. Take a little break from the heat to visit this local gem; you will not be dissapointed! Student admission is only $1 and Friday nights are free (for everyone) from November-April.
4. Take a scenic boat tour in charming Winter Park
Winter Park, a quaint town located just 20 minutes from Orlando, is one of the most scenic small towns in America. One of the top attractions in town is the Scenic Boat Tour, a daily 1 hour narrated tour through the Winter Park Chain of Lakes. This leisurely ride lets you feast your eyes on some spectacular local scenery, including views of extravagant waterfront mansions, lush greenery, and plenty of wildlife.
5. Enjoy a fun night out at Universal City Walk
Universal City Walk is the premier entertainment destination in Orlando. It's a great place to visit whether or not you spend the day at Universal Studios. Here you can have hours of fun without stepping foot into the park. Theme restaurants include Hard Rock Cafe, Jimmy Buffet's Margartaville, Bubba Gump Shrimp Company, and more. Aside from dining, entertainment options include seeing Blue Man Group, watching a movie in the luxury IMAX theater, mini-golf, and a handful of bars and nightclubs including City Walk's Rising Star, a unique karaoke bar where you sing alongside a live band.
6. Rent a paddleboat at Lake Eola Park
Lake Eola park in downtown Orlando is a great escape from the hectic theme park crowds. A refreshing 1/2 mile stroll around the landscaped grounds is sure to rejuvenate both your body and mind. Plenty of plant life and birds make this walk a pleasant nature experience. Great views of the Orlando skyline too! A leisurely ride in a paddleboat is a fun way to take in the beautiful views around you.
7. Enjoy a round of mini-golf at Pirate's Cove
Orlando's premier mini golf course is about the best you will ever find. Two scenic 18 hole courses through a shady, pirate themed adventure provides the perfect temporary escape from the afternoon heat.
The entertaining courses feature a pirate ship, waterfalls, and plenty of tropical landscaping. Despite being located on busy International Drive, the course is surprisingly quiet. Rates are affordable too (only $16 per adult and $14 per child). Be sure to check your hotel lobby for a $1 off coupon!
8. Enjoy the local scene at a coffee shop
Both Orlando and Winter Park are home to a number of fantastic local coffeehouses. Skip the common coffee chains in favor of an eclectic local choice like CFS. This local gem serves delicious healthy food and 100% Colombian coffee. The mugs they use are beautiful and the setting is colorful and exciting. You can really relax and enjoy the quiet for a while in a place like this! Must-try's include the Mocha Frappe and Sweet Toast!
Check out more great Orlando coffeehouses
9. Take a bike ride along the Lake Baldwin Trail
Baldwin Park is a newer, upscale area just a few miles from downtown Orlando. Here you will find beautiful homes and landscaping, lots of stores and dining, and a handful of nice parks. Lake Baldwin park features a 2 and a half mile trail around the lake, perfect for bike riding or walking in the early morning hours before it gets too hot.
This area is perfect for the fitness buff; flat, quiet, and never too crowded. It's nice to have a great place in Orlando to take a relaxing stroll away from the traffic and crowds. Whether you feel like biking a few times around or just taking a simple walk, you will leave recharged and in a better mood.
10. Indulge your sweet tooth at the Chocolate Emporium
Dessert at the Toothsome Chocolate Emporium is the ultimate treat for anyone with a sweet tooth. This relatively new addition to Universal City Walk scene is already super popular with tourists. What better way to relax after a long day walking endless miles around the parks then splurging on a massive dessert?
Go ahead and treat yourself – you probably walked way more than the dessert is worth in calories! Over a dozen creative milkshakes, sundaes, and desserts are on the lineup. And yes, they are big enough to share amongst your party!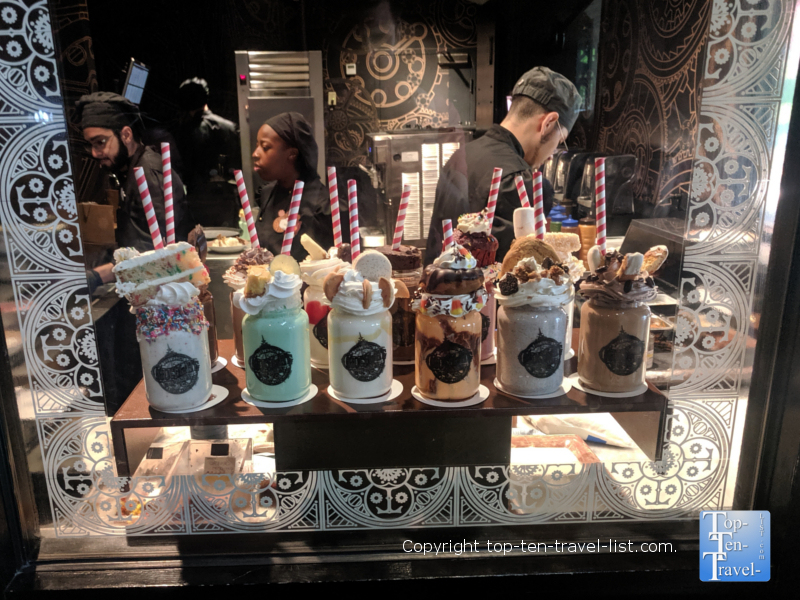 11. Spend the day exploring Disney Springs
Disney Springs is a dining, shopping, and entertainment destination similar to Universal City Walk, only with the added bonus of beautiful water views. Several popular theme restaurants (Rainforest Cafe, Planet Hollywood, & House of Blues) can be found here. In addition, a luxury bowling alley, souvenir shops, a luxury movie theater, and Cirque du Soleil shows can be added to your itinerary. Characters in Flight, a hot air balloon ride which travel 400 feet above Disney Springs, is another unique activity to consider.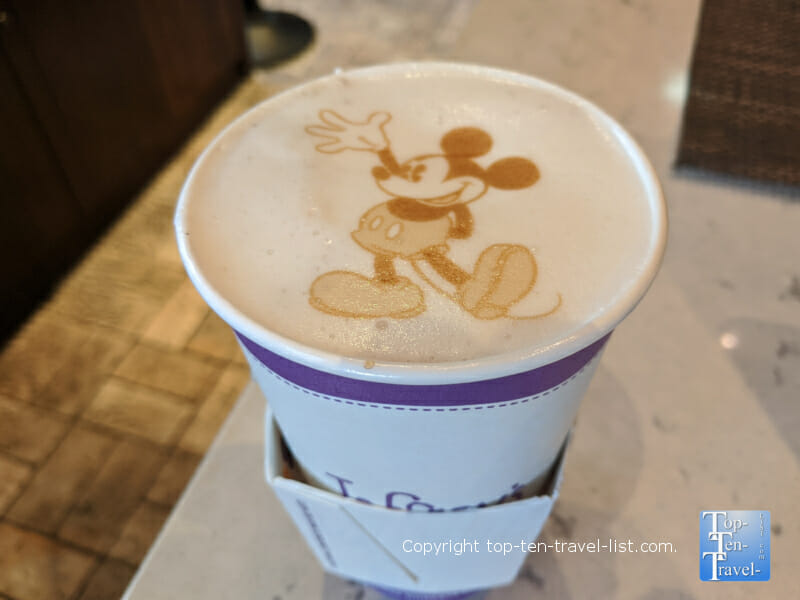 12. Ride the largest Ferris Wheel on the East Coast
The 400 foot tall Ferris Wheel, the largest on the East Coast, is one of the newest & best additions to the entertainment lineup in Orlando. A ride in one of the enclosed gondolas is a fun way to take in the diverse scenery of Orlando, which includes scenic city vistas, the theme parks, and the natural Florida landscapes. Orlando (and Florida in general) is a surprisingly diverse area with lots to do, but sometimes we forget that as we are too busy enjoying the theme parks! Enjoy the views then plan a day visiting Orlando's gorgeous parks and preserves.
13. Go alligator watching via an airboat tour
Alligator watching aboard a narrated airboat ride is definitely one of the best things to do in Florida after beaches and theme parks. Seeing alligators in their natural habitat is a really unique experience, and one that you can really only do in a handful of states. Because alligators are known to attack, it's nice to be able to see them from the safety of a boat! There are numerous airboat companies to choose from in the Orlando area – Wild Willy's is a nice choice due to the close proximity to Orlando, beautiful setting on Lake Tohopekaliga, and affordable rates (just $50 per person with frequent deals on Groupon).
If you plan on exploring other cities in Florida, I highly recommend checking out Myakka State Park near Sarasota. They offer guided pontoon boat rides. You will see lots of gators here and the staff are super friendly. Plus, this park in general is in my opinion one of the most gorgeous in the entire state. Additionally, Circle B. Bar Reserve in Lakeland (1 hour from Orlando) is a prime place for gator watching. They even have a hiking trail called Alligator Alley which is lined with gators – I've never seen so many! Really scary, but at the same time, really fascinating!
14. Explore downtown Winter Park
On your next outing to Orlando, skip the common chains overpopulating in the area in favor of a unique local treat at one of Winter Park's numerous fantastic dining gems. Winter Park restaurants offer a refreshing change from the abundance of chains in the area. The downtown area is home to an impressive array of restaurants offering every type of cuisine imaginable (check out Prato, Ethos Vegan Kitchen, and Keke's Breakfast Cafe). Those with food allergies will be happy to know that many restaurants offer specialty food allergy menus and/or are willing to customize dishes to meet your dietary preferences.
15. Bowl a game or 2 at Splitsville Luxury Lanes
Splitsville is a luxury bowling alley located in Disney Springs. It's a great activity to enjoy either before or after your meal at one of the fun themed restaurants found in the area. Unique decor, an upscale food menu, and live entertainment make Splitsville the place to be. Weekend bowling specials are $20 per person for 1 hour of bowling. In addition, a great Early Bird special consisting of unlimited bowling from open-12:30pm for only $14 per adult is available for those visiting during the early afternoon hours.
16. Stroll around a local garden
Despite the abundance of congestion, traffic, and man-made entertainment in the area, the Orlando metro area still manages to offer a variety of quaint parks to escape from it all. At Harry P. Leu Gardens, you will have the opportunity to stroll around beautifully landscaped gardens filled with tropical plants.
Winter Park is home to a number of attractive parks, including Kraft Azlea Gardens and Mead Botanical Gardens. Both of these pretty parks offer a glimpse into the natural plants and animals found in the area. At Kraft, you will be able to enjoy wonderful lake views, take advantage of ample birdwatching opportunities, and surround yourself with gorgeous Spanish moss trees. The quiet nature trails at Mead allow you to really decompress.
17. See a show
Consider adding a show to your never ending list of non-theme park Orlando attractions. From a pirate themed dinner adventure, to Cirque du Soleil, to the eclectic Blue Man Group spectacular, there is a show to fit every personality and budget. A few popular options include the Outta Control Magic Dinner Show at Wonderworks, Medieval Times Dinner & Tournament, Blue Man Group, Sleuths Mystery Dinner Theater, and more!
If that isn't enough, here are a few more things to add to your list!
Icebar – Escape the heat with a trip to Orlando's unique ice bar, featuring over 70 tons of ice. You will be given a parka and gloves before heading into the chilly 22 degree ice room, which features cool ice sculptures and drink glasses made out of ice.
Dave & Buster's – This large entertainment facility offers dozens of traditional arcade games, ticket redemption games, a sports bar, and a full service restaurant. You can have hours of fun here without spending nearly as much as you would at a day at the parks (sign up for the D&B email club to receive special coupons). The Orlando location tends to be crowded at all times, so be prepared to pay for valet parking or spend all night searching for a spot.
Disney Wilderness Preserve – Escape the crowds for a hiking, kayaking, or biking adventure at this 11,000 acre nature oasis in Kissimmee.
Spas – With all the luxury resorts in town, it comes at no surprise that Orlando has no shortage of fantastic spas. Whether you are looking for your standard treatments or a unique experience to spice up your vacation, Orlando spas have you covered. The Ritz-Carlton and Waldorf Astoria spa are 2 highly regarded luxury choices in town.
For a truly unique experience, look into a massage at The Salt Room. The Salt Room is a holistic choice offering relaxing traditional massage therapies along with therapeutic sessions in salt rooms, which have been reported to help many people with allergies, sinus infections, and asthma. After your massage, you will be treated to a 45 minute session in the salt room; as you relax in your zero gravity chair you will enjoy the respiratory benefits of the halotherapy.
A few worthwhile Day Trip Destinations (2 hours or less from Orlando)
In addition to the great attractions listed above, there are plenty of fun day trip destinations within an hour or 2 drive of Orlando. Below are a few fantastic side trip destination to visit on your trip to Orlando.
Tampa Bay area beaches
Florida's Gulf Coast beaches are often ranked amongst the best in the world. Visiting a beach is a great alternative to theme parks especially on extremely hot & humid days when walking around a crowded, unshady theme park is simply unbearable.
The Tampa metro region is home to dozens of beaches, most notably Clearwater, known for its soft, powdery white sand. If you are looking for more peace and quiet and less of a tourist vibe, be sure to check out Indian Rocks Beach or Fred Howard Park. Both of these quiet options offer pretty views in a more relaxing setting. You will not get the same smooth sand; however, you will enjoy less traffic noise, the absence of chains and stores polluting the area, and more opportunity to find seashells.
Approximate Driving Time: 2 hours
Glass bottom boat rides at Silver Springs State Park
Silver Springs State Park in Ocala is famous for its' glass bottom boat rides, one of Florida's oldest tourist attractions. Here you will have an opportunity to take an exciting narrated ride across the largest artesian springs formation in the world. The transparent bottom of the boat allows you to see all different types of fish and plant life. Be sure to keep an eye out for the occasional gator sighting on the banks.
The beautiful Spanish moss trees surrounding the lake make for an incredibly scenic ride. Bring with your camera – there are plenty of fantastic photo opportunities at this beautiful state park.
Approximate Driving Time: 1 hour and 15 min.
Silver Moon Drive Inn
In Lakeland, just an hour drive from Orlando, you will find one of the last remaining drive-in theaters in the area. This drive-in is one of the cleanest and most affordable around. Double features are only 7 bucks a person, and on occasional weekends you may even be able to see 3 features for one low price. Treat yourself to some old-fashioned fun; what a nice classic activity to enjoy year-round!
Approximate Driving Time: 45min-1hour
Circle B Bar Reserve
Central Florida is one of the most natural and forested areas of the state. It's home to many parks and reserves and hiking trails. Plenty of wildlife can be seen everywhere. Unfortunately, most tourists do not know this as they never venture outside of the crazy Orlando area. Just a quick half hour away is Circle B Bar Reserve, one of the best locations for seeing alligators in their natural habitat.
On a single visit, you are more than likely to see at least a dozen gators (depending on weather and time of day). Bald eagles, tortoises, and many different bird species are also commonly seen. Several miles of scenic hiking trails will give you a glimpse of Florida's natural plant and wildlife species. Be sure to reserve your spot on the guided tram ride; here a park volunteer will guide you through the park.
Have you visited any of the following attractions? What non-theme park attraction would you recommend in the Orlando area?