5 Fun things to do at Universal CityWalk Orlando
Citywalk is the place to be after a long exhausting day enjoying all the rides and entertainment at Universal Studios & Islands of Adventure. This open air shopping, dining, and entertainment complex is a really fun place to stroll around at night being that there is so much to do. With everything in one place, it's super convenient. Whether you feel like dining, shopping, seeing a movie, kicking back at a bar, or splurging on a treat, you can do it all at CityWalk. As an added bonus, self parking is free after 6pm (with the exception of Halloween Horror Nights).
Below are 5 fun things to add to your Citywalk Itinerary
1. Enjoy a sweet treat at Toothsome Chocolate Factory
Toothsome is the ultimate indulgence for anyone with a sweet tooth. For anyone more interested in the dessert menu than the regular menu, Toothsome is definitely for you. Featuring appetizers like Warm Chocolate Almond Bread and Coffee and Chocolate Stout Wings, Entrees like Chocolate Waffles, and a long list of tempting sundaes, milkshakes, and desserts, you really can't go wrong. Also available is a massive truffle bar if you would like to splurge just a little in the calorie dept.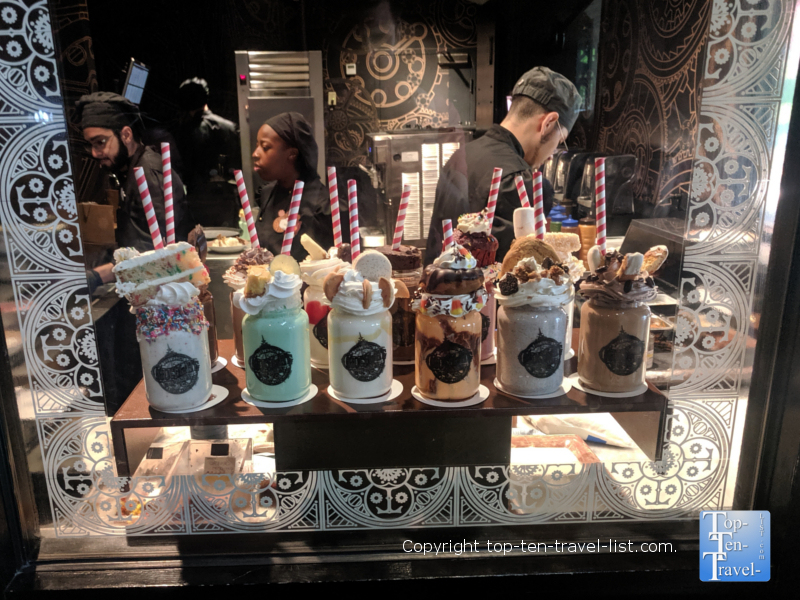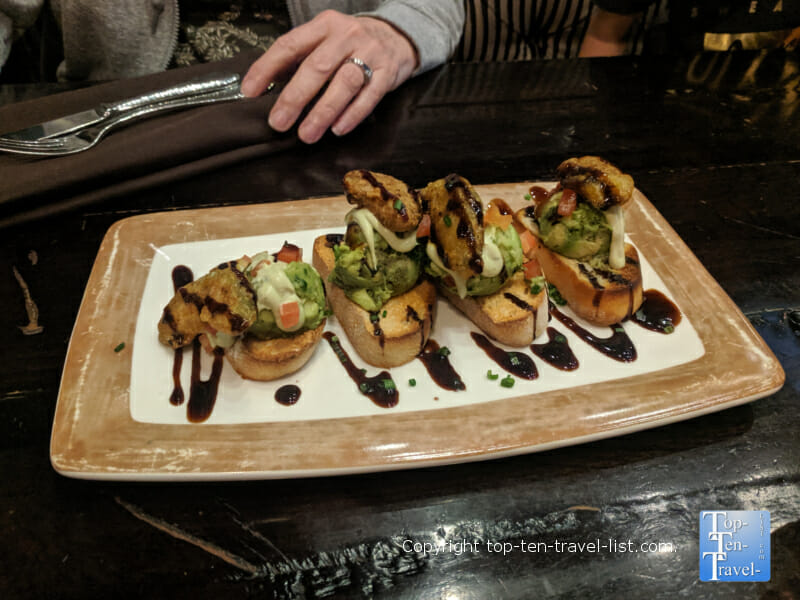 However, if you are willing to splurge big (you are on vacation overall), treat yourself to the Chocolate Brownie Bark sundae. The ultimate in chocolate indulgence, this extravagant sundae features chocolate brownies, chocolate ice cream, chocolate whipped topping, chocolate brownie bar, chocolate sauce, and chocolate sprinkles
2. Rock out at Hard Rock Cafe
Enjoy a fun night of music, rock n'roll memorabilia, fun food, and festive drinks at the Hard Rock Cafe. You have probably seen the big guitar in front of this iconic restaurant in other touristy cities. The Orlando location is particularly appealing with a multi floor layout, a Roman coliseum design, and more memorabilia than any other cafe. Check the entertainment lineup to see if there will be any special shows during your visit.
The food here is comfort food at its' best. Start with a savory flatbread as an app and the delicious twisted mac and cheese as a main course. Also order a drink (alcohol free available) in a fun souvenir glass which you can keep!
3. Shop til you drop at the Universal Studios Store
If you were having a bit too much fun at Universal and Islands, you probably did not have too much time to waste shopping for souvenirs. Thankfully, Universal CityWalk is home to a large Universal Studios Store where you can pick up anything which you forgot at the parks. With more Universal movie themed decor and gifts than you could possibly imagine, you will want to take some time to browse around. A great place to shop for anything Harry Potter!
4. Treat yourself to an authentic Italian dinner at Vivo
While Citywalk is home to many fun bar/themed restaurants like Hard Rock and Margaritaville, a relaxing dinner may be more your style following a long crowded day at the parks. Vivo Italian is a wonderful choice for anyone seeking more of a romantic, date night dinner destination. At Vivo, family recipes are served in a beautiful modern dining room which features an open kitchen layout. Pasta is made fresh in-house and there is something on the menu for everyone including vegans, vegetarians, as well as anyone avoiding gluten.
5. Make your own yogurt creation at Menchie's
Menchie's is an awesome self-service yogurt bar where you can pick your own flavors and toppings. While you will find many frozen yogurt bars all over the country today, Menchie's stands out for offering a wide range of creative flavors including at least one vegan and gluten-free option. The company is also a bit more health conscious, using milk not treated with extra growth hormones. Also no high fructose corn syrup or artificial flavors are used. For a fun and slightly "healthier" dessert, treat yourself to a cooling froyo treat at Menchie's.
More entertainment options
Rising Star – Fun karaoke bar. Experience being in a real band as you belt out tunes in the company of live music and background singers.
Hollywood Drive In Mini Golf – Fun vintage course themed after 1950's horror and science fiction movies. Choose between "single-feature" (18-holes) or "double-feature" (36-holes).
Universal Cinemark movie theater – Modern theater with 20 screens featuring luxury recliner seats and a full bar. $5 movies all day on Tuesdays.
Check out the full Universal City Walk directory
For more fun things to do in the Universal area, check out the following posts: