The Top Things to do at Disney Springs
Disney Springs, an outdoor dining, shopping, & entertainment complex near the theme parks, is a great addition to your "Disney off day" itinerary. Take a break from the rides, the heat, the insane crowds, and all that walking in favor of a relaxed day at Disney Springs.
There's lots of great attractions here including a diverse assortment of themed restaurants, plenty of shops (both national chains & "unique to Disney" gems), and an abundance of entertainment options (including a movie theater, bowling alley, and even a hot air balloon flight experience).
Below are the must-dos on your first visit to Disney Springs
Pick up a holiday souvenir at Days of Christmas
What could be better than everything Disney and Christmas all in one place? Even if your visit does not fall during Disney's spectacular Christmas festivities (the park looks absolutely gorgeous this time of year!), you can still pop in this shop and pick up an adorable Mickey themed Christmas souvenir.
This shop is open year-round, so you can enjoy the Disney Christmas spirit any time of year. From Mickey ornaments, to Disney nutcrackers, to holiday dinnerware, it's hard to walk away without adding at least one new Disney piece to your holiday collection. Also, for a small extra fee, you can customize any ornament.
Treat yourself to an authentic Irish meal at Raglan Road
At Raglan Road, you can enjoy delicious traditional Irish fare in a gorgeous dining room as you watch incredible step dancing performances. Whether you prefer fish and chips, a traditional Irish breakfast, or even a vegan shepherd's pie, Raglan Road has you covered. It is also one of the few places in Orlando to offer an extensive GF menu including fish and chips and onion rings made in a dedicated GF fryer!
Everything here is so authentic, from the fresh delicious food, to the imported beers, to the talented step dancers (most are former River dance stars), to the bar which was built in and shipped directly from Dublin. Do not leave without trying the Four Provinces Flight! Raglan Road is the best themed restaurant in Orlando and one of the better dining choices in the city.
A quick glimpse at one of the amazing step dancing performances!
Go bowling at Splitsville Luxury Lanes
This trendy bowling alley provides the perfect vibrant ambiance for a fun day away from the theme parks. The upscale décor plus delicious food offerings give this bowling alley a definite vacation approved atmosphere. This experience is in stark contrast to your typical dark, smoky alley which serves crappy greasy food. Splitsville basically adds a modern touch to one of America's favorite old school past times.
Bowling at Splitsville is sure to be a big hit with everyone in your party. On the downside, it is not cheap! To save a few bucks, check out their great early bird special.
Treat yourself to a character latte at Joffrey's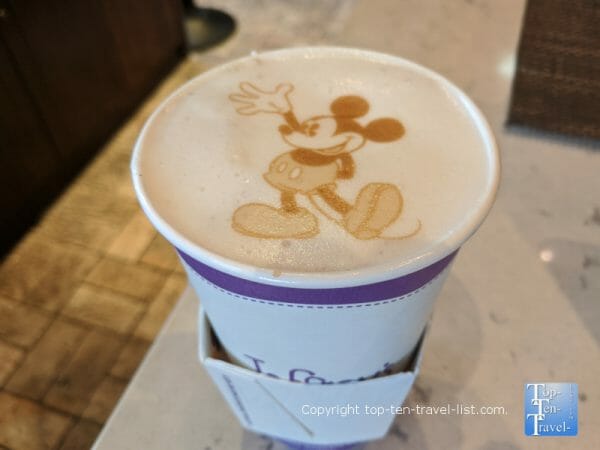 Not only is Joffrey's one of the best coffee roasters in Orlando, they also happen to be the official specialty coffee of Walt Disney World resort. Their coffee is so darn good that even those who usually load their drink with cream and sugar should be able to enjoy the delicious smooth flavor. If you prefer an extra sugar kick, they are also known for their seasonal specialty lattes, particularly the wintertime Peppermint mocha.
Instead of simply ordering your latte as usual as you would at any typical chain, at Joffrey's you can customize your drink with unique Disney latte art. Add Mickey, Minnie, Donald, or Goofy character art for a mere 50 cents. Even more fascinating, this unique artistic touch lasts through the last drop!
Browse around the World of Disney shop
This massive 50,000 square foot shop is the perfect place to stock up on souvenirs you were too busy to search for on your long tiresome park days. It's quite hard to drag yourself away from all the rides and excitement to go shopping! Don't worry – your off day is the perfect time to browse around for that perfect souvenir.
You will find everything and anything Disney here. As the world's largest Disney store, it would be impossible to walk away emptyhanded. In fact, the store is so popular that there is often a line just to get in!
Indulge in a "healthier" treat at Erin McKenna's Bakery
Erin McKenna's is an award winning allergy friendly bakery with locations in L.A, New York, and Orlando. The original bakery opened on the Lower East side of Manhattan in 2005. The bakery serves delicious treats which are free of all the major allergens.
This is a great place to pick up a sweet treat especially if you are seeking gluten-free or vegan options. Fortunately, the lack of any allergens does not mean lack of flavor! Goodies to tempt your sweet tooth include cookies, brownies, cinnamon rolls, cookie sandwiches, and muffins.
Take advantage of the free ride to Walt Disney World resorts
Complimentary bus transportation is available to all Walt Disney World resorts. Yes, the resorts are open to non guests who would like to dine at a restaurant, book a spa service, or even just take a stroll around the property. Each resort offers its' own unique amenities. Animal Kingdom Lodge, Wilderness Lodge, and Grand Floridian are particular impressive, especially during the holiday season when all the lobbies are transformed into Disney's version of a winter wonderland.
Each resort is also home to a number of great restaurants. Sanaa at Animal Kingdom Lodge is a wonderful Indian-African fusion restaurant which looks out upon the resort's lush Savanna. Victoria and Alberts is an award winning romantic fine dining restaurant at the Grand Floridian – super expensive, but also very highly recommended for anyone wiling to splurge.
Take a stroll around the Lego Store
Take a walk around this superstore and enjoy all of the creative Lego sets on display, including several inspired by the Disney films. In addition to more Lego sets than you could possibly ever imagine, you will also get to see some pretty cool Lego figurines. This is the perfect stop for Lego collectors or anyone seeking a unique gift idea.
Grab a bite at Earl of Sandwich
Earl of Sandwich is an awesome national specialty sandwich shop headquartered in Orlando. They are known for serving the best sandwiches. I love their Veggie option which includes feta, red peppers, cucumbers, red onion, lettuce, roma tomatoes, and creamy Mediterranean dressing. It really is one of the best sandwiches I've ever tried.
Their tomato basil soup is outstanding as well. Best of all, there is a great little patio where you can people watch. In a sea of overpriced tourist traps in Disney Springs, Earl is a real bargain.
Browse the specialty shops
Skip all the common chains you see everywhere else and head to the unique places you won't find anywhere else. Here are a few of the best places to browse around while at Disney Springs.
Art of Disney – Unique Disney art pieces and collectibles.
Coca Cola store – Everything Coke you could possible imagine, plus unique photo opps.
Crystal Arts – Crystal gifts plus Disney collectibles.
Star Wars Trading Post – Everything Star Wars, from apparel, to art, to dinnerware.
Super Hero Headquarters – Unique shop dedicated to your favorite superheros. Action figures, apparel, toys, & more.