6 attractions not to miss on Orlando's International Drive
Non-theme park days are the perfect time to explore the multitude of non-Disney attractions throughout the Orlando region. While International Drive is most well known for its' hideous traffic and congestion, there are actually a few great attractions that make the hassle well worth it. As the street is home to Universal Studios, Seaworld, many hotels, and endless shops and restaurants, it's no surprise that so many tourists flock over to this part of the city. This busy commercialized area is where you will find everyone who is not currently at a theme park or resort.
In addition to countless discount souvenir shops, as well as popular chain restaurants and large shopping malls, there are an abundance of family-friendly attractions to add to your itinerary. There are more than enough interesting touristy activities to plan for a whole day of exploring I-Drive. In addition to standard malls and movie theaters, here are the 6 can't miss attractions on I-Drive.
1. World of Chocolate
This quirky museum showcases 25 sculptures made entirely of chocolate. These artistic masterpieces are modeled after various US and world landmarks. During a 1 hour tour, you will learn about the history of the cacao bean (did you know that the Aztecs used cacao beans as currency?), see equipment made to use chocolate, and even get to taste a few samples. What's more – there is a great café on site where you can feast on everything chocolate including hot cocoa, truffles, cakes, and pastries. The WOC is a great add-on activity as it will not take up much of your time and is interesting enough to warrant a visit.
Location: 11701 International Dr suite 400. Tour hours: 1-5pm on the hour (first come, first served). Cafe: 12-5pm
Pricing: $17, children, military, & seniors $13
2. Pirate's Cove Adventure Golf
It's hard to visit Orlando without enjoying at least a round of mini golf with so many great courses around the metro area. I-Drive is home to a number of festive themed courses. The best is Pirate's Cove, a fun and beautiful pirate themed adventure featuring 18 holes. Caves, waterfalls, and a huge pirate ship easily land this course the "most scenic of Orlando" award. Besides the over-the-top pirate theme, the course is really lush with plenty of shady trees. Thus, this is a great option even on the hottest and sunniest days.
Location: 8501 International Dr. Hours: 9am-11:30pm
Pricing: $15.95 adults, $13.95 child ($25.95 & $23.95 for 36 holes)
3. Icon Wheel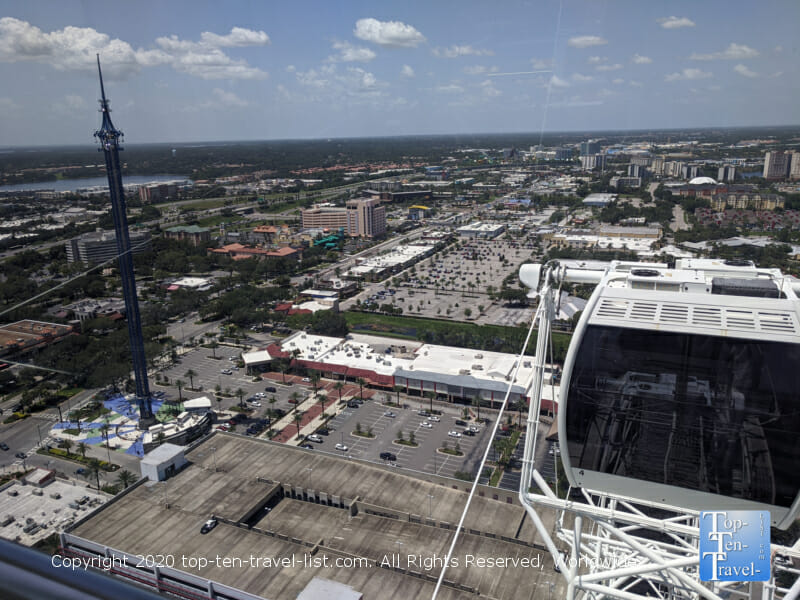 While the views are not nearly as impressive as nearby Ferris wheels like the Myrtle Beach SkyWheel, it's worth a ride if you are interested in other attractions at Icon Park. At 400 feet tall, Icon is the 2nd tallest Ferris wheel in the country. This alone may make it worthy of the ride to you. The views are not overly impressive as the wheel looks out upon the flat Central Florida landscape. On a clear day, you can see to the Disney and Universal theme parks. To make this a better deal, buy a package which includes Madame Tussaud's Wax Museum and/or the SeaLife Aquarium. Also on-site are a number of restaurants and gift shops.
Location: 8375 International Dr.
4.. Putting Edge
This unique glow-in-the-dark mini golf course is the perfect option for anyone who would like a break from the insane heat, or alternatively, if the forecast calls for rain. The 18 hole course is pitch black with crazy bright neon art everywhere and varying themes including space and the sea. A few of the holes involve specialty challenges such as using a mini putter for the last hole. It's a really cool experience, although a tad overpriced. If you can find a Groupon deal, I recommend taking advantage of it. While pricey, it's a great indoor activity on a non theme park day. A small arcade is also on-site. As a bonus, there is a movie theater right next door so you can escape the heat for several hours.
Location: 5250 International Dr. Hours: 2pm-9pm (M-Th), 2-11pm (Fri), 11am-11pm (Sat & Sun)
Pricing: $15.50 per person. Save $2 per person when booking with a group of 8.
5. Madame Taussaud's Wax Museum
Madame's is not really worth going out of your way especially for, but a good deal if you buy the combo Icon package. If you have ever been to a wax museum in other touristy cities like LA or the Smoky Mountains, then you probably know that they are pretty cool but also pretty overpriced. This one features more than100 lifelike replicas of famous celebrities, action figures (the DC comic section is fantastic), sports stars, and historical figures. The amount of detail put into each wax figurine is crazy. Some of these celebs are so lifelike, it almost feels as if they are standing right in front of you!
Location: 8387 International Dr
6. Dave and Busters
This restaurant/arcade/sports bar is a favorite in many cities across the country. If you love watching sports, eating comfort bar food, and playing arcade games, then this is the place for you. A mix of fun ticket style redemption games, carnival games, and arcade machines will take you on an entertaining blast to the past. The Orlando location features a gigantic 40 foot screen tv which is perfect for watching any type of sports event. Take advantage of 1/2 priced games on Wednesdays. Or opt for the Eat and Play combo – for $19, you will get to choose an entrée (6 choices) and receive a $10 game card.
Location:  8986 International Dr
Hours: Noon – Midnight (M-Th), Noon -1am (Fri), 11am-1am (Sat), 11am-Midnight (Sun)
Best restaurants on I-Drive
There are no shortage of great chain restaurants on I-Drive. All of our usual favorites like The Olive Garden, Chilis, and Maggiano's offer familiar comfort food at an affordable price. Lesser known chains like First Watch (serving a healthy breakfast menu), Yard House (trendy comfort food & the world's largest draft beer menu), Mellow Mushroom (great pizza and apps, lots of vegan options), and UNO's (delicious Chicago style pizza) are also great options. However, if you are seeking something a bit different, there are plenty of interesting choices as well. Here are a few fun themed restaurants to consider.
Cuba Libra – Cuban restaurant which features late night salsa dancing. The colorful tropical décor adds an interesting touch. Try the vegetarian paella and the black bean soup. The ambiance makes this one a perfect vacation choice.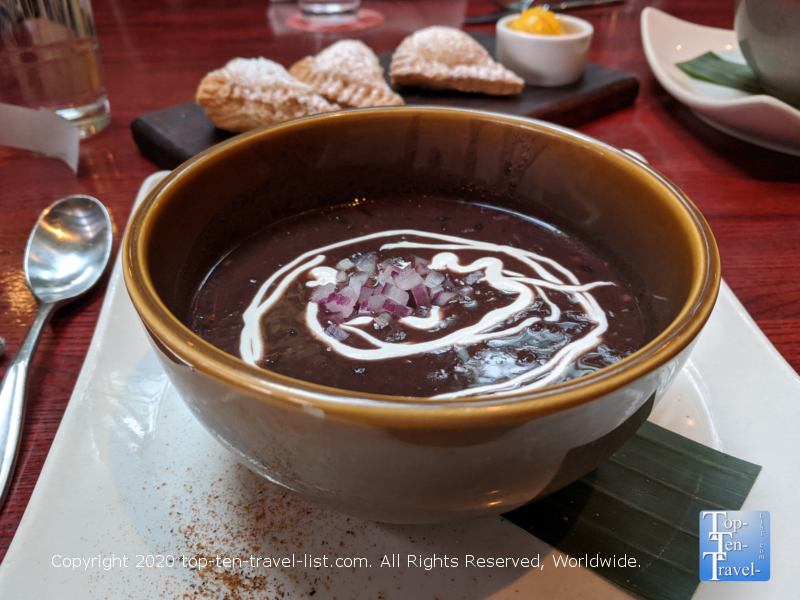 Taverna Opa – Greek restaurant known for their authentic Greek fare and belly dancers. Do start with the delicious falafel appetizer and try the Gyro pita (veggie, chicken, pork, or falafel) with opa fries as your main meal.
Hash House a Go Go – Fantastic breakfast place famous for their huge portions of "twisted farm food." You may have seen this one featured on Man vs. Food. Do try the Veggie hash which includes 2 eggs, fried potatoes, mushrooms, spinach, artichoke hearts, and sundried tomato, served with a homemade biscuit in a cast iron skillet.