12 fun things to do on your "non-park" Disney days
A long day at any Disney theme park, especially on a hot & humid summer day, can be quite exhausting. In fact, I'm often completely overheated & drained, with tired aching feet by the end of the day. Realistically, most of us probably put in over 10 miles each park day! That's likely way more than we put in on a typical gym visit! A day off to explore less hectic alternative tourist attractions is a must to prevent complete burnout.
After a refreshing day away from the park craziness, you will be ready to jump back into the excitement. Don't worry, you do not have to give up any fun just because you are spending the day away from the theme parks. Of course, relaxing at your resort/condo pool, getting a massage, and enjoying any extra amenities should be first on your list. For anyone wanting to venture outside of their hotel, there are plethora of fun things to do.
Below is a list of 12 entertaining & unique activities to enjoy on your off days.
1. Treat yourself to a Disney character latte
One of the coolest things to do in Orlando, for Disney and coffee lovers alike, is ordering a specialty made character latte at Joffrey's. The official specialty coffee of Walt Disney World has a convenient location at Disney Springs. First off, let me say that their regular coffee is tremendous – definitely amongst the most delicious I've ever tasted (and I frequent new coffeeshops almost every weekend!). The coffee is so smooth and flavorful – no need for any sugar or creamer!
If you are craving something a bit sweeter, go ahead and treat yourself to a latte. Joffrey's offers all sorts of creative selections with seasonal specials being the most popular. Their peppermint mocha is quite delicious. For a mere extra 50 cents, you can add on Mickey or Minnie character art. As this most unique coffee experience is limited to Disney, it's a must while you are in town.
Address: 1486 Buena Vista Dr, Lake Buena Vista, FL 32830 (Free parking)
2. Enjoy lunch at a themed restaurant
Although there are numerous eclectic themed restaurants throughout Orlando, many of us pass over them as we are too busy at the parks all day long. Your theme park off day is the perfect opportunity to kick back and relax at a fun theme restaurant. One of my favorites is Raglan Road, an authentic Irish pub which features live music and daily step dancing performances. Great fish and chips and a delicious vegan shepherd's pie for anyone avoiding meat or dairy!
Check out a quick preview of the amazing step dancing shows!
The Hard Rock Cafe is always a safe vacation bet. Tasty comfort food plus fun rock n roll memorabilia – you really can't go wrong here. Rock & Brews is another fun music themed restaurant, this one featuring a unique Kiss theme. And of course, Orlando is known for their pirate, mystery, and music themed dinner shows. Here's a guide to some of my favorite Orlando themed eateries.
Also, here are 5 unique dinner shows to check out
3. Play a round of mini golf with live gators
One tourist attraction that is often overlooked in Orlando are the many amazing themed mini golf courses. Mini golfing is the perfect off day activity because you can still enjoy that vacationy vibe, plus you can get in a little exercise and vitamin D, all without dealing with insane crowds. Gator Golf is particularly unique as you have the opportunity to feed live alligators along the course. A few more great options:
Pirates Cove – A lush course featuring tropical landscaping and a big pirate ship
Congo River – Features a unique rainforest theme
Fantasia Gardens – Cute course modeled after the classic Disney movie
Addresses: Pirates Cove (8501 International Dr), Congo (5901 International Dr), Fantasia (1205 Epcot Resorts Blvd)
4. Take time to enjoy a sit down brunch experience
With all the rushing around to get to theme parks as early as possible (totally understandable in order to get on a few rides before the lines get super long!), you probably have resorted to a quick pastry from Starbucks for breakfast. Your day off from the parks is a great opportunity to try out one of Orlando's numerous brunch choices. Here are a few of my faves located fairly close to the parks.
At the Diner – The place to go if you have a sweet tooth! Known for their over-the-top specialty pancakes.
Keke's – Known for their stuffed French Toast and specialty pancakes. Great coffee too!
Hash House a Go Go – Incredible hashes served alongside homemade biscuits.
First Watch – Healthy food made to order. Great coffee & awesome skillets.
Addresses: Keke's (7512 Dr Phillips Blvd), Hash House (5350 International Dr), First Watch (7500 W Sand Lake Rd)
5. Tour the Disney resorts
Even if you are not a guest, it's worth visiting each Disney resort solely to take in the ambiance and unique amenities. Take a free shuttle from Disney Springs, or the monorail (available to Contemporary, Polynesian, and Grand Floridian resorts), or park for free as a guest (during busy seasons like Christmas, parking may be full).
The most impressive resorts to add to your must see list:
Wilderness Lodge – Amazing lobby featuring a grand fireplace and a woodsy theme modeled after Pacific Northwest National Park lodges.
Grand Floridian – Super elegant décor with a pianist in the lobby. Victoria and Alberts, the most romantic restaurant in Florida is located here.
Animal Kingdom Lodge – Unique African themed resort built on a nature preserve. Here, you will feel as if you are on a savannah as you watch animals roam while dining or walking the grounds.
If you happen to be visiting during the Christmas season, touring the resorts becomes even more magical. Check out my Christmas at Walt Disney World resorts to see some pictures of the over-the-top fabulous décor.
6. Explore Florida's wild side
Leave the hustle and bustle of the theme parks behind for a day in exchange for a trek into the Florida wilderness. As Florida is second in the US in alligator population, it's pretty easy to catch a glimpse of one (or more) in their natural surroundings. Sure you can see them around town at various tourist attractions, but it really is not the same!
Consider booking tickets for an airboat ride or hiking at a preserve. Tibet Butler is a great little nature park with 3 miles of easy trails. It's located right near the parks, so super convenient. Wild Willys or Boggy Creek both offer fun & affordable airboat rides for those seeking to enjoy gator sightings via the comfort & safety of a boat!
Address: Tibet Butler (8777 Winter Garden Vineland Rd)
7. Soar high above Orlando on the Icon Wheel
Icon Park, a relatively new addition to the Orlando entertainment scene, is quickly becoming one of the city's most popular non-theme park attractions. Located on-site is the Orlando Eye, which stands a thrilling 400 feet, making it the 2nd tallest observation wheel in the US. Madame Tussauds Wax Museum and Sea Life Aquarium are also very popular. Each of these attractions is a bit pricey on their own (not a great value honestly), however the combo ticket is a decent deal.
Asides from the main attractions, there are a number of restaurants and souvenir shops here. Thrill seekers will want to check out the Orlando Starflyer, the tallest swing ride in the world. A 7D ride and Museum of Illusions are yet more options for fun. Thus, there are easily enough things to do to cover at least a few hours of non-theme park fun. You won't even miss Disney for a second!
Address: 8375 International Dr, Orlando, FL 32819 (Free parking)
8. Take a tour of famous chocolate sculptures
At the World of Chocolate, you will have the unique opportunity to see 25 lifelike chocolate replicas. Some of the famous landmarks include the Statue of Liberty, the Eiffel Tower, and the Taj Mahal. On this narrated tour, you will also learn more about the history of chocolate and get to taste some samples. This place is a must visit by any chocolate lover!
If this isn't enough, there is a chocolate café on-site. Treat yourself to a chocolate truffle, hot cocoa, or a decadent pastry. A special wine and chocolate tasting is also available as an extra add on.
Address: 11701 International Dr suite 400, Orlando, FL 32821 (Free parking)
9. Shop for souvenirs at World of Disney
This humongous shop at Disney Springs is loaded to the brim with everything and anything Disney. As we are often too preoccupied with rides and shows at the parks to even begin to think about shopping, an off day is the perfect opportunity to browse around for souvenirs.
World of Disney is not your only shopping option. Disney Days of Christmas is an awesome place to pick up a cute Mickey ornament for your tree. If you prefer budget shopping, there are endless discount Disney shops lining I-drive.
Address: 1486 Buena Vista Dr, Lake Buena Vista, FL 32830 (Free parking)
10. Dinner at Sanaa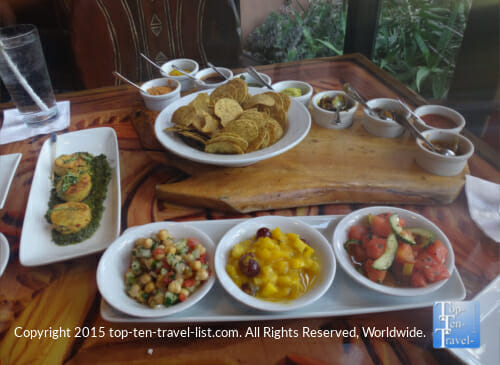 Sanaa is an amazing African/Indian themed restaurant which overlooks the lush savanna at Animal Kingdom Lodge. As you feast on delicious Indian food in a gorgeous themed dining room, you will see all sorts of exotic wildlife including giraffes and zebras. Do start with the Indian Bread service, which is in and of itself a reason to visit this fantastic restaurant. This tasty appetizer includes Naan bread served with a selection of delicious dips.
Note: The restaurant is open to guests not staying at the resort. Parking is available for guests, or better yet, opt to take a convenient free shuttle from Disney Springs.
Address: 2901 W Osceola Pkwy, Orlando, FL 32830
11. Get your game on at an entertainment center
Not surprisingly, there are too many arcades to list in the Orlando region. In keeping up with the youthful spirit of Disney, there are plenty of fun arcades that the young and young at heart can both enjoy. Dave and Busters on I-Drive is a favorite with their large bar with flat screens, fun food menu, large range of ticket redemption and arcade games, and special promotional gaming/dining deals.
Arcade City, located along I-Drive in Icon Park is another great option for the family. Pricing ranges from a quarter to 3 bucks per play. Another fun entertainment option is Putting Edge, a super cool glow in the dark indoor mini golf course. Although it's a tad overpriced, it's a cool experience to golf surrounded by eclectic fluorescent artwork.
More fun and games along I-Drive
Escape Room Games
Ifly Indoor Skydiving
Icebar
Andretti Indoor Karting
12. Take a stroll along the Disney Boardwalk
Disney's Boardwalk Inn hotel is known for their Coney Island style boardwalk. By day, you can play Midway games, grab a treat at the Boardwalk bakery, rent a surrey bike, and enjoy views of the waterfront.
At night, the area transforms into an entertainment oasis and date night destination. Pretty lights line the waterfront for a charming romantic ambiance. Several restaurants, nightlife options, and live entertainment make this an ideal choice for a fun night away from the parks.
Address: 2101 Epcot Resorts Blvd, Orlando, FL 32830 (Parking is free, although limited at busy periods. It is recommended to take free transportation).