20+ Best Things to do in Orlando for Adults
As someone who never visited Orlando as a kid and never had kids, I always thought an Orlando vacation was out for me. Contrary, my first Orlando vacation did not happen until my late 20's (and many more followed into the next decade!). As an Orlando vacation is quite pricey, many people do not make it out here until much later in life and that is just fine. I quickly found out that Disney and Universal theme parks (and really Orlando in general) truly is a fantastic vacation destination & magical experience for everyone. While there are many great things to do with kids, there are also many fun things to do in Orlando for adults too!
As Walt Disney once famously said, "Laughter is timeless, imagination has no age, and dreams are forever." How fitting this is in the case of Disney theme parks. Do not let anyone hold you back from pursuing your dreams and having fun at any age. Even if you never experienced the magic of the parks as a kid, you can still take your chance now. That being said, here is a brief overview of my most recommended attractions in Orlando for adults After many years visiting the parks and residing in the region, I can say that with each visit comes even more fun & nostalgia!
First off…The Parks
There are 4 major theme parks officially part of Disney: Magic Kingdom, Epcot, Animal Kingdom, and Hollywood Studios. Some people are adamant that Magic Kingdom is solely for kids. On the contrary, it is my favorite of the 4 parks. Really, most of the rides are based on Disney classics which adults grew up with and loved so the nostalgic factor alone makes this park really fun for anyone 30+. With nostalgic rides, character appearances of both today and yesterday, grand views of Cinderella's castle, and a festive parade & fireworks show, really the fun never ends no matter your age & how many times you visit!
The Magic Kingdom
A timeless place for kids of all ages. Disney himself once said "May Walt Disney World bring joy and inspiration and new knowledge to all who come to this happy place … a Magic Kingdom where the young at heart of all ages can laugh and play and learn together." The Magic Kingdom is one of the few theme parks in the world which appeals to both the young and young at heart, due to combining forces of entertainment and the all too powerful nostalgia.
Here are my top things to do for adults at the Magic Kingdom!
1. Happily Ever After Fireworks show – The highlight of visiting the Magic Kingdom is seeing the incredible nightly fireworks spectacular which features lights, lasers, projections, and of course, sprightly Disney music! All ages will appreciate this grand display.
2. Big Thunder Mountain Railroad – Super fun coaster with lots of fun drops and turns and no loops. The setting through the red rock formations of Monument Valley in Arizona adds a mesmerizing touch.
3. The Haunted Mansion – Classic spooky ride with cool special effects. Super fun for Halloween buffs and anyone who is a fan of the early 2000's Eddie Murphy classic. One of few rides I make it a point to go on more than once!
4. Space Mountain – Now here's a thrill ride made for adults! This super fast coaster travels through the dark in a dizzying and exciting journey. While only reaching speeds of 28mph, there are lots of quick turns and small drops as well as the illusion of going faster due to the dark nature.
5. Festival of Fantasy Parade – Enjoy a spirited parade featuring many Disney characters both past and present. With festive song and dance throughout, plus appearances by both the new (Tangled) and old (Peter Pan) movie characters, this one is sure to delight everyone.
Tip: Do download the My Disney Experience app. You can schedule your park day more conveniently by knowing the estimated wait times for all rides/attractions.
More fun for adults!
Character photos – You are never too old to get your pic next to the mouse or any other beloved Disney character! Read more about character meet and greets.
Nostalgic rides – It's a Small World (one of the park's first ride), Seven Dwarfs Mine Train ride, and Peter Pan hold tons of nostalgic factor. Don't miss out on these classic gems! If you are a history or political buff, Hall of Presidents is another must. And fans of The Pirates of the Caribbean (who knew the ride came first?) will definitely want to make plans to enjoy this slow, yet entertaining and detailed ride.
Special events – Mickey's Not So Scary Halloween Party (adults can wear costumes & trick or treat!) and Mickey's Very Merry Christmas Party are magical times for guests of all ages!
Epcot
Epcot is usually considered the most adult park as there are less rides to enjoy, but more food and drink to indulge in. The rides and shows are a bit more on the educational side to please the adults but still entertain kids all the same. At Epcot, you will have the opportunity to test out unique cuisine from around the world. Here are a few activities to consider adding to your Epcot Bucket list.
6. The World Showcase – Epcot's premier attraction is The World Showcase, a 1.2 mile walk around a lagoon where you can take in the culture of 11 different countries. Enjoy the architecture, food, and ambiance of a variety of nations including Canada, France, Italy, and Germany. Keep your eye out for special events, particularly the Food and Wine Festival, typically held from July-November.
7. Spaceship Earth – This ride is housed in the famous sphere which has represented the park since its' opening in 1982. The informative ride takes you through an interesting journey through time, exploring communication from the Stone Age until today. Great for history buffs!
8. Mission Space – Definitely not for the claustrophobic, but totally recommended for anyone not scared of being confined to small spaces. Experience a NASA-style mission to Mars without leaving Earth.
Do not miss:
Soarin' Around the World – Flight simulator show around the world.
The American Adventure – Animatronics show detailing American history.
Luminous – A nightly fireworks spectacular!
Hollywood Studios
Formerly known as MGM Studios, Hollywood Studios is sometimes considered the weakest of the Disney parks. Many choose to skip this one altogether. While it pales in comparison to the others I must say, there are enough great attractions to recommend at least a one day visit for new visitors. Unfortunately, the classic Sorcerer's hat from Fantasia (pic above) was removed in 2015 with no explanation!
My favorite adult oriented rides:
9. Tower of Terror – One of the scariest, most heart pounding rides in all the Disney theme parks. If you are at all squeamish, this one will kill your stomach. The haunted elevator ride includes a variety of unpredictable drops, some major. Because the drops are unpredictable and vary in intensity, the ride is that much scarier! Tower of Terror it surely is!
10. Rock N'Roller Coaster – This Aerosmith themed coaster is a real blast, with great tunes, 3 crazy inversions, and a thrilling super fast ride through the dark freeways of L.A.
11. Indiana Jones Epic Stunt Spectacular – A true classic, this one should not be missed by any fans of the classic franchise. The stunts are great, the special effects great, and the actors great. Old school charm at its' finest!
More to do!
Disney Movie Magic – Memorable scenes from classic films projected on the Chinese theater.
Fantasmic! – Visually spectacular show featuring fireworks, music, stunts, & special effects!
Star Tours – Star Wars themed 3D simulator attraction.
Animal Kingdom
This park is basically a zoo combined with a theme park. It claims the distinction of largest theme park in the world at over 580 acres. Featuring a world-class safari ride, 1700+ animals, and a few great rides, Animal Kingdom is a worthy addition to your bucket list. This park is great for adults as the scenery is beautiful, the rides are all adult friendly, there is great food to enjoy, the safari is awesome, and of course, viewing and learning about animals is an ageless experience.
The best-of-the-best of Animal Kingdom!
12. Kilimanjaro Safari – Enjoy an open air guided tour through a lush African savannah. You will see over 30 species on an 110 acre space. The ride is relaxing and really informative. Definitely have the camera ready!
13. Expedition Everest – This ride claims the title of one of the world's priciest rides at a budget of 100 million! This Yeti themed ride features a thrilling trek through the Himalayan peaks to the top of Mount Everest. The ride is fast and features many drops, twists, and turns, as well as a really cool ending special effect (it's a surprise!) before the final drop!
14. Kail Riper Rapids – A whitewater rafting adventure like no other – a fun way to cool down and enjoy a thrill ride at the same time! You will have a blast and cool down in the process! Really fun for groups!
Universal Studios
In my opinion, Universal is geared more towards adults than kids. Many of the rides are thrill rides and many even have height requirements. The question really is, what is not adult friendly at Universal! Do purchase tickets to both Universal and Islands of Adventure – you will not be dissapointed. If you are a Harry Potter fan, a visit to Universal will likely be much higher up on your bucket list than Disney! That being said, here are my favorite adult attractions at Universal/Islands.
15. Diagon Alley/Hogsmeade/Hogwarts Express – Universal and Islands are home to fabulous recreations of Diagon Alley (Universal) and Hogsmeade (Islands). Harry Potter fans will be totally impressed with the fantastic job that Universal did in recreating the Harry Potter experience.
Walking through Diagon Alley, you are really transformed into Harry's world. From great rides, to butterbeer, to riding the Hogwarts Express, to whismical shops like Weasley's Wizard Wheezes, and even a wand choosing ceremony, everything a Potterhead has dreamed up comes to life. The Forbidden castle queue features an amazing walk-thru Hogwarts with everything from life-like cast hologram appearances to talking newspapers to feast your eyes upon while you wait for this spectacular 4D ride.
Check out my full guide to exploring The Wizarding World of Harry Potter
16. The Incredible Hulk Coaster – Still to this day, one of my favorite rides in all of Orlando. With a take off speed of 67mph and many insane inversions, this one never gets old.
17. The Blues Brothers Show – Shake your tailfeather at this awesome show of soul and funk. A great break from the rides! Anyone who grew up loving 80's films will be taken on a temporary blast to the past.
Tip: Purchase park to park tickets to access the Hogwarts train ride between Universal/Islands. Also, downloading the Universal Wait Times app will save you lots of time!
Other great adult friendly rides:
Hollywood Rip Ride Rock It – The most intense ride at Universal. Choose your own soundtrack on this insane ride which includes a 90 degree, 17 story vertical ascent and the world's first non inverting loop!
The Mummy – Fast, dark indoor coaster with cool special effects including realistic looking scarab beetles.
Men in Black – Retro arcade style gaming ride where you spin around and shoot alien targets. Great fun for anyone who grew up spending time in arcades as opposed to staring at phones and computer screens.
Jurassic Park River Adventure – Nostalgic water ride through the island of Isla Nublar featuring animatronic dinosaurs and a massive 85 foot ending drop.
Also do not miss the Horror Make Up Show, special events (Halloween Horror Nights is scary!), and character meet and greets! From the Simpsons, to Scooby Doo, to Doc Brown from Back to the Future, there is a bit of something for everyone.
Check out my full guide to navigating Universal parks.
Beyond the theme parks
Orlando is much more than simply theme parks. Even if you want to skip the theme parks altogether, there is plenty to do. Take a look!
18. Nature preserves – Orlando is home to a surprisingly wonderful variety of parks and nature preserves. My favorite is Tibet Butler – a quiet place to escape the theme parks without traveling too far. Enjoy nearly 4 miles of rustic trails and wildlife watching just 5 min from Disney.
19. CityWalk/Disney Springs – Both Disney and Universal Parks have their own entertainment complexes where you can dine, shop, and enjoy entertainment long after the parks close. CityWalk highlights include Hard Rock Cafe, Rising Star Karaoke, and Blue Man Group. Disney Springs highlights include Raglan Road, House of Blues, Splitsville Luxury Lanes (trendy bowling alley), and the fabulous World of Disney Store.
20. Themed dining – You can find anything in Orlando, from amazing award-winning 5 star restaurants that require months prior reservations (Victoria & Albert's), to local affordable gems (NYPD Pizza). Orlando never disappoints with themed dining choices across the culinary board. Raglan Road is an amazing Irish pub serving authentic pub fare in the company of live step dancing performances daily! Sanaa is an amazing African themed restaurant which looks out upon Disney's Animal Kingdom Lodge savanna (try the Indian Bread service!).
21. Pirate's cove mini golf – You are never too old for a game of mini golf! A great activity for couples and anyone else seeking to escape the theme park cluster for an hour or 2. Pirate's Cove is the best-of-the-best of the many Orlando options. The theme is spectacular and also thankfully decently shady for those all too hot Orlando summer afternoons!
23. Chocolate Museum & Cafe – Indulge your sweet tooth and learn a little bit of history all in one at this quirky local Orlando attraction. Your tour includes a complete history of chocolate, a view of 25 incredible statues composed of chocolate, and of course lots of samples! What's more – there is a cafe on site where you can indulge in truffles and other sweet treats! Add on a wine and chocolate tasting or fondue packages for the perfect romantic date idea!
Check out more fun things to do besides theme parks!
Daytrips worth making the trek for…
If you have the extra time, transportation, and extra cash, there are some pretty cool sights within a reasonable drive of the city. Take a look!
22. Winter park boat rides, dining & shopping – Winter Park has been rated one of the most picturesque and charming small towns in Florida, if not the entire country. If you need a day away from the hustle and bustle, do plan a datrip to this elegant city, home to Rollins College, the Morse Museum of American Art (the largest collection by Louis Tiffany), and many leafy parks and gardens. Do take a relaxing ride through the Winter Park Chain of Lakes via the Winter Park Scenic Boat tour.
23. Airboat alligator watching rides – Really, you can't leave Florida without seeing a gator in the wild. While you are unlikely to come across one at the theme parks (although they have made their way over on occasion), your odds increase greatly as soon as you enter the wilderness. Local parks offer the unique opportunity to see gators upclose in their natural environment. Circle B Bar Reserve in Lakeland is a bit of a drive but a gator hotspot. Also, if you feel like shelling out a few bucks, consider an airboat ride where sighting are guaranteed! Wild Willy's is one option to consider.
24. Gulf Coast – Florida Gulf Coast beaches are amongst the best in the country. The beautiful white sand, crystal clear waters, and limited commercialization have led to their status as the nation's best beaches. Do take the opportunity while you are out here to enjoy a bit of fun-in-the-sun. If you are seeking a less touristy, adult oriented beach, check out the super tranquil Indian Rocks Beach, my favorite of the Gulf Coast gems.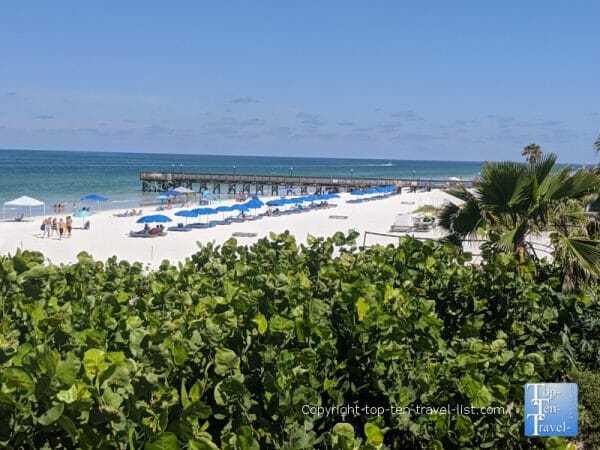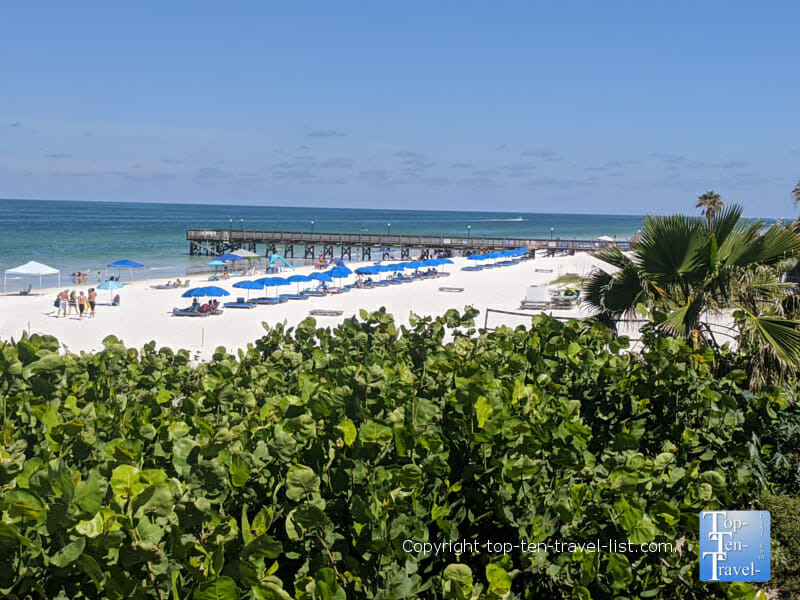 Also be sure to check out my full guide to visiting Tampa Bay – there is lots to do in every dept. whether your interests lie in history, beaches, nature, recreation, food, or culture.
Where to stay?
Orlando really offers enough lodging choices to please just about anyone and any budget. Whether you are seeking a family friendly affordable property, or a luxurious stay for a honeymoon or celebratory, occasion you can find it.
Loews Portofino Bay is a tranquil option near Universal. Amenities include a 3 pools, spa, and hour early admission to The Wizarding World of Harry Potter. Lowes Royal Pacific is also loved by adults. Disney's Grand Floridian is an elegant, yet pricey option which is best suited for special celebrations like a honeymoon or anniversary. Disney's Animal Kingdom Lodge is a great moderate option – the views are gorgeous, the restaurant top notch (Sanaa is one of the best restaurants in Orlando), and there are many relaxing places to enjoy views of the savanna. And of course, there are many budget friendly, non theme park affiliated hotels located throughout Orlando.