Trick or Treat Disney: Style: Mickey's Not So Scary Halloween Party
Fewer crowds, slightly cooler temperatures, and a fantastic Halloween party are just some of the reasons why you should consider an October visit to Walt Disney World's Magic Kingdom. Although October is far from the least busy month, the air is considerably less humid and the attractive holiday displays & festivities make the experience even more memorable for Disney Halloween fans.
Main Street is beautifully decorated for the season. Everywhere you look you will see Jack O'Lanterns, fall decor, and adorable Mickey themed pumpkin wreaths. Festive Halloween music and crowds dressed in costumes add to the atmosphere.
Main Street Halloween Extravaganza!
Which rides are open?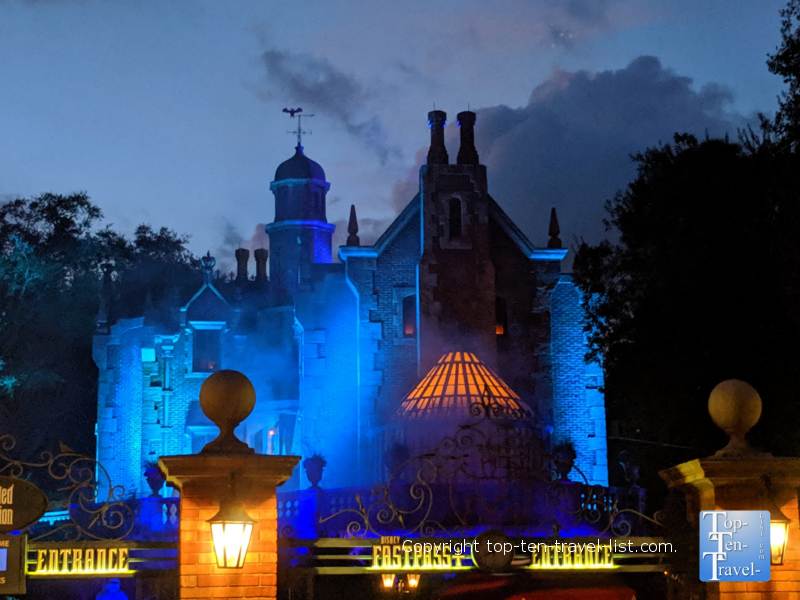 Almost all the rides are open and lines are extremely uncrowded. Most guests tend to congregate near Main Street and the parade route, so if you are more interested in enjoying rides, here's your chance to get on as many as possible! Even popular attractions like The Haunted Mansion and Pirates of the Caribbean had no longer than a 10-15 minute wait! Including watching the parade and fireworks show, we were able to get on around 10 rides! Not too bad for an 8 hour day.
Just to note, a few of the closed rides include: Country Bear Jamboree, Mickey's Philharmagic 3D show, and the Hall of Presidents. Pretty much every other major attraction is open!
If you are at all limited on time, you will want to concentrate on the following rides!
Pirates of the Carribean
Space Mountain
Big Thunder Mountain Railroad
Peter Pan
Buzz Lightyear's Space Ranger
Seven Dwarfs Mine Train
It's a Small World
Monsters Inc Laugh Floor
The Haunted Mansion
Less time at the park, but shorter wait times for rides
Disney's annual Mickey's Not So Scary Halloween Party is a fun, festive holiday event that is sure to get you into the holiday spirit. The event requires a special ticket for entrance after the park closes, from 7pm to Midnight (although party guests can enter beginning at 4). For 2019, the event runs several nights a week from August 16th until November 1st. Limited admission means fewer crowds, short wait times for the rides, and a more comfortable atmosphere strolling around the park.

Main Street looks even more fantastic at night!
This is a festive event like no other, and there is way more than just outrageous decor on the lineup!
The highlight here is a specialty Hallowishes edition of the Fireworks extravaganza. Imagine the regular spectacular fireworks show combined with festive Halloween music and special effects such as ghost projections on the castle and you have the must-see Hallowishes. Block out some time around 10 for this incredible show!
2019 Hallowishes show!
The castle decked out for Halloween during Hallowishes
Boo to You Halloween Parade
The parade features your favorite characters on festive Halloween themed floats and a very catchy "Boo to You" Halloween song. You will have this song in your head long after your visit. Arrive early so you do not miss the Headless Horseman as he leads the parade!
Villain Spectacular show
This festive show is performed several times per night on the Castle's main stage. Here you will be able to see many of your favorite villains like: Captain Hook, Cruella de Ville, Maleficent, and the Queen of Hearts dancing to Halloween favorites. The theme is different each year. The past 2 years have included a wonderful Hocus Pocus theme featuring the popular I Put a Spell on You performed by the Sanderson sisters. Anyone who grew up watching this 90's Halloween classic will be more than pleased!
Trick or Treat stations
Let's be honest – we are all most excited at the opportunity to enjoy lots of free candy. Kids and adults alike will get their fill at the many different stations located throughout the park. Here's your chance to be a kid again! Where else is everyone invited to trick or treat?! Everyone will be given a small bag or you can bring or buy your own (we saw many guests with bags of all sorts). Pictured below is a sample of a few of the treats you'll be able to pick up. You will receive lots of the good stuff like M&M's, milky ways, and snickers!
Employees are very generous with the treats, especially near the end of the night. Note: Individuals with food allergies can head over to City Hall to pick up some allergy friendly treats. There is one gluten-free option available and 2 dairy free options. The options are limited, so feel free to bring your own snacks and treats into the park.
Special Holiday Treats
This time of the year is going to be a special treat for any dessert lovers out there. In addition to all the regular selections, many places offer Halloween themed treats. Sleepy Hollow offers a popular pumpkin spiced waffle sundae, topped with ice cream. Other treats include a Donald Duck brownie at Casey's Corner, a Maleficent Cone at Storybook Treats, and a Pumpkin Spice smoothie at Auntie Gravity's Galactic Goodies. Check out a few of the enticing desserts available, pictured below. They are almost too cute to eat!
Those with allergies aren't completely out of luck. Although you cannot enjoy the special Halloween themed desserts, Dole Whip is naturally gluten-free and vegan (find it at Aloha Aisle in Adventureland). Popcorn (a special Halloween bucket is available) and Pumpkin Bubble Spice Tea (find it at The Launching Pad in Tomorrowland) are available.
Character Meet and Greets
You will be able to meet many of your favorite characters at different locations throughout the park. The price you pay is sacrificing a lot of time at the park as there is always a major wait. Check the key on the map given to you at the front gates for character locations. Some of the more popular characters include: Jack Sparrow from Pirates of the Caribbean, Jack and Sally from The Nightmare Before Christmas, and Mickey and Minnie in their special Halloween costumes.
Mickey's Not So Scary Halloween Party 2019 Schedule of Events
Mickey's Boo to You Halloween Parade– 1st show: 9:15pm, 2nd show: 11:15 pm (note: the 11:00 parade is much less crowded!).
Hallowishes Fireworks Show: 10:15pm
Hocus Pocus Villain Spectacular – This live musical show featuring your favorite Disney witches can be see at 8:30, 10:45, & Midnight in front of the Castle. I recommend catching the fireworks and then staying for the 10:45 show.
Please check the Disney website for this year's lineup of events!
My recommended itinerary for the night
2:00pm – Enjoy an early lunch/dinner in Disney Springs. There are tons of fun themed restaurants in this Disney themed entertainment complex. You will not have much time once you enter the park for a sit down meal. Plus, who wants to waste any precious time you could be enjoying the rides and entertainment? Raglan Road is a fun Irish Pub with great food, beautiful decor, and live step dancing!
3:30pm– Arrive at the Magic Kingdom by 3:30pm. This will give you time to take the tram, monorail or boat, go through the security check, etc. It takes much more time than you think! If you arrive too late, you could be wasting an entire hour just getting into the park!
4:00-6:00pm – Enjoy a few rides that will close during the party i.e. the Hall of Presidents. Also take a break from the intense afternoon heat with a few great indoor attractions like the Mickey's Philharmagic 3D show, Peter Pan, It's A Small World, and Monsters Inc. These wait times are generally pretty short even before the party begins. This is a great time to pick up any souvenirs.
6:00-7:00pm – Take a few pictures of Main Street and the castle with the Halloween decor. You will want to get both daytime and nighttime photos as both settings are equally spectacular. Also, most of the best Halloween specialty treats are found in this area. Swing by the Main Street bakery for a specialty Hocus Pocus themed cupcake or pumpkin flavored cinnamon roll.
7:00-10:00pm – Now is a great time to visit some of the popular rides that will be clearing out as many guests head over to watch the first parade. Haunted Mansion, Pirates of the Caribbean, Space Mountain, and Thunder Mountain typically have modest wait times of no more than 20 min during this period. We walked right on to each ride in under 15 minutes! Also, be on the lookout for the various trick or treat stations in the area.
10:00pm – Head over to the Castle to get ready for the fireworks show. This is definitely the can't miss attraction for this event! Get out your camera, and get ready for an incredible festive themed celebration!
10:30- 11:30pm – You will want to stay in the vicinity as the Hocus Pocus show begins about 15 minutes after the fireworks, and then the parade shortly after. Pick up a treat on Main Street for the parade. Now is also a great time to pick up a souvenir or 2 if you have some extra time. The Halloween themed balloons are adorable!
11:30-Midnight – By this time, the park will really start clearing out. Now is a great time to get on any last minute rides, meet a favorite character, and visit a few trick or treat stations. Consider leaving the parade a bit early to get on a few last minute rides. Astro Orbiter is really fun at night, plus there is a trick or treat station right near the ride. This is also a prime time for castle pictures – one of the best times to get a picture with no crowds!
Why choose Mickey's party?
Mickey's Not So Scary Halloween Party is a much better value than the regular daytime park admission this time of year. Regular park hours are 10:00am-7:00pm. During this time, the park is much more crowded, definitely hotter, and also, tickets are much pricier. Not to mention you miss out on the special parade and fireworks show, specialty entertainment, and beautiful decor.
By purchasing admission to the party as opposed to day admission, you will enjoy the benefits of lots of free candy, reduced ride wait times (even though you lose an hour in total time you gain it back with the insanely low wait times), plenty of festive activities, and of course, enjoying the park without the hot Florida afternoon sun shining in your face!
A few tips and tricks for a great visit
*Reserve tickets for your desired date in advance. This is a popular event and tickets sell out fast. Obviously, weekdays (esp in August & September) will be less crowded.
*Stay at a Disney World Resort for convenience. Yes, they are pricier, however, you get the advantage of free, fast transportation via monorail and bus (or even walking) to the park. When staying at the park past Midnight, it's nice to have a quick ride back.
*Do not plan another theme park day back-to-back. You will likely not get home until after 1 considering huge lines to get out of the park, transportation via monorail, and driving back to your resort. The day after is a good day for non Disney fun, perhaps a relaxing day using your resort pool?
*Get to the park at 4pm. While the event does not start until 7, they start allowing guests with party tickets in at this time. You will be given a special wristband indicating that you have purchased the event ticket. The park is very strict on checking wristbands promptly at 7, so crowds will begin to dwindle down dramatically at this time.
*Wear a hydration backpack into the park (find them at a sporting goods store or on Amazon). You will work up a sweat during the afternoon hours, especially when standing in sunny lines. While ice water is free at all food stations, the lines are lengthy, wasting your limited time at the park.
*Dress up in costume! It's so much more fun. This is the only time adults are allowed to wear costumes in the park. There are a few guidelines to follow: costumes cannot be offensive, no masks where the eyes are covered, and no costumes that will get in the way of rides.
*Although it is still warm during the day, night temperatures tend to drop this time of the year. A sweater came in handy as temps can drop dramatically i.e. high 80's to the upper 50's.
*Download Disney's free wait times app. With this app, you will be able to check the wait time for any ride and conveniently plan your night accordingly.
*Get on any rides that will be closed for the night between 4 and 7. This year's closed rides include: Mickey's PhillarMagic show, Hall of Presidents, Splash Mountain, and Country Bear Jamboree.
*Save roller coasters Thunder Mountain and Seven Wharfs for nighttime. Both these rides are even more fun when the sun goes down. Get on indoor rides like Monsters Inc., Mickey's Philharmagic 3D show, Under the Sea, and Peter Pan during the hotter afternoon/early evening hours.
*Skip the first gift shop! It is crazy crowded! You will waste at least an hour fighting your way through the crowds? There are plenty of gift shops spread throughout the park! Don't miss out on the cute Halloween themed Mickey ears though! Also, the stores offer cute Halloween light up necklaces, Hocus Pocus themed tshirts, and much more!
*Can't make it to the park for the early 4:00 admission? Here's a few rides that I recommend skipping: Stitch's Great Escape, Frontierland Shootin' Arcade, Aladdin's Magic Carpet Rides, Tomorrowland Speedway, and Splash Mountain. These are the rides you will want to make time for: Thunder Mountain, Haunted Mansion, Pirates of the Caribbean, Seven Dwarfs Mine Train, Buzz Lightyear's Space Ranger Spin, and Peter Pan.
*Don't worry too much about the candy stations. If you are paying so much to get into the park, you want to use your time wisely. You can always buy candy at the store! Save trick or treat stations for the last hour when the park begins to clear out, or simply pass a few on the way to a ride. Note: they give out tons of candy at each station, so there is no need to visit more than a few! My whole bag was full after 4 stations.
*Don't worry about getting to the parade and fireworks show too early. Although many people start camping out 2 hours prior to the show, in my opinion, they are wasting time and money by doing so. We arrived 10 minutes prior to each show and still had a fantastic view! Spend your time wisely!
*Dine in Disney Springs around 1-2. This gives you plenty of time to enjoy a filling meal, enabling you to spend all your time at the park enjoying the activities. Many guests arrive at 4 and waste an hour to 2 of that time dining. Disney Springs has plenty of fantastic restaurants to choose amongst including Raglan Road, an Irish pub with live step-dancing performances!
*Make a schedule for your night. Pick out a few must-do rides and shops you want to visit, and make sure to make room for the spectacular fireworks shows and cute holiday themed parade.
*Plan on attending the second parade, which is must less crowded. Many guests leave the park after the fireworks show. During the first parade, you can take advantage of all the low wait times for the rides.
*Be aware that many restaurants will be closed during this special event. As I mentioned above, dining before entering the park is the best way to maximize your time. You can always pick up a treat at the Main Street Bakery later in the night.
*If you need a pick up, Main Street Bakery (Starbucks) and Sleepy Hollow both offer coffee.
*Be sure to get your picture taken at the back of the castle near Liberty Square and the Hall of Presidents, a perfect photo opportunity!