Halloween in Jerome: The Largest Ghost Town in America
This Halloween consider planning a trip to a real ghost town. Jerome, Arizona, a former booming mining town is now considered "the largest ghost town in America." This mountainside community, located in Northern Arizona in between Flagstaff and Prescott, is an easy day trip from many popular tourist destinations. Jerome, founded in 1876, was once a thriving mining community with a population of 15,000 (at one time it was the 4th largest city in Arizona), however, the town now operates primarily as a tourist destination with a year-round population of just under 500. The spooky history of the town, festive decor around the Halloween season, variety of ghost tours, and a number of haunted hotels, make Jerome a big tourist draw around Halloween.
History of Jerome
The city of Jerome was built above a massive deposit of copper. United Verde Mines was the leading copper producer in Arizona and produced more than 33 million tons of copper, silver, gold, lead, and zinc ore in its' 77 years. In the 1920's, the population of Jerome soared to a high of 15,000. The mines eventually closed in 1953 due to wars, the depression, ups and downs in the copper industry, and several other factors.
What once was one of the largest towns in Arizona saw a dramatic decrease in population, with the number of residents eventually dwindling down to just 50. At this time, Jerome was designated as a ghost town. Buildings remained abandoned until Jerome was designated a National Historic Landmark, and thus, began drawing in tourists. Old buildings transformed into art galleries, restaurants, coffee shops, wine tasting rooms, and shops. Jerome is now a popular day trip for Sedona, Flagstaff, and Prescott locals and tourists.
Due to the large number of brothels and saloons, Jerome's nickname became "the wickedest town in the West." The House of Joy pictured below was originally a brothel. Hull Avenue, of which the House of Joy is located on, was once home to a row of brothels. The House was later transformed into an award winning restaurant. Today, it is a souvenir shop.
One of the few abandoned building downtown
Pictured above is the site of the old Bartlett hotel (built in 1901). The offices for Jerome's newspaper were located in this building for quite a long time. The building was eventually abandoned in the 40's and today has a creepy eerie presence, especially when surrounded by thriving businesses. Although the downtown is now loaded with business, the historic buildings remain, giving the town a nice historical vibe which most of the more modernized Arizona cities lack.
The haunting of Jerome
The charming old buildings all seem to have a rich history, with many of them having a long haunted history of paranormal sightings. Jerome is now known to be one of the most haunted towns in all of Arizona. Locals and guests throughout the years have reported the same eerie ghost sightings. The fact that the same sightings are reported by so many different visitors is so much spookier than a bunch of random isolated paranormal occurrences. The town is so haunted that the "Jerome Ghost Post" was published for some time. Not surprisingly, the town now operates many ghost tours year-round, although they are even more fun as soon as October rolls around.
One of the most prominent ghost legends is that of Headless Charlie. The ghost is that of a former miner who was involved in a gruesome accident where he lost his head. Charlie now allegedly haunts the mine shafts attempting to find his head. He is said to be carrying around a bucket.
Most haunted sites in Jerome
The Mile High Inn
The Mile High Inn is a historic hotel on Main Street built back in 1899. A phantom cat by the name of Sipps supposedly haunts the halls at night and leaves footprints on the bed covers.
Lawrence Memorial Hall
This banquet hall is so haunted that is referred to as "Spook Hall" by locals. Over the years, many strange sightings by a resident ghost have occurred. A prostitute who was stabbed to death by a miner is said to haunt the building. Every year, the annual Halloween dance takes place here (talk about a spooky ambiance!).
Connor Hotel
Connor Hotel was built in 1898, and originally offered guests rooms for just a buck! A ghost named the Lady in Red allegedly haunts Room 1. Many guests have claimed to hear the ghost whispering to them.
The Jerome Grand Hotel
The Jerome Grand Hotel has the longest haunted history in all of Jerome. This really comes as no surprise as the building was formerly home to the United Verde Hospital, which operated from 1927-1950. As soon as you step into the doors, you can feel the eerie and strange presence. Numerous guests have felt paranormal presence over the years. Some of the strange paranormal activity include doors opening and closing on their own, strange noises, apparitions, and ghost orbs appearing in photographs. Staying the night in the hotel is a truly creepy experience, one that is so scary that the hotel reports many guests end up sleeping in the lobby! Because of it's haunted history, many paranormal groups like the Ghost Adventures TV crew have explored the grounds,
Halloween fun in Jerome
Jerome has lots of fun events taking place on or around Halloween, especially in comparison to nearby Arizona towns. In addition to ghost hunts, spooky restaurants, and dances, just walking around the town is a creepy experience as you take in the old architecture & haunted nature of this former ghost town. It's a nice place for a scenic stroll, especially with the incredible scenery of the Verde Valley – wear gym shoes, there is a lot of walking!
Here's a few fun things to do on a Halloween visit to Jerome!
Stay in a haunted hotel
The top choice of course is the Jerome Grand Hotel. Not only is the hotel super haunted, it also goes all out for Halloween with extensive decor, both inside and out. There is a great on-site restaurant called the Asylum. As the hotel is situated atop Cleopatra Hill (5200 ft), there are magnificent panoramic views of the Verde Valley.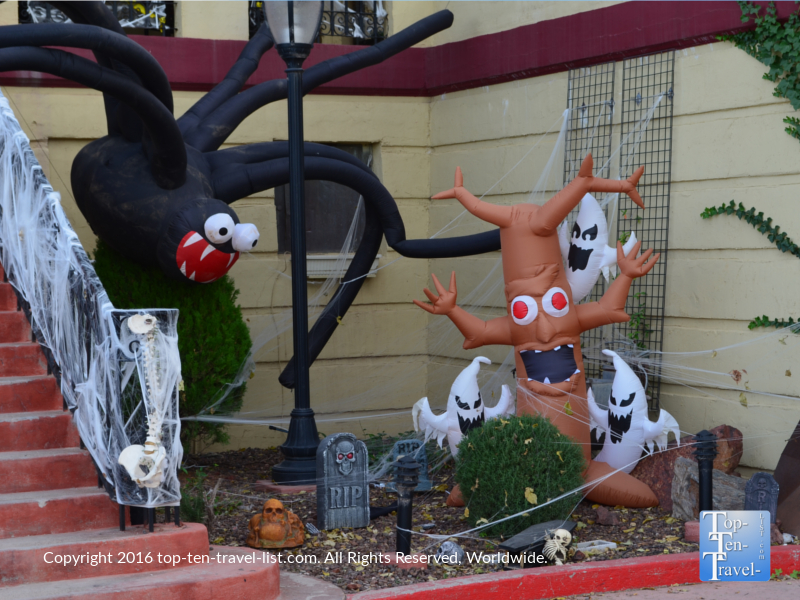 Take a ghost hunting tour
There are several companies which offer spooky ghost tours of Jerome. Many of these tours provide in depth information on the history of the town. As a bonus, you will also get the unique opportunity to test out various ghost hunting equipment. The Jerome Ghost Hunt is a great choice offered by the Grand Hotel. On this tour, a guide will take you through several haunted locations including those so haunted that they are usually off limits. You really feel like a pro ghost hunter as you use EMF meters, IR thermometers, and digital cameras. The staff will put all your pics on a CD and you can check them later for signs of ghosts! Don't be surprised if you see some ghostly orbs!
Ghost themed restaurants
Lots of restaurants in town have ghostly related names like The Asylum Restaurant, The Haunted Hamburger, and The Spirit Room. Most of the businesses go all out for Halloween, especially the Asylum Restaurant. Really, it is a festive time for any Halloween lovers. There is great decor inside and outside on the patio, festive drink specials, and all the staff even dress in costumes! Even if you cannot stay overnight, it is worth planning a dinner here one night just to get into the Halloween spirit.
Halloween Dance
This year marks the 42nd anniversary of the spooky Halloween dance, held fittingly in the reportedly haunted Spook Hall. It is a 21 and up event and there are prizes for best costumes! Expect to have a terrific time and don't be surprised if you see the resident ghost!