10 Must-Do Daytrips from Flagstaff
Flagstaff, a small mountain town in the Northern Arizona region, is the gateway to many amazing national wonders, most notably the magnificent Grand Canyon which is just a little over an hour away. Asides from being an easy drive from one of the world's most well-known wonders, Flagstaff offers a number of attractive amenities of its' own including the state's biggest ski resort, a number of pretty mountain trails, a historic downtown, and a 4 season climate not found elsewhere in the state. Flagstaff is known as "the City of Seven Wonders," as it sits in the midst of 7 incredible natural wonders.
Unknown to some tourists who solely seek out the Canyon, there's much more to see and do in this area of the country. Within a 2 hour drive you can get to so many fascinating and unusual places. From gorgeous alpine hiking trails, to historic Native American cliff dwellings, to the Red Rock Wonderland known as Sedona, there are endless places to explore, thus making Northern Arizona a wonderful vacation destination for nature lovers and explorers. If you are willing to hop in the car, here are 10 of my favorite daytrips from Flagstaff, each located within a 2 hour drive!
Oak Creek Canyon & Sedona – "Red Rock Wonderland"
Oak Creek Canyon
If you only have time for 1 day trip, you will definitely want to check out the gorgeous Oak Creek Canyon scenic drive and hike a beautiful red rock trail in Sedona. Just 7 miles or so outside of Flagstaff on Hwy 89a begins the incredibly scenic 14 mile long Oak Creek Canyon drive, a magnificent drive featuring towering red rock formations, serene pine forests, creek views, and a gorgeous variety of deciduous trees not found elsewhere in Arizona.
The drive is one of the most scenic I have ever come across and will leave you in awe with each twist & turn. With each turn upon the dramatic curving road, the views somehow get more and more spectacular. Along the way there's plenty to do and see. Take a hike in the shady canyon, relax with a delicious breakfast & espresso at Indian Gardens, fish, cool off at a secret swimming hole, slide down natural water slides carved out of the red rock at Slide Rock, shop for handmade Native American crafts, and/or stop at various scenic overlooks. There's so much to do without even heading into Sedona so you can make this either a half or full day activity depending on your schedule.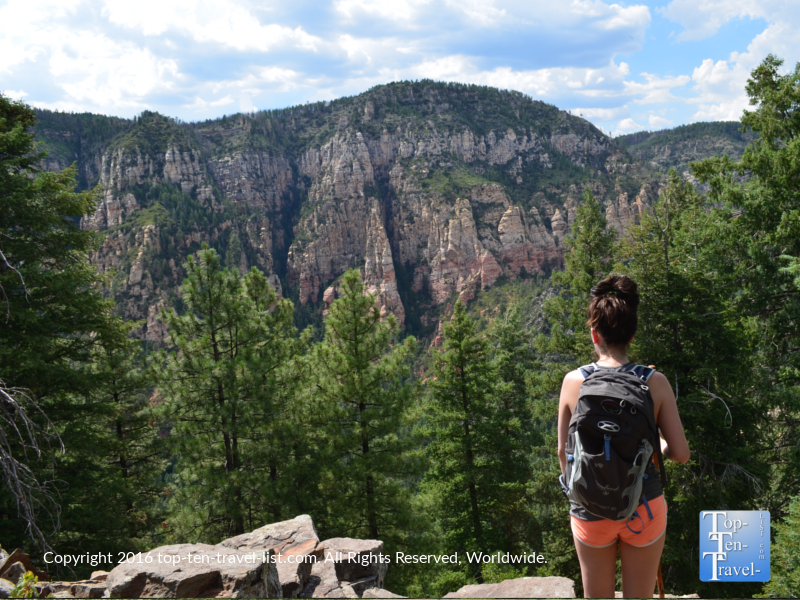 Sedona
When you arrive in Sedona aka Red Rock Country, you will have your pick amongst dozens of amazing trails. Here are 12 of my favorite Sedona trails. Not into hiking? Opt for a more leisurely guided tour of the red rocks aboard the Red Rock Trolley. Or visit the Chapel of the Holy Cross, an incredible church built between 2 massive rock formations that offers views like no other. Uptown Sedona is a beautiful little place to stroll around, complete with gorgeous views, a scenic little history trail, galleries, and lots of touristy shops selling eclectic Southwestern foods, gifts, and knick knacks. There are plenty of fantastic places for lunch in Sedona, most of which offer breezy outdoor patios where you can soak in the views. Check out The Hudson, The Hideaway House, or Wildflower Bread.
Additional Details
Distance from Flagstaff: The drive down Oak Creek Canyon begins about 10 minutes outside of Flagstaff on 89a and takes about 30-45 minutes. Plan extra time as needed for stops, photos, dining, and hiking.
What to do: Breakfast and coffee at Indian Gardens, Hike the gorgeous West Fork trail, Stop for photos at Midgley Bridge, Oak Creek Vista scenic overlook, Stroll around Uptown Sedona, Hike the Teacup trail, Dinner at The Hudson or Cucina Rustica.
Why it's worth the drive: Gorgeous out of this world scenery, access to beautiful creekside trails not found elsewhere in Arizona, wonderful dining options with beautiful outdoor patios, the best breakfast in the state at Indian Gardens, endless options for hiking in one of the country's most picturesque settings.