10 Must-Do Daytrips from Flagstaff
Flagstaff, a small mountain town in the Northern Arizona region, is the gateway to many amazing national wonders, most notably the magnificent Grand Canyon which is just a little over an hour away. Asides from being an easy drive from one of the world's most well-known wonders, Flagstaff offers a number of attractive amenities of its' own including the state's biggest ski resort, a number of pretty mountain trails, a historic downtown, and a 4 season climate not found elsewhere in the state. Flagstaff is known as "The City of Seven Wonders," as it sits in the midst of 7 incredible natural wonders.
This may come as a surprise to some tourists who solely seek out the Canyon, but there is much more to see and do in this area of the country. Within a 2 hour drive you can get to so many fascinating and unusual places. From gorgeous alpine hiking trails, to historic Native American cliff dwellings, to the Red Rock Wonderland known as Sedona, there are endless places to explore, thus making Northern Arizona a wonderful vacation destination for nature lovers and explorers. If you are willing to hop in the car, here are 10 of my favorite daytrips from Flagstaff, each located within a 2 hour drive!
Oak Creek Canyon & Sedona – "Red Rock Wonderland"
Oak Creek Canyon
If you only have time for 1 day trip, you will definitely want to check out the gorgeous Oak Creek Canyon scenic drive and hike a beautiful red rock trail in Sedona. Just 7 miles or so outside of Flagstaff on Hwy 89a begins the incredibly scenic 14 mile long Oak Creek Canyon drive, a magnificent drive featuring towering red rock formations, serene ponderosa pine forests, creek views, and a gorgeous variety of deciduous trees not found elsewhere in Arizona.
The drive is one of the most scenic I have ever come across and will leave you in awe with each twist & turn. As you drive along, the views somehow get more and more spectacular. Along the way there's plenty to do and see. Take a hike along the West Fork, relax with a delicious breakfast & espresso at Indian Gardens, fish, cool off at a secret swimming hole, slide down natural water slides carved out of the red rock at Slide Rock, shop for handmade Native American crafts, and/or stop at various scenic overlooks. There's so much to do without even heading into Sedona so you can make this either a half or full day activity depending on your schedule.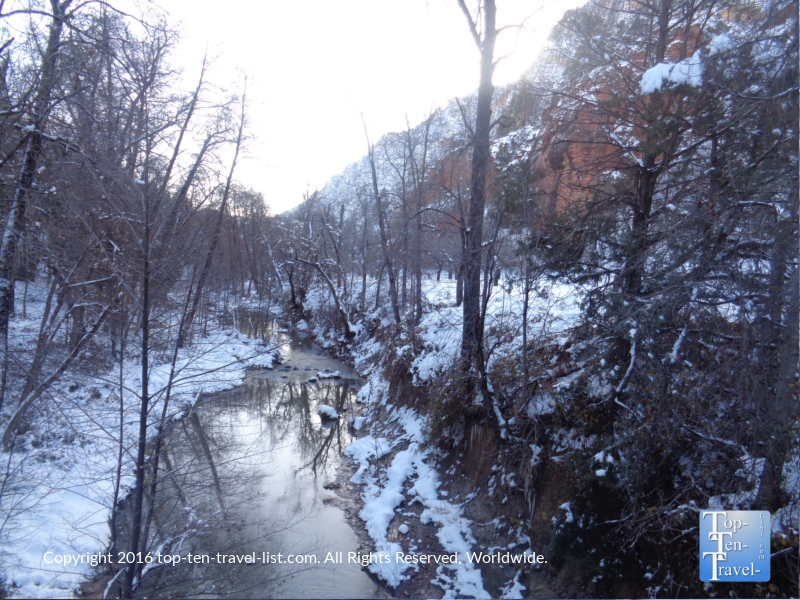 Sedona
When you arrive in Sedona aka Red Rock Country, you will have your pick amongst dozens of amazing trails. Here are 12 of my favorite Sedona trails. Not into hiking? Opt for a more leisurely guided tour of the red rocks aboard the Red Rock Trolley. Or visit the Chapel of the Holy Cross, an incredible church built between 2 massive rock formations. Uptown Sedona is a beautiful little place to stroll around. Along with great views, you will also find a history trail, galleries, and lots of touristy shops selling eclectic Southwestern foods, gifts, and knick knacks. There are plenty of fantastic places for lunch, most of which offer breezy outdoor patios where you can soak in the views. Check out The Hudson, The Hideaway House, or Wildflower Bread.
Additional Details
Distance from Flagstaff: The drive begins about 10 minutes outside of Flagstaff on 89a and takes about 30-45 minutes. Plan extra time as needed for stops, photos, dining, and hiking.
What to do: Breakfast and coffee at Indian Gardens, Hike the gorgeous West Fork trail, Stop for photos at Midgley Bridge, Oak Creek Vista scenic overlook, Stroll around Uptown Sedona, Hike the Teacup trail, Dinner at The Hudson or Cucina Rustica.
Why it's worth the drive: Gorgeous out of this world scenery, access to beautiful creekside trails not found elsewhere in Arizona, wonderful dining options with beautiful outdoor patios, the best breakfast in the state at Indian Gardens, endless options for hiking in one of the country's most picturesque settings.
Williams -"Gateway to the Grand Canyon"
"Get Your Kicks on Route 66"
Williams is a tiny little town of just over 3000 about 40 minutes west of Flagstaff. As the last town to be bypassed by I-40, Williams offers lots in the way of Rt 66 nostalgia. The small town is jam packed with old-fashioned diners, Rt 66 museums, and souvenir shops. Asides from Rt 66 memorabilia, the town is most well-known for being home to the Grand Canyon Railway. The small town swells up with tourists both summer (as this is prime season for Grand Canyon tourism), and again in the winter for the popular Polar Express ride based on the classic children's novel.
The Grand Canyon Railway
The drive from Flagstaff to Williams is pretty short and actually pretty scenic with views of both the pine forests and wide open views of the countryside. Most tourists head over to Williams to enjoy a stress-free mode of transportation to the Grand Canyon. The ride is okay – not much in the way of scenery but should be fun for anyone who loves trains. In my opinion, it's a much better value to drive yourself and stay as long as you like as your time is severely limited when you take the train. Plus, the ride is not especially scenic (especially if you have ever taken an incredible trail ride like the Durango Silverton). Unfortunately, the only real views occur just 15 minutes or so prior to your arrival.
Outdoor Fun
Williams does offer a number of amenities of its' own. It is still worth a quick daytrip regardless of whether or not you intend to take the Grand Canyon Railway. Bearizona, a wonderful drive-thru wildlife park is definitely a must visit. And for outdoor lovers, there are a number of trails and parks in the area. Being located in the high altitude Kalibab National Forest, the trails are doable during the summer season as the weather tends to stay in the 80's. Check out the Bill Williams, Sycamore Canyon, Kendrick Mountains, and Keyhole sink trail featuring a seasonal waterfall.
Additional Details
Distance from Flagstaff: 40 minutes
What to do: Bearizona, Stroll around historic Main Street, Grand Canyon Railway, Hiking in the Kalibab forest, Lunch & homemade pie at Pine Country restaurant
Why it's great: Close proximity to the Grand Canyon, national forest land surrounding the city, high altitude 4 season climate, not as crowded and congested as Flagstaff, cheaper lodging than Flagstaff, a nice base for exploring the wonders of Northern Arizona
The South Rim of the Grand Canyon – "The 8th world wonder"
Flagstaff is the most popular lodging choice after the Grand Canyon itself due to its' close proximity to the canyon and bountiful amenities found in town. While staying at a canyon hotel is awesome, most hotels are booked months in advance. Therefore, Flagstaff is your next best option. Flagstaff is located an hour and a half away and features a number of its' own attractive amenities.
Strangely, the Canyon is not considered to be one of the 7 wonders of the world, however, it is one of the 11 Eighth World Wonders. This beauty is one of the deepest gorges worldwide with a depth of 1 mile and a width of 18 feet! And the colors are so magnificent, especially at sunrise and sunset. The Grand Canyon is simply one of those places you must see in person. It is an easy addition to any explorer's Western US travel bucket list.
South vs. North Rim
Grand Canyon National Park is split into 2 sections: the South and North Rim. The South is the more crowded park, while the North is almost 4 hours away, but much more beautiful and peaceful due to the higher altitude and isolate dnature. The South Rim also offers more dining and lodging options. As it is the more convenient choice, I recommend visiting the South Rim first. Visit the North Rim if you have the extra time. Be aware that the North Rim closes sometime in early winter.
There's so much to do at the Canyon that it is impossible to see everything in a single day. Luckily, your pass is good for 7 days! Scenic overlooks, museums, galleries, gift shops, hiking trails, interpretative centers, ranger programs, mule rides, and white water rafting are some of your options for exploring this natural gem. These are all great, however, the most unforgettable way to explore the canyon is to hike one of the wonderful trails which go deep into the heart of the scenery.
Hiking the Canyon
The South Kalibab trail allows you to see this spectacular natural wonder in a new light- and absent are the many crowds hovering at the overlooks, particularly the further you go out. For the ultimate in adventure (experienced hikers only) complete the strenuous, yet totally rewarding hike to Skeleton Point. Don't worry if you are not up for a major hike, you can simply complete the short trek to the first overlook (Ooh Ahh Point) which definitely offers no shortage of spectacular scenery. Prepare yourself for a strenuous high altitude adventure. This means coming prepared – packing plenty of extra water (fill up a camelbak at one of the free spring water stations) and bring with plenty of food.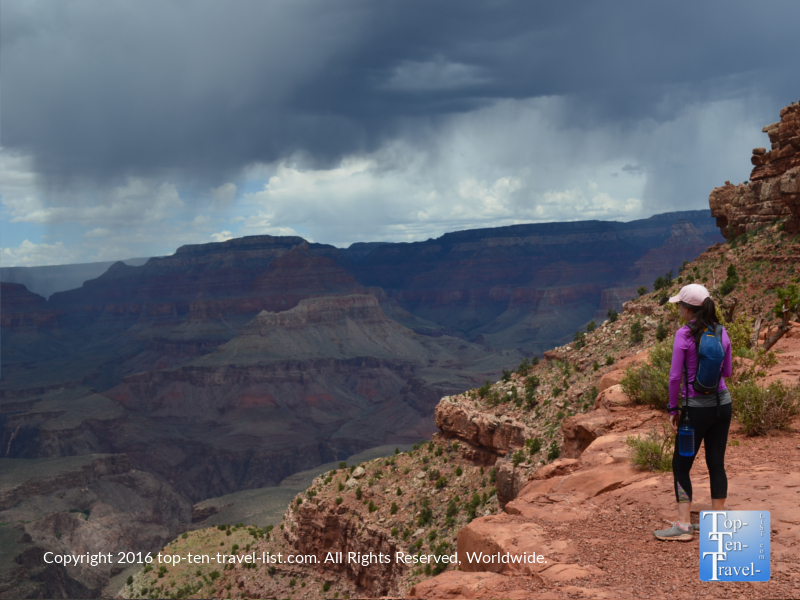 Additional Details
Distance from Flagstaff: 1.5 hours
What to do: Hike the South Kalibab Trail, Stroll along the Rim Trail, Dinner at the El Tovar Lodge, Smooth whitewater trips, Mather Point overlook, Yavapai Point Overlook
Check out my full guide to visiting the South Rim
Why it's great: It's widely recognized to be one of the top sights to see before you die! No travel bucket list would really be complete without a trip to the Grand Canyon!

The Petrified Forest – "225 million years in the making"
The Petrified Forest is a unique Northeastern Arizona national park home to one of the largest collections of petrified wood in the world. Through the natural process of perimineralization over the course of 225 million years, the organic materials from Triassic era trees have been replaced with minerals like quartz. This gives the wood a unique crystal-like appearance. When you look up close you will see an array of colors, the result of the varying minerals present.
Best things to do at The Petrified National Forest
History buffs really need to add a trip to the Petrified Forest to their bucket list, particularly if you are already planning a Grand Canyon vacation and staying in nearby Flagstaff. There's a lot to do here including a scenic drive, several hiking trails, a number of historical attractions, and a great visitor's center which will give you a full history lesson on the process in which wood becomes petrified. At the visitor's center, you can pick up a handy map detailing the park's diverse trails and historical sights. Hiking is the best way to get an up close look at this ancient wood! For those interested in unusual and off-the-beaten path attractions, The Petrified Forest is definitely for you!
Additional Details
Distance from Flagstaff: 1.5 hours
Why it's great: The Petrified National Forest is an under visited historical gem. It's a unique and eclectic place and a great addition to any Flagstaff trip. The brilliant colors of The Painted Desert are just amazing.
What to do: Scenic drive, Crystal Forest trail, stop at Winslow (directly on your route) for lunch at the wonderful Turquoise Room, explore the remains of an old zoo in abandoned ghost town 2 Guns (near exit 230 on I-40).
Prescott – "Everybody's Hometown"
Prescott is a charming small town in central Arizona most commonly referred to as "Everybody's Hometown. " The nickname arises from the assumption that anyone who visits from anywhere can find something that reminds them of home here. The 4 season climate, charming old architecture, and lively downtown have made it a popular daytrip for Southern Arizona residents fleeing the extreme heat of the desert summer.
Prescott has a lot to offer and is just a quick hour and a half drive from Flagstaff. Plus, you can always make side trips to Cottonwood and Jerome to make it a longer daytrip. Start your day off with a local cup of joe on the patio of Wild Iris. Plan for a stroll around Prescott's charming downtown which is loaded with local restaurants, antique shops, galleries, historic Whiskey Row, and the beautiful Yavapai County Courthouse as the centerpiece. Most of the year, temps are mild and dry. The city has even been named as having one of the best mild 4 season climates.
An outdoor oasis
Outdoor enthusiasts will want to take a ride on the Peavine National Recreational trail, one of the few rail trails in Arizona. The path is 4+ miles each way, flat enough for easy cycling, and features amazing views of Watson Lake and the Granite Dells formations. If you are up for a challenge, take an invigorating hike up Thumb Butte for a bird's eye view of the city. Or opt for a leisurely stroll around one of the area's 4 lakes. Lynx Lake is a great place for water recreation. The Heritage Park Zoo, adjacent to the lake, is small, yet makes for a nice fill in activity.
Prescott is a quick easy day trip from Flagstaff. Whether you are interested in outdoor recreation, boutique shopping, cultural attractions, or wining and dining, Prescott offers a bit of everything.
Additional Details
Distance from Flagstaff: 1 hr 40 min
What to do: Hike the Thumb Butte trail, Explore historic downtown, Breakfast at Cuppers, dinner at Papa's Italian, Bike the Peavine trail, Take a stroll around Willow Park lake, Tea at the Wild Iris tea house
Why it's great: Prescott is home to a charming small town downtown not really found in Arizona. The 4 season climate is pretty great with occasional snow in the winter and milder temps in the summer.
Jerome & Cottonwood – "America's largest ghost town" & "Heart of the Verde Valley"
Cottonwood, a small community located about 20 minutes outside of Sedona, is most well known for its' abundance of wine tasting rooms. It's really not worthy of a visit on its' own, but makes a good accompaniment to any Jerome or Sedona daytrip due to the close distance. Exploring the shops, galleries, and wine tasting rooms in Old Town is the main draw here. Seeing a magic show at the Blazin M. Ranch is also recommended. Take a coffee and dessert break at Paradise Point if you need a pick me up.
Jerome
From Cottonwood, you can take the short scenic drive over to Jerome, a particularly attractive small Arizona community with charming historic architecture and a scenic location atop 5000 foot Cleopatra Hill. The surrounding colorful views of the Verde Valley are quite scenic. Many of the wine rooms and restaurants have built patios to take advantage of such views.
Be aware of ghosts!
Jerome is one of the most haunted towns in American, hence its' nickname. While the population of this copper mining town once dwindled down to almost nothing, it is now a lively tourist destination with numerous galleries, local restaurants, wine tasting rooms, and museums. Tourists report seeing ghosts at locations all around town, most notably the Jerome Grand Hotel, which not surprisingly, was once a mental institution. If you love all things spooky, you must sign up for a haunted ghost tour. Feel like a real ghost hunter as you use EVPs and other ghost hunting equipment. If this sounds a bit too spooky for you, simply opt for lunch/dinner in the spooky Asylum Restaurant.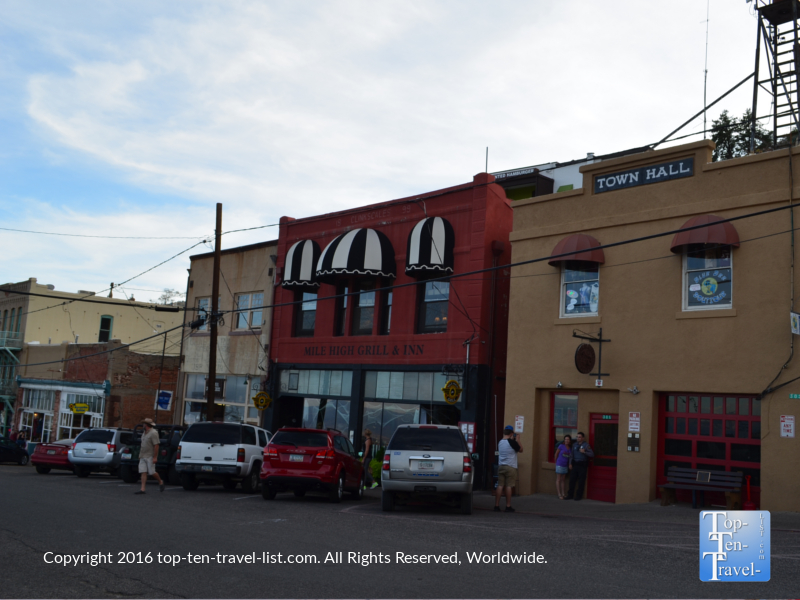 Additional Details
Distance from Flagstaff: 1.5 hrs
What to do: Dine at the Asylum Restaurant, Sign up for a ghost tour at the Grand Hotel, shop, wine, & dine, browse around the historic Liberty theater, visit the Old Sliding Jail, browse the local art galleries
Why it's great: Nice historic architecture and great views of the Verde Valley, The Asylum restaurant puts on the best Halloween decor in Arizona, spooky ghost tours in a historic setting not found elsewhere in Arizona

Phoenix – "The Valley of the Sun"
Although many Phoenix residents are constantly making the 2 hour trek up to cool pines of Flagstaff, there are some great attractions in Phoenix for the first time visitor. If you have never seen the stately Saguaro cactus before, you will definitely want to plan a Phoenix daytrip. Avoid the brutal spring/summer season (which typically lasts from April to October) and you should be fine.
Exploring the Sonoran desert
The best thing to do in Phoenix is to check out a beautiful trail within the Sonoran desert. A few good options are South Mountain Park, Usery Mountain Park in Mesa, or the Scottsdale McDowell Preserve. All of these are massive recreational parks with a variety of trails for all levels. Gorgeous Saguaro cacti only found in Southern Arizona's Sonoran Desert line the trails and the beautiful mountains comprise the backdrop. If you are not up for a hike, opt for a leisurely narrated cruise aboard the Desert Belle. This relaxing boat ride treats you to the same wonderful scenery, along with a rare glimpse of water in the desert.
The Phoenix Zoo is another must-do while in town. Surprisingly, the zoo's grounds are quite lush and shady for a desert. Also, the zoo is wonderfully maintained and laid out, and houses a nice diverse range of animals.
Indoor fun to beat the heat
Unfortunately, sometimes it is just too hot in Phoenix to enjoy the beauty of the desert. Luckily indoor attractions are plentiful. Most notably, OdySea Aquarium is the largest aquarium in the Southwest. Or check out the highly regarded Musical Instrument Museum. Phoenix is home to some of the best shopping in the country, with everything from luxury malls, to fantastic outlet malls, to entertainment complexes. Desert Ridge Marketplace is a fun place to kill a few hours. Highlights include a Dave and Busters, a nice theater, and a range of lively restaurants with patios.
If you are looking for a special dining experience, look into these fabulous Phoenix restaurants with a view.
Overall, Phoenix is a great day trip for anyone who enjoys hiking, outdoor recreation, shopping, and dining.
Additional Details
Distance from Flagstaff: 2 hours
Why it's great: The solitude of the desert is just minutes away from the bustling suburbs of Phoenix. The amazing Saguaro cactus grows only in Southern Arizona, thus hiking is quite an unusual experience. The metro area is clean and nicely landscaped.
What to do: Camelback Mountain, South Mountain Park Kiwanis trail, Merkle Trail at Usery Mountain, Cruise aboard Desert Belle, The Phoenix Zoo, Hole in the Rock at Papago Park, Desert Ridge Marketplace shopping & dining, Dinner at Cibo Pizza
Horseshoe Bend "a unique horseshoe shaped curve of the Colorado River"
Horseshoe Bend is quite an unusual sight to see and a definite add-on to any Northern Arizona vacation itinerary. This natural attraction near Page Arizona is one of the most photographed sights out West and rightfully so as the unique horseshoe shaped curve of the Colorado River is a truly mesmerizing, unforgettable sight. A short, steep hike of about 3 quarters of a mile takes you to the dramatic scary 1000 foot drop. The emerald green color contrasts brilliantly with the red sandstone rock formations. Look but do not get too close – many die attempting to take all sorts of crazy photos!
Horseshoe Bend is worthy of a daytrip on its' own from Flagstaff. Or better yet, you can make a pit stop here on the way to gorgeous Zion National Park, another natural wonder that should be on everyone's bucket list. Other popular activities in the Page area include Antelope Canyon and cruises on beautiful Lake Powell.
Additional Details
Distance from Flagstaff: 2 Hours
Why it's great: This unique geologic wonder is unlike any place you've seen. Easily one of the most mesmerizing sights you will come across in the Southwest.
What to do: Hike the trail to Horseshoe Bend, Book a Lake Powell cruise (in advance!), sign up for a tour of Antelope Canyon
Walnut Canyon, Wupatki National Monument, & Sunset Crater
Walnut Canyon, Sunset Crater, and Wupatki are 3 great natural gems that can all be combined into one easy daytrip. First on your list should definitely be Walnut Canyon. This incredible site is located just a 1/2 hour outside of town and features both spectacular scenery and historical significance. At Walnut, you can explore ancient cliff dwellings once occupied by the Sinagua tribes far back in the 1100's. At twenty miles long, 400 feet deep and ¼-mile wide, it's quite an amazing natural wonder.
Walnut Canyon cliff dwellings
The Island Trail consists of over 200 steep steps and can be quite a challenge to those out of shape (esp combined with the high altitude) although it is totally worth it for the magnificent scenery and rare glimpse into the past. Interestingly, the mountains surrounding Flagstaff are called Sinagua (meaning mountains without water). Walnut was once home to a flowing creek and therefore cherished by the early inhabitants.
Sunset-Wupatki Scenic Drive
Sunset Crater and Wupatki are 2 other interesting historical attractions to check out while in town. Both attractions connect via a scenic loop drive. The paved route, Forest Rd 545, is 36 miles long and worth it in and of itself for the tremendous scenery. Along the way, you will get to take in diverse landscapes including the magnificent San Francisco Peaks, colorful cinder cones, barren desert lands, and tall pondersosa pines. It's a nice relaxing drive with barely any congestion and plenty of serene views of the pine forests. Take a break at the Bonito Meadow overlook, where colorful wildflowers take over the fields in the summer and snow dramatically dusts the peaks in winter.
Wupatki National Monument
Wupatki, a unique 100 room, 4 story pueblo, was built 900 years ago out of sandstone, basalt, and limestone. One of the really unique features here is a natural blowhole, which really is a mysterious wonder as no one knows why air blows in and out from the Earth. It's like a natural vacuum which blows air out when a low pressure system rolls in as the ground is higher pressure and vice versa when a high pressure system comes in.
Sunset Crater
Sunset Crater was created by an explosion almost 1000 years ago. A 1 mile loop trail known as the Lava Flow trail gives you the opportunity to explore the volcanic remains. The volcano is not expected to erupt again.
Additional Details
Distance from Flagstaff: Walnut Canyon is about a 15 minute drive from the city. Sunset Crater is about 30 minutes outside of Flagstaff. If you are planning on visiting all 3 altogether, the Sunset Crater monument is about 25 minutes from Walnut Canyon. Note: There is not much in terms of dining options, so eat a full breakfast beforehand and bring a picnic for lunch!
What to do: Lava flow trail at Sunset Crater, Island Trail at Walnut Canyon,Wupatki-Sunset Crater Scenic Drive
Tonto Natural Bridge State Park – "the largest natural travertine bridge in the world"
Payson is another high altitude small town in Arizona, although it's pretty tiny and limited in terms of attractions, lodging, and dining options. Flagstaff is the best base location for exploring Northern Arizona. While the town of Payson itself is nothing to write home about, Tonto is pretty amazing. This park features the largest natural travertine bridge in the world. The great thing about Tonto Bridge is that all 3 trails are under 1/2 mile, so pretty much doable by anyone in basic shape. A small waterfall near the bridge gives you a rare glimpse of water in the desert.
The drive over from Flagstaff will take you through the small communities of Pine and Strawberry. Both of these areas offer quaint restaurants and lots of antique shops. If you love shopping for a bargain, you will love all the vintage shops in these towns. There is a wonderful homemade honey stand along the way and a cute local restaurant known as The Randall House, which has a lovely outdoor patio surrounded by trees.
Additional Details
The drive from Flagstaff to Pine/Strawberry is picturesque with beautiful views of the pines and mountains. Hwy 260, aka the White Mountain Scenic Drive, is really gorgeous. It really feels like you are getting out into the country, which obviously is a major bonus if you are coming from a congested city like Phoenix or Tucson!
Distance from Flagstaff: 1 hr 45 min
What to do: Tonto Natural Bridge State Park, antique shopping in Pine & Strawberry, Oldest schoolhouse in Arizona in Strawberry, Hike the Horton Creek Trail in Payson
Why it's great: The views at Tonto Bridge are unique & gorgeous, the drive over from Flagstaff is picturesque and quiet, the weather is nice and cool during the summer season & fall foliage is great around October/November.