Mickey's Halloween Party at Disneyland
Late September through October is the best time to visit Disneyland. Not only have the temperatures finally cooled down a bit, but crowds have also diminished, especially if you can get to the park on a weekday. To top it off, this is when the annual Halloween festival takes place. So, in addition to enjoying the regular rides and festivities at Disneyland, you will also get to enjoy special Halloween related attractions. A festive Halloween themed fireworks show, a Halloween parade, trick or treating stations, a Main Street Pumpkin festival, and various spooky versions of your favorite rides are all part of the month long Halloween celebration. It's one of the top events in the country for anyone who loves all the special ambiance that goes along with the holiday.
The Halloween decor is wonderful!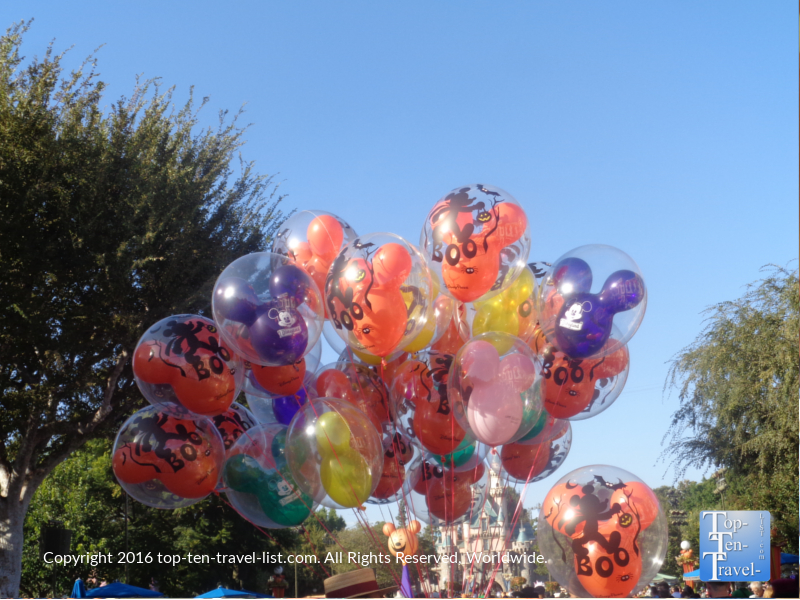 Next to no wait for most rides!
By far, the biggest perk of attending this special event, is reduced crowd traffic and almost no wait times for the majority of the rides. Because admission to this special event requires a separate admission ticket, any guests without the Halloween party wristband are asked to leave as soon as the special event starts. There are so many Halloween attractions & special treats to enjoy that guests are more dispersed throughout the park, as opposed to everyone waiting for the same popular rides, as is the case during regular admission. And, only a limited number of tickets are available to this special event, so the park will never get too overcrowded.
7 Hours of over-the-top Halloween/Disney fun!
Mickey's Halloween Party (now Oogie Boogie Bash) runs for just 5 hours, so you will have limited time at this event versus visiting on a regular day. On the bright side, you can begin entering the park 3 hours prior to the event so you will get a bit more time at the park. On the downside, the park will be incredibly crowded until the event starts as regular daytime guests and special ticket holders will both be waiting for rides with no Halloween events taking place yet to manage the crowds. During this time, most ride wait times will be well over an hour. However, as soon as 7:00 rolls around, the wait times are so short that you will probably get on more rides during this short time period than if you paid for regular daytime admission!
Popular rides like Pirates of the Caribbean, Thunder Mountain Railroad, and Indiana Jones had under a 10 minute wait during the special Halloween party. Thunder Mountain is the most fun ride in the park (and often a very long wait) and we happened to get on 3 times in a row in less than 20 minutes (that's how uncrowded the ride queues will be during this special event, especially if you plan on hopping on a few rides during one of the parades). Even the most popular rides of all – The Haunted Mansion and Space Mountain – only had a 20-30 min wait versus the typical hour plus wait time.