Clearwater: A Beautiful Florida Beach…If You Can Find Parking!
One of Florida's most iconic beaches, Clearwater, is the liveliest beach on Florida's Gulf Coast. This beautiful wide, white sandy beach offers a more upbeat vibe than many other Pinellas County beaches. My favorite aspect of this beach is definitely the shear amount of space available. After spending time at many other narrow Gulf coast beaches, I was pleasantly surprised with this beach layout. You can actually spread out and enjoy some personal space here.
The beach is nicely landscaped with plenty of palm trees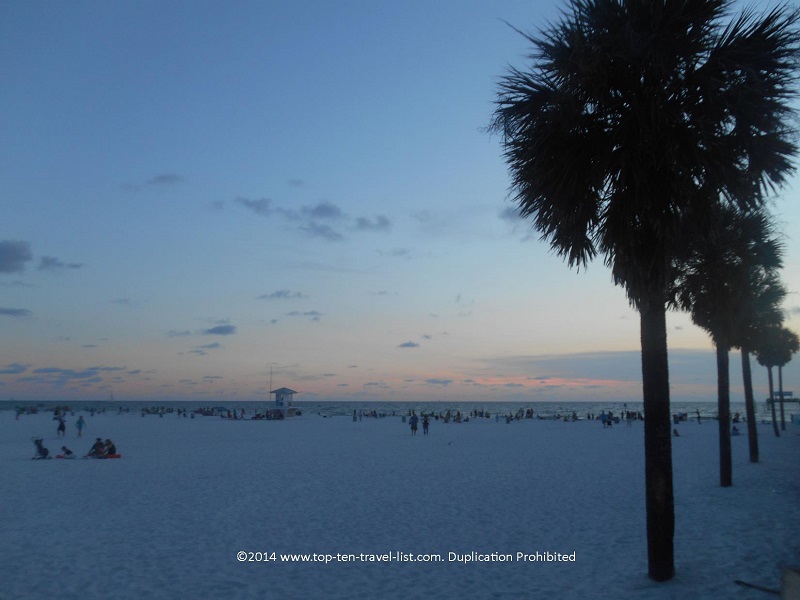 At Clearwater, you will find the smoothest, whitest sand in the area. Not many broken up shells or cigarette butts lying around here – just smooth, pristine sand. The water is so clear and warm. So warm in fact, that I felt like I was standing in a bathtub.
Check out the smooth sand! The sand is mostly comprised of quartz crystals. The sand's origin is actually from the Appalachian mountains. The crystals washed down the rivers which led into the Gulf of Mexico. The sand is cool to the touch, so you won't burn your feet as soon as you toss off the flip flops!
Read more about the beautiful white sands of Florida.
So many crowds… so much to do!
Compared to other beaches in the area, Clearwater has the closest resemblance to a Southern California beach. Here, you will find many of the great aspects found at most California beaches: volleyball nets, a boardwalk, restaurants, a pier, and ongoing yearly events.
There is a nice active vibe at Clearwater, especially with the boardwalk and pier. Although the boardwalk (called Beach Walk) is not long enough for a bike ride at a mere half mile, it is long enough for a nice stroll. Overall, Clearwater is a great beach for those looking for something more than just relaxation.
Don't get me wrong, Clearwater is a fantastic choice for relaxing, listening to the waves, and enjoying the clear water ahead of you and the smooth white sand under your feet: just not on a busy weekend! Don't expect to enjoy a quiet, relaxing weekend at the beach. Finding parking was an absolute nightmare! Metered parking spaces are extremely limited and everyone is seeking a spot. Parking lots fill up quickly on weekends.
We circled around for almost an hour before finding a spot almost a 1/2 mile away. Visiting on a weekday morning is the best time to ensure fewer crowds, and hence, an easier time finding parking. Or better yet, take the Jolley Trolley and avoid the hassle altogether.
Although, I enjoyed the lively setting, it was almost too crowded to enjoy the fun. Maybe Saturday night wasn't the best choice. The boardwalk and pier were both too crowded to walk without bumping into someone. It may have been more crowded due to the screening of "The Goonies," on the beach as part of the nightly festival.
On the bright side, the wide beach offers more than enough room for everyone. We took a quick walk around the water, then proceeded to enjoy the "Sunset at Pier 60" festival (details below).
Pier 60
Pier 60, a 1000+ foot pier, is open year-round (except for Christmas), and is a well-known hotspot for fishing, sunset photography, and year-round festivals. Every night, Pier 60 offers a "Sunsets at the Pier" celebration, featuring: vendors, live music and entertainment, and street performances.
On Friday and Saturday nights, the jumbo screen is set up for "Sunset Movies on the Beach." This week, they were screening 80's classic "The Goonies." This is one of my favorite movies and it was definitely fun to watch in the unique beachy setting. A great idea, although placing the screen directly in front of the playground was probably not the wisest decision. Make sure to arrive at least an hour in advance to get a good seat.
From what I have seen so far, Clearwater seems to be one of the better beaches in the area. Relaxation, recreation, entertainment, photography opportunities…there is something here to suit every beach personality.
Clearwater Cruises
Taking a cruise is another must while in town. There are plenty of options, including: sunset cruises, dolphin cruises, lunch and dinner cruises, and even a pirate themed cruise!
They offer an eclectic variety of options, including: sunset and dolphin cruises, party cruises, trips to Honeymoon and Caladesi island, and specialty themed cruises (80's night, etc.). We just booked one of the sunset cruises for this Friday – so be sure to check back for details on our experience!
Update: the cruise was great despite the stormy weather. The Tropics Boat Tours is one of the best in the area. The sunset cruise is rather affordable and includes a free champagne toast. The views are gorgeous in the evening and the temps much cooler!
We also recently took a ride on the Sea Screamer "the world's largest speedboat" at 72 feet. Dolphin sightings are guaranteed on this one so it is a great deal. Dolphins love to play in the wake of the boat and will do a little show for you – do bring a video camera and take a seat in the back for the best view!
More to do in Clearwater
Clearwater offers much more outside of the beach. Here, you will also find great shopping, waterfront restaurants, and attractions such as the Clearwater Marine Aquarium. Did you know that Clearwater was voted the best beach town in Florida by readers of USA Today? Check out my must-dos in Clearwater for more ideas to add to your vacation itinerary.
A few tips to make your visit more enjoyable…
*Finding parking here is miserable. I have never seen so many cars driving around looking for a spot (and this went on up until we left at around 11pm). Start your trip off on the right foot by taking the Jolley Trolley as opposed to driving yourself, or better yet, book a hotel directly on the beach.
*An unlimited trolley pass is only $5 with reduced rates for seniors. There are several locations throughout Clearwater, Dunedin, Tarpon Springs, and Palm Harbor area. Check the Trolley schedule for full details.
*Bring with plenty of water and sunblock if visiting during the hot afternoon. Also a few snacks is always a smart idea. Avoid the overpriced stands. A morning or late evening visit is recommended due to the insanely hot afternoon temps and crowds.
*Book a hotel within walking distance from the beach for easy access. The Sandpearl is a highly regarded resort with great amenities.
*Visit on a weekday morning if you are looking for a more laid back, relaxing experience.
*Check Groupon for cruise discounts.
*Great breakfast options in the vicinity include: Ryan's Island Cafe and Clear Sky Beachside Cafe.
*Great lunch options include: We the Pizza (serving quick service pizza & salads) and Marina Cantina (Tex Mex with a view).
Location & Parking Information
I would put the address for Pier 60 into your GPS (1 Causeway Blvd. Clearwater, Florida) and try to find parking from there. Both metered street parking and lots are available. Check the City of Clearwater site for a detailed map of all parking. If you drive far enough away from the beach, you may be able to find free street parking early in the mornings (typically, I get to the beach around 8-9am and easily find free spots). Just check the signs.
Have you ever visited Clearwater Beach? Share you experience below!