A Sunset Cruise in Clearwater, Florida
One of the best ways to explore beautiful Clearwater is via a relaxing cruise. Tropics Boat Tours on Florida's gorgeous Gulf Coast offers a variety of entertaining cruise options throughout the year, including: dolphin cruises, sunset cruises, party cruises, and specialty themed cruises. We opted for the sunset cruise as we thought it would be a nice way to see the area without suffering directly in the intense summer sunlight.
A night cruise in Clearwater is a great alternative for those tired of sweating in the hot Florida sun and dealing with chaotic crowds at the beach. Although it was still extremely hot and muggy at the start of the cruise, the temps cooled down tremendously as the night went on. An impending thunderstorm brought forth a nice cool breeze as well as a drastic drop in temperatures. I would guess that the temperature dropped from the mid 90's to the lower 80's!
Tropics Sunset Cruise leaves Clearwater's beautiful marina and heads into the gorgeous waters of the Gulf. Take a look at the beautiful marina.
Cruise highlights
Along the way, your energetic tour guide will point out a variety of sights, including: Clearwater's downtown, celebrity homes (we saw the homes of Tom Cruise, John Travolta, and Hulk Hogan), and other major architectural attractions in the area.
Downtown Clearwater
Tom Cruise's house (the house to the right)
Bird Island
The beach from a distance (the large pink building is the Hyatt Regency)
How cool is this Jaws themed boat?!
A pirate themed cruise passing us by
The ride is relaxing: a fresh change of pace from the intensely hectic atmosphere on the beach.
The boat
The boat features both an upper and lower level. Views from both levels are fantastic, however, I preferred the lower level as the top unfortunately allowed smoking. To get a seat on the upper level, plan on getting in line early or you may have to stand up (seats on the top level fill up faster!).
Don't worry if you do not get your preferred seat as you can move around once you get on board. I recommend checking out the view from both settings. There is no air conditioning, however, the lower deck is covered and once you get moving, the fresh ocean breeze will offer much relief.
A beautiful Clearwater sunset
The sunset on this particular night was not overly spectacular. Unfortunately, it was pretty cloudy with a thunderstorm on the way. I imagine the views are spectacular on a clear evening. We were able to capture a few quick pictures in between the cloud coverage.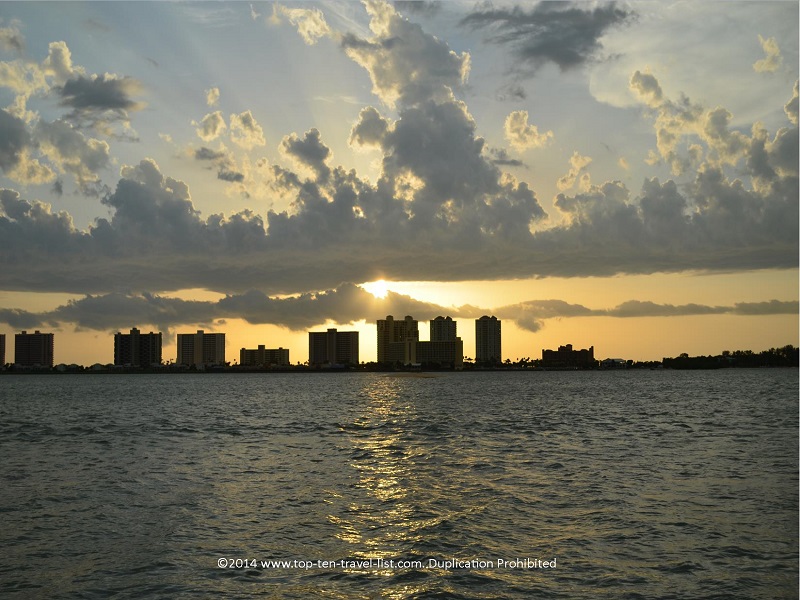 Summer Thunderstorm Season
On our return route, an unexpected thunderstorm dampened the experience for a bit, as all upstairs passengers proceeded to come in to the lower deck. As you can imagine, it got pretty hot and noisy! However, the scenery was pretty spectacular!
Check out these storm clouds!
As soon as the rain led up, we proceeded to check out the upstairs level. We took advantage of the empty spaces and smoke-free environment (no one wanted to sit on the wet seats) and enjoyed the beautiful night views of Clearwater as we made our way back.
Overall, I enjoyed Tropics Sunset Cruise, although wasn't a fan of the smoking. Anyone looking for a fun, scenic, non-beach activity in Clearwater is sure to be pleased with their experience.
Cruise details
Your cruise will run approximately 1 hour and 45 minutes. After your cruise, you will find a multitude of additional activities in the area including: beaches, restaurants, bars and the nightly "Sunsets at Pier 60" festival featuring live entertainment and vendors.
Pricing: The sunset cruise is offered at a rate of $30 for adults and $19 for children (4-12). This price includes a champagne toast at sunset for adults 21+. For an additional cost, you can purchase a wristband good for unlimited beer, wine, and soda.
The vibe: The cruise felt more like a party cruise with the majority of passengers purchasing the wristband. The staff set the tone early on with a free specialty cocktail for one lucky passenger. Add in: energetic music, reduced priced drinks before departing, and on-going shot and drink specials throughout the night. If you are seeking a more low-key or family friendly experience, you may prefer a morning sightseeing cruise.
Location: Tropics Boat Tours is located at 25 Causeway Blvd. Slip #5 in Clearwater. You can reserve your tickets online on the Tropics website. In terms of parking, you will need to arrive at least an hour early to secure your spot in the small marina lot. Also, there are a number of parking garages in the area.
Tropics recommends parking in downtown Clearwater and taking the free ferry over. They operate Thursday-Sunday.
Tips for a fun cruise
*Bring your camera. There are plenty of fantastic photo opportunities!
*Bring with water bottles. That 1/2 hour or so wait to board the boat is much hotter than you think!
*Check Groupon for discounted rates.
*Arrive early to guarantee a parking space or take the ferry from downtown.
*If possible, book your cruise on a less crowded weekday, preferably during the off-season (December-March). Both traffic and parking will be less hectic. Plus, the temps will be much cooler.
*Check the weather forecast. After all it is a sunset cruise! If you are looking forward to some great photography, plan your trip for a clear night!
Where to Stay
Hyatt Regency Clearwater Beach
Where to dine
Marina Cantina – Nice upscale Mexican restaurant featuring great waterfront views.
Salty's – Fun beachside restaurant featuring seafood, frozen cocktails, and a scenic deck.