The Ultimate Tampa Bay Beach Guide
On Florida's Gulf Coast, you can expect year-round sunshine, soft smooth white sand beaches, and warm waters. With miles and miles of beautiful coastline, there is a beach for everyone. Whether you are looking for relaxation, a party scene, gorgeous sunsets, a place to collect seashells, ideal swimming conditions, or a lively sporty scene, there is an option to suit your unique interests.
Enjoy this handy guide to the best beaches in the Tampa Bay area, plus accompanying restaurants and activities.
1. Indian Rocks – "Pure Relaxation"
Indian Rocks is one of the few beaches on the Gulf with almost a complete absence of commercialization. There is literally no business in sight besides a few quaint condos and vacation rentals. This isn't the type of beach where you will find rowdy crowds of tourists playing loud music and drinking beer. There are no boat tours or vendors anywhere in sight.
The tranquil ambiance makes Indian Rocks the perfect choice for anyone who wants to catch some rays or relax with some reading in a low-key setting. This beach is frequented more by locals than tourists. And thus, the lack of any activity gives it a charming "Old Florida" old-school atmosphere. The light waves and shallow waters also make it a fun swimming destination. Keep your eyes peeled as manatees and dolphins are often spotted in the near distance!
Best breakfast/coffeehouse near the beach
Indian Shores Coffee Company – This wonderful local roaster is located just steps from the beach. The highlight here is a beautiful covered patio. They serve delicious coffee, espresso (their Americano is amazing) and specialty lattes, plus amazing homemade pastries. The Maui and Apple Cinnamon muffins are really delicious, and so are the croissants. They also offer a few gluten-free selections.
Cafe de Paris -Cute French bistro which serves excellent quiche, crepes, pastries, and coffee. It's hard to choose just one treat from the tantalizing display case! The indoor seating area is quite small, however, the patio is nice, if weather permits.
Ready Set Yo – Casual coffee shop with a great outdoor seating area. Great place to enjoy a caffeinated drink & light snack outside on a mild morning. They serve Joffrey's Coffee and Tea, an excellent local roaster which happens to be the official specialty coffee of Disney! Not a fan of coffee? – They also serve tasty fruit smoothies.
Local Lunch Gems
Slyce – Amazing local pizza joint which offers an interesting selection of creative pies. Also serves a top notch Greek salad and super tasty garlic knots. The casual sports vibe makes it the perfect post-beach hangout.
Guppy's – Local seafood favorite known for their fresh Grouper sandwich and a breezy covered patio. The lobster mac and cheese is excellent. Although there is plenty of seafood on the lineup, Guppy's is also one of the few places near the beaches to offer a vegan option. Do try the tasty Tofu Grains bowl if you are seeking a great vegetarian option. After your meal, be sure to indulge in a slice of Key lime pie, the official state pie!
Jake's Coastal Cantina – Great local Mexican restaurant with a casual beachy vibe. Mix and match toppings of your choice for the ultimate taco or burrito. Also, treat yourself to the Squash blossoms or Mexican street corn as an appetizer!
More fun in the vicinity
Seaside Seabird Sanctuary – Free admission non profit with a mission to rehabilitate and release formerly injured birds back into the wild. Take a stroll around the grounds which are home to over 100 permanently disabled birds. Also be sure to climb up the overlook for an incredible bird's eye view of the Gulf!
Indian Rocks nature preserve – Beautiful small preserve with a shady boardwalk trail which ends with a scenic water vista. Great place to bird watch, see manatees, and get in a light workout.
2. Madeira Beach – "An entertainment Oasis"
This 2.5 mile stretch of sand along the Gulf is a good choice if you are looking for plenty of quick access to entertainment. Madeira is located within close proximity to St John's Boardwalk, a lively entertainment destination with lots to do, especially for families and active types. Themed restaurants, seafood cafes, dolphin cruises, watersports, parasailing, arcades, gator experiences, and more line the 1000 foot wooden fishing themed boardwalk. Be on the lookout for seasonal festivals.
The beach itself is beautiful with the trademark white sand and calm crystal water. Arrive early in the morning if you are looking to avoid crowds as this one gets quite busy by mid afternoon. Cabana rentals are available. Madeira may not be the best beach destination for those looking to relax, however, it's a great choice for anyone seeking to combine beach fun and entertainment.
Best breakfast/coffeehouse near the beach
Sweet Brewnette – This is definitely the place to go to enjoy a quality breakfast and artisan coffee at the same time. Cute beach themed knick knacks and local artwork adorn the walls. The overall ambiance is definitely vacation leisure. The coffee is excellent and so is the food.
Lisa's Cafe – Local breakfast favorite located just a few blocks from St. John's Boardwalk. If you are seeking a full breakfast to carry you through lunch, Lisa's is a good choice prior to hitting the beach or boardwalk. Enjoy a savory veggie omelet filled with fresh onion, peppers, spinach, mushroom or tomatoes, served with hash browns and toast. Or go the sweet route, and treat yourself to French Toast or pancakes topped with berries or bananas.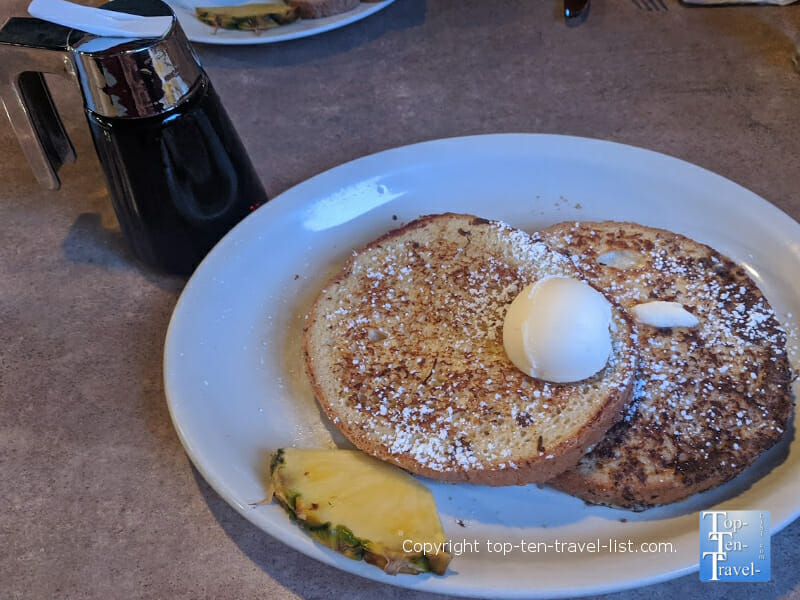 Local lunch gems
Slyce– The Madeira Slyce location offers the most gorgeous setting with a covered patio facing the waterfront. The casual sports bar vibe makes it the perfect place to kick back and enjoy some good comfort style foods and drinks after a long day at the beach. Pizza and apps aside, do treat yourself to a fresh cooling Greek salad!
Mad Beach Craft Brewing – This modern American eatery is conveniently located in the touristy St Johns Boardwalk area. Stop by for a craft beer and tasty American comfort fare after a long day at the beach. The ambiance is casual and family-friendly with lots of entertainment options including multiple flat screens, a pool table, air hockey, and even a Stranger Things pinball machine. Great place to relax after a tiresome day in the sun!
More fun in the vicinity
Dolphin Quest – This top rated cruise combines dolphin watching and sightseeing. Dolphin sightings are guaranteed or you will receive a free return ticket! Not only will you see tons of dolphins, but you will also get to enjoy some of the most picturesque scenery out of any cruise line in the Bay area.
The Pirate Ship – Entertaining pirate themed cruise which is perfect for families and the young at heart. Amenities include face painting, festive music, treasure hunts, and pirate stories. If you get lucky, you'll see dolphins too!
Smuggler's Cove – Fun adventure themed mini golf course. Highlights along the 18 hole course includes waterfalls, caves, and live gators.
3. Fred Howard Park – "Amazing sunset destination"
One of the lesser-known beaches in Pinellas County is found within Fred Howard Park in Tarpon Springs. A 1 mile long causeway, which is popular with joggers and fishers, leads you to this picturesque white sandy beach. Fred Howard is mostly frequented by locals, and thus, retains a laid-back, local charm.
This beach is known to be one of the best sunset destinations on the Gulf. The palms on the beach give it a tropical ambiance not found at many other Bay area beaches. Wildlife is abundant with dolphins, osprey, and eagles often making appearances. If you have time, take a stroll on the boardwalk trail where you will have the opportunity to explore natural Florida habitat and possibly see some wildlife.
Best breakfast/coffeehouse near the beach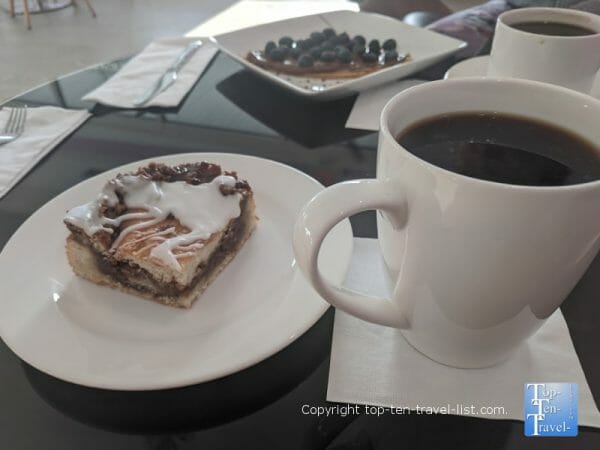 Toula's Trailside Cafe – No frills local café serving classic breakfast standards like pancakes, bagels, and omelets. Enjoy a quick affordable breakfast here before making your way to the beach.
Copenhagen Cafe – Charming European café hidden away from the main touristy sponge dock region of Tarpon. Serves excellent espresso and the most delicious pastries and sweets. Try the Chocolate Blueberry crepe!
Local lunch gems
While in Tarpon, you will definitely want to try out a Greek restaurant. As the small city is the "Greek capital of the US" (more than 1 out of 10 residents claim Greek ancestry), there is no shortage of excellent authentic cafes and bakeries in the area. A big Greek salad is the perfect treat on a hot summer day in Florida, so cool and refreshing, yet also filling.
Hellas – The most touristy Greek restaurant. The dining room here is beautifully designed. Food is average, although they do make the best authentic Greek desserts in town (try the Baklava cheesecake). The Chicken souvlaki and spanakopita are both decent enough, although the Greek salad is a bit disappointing.
Mr Souvlaki – Local gem known for serving the best Greek salad in town. Not much in the way of ambiance, however, the food is pretty good. Serves the best spanakopita in town.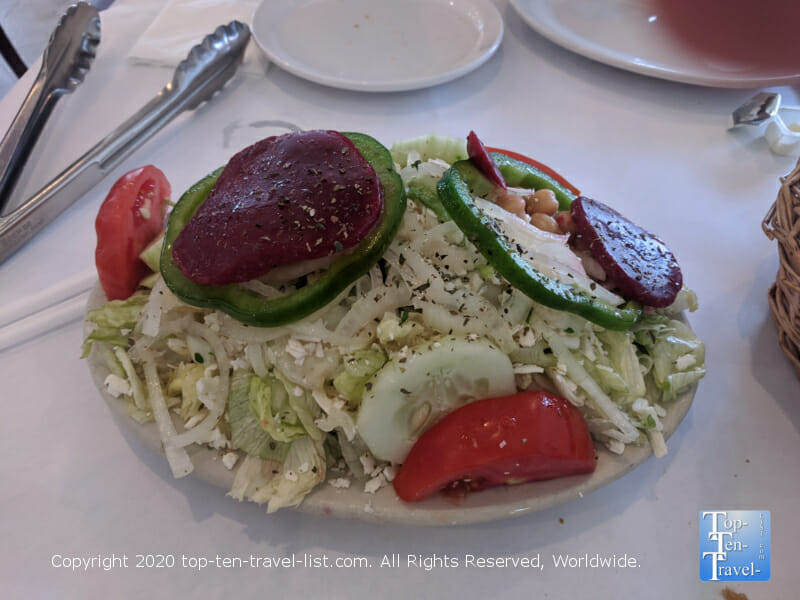 Bread and Butter Deli – Wonderful local Greek & Middle Eastern deli located away from the tourist clutter. Try the Salad Sampler (pick 5 amongst 20 enticing options) or the Turkey Dinner special (they carve a fresh 30 lb turkey daily). Delicious falafel, Greek salad, dolmades, spanakopita, tabouli, and 8 homemade soups amongst the fresh offerings.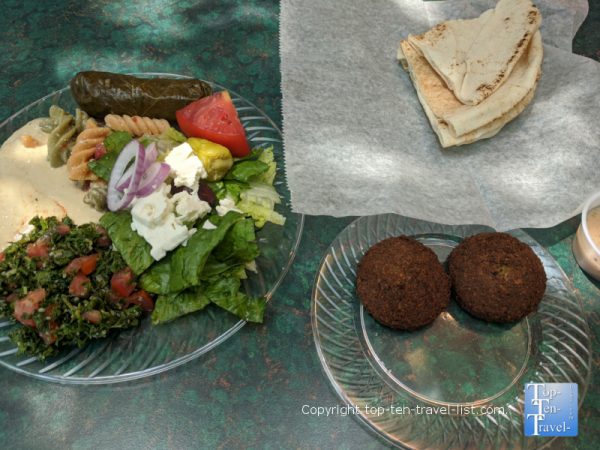 More fun in the vicinity
Sponge docks – Tarpon is nicknamed "the sponge capital of the world," as more than 90% of sea sponges are harvested here. Take a walk along the waterfront where you will see docked sponge boats. Don't leave without picking up a sponge or 2 to bring home with you. Lots of great Greek food in this area as well.
A L Anderson Park – Beautiful local park with lots of shade. Perfect place to escape the crowds for a little nature walk. Features a boardwalk trail, nature trails, and a great overlook of Lake Tarpon. Lots of gator sightings here, esp during the early summer & winter season!
Dolphin Adventure cruise – This 2 hr narrated cruise offers plenty of chances to see dolphins, plus a stop at beautiful remote Anclote Island. On this fun & affordable cruise, you will learn more about Tarpon's sponge industry, see lots of dolphins, and collect tons of sea shells.
4. Clearwater Beach – "Sugar Smooth Sand"
The beautiful white sands and clear water draw millions of tourists each year to Clearwater Beach. This beach is world famous for its' sugar smooth sand, which is comprised almost entirely of quartz. As you toss off your flip flops, you will notice a pleasing absence of hard seashells. Also the sand is cool to the touch so you don't have to run immediately run to the water. Clearwater, a frequented recipient of "best of" awards, was ranked number 1 beach in America by Trip Advisor in 2019.
Besides offering 2.5 miles of the smoothest sand on the Gulf, Clearwater is a prime entertainment destination. So many cruise lines, restaurants, resorts, and shops can be found in the area. If you are looking for all day action and excitement, this is definitely the place to be. Rent a paddleboard, book a sunset or party cruise, try parasailing, take a stroll along the pier, dine at a waterfront restaurant – there's plenty to do. Also be on the lookout for the free Pier 60 festival featuring movies on the beach.
Best breakfast/coffeehouse near the beach
Clear Sky Cafe – Popular local breakfast joint which sees huge crowds most weekends. Get here early to avoid a wait! The menu is huge, incorporating options for those with a savory (quiche, omelets, skillets, bennies) or sweet tooth (crepes, waffles, French toast). Try a delicious veggie skillet along with their house coffee – no need to resort to a chain!
Ryan's Island Cafe – Beach themed eatery featuring a menu of American favorites for breakfast and lunch. Their Vegetarian Hash Browns plate is unique & delicious. Also, they serve the most delicious coffee near the beach!
Where to enjoy a local lunch
Salty's – Beach favorite popular with tourists due to its' convenient location (walkable to the beach), frozen drinks, variety of seafood choices, and scenic outdoor deck. Take a seat outside and enjoy a few fun appetizers (lots of seafood selections and the nachos are great!), tacos (try the Fried avocado), a fresh salad, fresh seafood, or a Grouper sandwich.
Marina Cantina – Upscale Mexican restaurant overlooking the water. Great views and super convenient as it is located right across the street from the beach. Enchiladas, tacos, burritos, and tortas are amongst the tasty options available. They also serve a delicious weekend brunch menu – try the Huevos Rancheros!
More fun in the vicinity
Sunset Tropics Cruise – Scenic evening sightseeing cruise tour around the Gulf. Free champagne toast for guests over 21. A great way to learn more about the area, while also taking in a bit of sightseeing.
Ice skating at Westfield Countryside – If you need an escape from the heat, nothing says cool down quite like ice skating. While it will never match the ambiance of a real outdoor rink, skating indoors at this real rink at WestField is about as close to the real thing as you can get in Florida.
Moccasin Lake nature park – Escape the beach crowds in favor of a relaxing trek into the Florida wilderness at this prime gator watching destination.
5. Pass-a-Grille – "Old Florida style"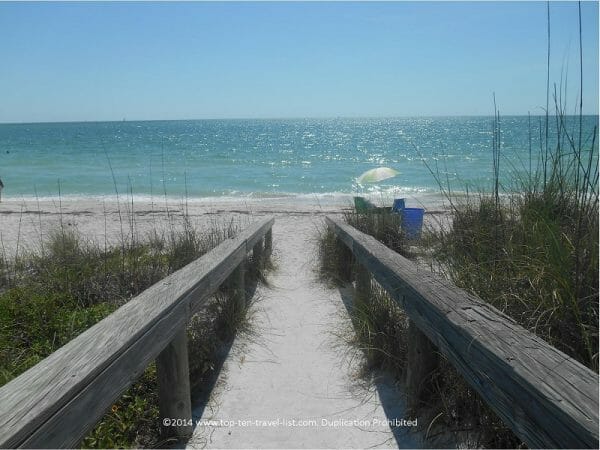 Pass-a-Grille is one of the Gulf's most charming beach destinations. This beach is located on the southern end of touristy St. Pete beach. While this stretch of sand is much narrower and lacks touristy commercialization, the vibe is enjoyably old-school. If you are looking to lay out in quiet surroundings, then this is the beach destination for you.
From here, you can also visit another popular destination: Shell Key preserve. Consider taking the Shell Key Shuttle over to this quiet barrier island. The preserve is most known as a shelling and birding hotspot. Also, beach umbrellas and snorkels are included, so really it's a great deal at just $25 roundtrip.
Best breakfast/coffeehouse near the beach
Chill – New American restaurant which serves excellent coffee and food. Try the Vegan Hash or the Mixed Berry crepes with brie. Definitely the best breakfast destination near the St Pete beaches.
Cafe Soleil – Quaint local French bistro serving coffee and espresso (they serve Kahwa a popular local roaster), quiche, toasted croissant sandwiches, and a decadent array of homemade pastries. The ambiance is charming and the service friendly.
Local lunch gems
Rumfish Grill – Popular seafood restaurant featuring a massive 33,500 gallon salt tank. Every seat has a fantastic view as the aquarium takes up the entire wall! You may have seen this tank featured on Animal Planet's Tanked.
Vito & Michael's Pizzeria – Super casual Italian restaurant which serves an assortment of fantastic lunch specials (includes complimentary salad & bread) for under 10 bucks. Great place to kick back with some comfort food after a long day in the sun. The Eggplant Parmesan is amazing!
Skidder's – Local & tourist favorite for Greek and Italian fare. Try a refreshing Greek salad, a hearty pasta entrée, comforting specialty pizza, or a broiled or fried seafood dish. The ambiance is very casual, so this is a great place to enjoy a laidback lunch before or after your day at the beach.
More fun in the vicinity
Boyd Hill Nature preserve – Take a narrated tram tour around the grounds of one of the Gulf's prettiest parks. You will get to enjoy various Florida ecosystems, plus see lots of wildlife including gators and armadillos.
Fort deSoto Park – Popular tourist park made up of 5 interconnected islands. You will find lots of attractions here including top rated white sand beaches, a 7 mile bike path, nature trails, and more.
Corey Ave Sunday Market – Open air market featuring over 50 vendors. Shop for local produce, artwork, jewelry, and more. Walkable to great restaurants and cafes.
6. Treasure Island – "Sports Lovers Haven"
One of the only beaches on the Gulf where you can engage in a classic fun-in-the-sun beach volleyball game is Treasure Island. This wide sandy beach offers plenty of sand for all sorts of beach sports. Back in the day, a Treasure Island hotel owner buried and "discovered" treasure on the beach. This drew many tourists to the area, and thus, the beach was eventually nicknamed Treasure Island.
Today, it's not the legend of buried treasure which draws visitors, but rather the 3 miles of wide sandy white beaches. Active types will love parasailing, paddle boarding, snorkeling, and playing v-ball at this Gulf gem. The beach is also famous for being home to Gators, "the world's longest waterfront bar." There's also a giant inflatable water slide – you can't miss it!
Best breakfast/coffeehouse near the beach
Las Casa del Pane – Authentic Italian bakery featuring assorted pastries and desserts, plus a full coffee and espresso menu. Try the Sfogliatella with an Americano.
Grove Surf and Coffee – Unique surf retail shop which also offers a full coffee menu. Their espresso is excellent and they also offer unique seasonal lattes. Treats include coffee cake and a bagel bun stuffed with cream cheese.
Local lunch gems
Barracuda deli Cafe – Casual Caribbean Mexican fusion café known for serving the best Cubans in the area. For anyone seeking something really fresh, their Barracuda veggie bowls are totally delicious.
Original Pizza – Low key local counter service pizza joint serving specialty pizza, hoagies, Stromboli, calzones, pasta dishes, and muffulettas. Pizza is decent enough to warrant a visit, although seating is limited.
More fun in the vicinity
Treasure Island Family Fun Center – The largest arcade in Pinellas County offers hours of gaming fun for families. Escape the heat for a few hours with the largest selection of arcade and ticket redemption style games in the region.
Lori's Soaps and Sponges – Pick up a natural sea sponge for bathing or cleaning. Sponges come from nearby Tarpon Springs, "the sponge capital of the world." Lots of cute gift sets. Located on St. Johns Boardwalk.
7. Honeymoon Island – "The one that offers it all"
Honeymoon Island is a favorite amongst both locals and tourists. On any given weekend, you can expect a line to get into this beautiful park. Although entrance is quite pricey (8 bucks a car), it's worth it for a full day of fun-the-sun. Besides 4 miles of gorgeous white sand beaches and ideal swimming conditions, the highlight here is the beautiful 3 mile Osprey trail.
Spend some time away from the beaches in favor of exploring one of the last remaining virgin slash pine forests in Florida. On the trail, you may see gopher tortoises, osprey and eagle nests, and lots of hermit crabs.
Best breakfast/coffeehouse near the beach
Sandpiper Cafe – Cute local café in downtown Dunedin. Features whimsical beachy décor inside and a cute shady patio out back. Serves excellent coffee and pastries along with a full breakfast menu. A bit overpriced, but worth it for the cute ambiance.
Dunedin Coffee Company – Local coffeehouse favorite which serves delicious coffee, quiche, and homemade pastries in a low-key local setting.
Ohana Cafe – Laid-back Hawaiian cafe which serves healthy organic breakfast and lunch fare. Serves the best pancakes in town, including a rare GF vegan option. Awesome smoothies and acai bowls!
Local lunch gems
The Living Room on Main – International favorite with an eclectic menu sure to please everyone. Features include unique décor inside and a great patio for the cooler season!
Clear Sky Draught House – Popular local restaurant/pub which serves a diverse menu of American comfort favorites. Highlights include awesome burritos, lots of drink specials, fun apps, and a delicious create-your-own mac and cheese option.
More fun in the vicinity
Hammock Park – Local park with several short nature trails, a disc golf course, picnicking facilities, and a butterfly garden. Great place to get back to nature for a bit during the cooler season (beware – there is not much shade here!).
Dunedin Main Street – Charming downtown area lined with shady trees. You will find a number of local cafes, boutique shops, and art galleries here. Cork and Beans is a wonderful local wine/coffee bar. Also, be sure to stop by the Beatles museum if you are a fan!
Edgewater Park – Quiet park near the waterfront. Great place to take a short stroll and enjoy the exotic bird life.
8. Sand Key – "A shelling oasis"
Sand Key is the beachcombing oasis of Florida's Gulf Coast. Almost the entirety of the beach is loaded with colorful shells. Unfortunately, this means the sand isn't as soft and smooth to the touch as that found in neighboring Clearwater. However, you get the benefit of going home with a big bag of beautiful shells. You may find a coveted sand dollar here (note-do not take if alive!). Another bonus is the lack of tourist crowds and the gorgeous views of the cityscape.
Bonus – there is a nice little picnicking area by the parking lot. During the milder season, skip the pricey tourist restaurants in favor of a nice quiet lunch accompanied by a scenic view! Other amenities include restrooms, nature trails, a dog park, and umbrella/kayak rentals.
Best breakfast/coffeehouse near the beach
Southie Coffee – Funky local coffeehouse serving excellent coffee and pastries. Plenty of vegan options including an amazing black bean empanada and tasty muffins. Located a few miles off the causeway, but worth the drive!
Belleair Coffee Company – This 4th wave local roaster is located about 5 miles away, but well worth the trek for the top knotch coffee and food. They easily serve the most amazing coffee/espresso drinks in Tampa. Try the overnight oats or quiche of the day along with your cup of joe.
Local lunch gems
Columbia – Tampa's most popular Cuban/Spanish restaurant opened in 1905 in Ybor City as Florida's oldest restaurant. Today, locations are found throughout the metro. The Sand Key restaurant is particularly attractive as the dining room faces the water. Take a seat on the breezy waterfront patio and enjoy Cuban black bean soup, paella, and black bean cakes.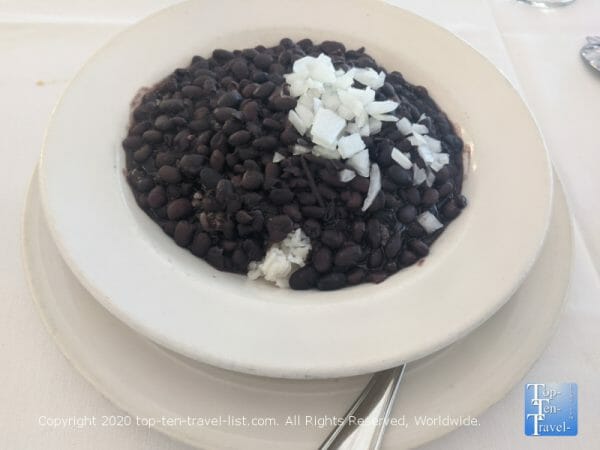 Good Vibes Juice Co. – Go healthy with a fresh smoothie, acai bowl, or juice drink. After a long day in the hot Florida sunshine, a refreshing cool treat is oftentimes more satisfying than a hefty lunch.
More fun in the vicinity
Pinellas Trail – Beautiful 50 mile rail trail running from St. Petersburg to Tarpon Springs. Rated one of the country's best rail trails for its' flat terrain, easy access to numerous attractions, and many access points. See the Pinellas map to plan your adventure.
Captain Memo's Pirate Cruise – Fun themed cruise which departs in Clearwater Beach. Soak up the sun, enjoy the view, look out for dolphins, and take part in all sorts of pirate adventures on this lively cruise.
Merry Mouse of Sand Key – Great gift shop offering an incredible assortment of souvenirs, plus custom t shirts.
9. North Redington Beach – "Hidden gem of the Gulf"
Best Breakfast/coffeehouse near the beach
Sweet Sage Cafe – Laid-back American cafe serving comfort style breakfast and lunch fare. Fun tropical themed outdoor patio. Highlights include Apple Crisp French toast, Quiche, crepes, and specialty Benedicts.
Gypsy Souls Coffeehouse – Waterfront coffeeshop with a cozy outdoor seating area. Also serves light breakfast fare (smoothies, bagels, pastries, etc).
Local lunch gems
Bay 1 Sandwich Company – Simple no frills counter service sandwich shop known for their delicious sandwiches, Cuban dishes, and ice cream! Great quick stop after hitting the beach.
Greek Village restaurant – Authentic local Greek cafe located just a few miles from the beach in a low-key strip plaza. The fantastic lunch specials come with pita, tzatziki, and a Greek salad. Try the cheese/spinach pie combo.
Seabreeze Island Grill – Quaint seafood eatery overlooking the waterfront. Known for their Grouper sandwiches and nuggets. Try their early bird special (11-5) which includes an entrée, pineapple coconut bread, a side, and a slice of cheesecake for just 13 bucks.
More fun in the vicinity
Lake Seminole Park – Gorgeous shady park with a 2 mile biking/walking path. Other amenities include a huge playground, softball fields & volleyball courts, and gorgeous views of the lake. Parking is free.
Studio Movie Grill – Dine in movie theater serving a full menu of apps, entrees, desserts, and specialty drinks. Order before the movie or via your comfy seat.
Boca Ciega Millennium Park – Quiet park with a short boardwalk trail and an observation point looking over the Bay. Prime place to birdwatch and enjoy a variety of natural Florida habitats.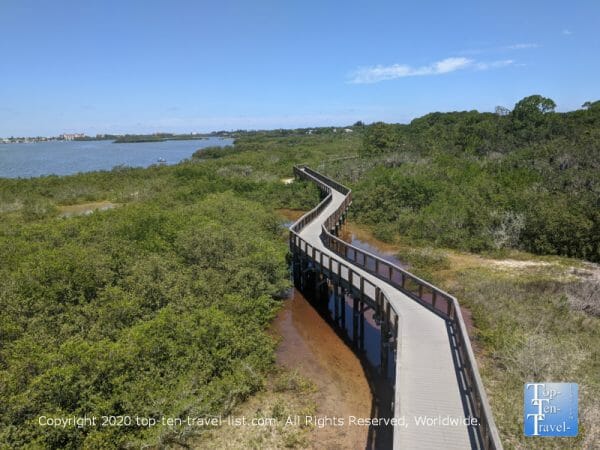 Also be sure to take a look at my handy Florida beach day guide.