The Sea Screamer in Clearwater: The World's Largest Speedboat
Florida's Gulf Coast is one of the most popular destinations in the country for sun worshippers. Clearwater is a beach lover's paradise with over 14.5 million visitors in 2021 alone! With fun activities available both on and off the water, there is never a dull moment. While this beach is most known for its' trademark soft white sand and clear water, beach sports and boat tours are also popular activities amongst tourists. After a few days of swimming, beachcombing, and sunbathing, a fun boat ride is a great opportunity to enjoy the views in a completely different setting.
The World's Largest Speedboat
The Sea Screamer bills itself as 'the world's largest speedboat." The boat is 72 feet long and reaches speeds up to 35 mph. This boat tour is actually a combined sightseeing/dolphin watching tour, so you get a little 2 for 1. Tours last about an hour as your narrated guide takes you past various sights of interest in the area. On one negative note, most of the ride is pretty slow with just a few thrilling speeding sessions. Nevertheless, you will learn a few more interesting facts and take in some beautiful views of the Gulf of Mexico along the way.
Dolphin watching
Dolphin sightings are guaranteed on this cruise or your next trip is free. Likely, you will see many of these gorgeous marine mammals out and about in their natural habitat (the best way to see them). One cool aspect about this cruise in particular is that the speed boat creates natural waves that the dolphins like to play in. Basically, you get to enjoy a free dancing dolphin show as they jump along with the boat. This most unique experience gives you a rare up close look at dolphins having fun in their natural environment. It was hard to obtain quality photos as it was an extremely sunny and hot day and the ride was packed to the brim.
Tip – If you want to take good photos and videos, you will want to sit near the back of the boat for an unobstructed view – unfortunately, we picked the wrong seat! Be aware that you will get wetter the further back you sit which may be a good thing on a hot, sunny day!
A few more scenic views along the ride!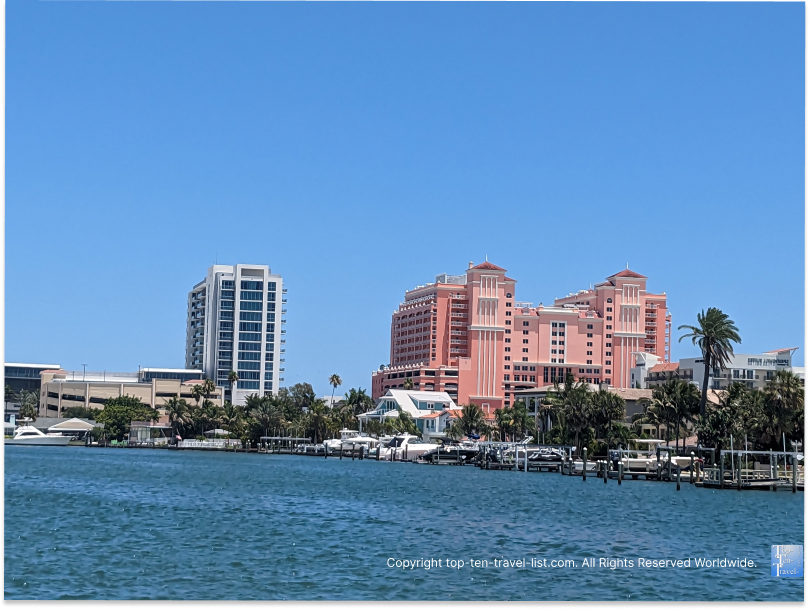 Best time to take a ride
Definitely not during the hot, sunny, humid summer season. The boat is not at all covered. You will likely get burnt and have a miserable time. It's best to plan a ride on an overcast day, if possible. If not, get tickets for the earliest tour of the day before the sun is at full intensity. Fall and winter is the best time to enjoy a comfortable ride weather-wise.
Additional cruise details
Location: 25 Causeway Blvd. Order tickets at the stand or online.
Tour times: 10am, 11am, 2pm, 3pm, 4pm.
Tickets: $27 per adult, $20 (12 and under), One child free per adult.
Walk up tickets are available, however your preferred time slot may be sold out.
Drinks (including alcohol) available for purchase on board.
More fun at Clearwater Beach
Swimming at Clearwater Beach – One of the Gulf's best swimming beaches due to the calm, gradually sloping warm water. Also a great place for beach walk due to the soft white sand made up of quartz crystals.
Stroll along Beach Walk – A walk along this 1/2 mile waterfront promenade is a great way to enjoy the scenery without getting your feet sandy or wet. A number of restaurants and shops line the route. Lots of surf/beach themed stores.
Lunch at Marina Cantina – Great local Mexican restaurant overlooking the water. The vibe is causal, the food is good, and the views are great! If you are seeking something a bit more casual, We the Pizza is a decent choice. The pizza is delicious and affordably priced, garlic knots are fantastic, and the Greek salad is super tasty and fresh on a hot day!
Attend the Pier 60 nightly festival – Every night, a big celebration takes place – events include live music and vendors.
Beach sports – Rent a paddleboard, jet ski, kayak, etc. and have some fun on the water!