5 Coffeeshops to Check out in Greenville, SC
The indie coffee scene continues to explode in cities across the country, and Greenville, South Carolina is no exception. Vibrant, independent coffee shops are now a popular alternative to common chains. This is no surprise as these local coffeehouses typically source high quality beans, provide personalized service, and offer a cozier atmosphere that makes you want to linger around with your drink and return again and again.
Greenville has been making headlines in recent years for its' growing foodie scene, as more unique restaurants and coffee shops continue to sprout up and down historic Main Street. Relaxing in one of the many coffee houses lining Main is a fun and affordable activity to add to your Greenville to-do list.
Here are a few of my favorite Greenville coffee shops to consider during your visit.
1. Methodical Coffee
Highlight: Top-notch coffee
Location: 101 N. Main St.
Quality-wise, Methodical offers the best drinks in downtown Greenville. The artisan coffeehouse began roasting its' own beans (which you can now purchase at the shop) and continues to receive praise from top publications around the world.
Although pricing is quite high (7 bucks for 2 regular coffees!), it really is the best place to go if your primary concern is high quality coffee. Methodical specializes in single origin coffee, cold brews, & pour over, using top end equipment like the luxurious Slayer espresso machine. The coffee is always smooth and delicious on every visit, as opposed to other shops where your drink can be a hit or miss depending on the beans used that day.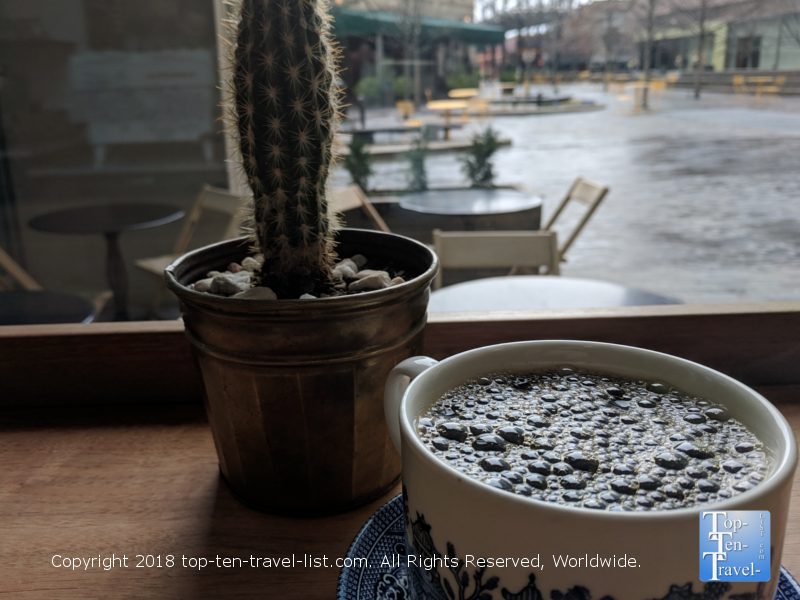 The coffee of the day is always excellent and the Americano is definitely the smoothest, most flavorful in town. If you are in the mood for something a bit sweeter, be sure to try out their fabulous mocha. Besides the wonderful coffee, the presentation of the drinks in gorgeous Blue Willow china, is really what sets this coffeehouse experience apart from others in the area.
Best mocha in town, hands down!
Methodical also serves tasty pastries. Pictured below is a delicious "healthier" cinnamon roll.
The ambiance here is modern and trendy, with an attractive 2 story layout. Upstairs, you can enjoy your drink while gazing outside the humongous windows overlooking the downtown. Soft music plays in the background via a record player. Outside they have a small patio which is great for people watching during the warmer season. Overall, this is the best spot in town for a coffee date due to the stylish ambiance and beautiful presentation.
2. Spill the Beans
Highlight: Beautiful views of Falls Park
Location: 531 S. Main Street
Spill the Beans is unique in that it is both a coffeehouse and a gelato shop. As you can imagine, it's quite popular with tourists, especially during the hot summer season. While the coffee here is not as fantastic as some other places on this list, the beautiful ambiance and convenient location is what sets this one apart. Their standard drip coffee is decent enough to warrant a visit, and they also offer a few specialty lattes for anyone with a sweet tooth (try the Leaning Tower of Mocha).
Spill the Beans is located within an easy walk of Falls Park, the oasis of downtown Greenville. This award winning park (Trip Advisor named it one of the top 10 parks in the US) features a picturesque waterfall, a pedestrian bridge, beautiful gardens, and tranquil nature paths. After your coffee, you will definitely want to take a relaxing stroll.
3. Coffee Underground
Highlight: Unique ambiance
Location: 1 E. Coffee Street
This long running favorite has been serving up great drinks in downtown Greenville since 1991. After a visit to Seattle, the owners were set on bring quality Seattle-style coffee to the Greenville area. The rest is history and Coffee Underground has become the go-to coffeeshop of locals and visitors.
Coffee is roasted in house for the freshest quality. In addition to a full espresso menu, fresh pastries and a light breakfast menu are available. Their veggie quiche is pretty delicious and quite affordable compared to other options in town. The bagels are pretty good.
The veggie quiche pictured below is pretty delicious.
If you are visiting during the fall, they serve a great Pumpkin Spice Latte which rivals the popular Starbuck's drink.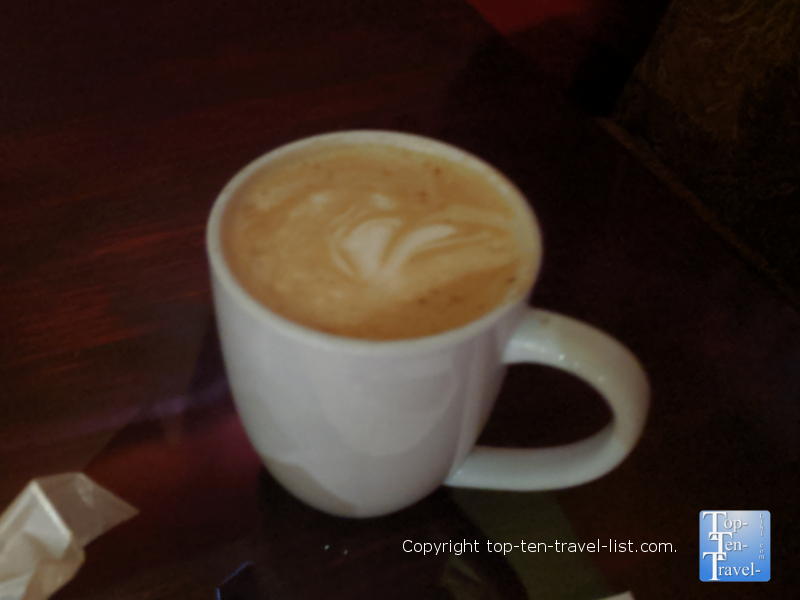 The interior is cozy and casual – the perfect place to meet up with friends or business associates. The dark setting also makes it a perfect choice during the hot summer season when you crave a break from the sun!
4. Swamp Rabbit Cafe
Highlight: Great outdoor patio and direct access to the Swamp Rabbit trail
Location: 205 Cedar Lane Rd
The Swamp Rabbit Cafe is a co-op/coffee shop. In addition to serving excellent coffee from NC local roaster, Counter Culture, they also whip up a fresh batch of homemade pastries daily. The house made Cinnamon roll is ginormous and worth every calorie. They even offer a gluten-free/vegan donut, which honestly offers the same sugary satisfaction as the gluten loaded alternative.
Pictured below is an amazing vegan strawberry donut and cinnamon roll. Both amazing, probably loaded with sugar, however, you can always hop on the Swamp Rabbit Cafe to burn off those calories!
Blueberry pie and a chocolate croissant! More like dessert than breakfast, but so worth it for a little weekend treat!
Their homemade Pumpkin Spice latte featuring real pumpkin is hands down the best in town! Try it!
While the interior is nothing to write home about, they do offer a nice covered patio. Spring, fall, and early summer are the best seasons to enjoy your drink outside.
The coop also offers fresh seasonal produce, fruit from local farms, and housemade Stecca bread daily.
And, best of all, one of the nicest and flattest sections of the Swamp Rabbit trail begins right here. There is a free parking lot, so you can hop right on the trail after your breakfast. Bike rentals are available for $15 per day.
5. Old Europe
Highlight: Delicious homemade pastries & dessert
Location: 716 S. Main
Old Europe is one of the newer additions to the ever growing Greenville coffee scene. Asheville's oldest coffeehouse, known for its' decadent pastry offerings, is now located in the West End. If not for the mediocre coffee, it would definitely be up there near the top of this list. While the coffee is a bit too bitter and burnt tasting for my liking, the treats are amazing!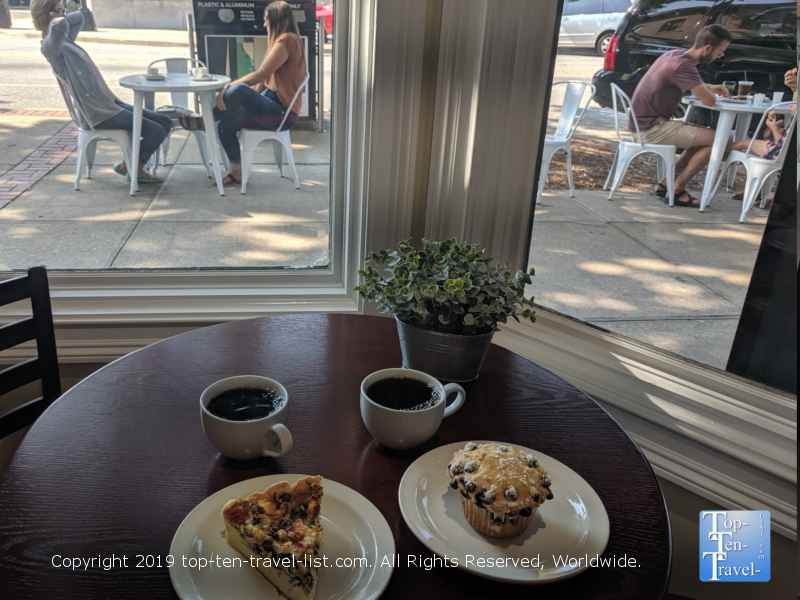 This is the place to go for a winning dessert, whether it be cheesecake, eclairs, tiramisu, and cookies. Breakfast offerings including Quiche, breads, various croissants, and muffins. One of the few places in town where you can get a Quiche, and fortunately, it's pretty amazing!
More coffee options
Crafty Cats is an adorable tea/coffee shop. While the coffee is decent, the quiet vibe makes it a better choice for a relaxing tea experience. If you love cats, then you will love this themed shop. Do try their Blooming Tea which is served in a gorgeous glass teapot!
Note: The Village Grind is a decent coffeehouse, although way too crowded for my taste. The coffee is great and the decor appealing, unfortunately, it is noisy and extremely overcrowded most of the time. If you are willing to put up with the crowds, stop by for a great cup of coffee!
Full service restaurants serving great coffee: Passerelle Bistro, Soby's, Stax Omega. If you prefer a full meal along with your coffee, there are numerous restaurants which do not serve your standard Folgers. Check out one of the above mentioned restaurants which serve up a great brunch menu, along with a great cup of joe.