Silver City, New Mexico: A Beautiful Respite from the Desert Heat
Silver City, a small southwestern New Mexico community of just 10,000 residents, origins began as a mining town back in 1878. The scenic community sits at the foot of the Mongollon mountains. Today, Silver City is most popular with retirees seeking a laid-back mountain escape. Due to the proximity of a handful of natural wonders, tourists looking to explore the natural wonders of southern New Mexico also frequent the area.
A cool escape from the desert!
The mild climate has made Silver City very popular with desert dwellers seeking a cool escape from the brutal summer heat. At an altitude of 5895 feet, Silver City is an oasis in the New Mexico desert: one offering mild 85 degree summer days, lush surroundings, and easy access to outdoor recreation. Silver City is very popular with Tucson locals, and at just 3.5 hours away, is a quick escape from the spring & summer heat.
While Tucson frequently sees temps soar anywhere from 100-105 for months on end, Silver City offers a more moderate summer climate, typically hovering near the mid-upper 80's. There is always a nice breeze in the air and plenty of shade to be found, so really it is a great escape for anyone looking for a break from the barrenness and extreme heat of the desert.
Cliff Dwellings
Most visitors set out for the lengthy drive to the Gila Cliff Dwellings, one of the best preserved cliff dwellings in the country. Here, you can explore about 5 caves with 40 dwellings inside each. Although the national monument is just 44 miles away, it takes about 2 hours to get here due to the windy, curving mountain road known as the Trail of the Mountain Spirits Scenic Byway. As I've seen many cliff dwellings in Arizona (including the fantastic Walnut Canyon & Montezuma Castle), I decided to focus on other area attractions and save myself the 4 hr round-trip drive.
Downtown Silver City
Silver City is most well known for its' vibrant arts community. Downtown you will find a wide assortment of art galleries, and throughout the year, many renowned festivals like the Silver City Clay Festival and the Silver City Fiber art festival. Little touches here and there like artwork adorning the walls in local cafes and coffee shops and eclectic colorful buildings and murals give the town a unique artistic flair.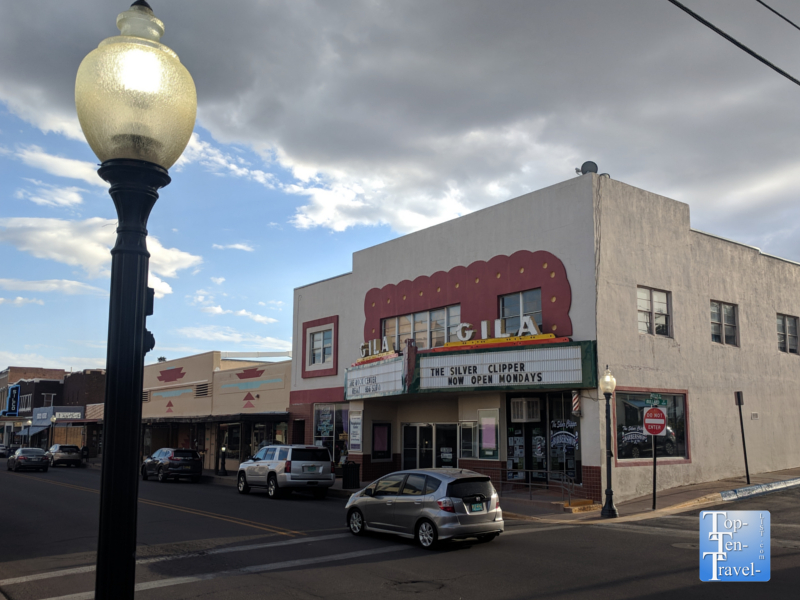 Silver City is home to a nice, albeit very small downtown. Locals shops, restaurants, art galleries, coffee shops and vintage stores dot the main street. There's a great little used book and record shop which offers tons of classics at affordable prices. Numerous vintage shops will keep antique lovers occupied for hours. And, of course, there are plenty of touristy shops – good luck leaving without picking up at least one gorgeous handmade Southwestern style specialty!
Recommended restaurants & coffee shops
Tranquilbuzz is an eclectic coffee shop which serves delicious espresso drinks in an artsy setting. It's a must visit for any coffee lover out there. The unique decor alone warrants a visit.
Dining options are a bit limited, however, there are a few quaint cafes, Mexican restaurants, and pizza places. In recent years, Silver City has been touted as an emerging foodie destination, although it has a long way to go. Nevertheless, there is a decent enough selection for a small town.
Millie's Bakehouse is a cute little local cafe serving hearty sandwiches, homemade soups, and delicious desserts. Shrevk's Italian is a cute little local Italian place with the friendliest service. Sheveks offers all your traditional Italian fare like ravioli, lasagna, and pasta. Vicki's Eatery is the best choice for vegetarian and gluten-free diners with many healthy choices. If you have the time, the historic Buckhorn Saloon about 20 minutes away in the high altitude town of Pinos Altos is a nice choice for dinner.
Where to Stay: Bear Mountain Lodge
The charming Bear Mountain Lodge is without a doubt the best place to stay in town. If you are looking for a quiet getaway, this is the place for you as the property sits on 178 aces amidst the beautiful Gila National forest, surrounded by pine trees and gorgeous mountains. For the nature lover, there are miles of on-site trails and the vibe is relaxing and peaceful. The surroundings are just gorgeous and perfect for relaxing vacation activities – whether it be reading a book, bird watching, hiking, relaxing with a cup of coffee/tea, stargazing etc.
The inn was built in 1928. Today, it is considered a historic property. On an interesting side note, the lodge was featured in the popular publication "1000 Places to See Before you Die."
The lodge itself is beautiful with a big porch for enjoying breakfast or relaxing with a drink. The inside features eccentric Southwestern style decor with a gorgeous fireplace and many eclectic pottery and art pieces which are available for purchase. The design is uniquely New Mexican style, definitely a nice change of pace from the usual bland chain hotel.
A full breakfast is available each morning in the cozy dining room. If weather permits, you can take a seat outside on the lovely patio facing the mountains. We thoroughly enjoyed the blueberry cream cheese stuffed French Toast and the Vegetable Fritatta. 24/7 coffee and teas, as well as afternoon snacks (usually homemade cookies) give the inn a cozy, home-style appeal. Because the lodge is located a bit far from town (about 15 min), it's convenient to have breakfast on-site. This way you can bypass the drive into town and get an early start prior to exploring all of the wonderful natural sights around New Mexico.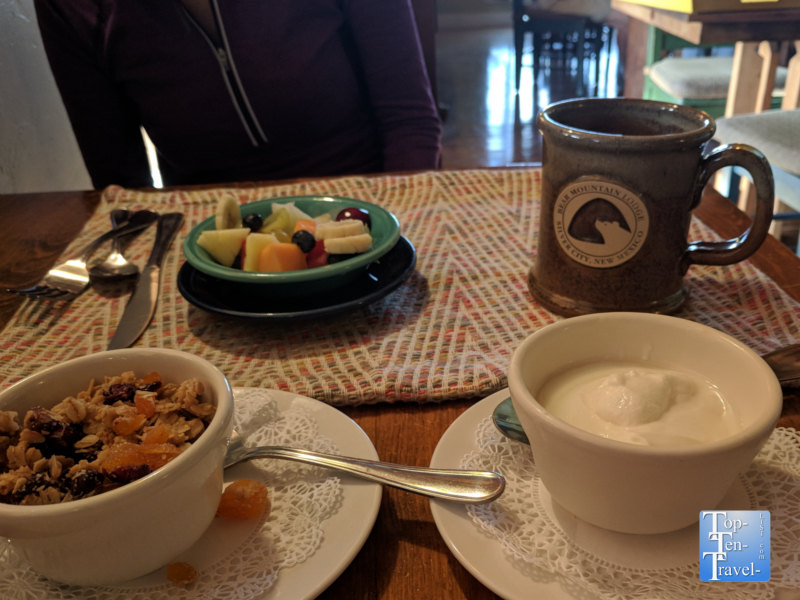 Art at the lodge
Lurking around the property are many artistic surprises
Staying at the lodge basically forces you to relax and enjoy the natural surroundings! Refreshingly, there are no TVs on the property. Don't worry – you will not miss the TV here! There's plenty to do – the hiking trails are wonderful, wildlife watching is plentiful (so many deer!), there are horses & mini horses on property, the art is wonderful, and there is a well stocked library if you want to catch up on any reading.
Best time to visit
Spring and fall are the best months to visit due to the cool 60-70 degree days which are just ideal for relaxing and recreation, although the winter is a great time to enjoy a good book by the roaring fireplace and relax in nearby Faywood Hot Springs.
Rooms are quiet and comfortable with little artistic touches throughout. Shaded outdoor patios with Adirondack chairs are perfect for relaxing in the mild New Mexico climate. Coming from Tucson or any other low desert area, this will be a real treat during the summer season!
The gorgeous trails of Bear Mountain Lodge
The best part about staying here are the wonderful on-site trails, of which there are 3. Terrific mountain scenery can be enjoyed throughout and wildlife sightings are not uncommon. Be on the lookout for artistic surprises along the way including a special cat art sculpture and a labyrinth.
On one of the trails, you will come across a unique art installation known as the 1 million bones exhibit. This public art display, which is dedicated to lives lost through genocide, has been installed in numerous cities across the country and is now a permanent display at the lodge.
Best Daytrips from Silver City
Asides from relaxation and enjoying the serene natural surroundings, most tourists choose to enjoy convenient daytrip access to numerous natural wonders. Besides the Gila Cliff Dwellings mentioned above, here are a few recommended sights to check out while in town.
City of Rocks
City of Rocks is a really interesting place where oddly shaped rock formations rise up in striking contrast to the surrounding flat desert. These odd formations resulted from a volcanic eruption 34.9 million years ago. The erosion led to some truly unique formations, some of which stand a whopping 40 feet tall. The rocks are separated via paths, thus resembling a city layout, hence the unique name.
City of Rocks really is an oddball roadside attraction as the rocks seem to pop up suddenly in the middle of a really desolate area. This really is a weird, fascinating place to check out if you are in the area – if anything for the strangeness factor alone. The drive is just 40 min or so from Silver City, with no traffic and quite nice scenery. Combine a trip here with a visit to nearby Faywood Hot Springs to justify the drive.
Distance from Silver City: 40 minutes
Price: $5 per vehicle
Faywood Hot Springs
Soaking in the warm, natural mineral infused waters at Faywood Hot Springs is a must either before or after your visit to the City of the Rocks. This relaxing oasis in the desert consists of 3 natural mineral pools which vary in temperature between 100 to 105 degrees (approximately). Hot springs have long been sought by various peoples as a means to heal various illness and soothe joint and muscle aches. They were once cherished by the ancients for their healing powers. If you have never soaked in a hot springs before, you are in for a real treat!
Relief comes forth from a combination of intense soothing heat and a natural infusion of desirable minerals like magnesium, silica, sodium, and potassium. Whether or not any of your ailments go away, it sure is relaxing to soak here especially on a cool New Mexico morning. Surprisingly, a summer visit is still comfortable due to the dry air and the ample shade coverage.
It's usually pretty uncrowded here as it is located in the middle of a desolate desert area, however, you have the option of renting a private pool if you would like more privacy.
Distance from Silver City: 40 minutes
Pricing: $13 per person for public pools, $26 per hour for private pool
Catwalk National Recreation Site
The discovery of gold and silver in the Mongollon mountains near Glenwood, New Mexico led to the formation of the Catwalk, a name given to the wooden plankway which was built to transport water to the ore processing plant. The Catwalk National Recreation area is a bit out of the way at just under an hour and a half from Silver City, however, it's still well worth a visit to see this gorgeous whitewater creek in the middle of the desert. The drive over is beautiful and totally deserted as well, not to mention much closer than the all day time commitment required to see the cliff dwellings.
Due to a fire and flooding, the rebuilt trail (which used to be several miles) is now only open for a 1/2 mile long section. Don't worry – it's still beautiful as you stroll past tall canyons and look down below at the flowing creek and small waterfalls. To make the trail longer, you can continue on at your own risk along a scenic, non maintained trail.
There are a number of nice shady picnicking areas around so pack your own lunch! Bear Mountain Lodge offers pre-made lunches to take on the go. There are not many dining options around here as the area is pretty remote. To make your lengthy drive more worthwhile, you can always add on a side trip to the ghost town of Mongollon.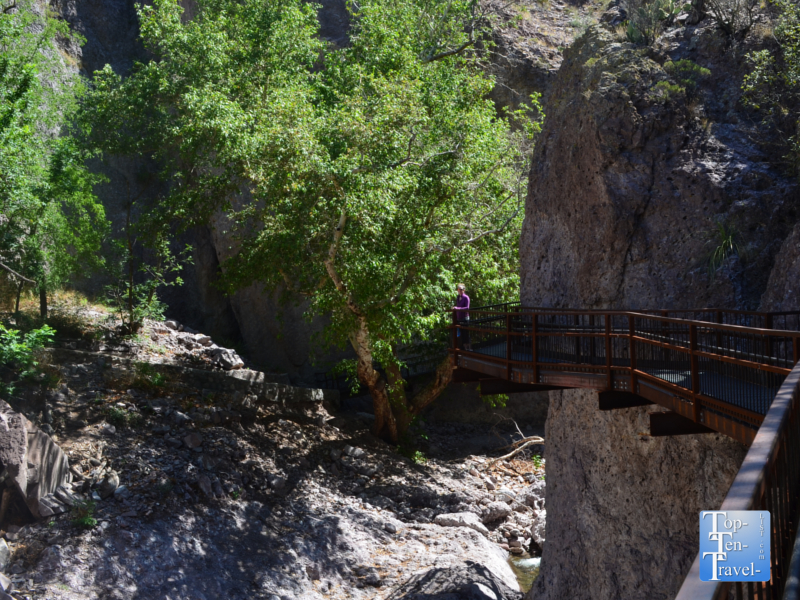 Distance from Silver City: 1 hour, 20 min
Price: $3 per car
Chiricahua National Monument
Chiricahua is one of the hidden gems of Arizona. This gorgeous desolate natural area is home to the most stunning hoodoos and balancing rocks (a unique geologic feature in which massive rocks balance atop other rocks). The landscapes are so unique and interesting, really out-of-this-world. Although quite a day trip at almost 2.5 hours from Silver City, it's a stunning place that is well worth the drive and by far the best of the listed day trips. If you are traveling to Silver City from Southern Arizona, Chiricahua is just an easy hour detour that will help break up your drive.
Chiricahua is appropriately nicknamed "the wonderland of rocks" and after a quick drive along the incredibly picturesque 8 mile paved drive, you will have no question as to the nickname. There are miles of gorgeous hikes, some easy, others intense half day adventures. The Masai Point Nature Trail and Echo Canyon Grottos are nice easy choices (no more than a mile) that still allow you to take in tremendous scenery. If you are not up for hiking, the scenic drive and numerous overlooks still make Chiricahua worthy of a visit.
It's also a beautiful place to picnic and simply enjoy nature and wildlife. Birdwatching is very popular here as Southern Arizona is one of the top spots in the country to do so. You may have the rare opportunity to see black bear, javelina, or the rare coatimundi, a member of the raccoon family which is native to the Southwestern US states. Be sure to stop by the visitor's center for more info on the plants and animals that call Chiricahua home.
Distance from Silver City: 2.5 hour (or a 1 hour detour if driving to/from Tucson)
Admission is free!
Overall, Silver City is a great weekend roadtrip from any of the hot Sonoran desert cities or a quick escape from Albquerque and Santa Fe. While I would not necessarily plan a flight out this way, it does make for a great cool, natural, quiet escape for desert dwellers seeking a reasonably quick roadtrip.