5 Festive Holiday Events in Charlotte NC
From Thanksgiving through the New Year, there are plenty of festive activities to enjoy in Charlotte and surrounding small towns. If you prefer chilly temps with little chance of snow, Charlotte may be a perfect holiday destination for you. With multiple tree lighting ceremonies, several dazzling light displays, big shopping malls, and a variety of special holiday productions and markets, you can easily fill up your itinerary with festive activities. Whether you prefer to go big city style in Uptown or stay in a convenient familiar hotel in the suburbs, you will be within easy reach of the metro's biggest holiday attractions.
Below are 5 fun and festive events not to be missed!
Carowinds Winterfest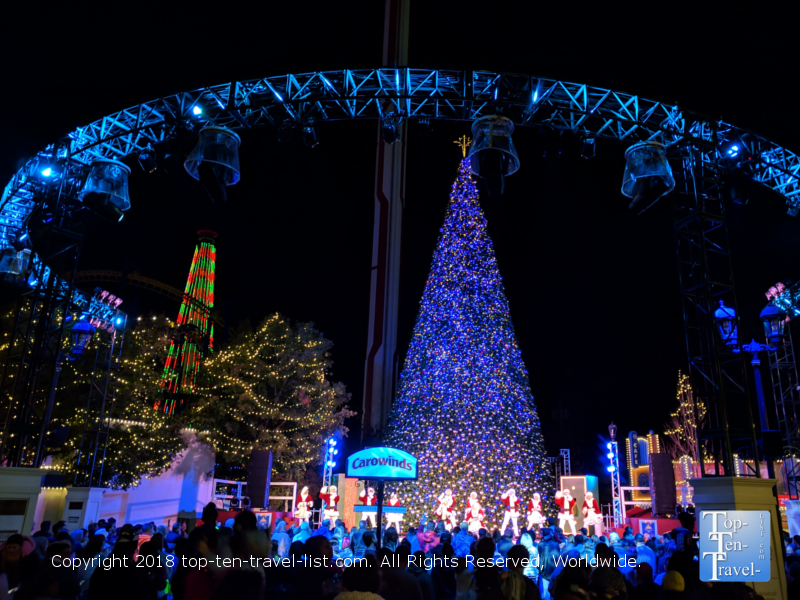 The premier holiday event in North Carolina (and South Carolina as well) is the extravagant Winterfest celebration, held annually at Carowinds theme park. This popular theme park lies on the border, and thus, is popular with residents of both states. They put on quite the production each December. With spirited holiday shows, millions of lights, amusement park rides, a 70 foot Christmas tree, themed seasonal food and snacks, and an ice rink, this park just screams holiday overload. With so much to do, Carowinds should be tops on the list for anyone seeking an over-the-top experience. Highlights include a festive Peanuts themed Christmas gift shop, Charlie Brown's Christmas Spectacular show, and the nightly Wonderland parade.
Gingerbread Competition at The Ballantyne Resort
This beautiful 4 star property is located in the Ballantyne neighborhood, an upscale suburban dining & shopping destination. In terms of luxury hotels, it's one of Charlotte's best. During the holiday season, beautiful decor adds a touch of Christmas cheer. In addition, festive events including holiday tea and special holiday meals in the hotel's renowned Gallery restaurant can be enjoyed. Every December, locals and tourists alike flock to the hotel to see the beautiful entries in the annual gingerbread competition. All entries are so creative, with unique selections in the child, amateur, and professional categories. Stop by the Gingerbread Hut and enjoy a cup of hot cocoa after viewing the marvelous gingerbread creations. This event is free although there is a $1 fee to vote for your favorite.
Holiday Lights at Daniel Stowe Botanical Garden
Holidays at the Garden is a popular annual tradition held at the Daniel Stowe Botanical Garden. This beautiful 380 acre oasis on the banks of Lake Wylie is worthy of a visit during the daytime hours as well. In December, you will want to check out the beautiful holiday lights. During this time, the grounds transform into a magical winter wonderland. A pathway lit by a million beautiful lights will take you through lighted archways, creative light displays, and LED cherry trees. Stop for a hot cocoa or cider or roast a marshmallow by the fire along the way. If you get too cold, warm up inside for a while as you check out the extravagant Dept 56 Dicken's Village house set as well as a model railroad. Special events include Santa visits, as well as tea & wine tastings.
McAdenville "Christmas Town" Lights
This small town, located 15 miles east of Charlotte, was recently named one of the top Christmas towns in America by readers of USA Today. 2021 marked the 66th anniversary of the festive celebration which includes over a half million lights along a 1.3 mile route. While you can drive, it will likely be jam packed with traffic anytime you visit. If you have the time to walk, it's a really lovely stroll. Not only will you get in a workout, but you will be able to fully appreciate the effort it takes to put together such a dazzling event. As you stroll along, you will hear old-fashioned chime music, see a beautiful fountain show over the lake, marvel at 100+ gorgeously decorated houses, and see thousands of well organized lights including over 250 sparking evergreen trees.
Carolina Panthers Christmas Tree Lighting/Uptown Holiday events
If Christmas in the City is more your style, then you will definitely want to plan for a night out in Uptown. A wide range of activities including a German inspired Christmas market, an ice skating rink, and a tree lighting ceremony are all part of the seasonal fun. The most beautiful tree in Charlotte is located at the Bank of America stadium. The lighting ceremony includes live music, Santa visits, and free hot cocoa. If you can't make the lighting, simply add a visit to the tree to your itinerary when attending other area holiday festivals.