10 Must-Dos in Charlotte, North Carolina
Charlotte, the biggest city in North Carolina, has become a popular relocation area in recent years. The mild climate, low cost of living, and close proximity to both the mountains and oceans has attracted many northern transplants. After New York, the city ranks as the second biggest banking center. Besides being a financial hub, Charlotte is known for its' natural beauty, thriving downtown (Uptown), abundance of museums, and popular sports teams.
Popular attractions include the Nascar Hall of Fame, the US Whitewater Center, and the Levine Museum of the New South. Below are 10 more things to do and see during your time in Charlotte.
1. Explore The Mint Museum
This world-class art museum holds one of the largest collections in the Southeast. It also happens to be North Carolina's first art museum. There are 2 locations: one in Uptown and another in South Charlotte. Most notably, the museum is famous for housing the largest number of works from Charlotte native Romare Bearden. Other highlights include a large showcase of 18th century British ceramics and Native Art of the Americas, a large collection devoted to arts from the Canada, US, Guatemala, and Mexico.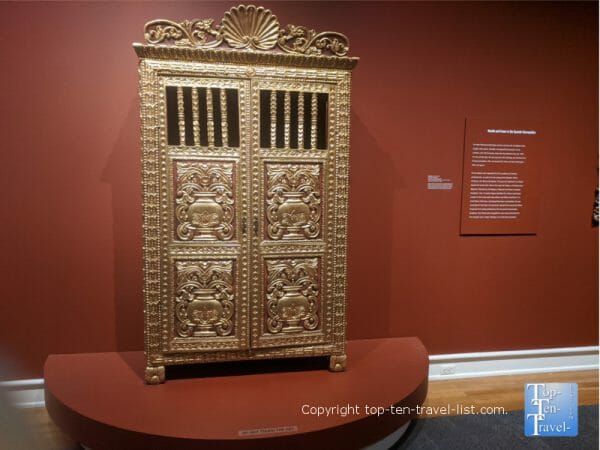 2. Get back to nature at the Daniel Stowe Botanical Garden
This small, yet pretty botanical garden features nearly 400 acres of woodlands and rolling meadows on the banks of Lake Wylie. It's a great nature escape when you tire of driving around the suburban congestion. Highlights include a gorgeous conservatory featuring orchids and tropical plants, a variety of lovely fountains, and a Four Seasons Garden which varies throughout the year. Of particular interest is the Holiday event featuring over a million colorful lights artfully adorning the grounds.
3. Take a blast to the past at Carowinds
This large 400 acre amusement park lies on the border of North and South Carolina. Featuring 60 rides, a large seasonal waterpark, live entertainment, and popular holiday events, it's the best place in the metro to enjoy some good old-fashioned amusement park fun. The park features a nice mix of thrilling coaster and tamer carnival style rides. One of the highlights of the year is the Winterfest celebration featuring over 4 million lights, an ice rink, live shows, and special holiday themed food and drinks.
4. Stroll around Freedom park
One of the most beloved local parks is Freedom Park, a beautiful 98 acre park in the historic Dilworth neighborhood. The park is located just a few miles outside of downtown, but is super peaceful and comes with the benefit of a large free parking lot. Featuring a 7 acre lake and a well-maintained path, it's the perfect place to enjoy a leisurely jog, walk, or bike ride (rentals available). As one of the most beautiful and serene places in Charlotte, it's highly worth a spot on your itinerary.
5. Explore downtown Davidson
This quaint suburb often rates as one of the best places to live in the state. The highlight here is a walkable downtown district which is home to many local restaurants and shops. If you tire of the suburban congestion, it's a great place to enjoy a lovely day out in a more unique setting. The small town charm makes it feel a world's apart from surrounding suburbia. Highlights include Summit (a great local coffeehouse with a nice patio), a year-round farmer's market, Main Street Books, and The Village Store (a great local gift shop).
6. Enjoy fun-in-the-sun on Lake Norman
As North Carolina's largest lake, there are plenty of ways to enjoy the waterfront. Paddleboarding, kayaking, and jet skiing are various means of exploring the beauty of the area. For budget friendly fun, check out Lake Davidson Nature Preserve, Jetton Park, or Latta Nature preserve. All of these beautiful free parks feature beautiful waterfront trails, picnicking areas, and various sport's amenities.
7. Browse the small collection at the Bechtler Museum of Modern Art
Located in the heart of Uptown, the Bechtler is a must visit for anyone interested in modern art. The space is small, yet clean, well-maintained, and attractive. It won't take up much of your time and is conveniently located nearby The Mint Museum and many restaurants. Due to the steep price tag for such a small museum, it's best to plan your visit on a free day. Admission is free from 5-9pm on the third Friday of each month. Also, Bank of America card holders get in free the first weekend of every month.
8. Take a walk around Romare Bearden Park
This small city park was named in honor of local artist Romare Bearden. It's located Uptown near many attractions, and thus, a great place to take a quick stroll in between activities. Along with offering great skyline views, this park is popular with joggers, picnicking, and dog walkers. Additionally, it is a hotspot for events and live music. Check the events calendar to see what is going on during your visit.
9. Explore the foodie/coffee scene
Although far from one of the top food cities in the South, Charlotte is considered an emerging foodie destination. From southern and soul food, to international cuisine, there are many diverse options throughout the metro. One of my favorite places is Sangam Indian cuisine, located in Cornelius. Here you can try a variety of Indian dishes via an extensive lunch buffet.
Also, Charlotte's independent coffee scene continues to expand. A few interesting choices include Summit Coffee in Davidson, Smelly Cat Coffee in NoDa, Coco and the Director Uptown, and Amelie's French Bakery in Uptown.
10. Shop and dine at South Park Mall
Of course, Charlotte has its' fair share of shopping malls just like any suburban sunbelt city. South Park is an upscale mall located in one of the most affluent sections of the city. The mall is spacious and clean. There is plenty of parking available. In addition to great mid and high end shopping, you will find all the usual chains here including the best-of-the-best, The Cheesecake Factory and Maggiano's. If anything, this large mall is a great place to escape the heat for a bit on a hot and humid southern summer day.