7 Roadside/No Hike Required Waterfall Wonders in the Carolinas
Spectacular waterfalls dominate the rustic natural lands of both Western North Carolina and Upstate South Carolina. There are over 200 incredible waterfalls to explore. For those of us who prefer not to work up a sweat while on vacation, there are a number of waterfalls easily accessible sans the exhausting hike. A handful are conveniently located right off the road, while the rest are located within popular area parks.
The highlight of a vacation to either region is enjoying all the natural attractions. Assuming you are staying in either Asheville or Greenville, all of these falls are within easy daytrip distance. While viewing the majority of these waterfalls requires at least a little bit of hiking, you will find a handful that require absolutely no effort. This enables you to still enjoy the beautiful rustic scenery without completely demolishing yourself on vacation. Save the hard workout for when you get home, and in the meantime enjoy the tranquil side of the Carolina wilderness.
Below is a list of the best roadside/easy access waterfalls in the Carolinas
1. Looking Glass Falls
Looking Glass Falls, located in Brevard, NC, aka "The Land of Waterfalls," is by far the most popular of the roadside waterfall options in either of the Carolinas. The convenient distance along Hwy 276 makes it a popular destination with roadtrippers, as well as vacationers staying in nearby cities. Looking Glass is located within the Pisgah National Forest just off the Blue Ridge Highway. If you have the time, there are numerous additional waterfalls and parks to check out in this region.
This classic single drop waterfall is 60 feet tall and super powerful! This is one of the strongest and most beautiful waterfalls in all of North Carolina. Being able to jump right out of your car and see it doesn't hurt either! For a closer view, you will simply walk down a simple staircase.
Looking Glass Rock resembles a mirror in winter, hence the name. When the water freezes and reflects the sun, it takes on a looking glass appearance. Winter or not, this waterfall is beautiful enough to warrant a visit anytime of year.
Address: US-276, Brevard, NC 28712
2. Reedy River Falls
The postcard-perfect oasis of trendy downtown Greenville is Reedy River waterfall. Greenville is a former factory town which has seen a massive surge in tourism in recent years. Part of the reason for this boom is a gorgeous tree-line downtown which includes a gorgeous park with a large waterfall as the centerpiece.
Falls Park is a picturesque 26 acre landscaped park with gardens and waterfalls. From award-winning Liberty Bridge, you will enjoy a prime view of this intensely powerful waterfall. This is a lovely park to visit anytime of the year. While spring-summer brings forth gorgeous flowers and beautiful green trees, it's also the most crowded time of year. Opt for a peaceful fall stroll and enjoy some of the best leaf peeping in the Upstate. Or, take a brisk walk after a snowstorm and observe the city in a totally different light.
Address: 601 S. Main St. Greenville, SC
3. Wildcat Branch Falls
Wildcat is another roadside beauty, this one located about 40 minutes north of Greenville off of the Cherokee Foothills Scenic Highway. It's hard to miss this one as big crowd tends to congregate here all year long. For a mere 30 foot tall waterfall, this one sure is powerful, and thus, there is no surprise as to its' popularity. The natural forested surroundings creates a perfect rustic background. Despite the crowds, visiting Wildcat Branch Falls is a peaceful nature escape.
A 1 mile hike to the Upper Falls starts right behind the main waterfall. This is not a major hike, but rather a casual stroll through a quiet heavily wooded forest. Basically, it's a nice easy trail for anyone looking to explore the forest and get in a light workout. Plan about an hour or so to complete the 1 mile out-and-back trek. Why not treat your eyes to another waterfall beauty while you are out here? Immerse yourself in the serene forest setting devoid of tourist traffic. Hiking to Upper Falls will just make your drive even more worth it!
Address: 5500 Geer Hwy, Cleveland, SC
4. Chau Ram Falls
Chau Ram Park is often considered to be one of the hidden gems of the Upstate. The park is located in beautiful Oconee County, considered by National Geographic to be one of "the 50 last great places." Chau Ram, a picturesque 40 foot waterfall, reminiscent of Reedy River falls, is easily accessible with no hike required. Nonetheless, there are plenty of nature trails here if you feel like getting in an energizing workout.
Other amenities on-site include picnicking facilities, boat ramps, a swimming beach, and a playground. Overall, it's a nice place to spend the day relaxing and enjoying nature in a tranquil setting.
Address: 1220 Chau Ram Park Rd, Westminster, SC. Fee: $3 per car
5. Issaqueena Falls
Issaquena is a breathtaking 98 foot tall waterfall located in beautiful Walhalla, South Carolina, an area home to many dazzling waterfalls. A quick stroll to an observation deck will take you up close and personal to this spectacular natural wonder. Seeing this beauty requires basically no effort on your part.
There is a unique local legend associated with this waterfall. The waterfall was named after an Indian who warned the white settlers of an attack. She was then chased by the Indians and was said to have been seen jumping over the falls. So you will get to enjoy a bit of history and beauty rolled into one by visiting Issaqueena. Also in the region is the mysterious Stumphouse Tunnel, an incomplete railroad tunnel for the Blue Ridge Railroad. Today, it is said to be haunted by many ghosts.
Address: Stumphouse Tunnel Rd, Walhalla, SC
6. Dry Falls
Within the Nantahala National Forest, you will find the mesmerizing 65 foot waterfall known as Dry Falls. This one is pretty cool as you will have the unique opportunity to walk behind the waterfall without getting wet, hence the name.
Dry Falls is located on the Cullasaja River near the town of Highlands. It's definitely worth the drive from either Greenville or Asheville. Because there are number of waterfalls (Bridal Veil, Glen Falls, Bust your Butt Falls) in close proximity, you can combine a few for a really nice daytrip from either area. The drive from either area is desolate and scenic, as is the Hwy 64 drive between the various waterfalls.
Address: US-64 W, 28, Highlands, NC
7. Bridal Veil Falls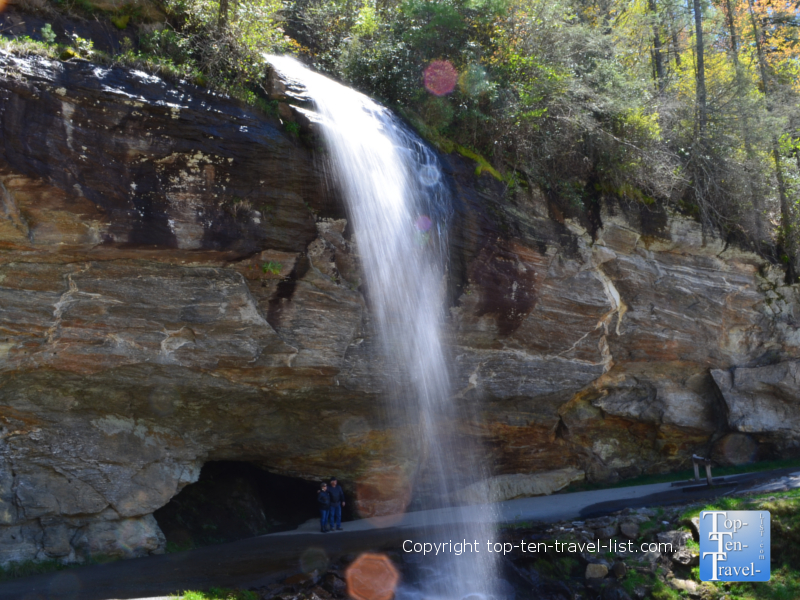 Bridal Veil Falls is conveniently located enroute to Dry Falls. While this one is much smaller, you go right pass it so no harm in stopping for a quick picture. This waterfall's claim to fame is being the only waterfall in the state which you can drive underneath.
The 45 foot waterfall is best viewed after a heavy rainstorm. Unfortunately, it looks more like a trickle after a long drought. July and August are probably your best bet to see a strong flow. After viewing the falls, simple keep driving for another mile or so along Hwy 64 until you come across the parking lot for Dry Falls.
Address: US 64, 2.5 miles west of Highlands, NC