Hiking Hotspot: Whiteside Mountain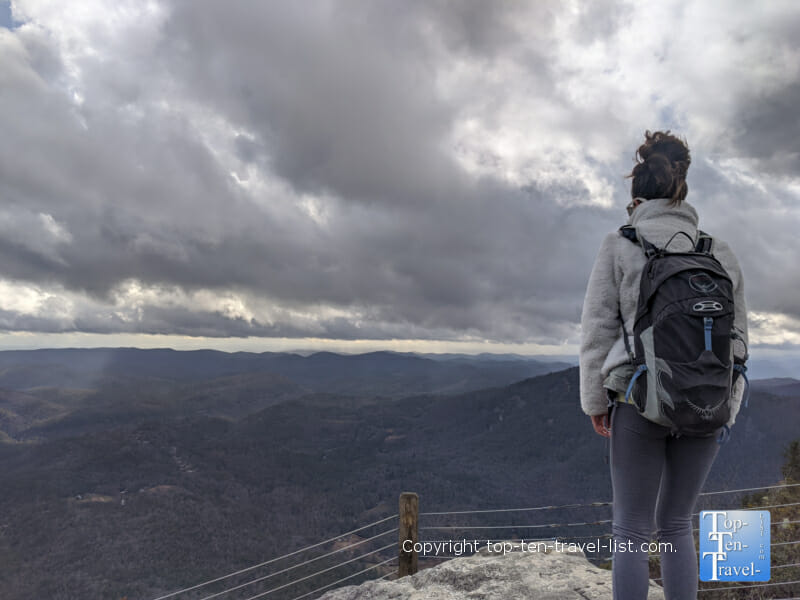 Whiteside Mountain is a popular hiking trail located near Highlands, North Carolina. Highlands is a small touristy town known for its' close proximity to many natural wonders including waterfalls and tranquil hiking trails within the beautiful Nantahala National Forest. This quaint mountain oasis is a popular destination with hikers, nature lovers, and photographers. The mild climate (warm summers and mild winters with little to no snow) of Western North Carolina is ideal for hiking most of the year.
Whiteside Mountain is a gorgeous hike anytime of the year. Due to the abundant mountain scenery, this one is still quite spectacular during the barren winter months. While many hikes are a bit blah this time of year with all the leafless trees, White Mountain still shines with awe-inspiring mountain vistas.
The History of Whiteside Mountain
According to the National Park Service, the 4930 foot tall mountain is estimated to be between 390 to 460 million years old. The mountain was named as so because the cliffs appear as sheets of ice over the mountain. On an interesting note, these sheer cliffs are now the highest in the eastern US. The loop hike climbs above the 750 foot cliffs and offers outstanding views of the region.
This is easily one of the more gorgeous hikes in the Western North Carolina region. If you love big open mountain views, this one is for you. Getting here is easy. It's an easy daytrip from Asheville, Hendersonville, and even Greenville, South Carolina. If you are staying nearby any of these cities, it's the perfect outdoorsy daytrip after exploring the foodie and arts culture.
The Trail
The 2 mile loop trail is moderately difficult due to the steepness. However, it is not nearly as hard as some others trails in the region, and you really get a lot of bang-for-your-buck in return. With some of the best mountain vistas in North Carolina, Whiteside is definitely one to put high on your hiking to-do list.
During your hike, you will see many dog walkers and families out and about enjoying the fresh mountain air. Holiday periods and summer weekends are quite busy, thus winter is a perfect time to enjoy a more tranquil wilderness experience. This is a great hike for anyone seeking a great workout in a beautiful setting. While you do not need to be a major fitness buff to enjoy this one, do come prepared for a moderately intense cardio session. You will get in a fantastic overall body workout, a little bit of vitamin D, and much needed time away from the computer.
A few of the great views along the loop!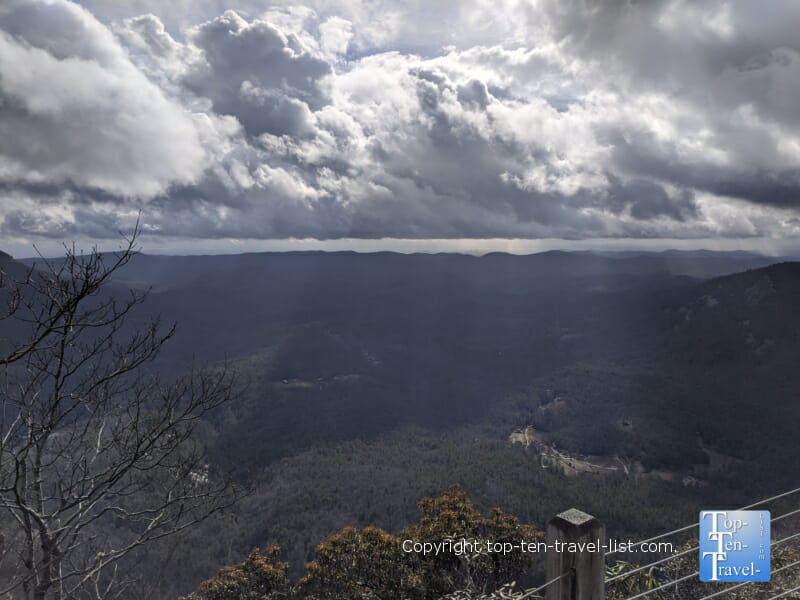 Location and Parking
The hike begins at SR 1600 Rd. (Whiteside Mountain Road). Parking is $3 per vehicle (cash only). Be sure to arrive early during busy periods as spot are limited. Plan for 1.5-2 hours depending on how many breaks/pics you take.
Breakfast: Stop at Calders Coffee for a NY bagel and a cup of organic fair trade coffee.
What to do nearby
Dry Falls – Gorgeous 75 foot tall waterfall, viewable via an observation deck. A short stroll (0.25 miles) leads you directly underneath the falls. Enjoy the unique opportunity to feel the cool mist without getting soaked, hence the name.
Bridal Veil Falls – Small roadside waterfall which requires absolutely no hiking! Particularly beautiful following heavy rainfall. As a bonus, it's located just down the road from Dry Falls.
Glen Falls – Moderate hike to 3 beautiful waterfalls.