Hiking Hotspot: Glen Falls in the Nantahala National Forest
One of the most amazing waterfall hikes in all of Western North Carolina (a region home to hundreds of beautiful falls) is Glen Falls. On this short hike, you will get to see not one, but three incredible waterfalls. If you are limited on time, Glen Falls is the perfect option as you do not have to spend unnecessary time driving to and from various waterfalls. The beautiful Nantahala National Forest is the largest of the 4 North Carolina national forests. In Cherokee, Nantahala translates into "land of the noon day sun."
The Trail
This beautiful trail is located in Highlands, a gorgeous small town located within the Nantahala National Forest. The rustic secluded location makes this charming town popular with retirees and second home owners. The area is home to a number of great hiking trails and waterfalls with Glen Falls being the most impressive. This trail is busy, however, not crowded enough to prevent you from enjoying some much needed quality time in nature.
Along the trail, there is plenty of shade and lots of leafy greenery to enjoy. During the fall season, you will be surrounded by a medley of colorful hues. Late spring and early summer is the best time weather-wise to enjoy the gorgeous mild temps. Also, waterfalls in this region tend to be at their most powerful at this time as a result of melting snowfall combined with heavy spring and summer rainfall. Note: if you head out right after a storm, the trail will be muddy and quite slippery.
While the trail is short at just over a mile each way, it's definitely quite a trek with 700 feet in elevation gain. Remember what goes down must come up. If you are not up for a major workout, you could always just go out to one or 2 waterfalls and turn around. Honestly, the first and second waterfalls are much more scenic. Keep in mind that you will be going up and down a number of steep stairs. Also there are many exposed roots along the trail, so good hiking shoes and a stick will come in handy. My only complaint is that a few more trail markings would have been nice.
Three Waterfalls, One Journey
If you can make it out to all 3 waterfalls, definitely do so. Each waterfall is unique in its' beauty. The first waterfall clocks in at around 70 feet. Very photogenic and easy to get great pictures of. The second waterfall stands 60 feet tall and is the most scenic of the three. While the third falls stands a mere 15 feet, it is still framed by gorgeous greenery. If you are short on time or looking to keep it easy, hiking out just to the first (possibly second) waterfall will save your legs some added stress.
In between the various waterfalls, you will enjoy pretty views of the creek, a lovely view of the mountains, and unending views of the lush Nantahala National Forest. A lovely trail for exploring local plant life and bird watching.
Note: do not attempt to climb any waterfalls. Many deaths have occurred! Safely view and photograph from a distance!
Location/Parking
The trailhead is located at: 1091 Glen Falls Road in Highlands. Parking is free, although very limited. It's best to get here early to ensure a spot. On the downside, the dirt road (about a mile long) to get to the trailhead parking is a bit rough and bumpy.
Note there are no drinking water/restroom facilities. Bring with water bottles, snacks, a hiking stick, and a GPS watch. Take a picture of the trail map in case you get lost. The beginning is a bit confusing as there are 2 ways to go – you will want to make a left.
What to do nearby
Highlands is a quaint upscale community with plenty of dining and shopping options. At 4000+ feet, the summer temps rarely hover above the high 70's-mid 80's. After working up a sweat, head downtown. Lots of local shops and restaurants populate the area. If you need a pick me up, Calder's Coffee Cafe is a great place for a pick me up.
Dry Falls – Beautiful 65 foot waterfall located along a simple quarter of a mile trail. One of the few which you can walk underneath.
Bridal Veil Falls – A 45 foot tall roadside waterfall which at one point was the only waterfall you could drive underneath. Today, you can walk underneath the falls. Nevertheless, still a cool sight and conveniently located on the way to Dry Falls.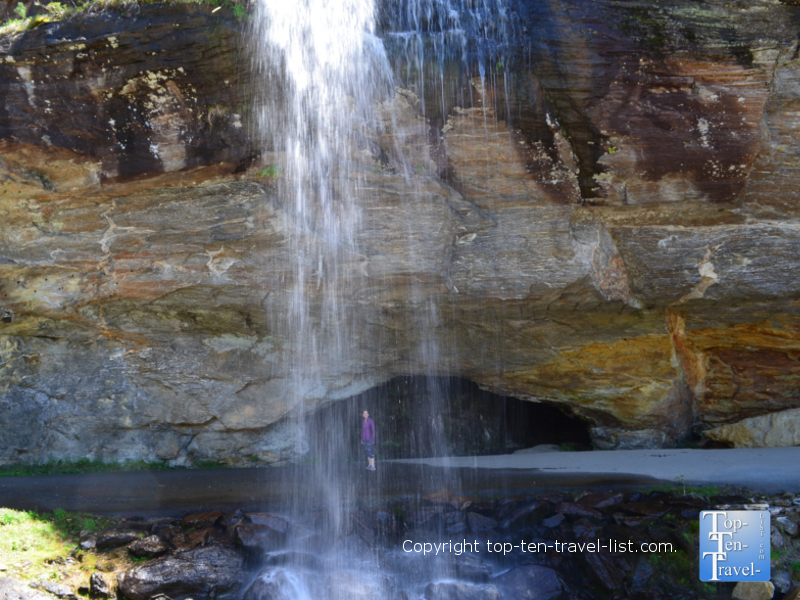 Whiteside Mountain Trail – A gorgeous hike which affords big mountain views. The 2 mile loop is scenic, but rather steep. Definitely save this one for a separate day!