Hiking Hotspot: Three Waterfalls Loop in the Great Smokies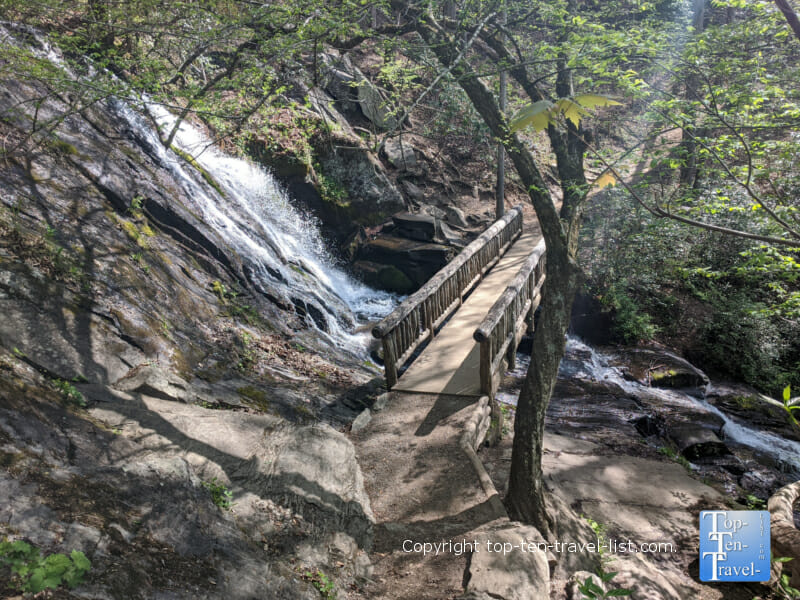 There are many beautiful waterfalls within the Great Smoky Mountains National Park. The park sees over 55 inches of rain per year in the lower altitude areas and up to 85 on some peaks. This translates into lush greenery and powerful waterfalls especially during the rainy late spring/summer months. Some of the most popular falls are located within the touristy Gatlinburg area. If you are seeking something a bit more relaxed, consider planning a day or more in Bryson City, a charming small town on the North Carolina side of the Smokies.
This small city sees way less tourist traffic than Gatlinburg/Pigeon Forge, and thus, is a good choice for anyone who wants to enjoy the great outdoors in a more rustic setting. As the "Outdoor adventure capital of the Great Smokies," outdoor fun is lurking around every corner. The Three Waterfalls Loop hike is definitely one to put on your Smokies bucket list.
Deep Creek Wilderness
This beautiful region of the Great Smoky Mountains National Park is known for its' many waterfalls and streams. The 2.4 mile Three Waterfalls loop and the more intense 4.4 mile Indian Creek-Deep Creek loop bring forth great options for both beginners and avid hikers. Cyclists take note – Deep Creek and Indian Creek are one of the few park trails which permit mountain biking. Besides hiking and biking, camping, fishing, tubing, and picnicking are all quite popular here.
Three Waterfalls Loop
A beautiful moderate 2.5 mile hike will take you to 3 incredible waterfalls. Overall, this is probably the best bang-for-your-buck waterfall hike within Smoky Mountains National Park. In exchange for a short, moderately intense trek, you get to enjoy 3 beautiful waterfalls. The hike is mostly shady with plenty of greenery and great views of the creek along the way. Really, a great way to spend a mild spring, fall, or early summer day.
Juney Whank Falls – This is the first waterfall you will come across. This one is pretty cool as you get to walk across a footbridge to see the falls. The combined upper and lower falls drop an impressive 90 feet. According to the NPS, the falls are named after Mr. Junaluska "Juney" Whank who is said to be buried in the area.
Tom Branch Falls – The second waterfall, 60 foot tall Tom Branch Falls, is the most mesmerizing of the three.
Indian Creek Falls – The third waterfall you will come across is 25 foot tall Indian Creek Falls. While not as tall as the others, the setting is quite spectacular.
Bear safety!
The Great Smokies is home to one of the highest black bear populations in the country. According to the NPS, 1500 bears are estimated to live in the park. This means 2 bears per square mile! Bear sightings are common throughout the park, especially during the early morning hours. Spring and summer are typically the most active months for sightings. Never approach a bear – it's illegal to purposefully approach a bear within 50 feet.
The NPS has some helpful tips on what to do if you see a bear. Please take a look at these bear safety tips before embarking on any hike in the area! You do not want to be caught off guard!
Location/Parking Details
The parking lot is located at: 1090 W Deep Creek Rd, Bryson City, NC 28713. There is no fee to park. As of now, the Smokies remains one of America's only free national parks. However, a parking fee is currently being proposed.
Please take a look at my Bryson City post for recommended restaurants and attractions in the area.