The Best Holiday Events in Western North Carolina
Wintertime is one of the best times to plan your visit to the beautiful Western North Carolina region. By this time, tourist crowds have finally begun to disappear, the temps have cooled down and the air is crisp and dry, hiking trails are more secluded and tranquil, and there are a number of seasonal events to look forward to. This is the perfect time of the year to explore the many charming small towns minus the hefty tourist crowds.
Asheville is a great base as you can explore popular attractions and the foodie scene in town, while also being located within daytrip distance to more charming WNC towns. Hendersonville, Brevard, Waynesville, and Black Mountain are all conveniently located less than an hour away. Each community offers its' own unique lineup of festive events to look forward to.
Below are a few of the more festive affordable events and attractions located throughout Western North Carolina
Lake Julian Festival of Lights
This drive-thru light show in South Asheville is one of the most affordable in the area. While most drive-thru light shows charge upwards of $30 per car, Lake Julian comes in at an affordable 10 bucks. 2021 marked the 21st anniversary of the festive event which includes thousands of lights and unique themed LED displays. A portion of your ticket purchase goes towards supporting Buncombe County Special Olympics. While the drive will take no more than 10-15 minutes, it is a beautiful display and considerably more budget friendly than most other holiday attractions in Asheville.
Forest City Hometown Holidays
Forest City, one of Western North Carolina's oldest cities, has been ranked the top place to see Christmas lights in the region by various publications. This extravagant display often rates as one of the state's best. Every year, Main Street is transformed into a winter wonderland with more than a million lights. Because the lights are located in such a small area, the ending result is truly magical. Festive holiday window displays, a walk through ornament (located just off a side street), weekend carriage rides, and Santa visits are all part of the holiday celebration. Also, there are numerous attractions downtown including local restaurants, shops, a great dive bar (The Twisted Pear), and the Carolina Arcade.
Aluminum Tree Museum at the Transylvania Heritage Museum
Every year, this small museum comes alive with a fantastic retro aluminum Christmas tree exhibit. If you grew up celebrating Christmas with an aluminum tree in the 60's, you will love this quirky little museum. Anyone else who loves kitschy, oddball, and nostalgic attractions should give this free museum a look. As a fun throwback to a bygone era, more than 2 dozen aluminum trees in a variety of themes including Beatles, Barbie, and Elvis are on display. The first aluminum trees debuted in the late 50's, and they continued to be popular for their novelty and space age appeal throughout the 60's. Although their popularity fizzled out (some say thanks to "A Charlie Brown Christmas"), today they are making a comeback.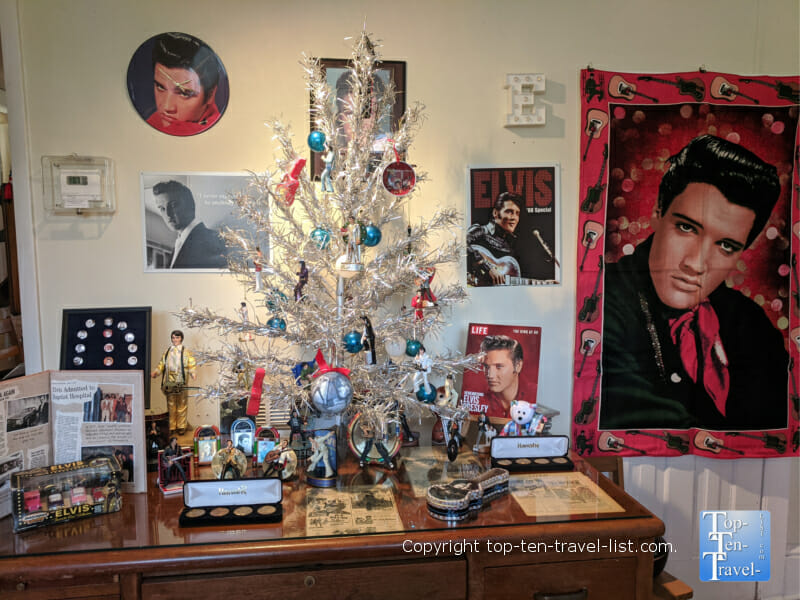 Hendersonville Home for the Holidays
Hendersonville, the 2nd largest city in WNC, puts on a full calendar of festive holiday events. A few of the highlights include the annual Christmas parade, the downtown tree lighting at the historic courthouse, and a peppermint bear scavenger hunt. In addition, thousands of gorgeous lights dazzle on Main Street. Plan for a night stroll to see the pretty lights. Enjoy dinner at a local favorite like Hannah Flannagan's Pub. If visiting for a daytime event, fuel up at Black Bear Coffee company with an authentic NY bagel and a delicious cup of coffee from NC's favorite roaster Counter Culture. Also be sure to check out the variety of antique and boutique shops while you are in town!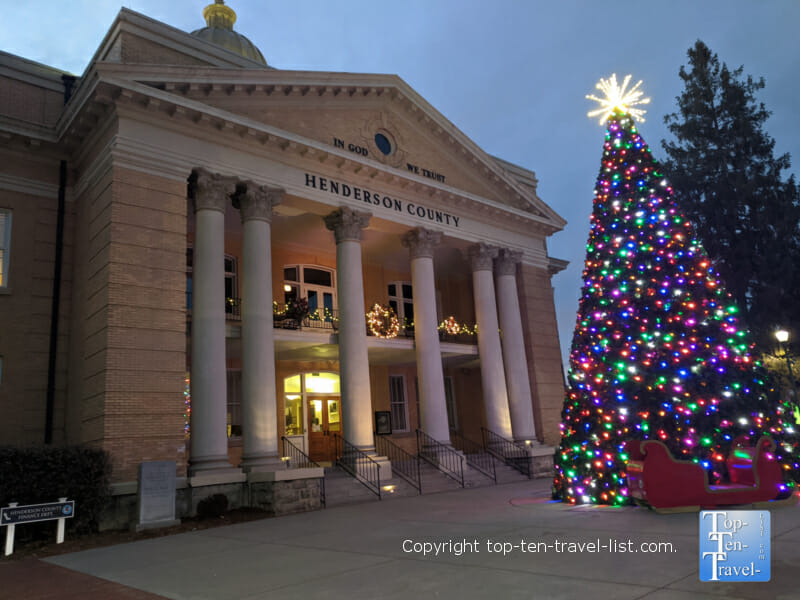 Omni Grove Park Inn National Gingerbread Competition
One of Asheville's premier events is the National Gingerbread Competition held annually at the beautiful Omni Grove Park Inn. First off, this resort looks amazing during the holidays with multiple trees, festive wreaths and garland, and beautiful lights. Winter is a really magical time with the extravagant gingerbread display. 2021 marked the 29th anniversary of this prestigious competition. Creative entries from around the country are on display throughout the property from the end of November through New Year's. Although non guests are free to view the gingerbread masterpieces, there is a $25 parking fee. Plan for a delicious breakfast buffet, shopping, and a salted caramel hot cocoa by the dazzling lobby fireplace to maximize your visit.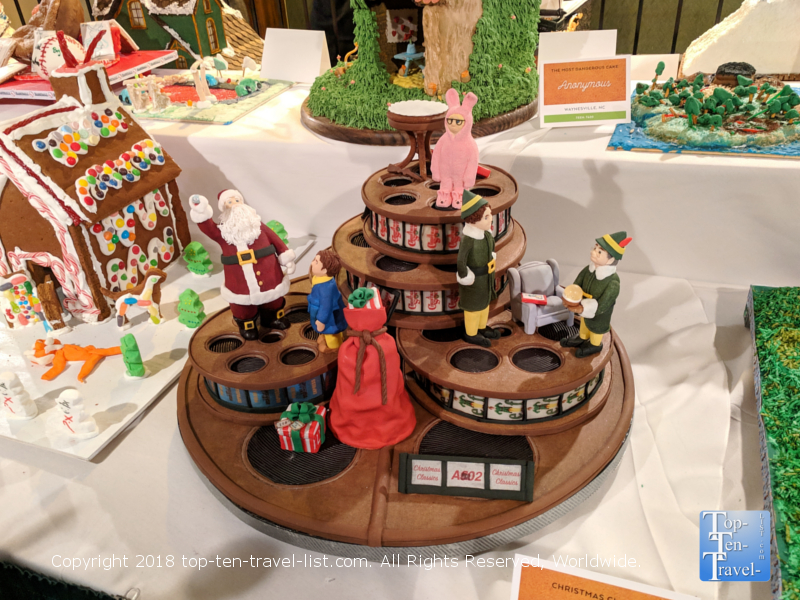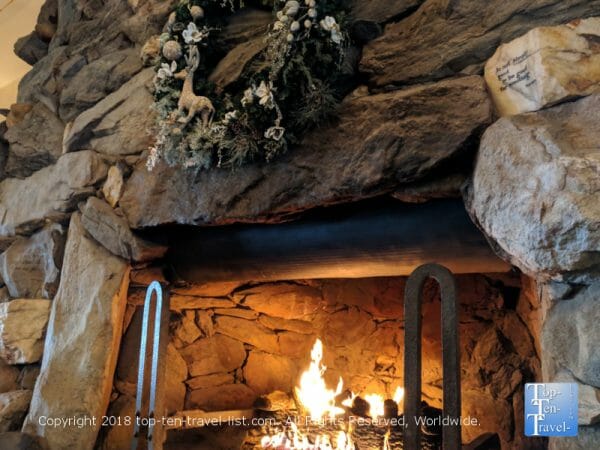 Black Mountain Deck the Trees
Over 40 decorated Christmas trees can be found throughout local businesses in Black Mountain each December. Over 20 of these trees are on display at the the Monte Vista hotel. This festive event is free and sure to put you in the holiday spirit. Also, consider a stroll around downtown Black Mountain. This charming old-fashioned Main Street is home to a number of local restaurants, shops, and a small arts museum. Stop by the Dripolator for an amazing cup of local coffee, enjoy lunch at a local eatery, browse through the Town General Store, and marvel at local galleries and antique shops. After lunch work off those calories with a stroll around beautiful Lake Tomahawk.
The Grove Arcade Winter Wonderland
Although downtown Asheville is not exactly swarming with magnificent light displays, there are a few festive sites to check out. Most notably, The Grove Arcade dazzles with its' annual Winter Wonderland festival. Gorgeous holiday decorations adorn this historic shopping plaza beginning in late Nov. While you are here check out the local shops, sip a glass of champagne in a gorgeous library (Battery Park), and treat yourself to a cup of coffee and authentic New Orleans's style beignets with chocolate dipping sauce at Bebettes. Special events include holiday glass blowing demonstrations, Santa visits, and a tree lighting. While downtown, also admire seasonal displays at Prichard Park and Pack Square.
Dicken's Christmas at Biltmore Village
Take a trip back in time at the renowned "A Dicken's Christmas" festival at Biltmore Village. Biltmore Village, an upscale shopping/dining area (once home to employees of the Biltmore Estate) is a lovely place for an afternoon of shopping and dining. Definitely check out the beautiful ornaments in The Old World Christmas Shoppe and stop for a pastry and coffee at the highly regarded Well Bred Bakery. This is the best time of the year to visit the Village. As you stroll around the beautiful brick sidewalks, you will be serenaded by old-fashioned carolers spreading holiday cheer. A chestnut roaster, jugglers, mimes, and bubble makers are spread throughout the plaza. At night, enjoy the lovely lights and a dazzling 15 foot Christmas tree.
Ice skating at Appalachian Ski Mountain
North Carolina's top ski resort is also home to the state's only rink maintained by a zamboni. This is one of the closest ice rinks to the Asheville region so worth a visit if you can't go without the classic winter past time. A bit pricey at $20+ a session, although the mountain top setting is quite nice. Bonus – there is a cozy bonfire which you can sit by in between skating sessions. Afterwards stop by downtown Boone to check out the local dining and shopping scene. Bonus – you are within an easy drive to many Blue Ridge Parkway hikes and attractions.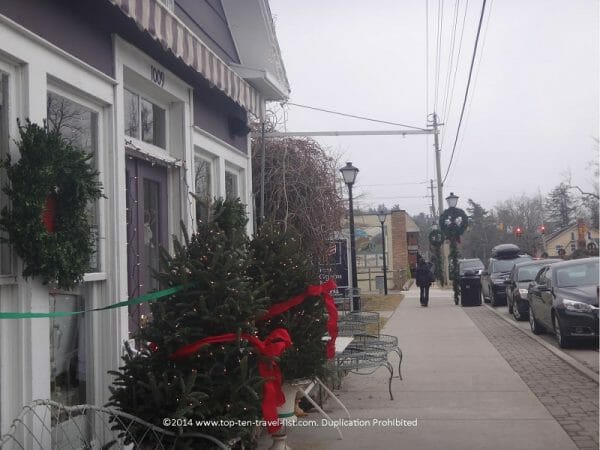 A few festive dining options
Sweeten Creek Coffee – Nice decor, special holiday drinks, great house coffee, quiet ambiance
Black Bear – Rustic themed coffeeshop in downtown Hendersonville. Delicious bagels and coffee from NC roaster Counter Culture. Decorated beautifully for the holidays.
Mellow Mushroom – Popular pizza chain with a hippy-ish vibe. Lots of GF and vegan options, plus a large craft beer menu. Try the pretzel bites! Great holiday decor. Located in downtown Asheville.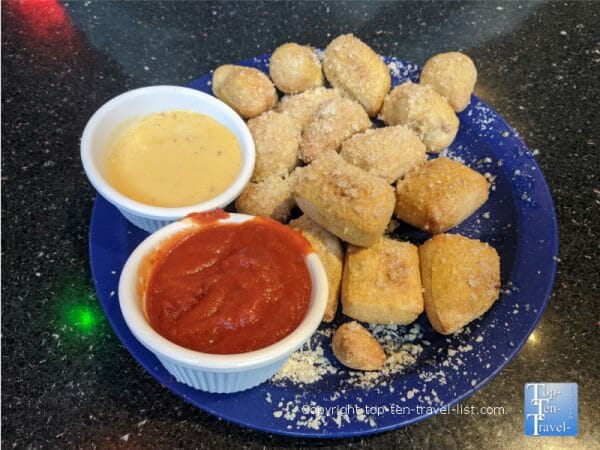 Blue Ridge Buffet – Beautiful dining room featuring floor-to-ceiling windows in the Omni Grove Park Inn. Serves a breakfast buffet 6 days a week, plus a Sunday brunch.