Attraction of the Week: The World's Only Aluminum Tree Museum
A winter visit to beautiful Transylvania County, North Carolina is the perfect time to enjoy quiet winter walks in the tranquil Pisgah National Forest, as well as stroll around charming downtown Brevard. If your visit falls during the holiday season, you will will also have a few festive activities to look forward to. One of these includes the annual Aluminum Tree exhibit at the Transylvania Heritage Museum. This museum is quite unusual as it features a dazzling collection of vintage aluminum trees. Anyone seeking an attraction a bit out of the ordinary should definitely add a visit to this eclectic museum to their itinerary.
History of Aluminum Christmas Trees
Aluminum Christmas trees were all the rage from the late 50's through the late 60's. In 1958, Modern Coatings in Chicago produced the first aluminum tree. The first mass produced aluminum Christmas trees were made in Manitowoc, Wisconsin by the Aluminum Specialty Company. Some jokingly claim that the classic "A Charlie Brown Christmas" ruined the aluminum tree industry. As we all remember, Charlie Brown forgoes the aluminum tree in favor of a barren ("Charlie brown"), yet nonetheless, real Christmas tree. This article details the history of the aluminum tree.
These trees – appropriately called Evergleam trees – were produced for 12 years. They came in various sizes and colors (silver, pink, gold) and typically sold for under 25 bucks. Back then, modern and cool described these trees. Because they looked modern and strange, they were often called "Space Age Christmas trees." Today, they appeal to those seeking out the retro and kitschy.
Everything old becomes new again as they say. In the past few years, aluminum trees have been gaining popularity. Nostalgia combined with an increasing concern for the environment have made these trees popular once again. Amazon, eBay, and yard sales are your best bets for finding a great tree, at a great price.
If you ever find yourself traveling to Wisconsin over the holidays, you will definitely want to add Evergleams on Eigth to your holiday bucket list. This festive old-fashioned event features over 60 sparkling store windows, each decked out with the same vintage trees which first debuted in the city long ago. 2019 marked the 60th anniversary of the introduction of aluminum trees in Manitowoc, WI.
The Aluminum Tree Museum
The Aluminum Tree & Aesthetically Challenged Seasonal Ornament Museum and Research Center is a unique museum located just outside of downtown Brevard. According to the museum website, the idea began in 1991 when a friend gave owner Steven Jackson an aluminum Christmas tree he found in a dump. Jackson threw a party where he asked guests to bring their "most aesthetically challenged" ornaments. By 1998, Jackson owned 7 aluminum trees. Friends continued to find trees at flea markets, as well as some long forgotten in old attics. Eventually, the number of trees necessitated the need for a larger space, hence the birth of the museum. Today, the museum displays over 2 dozen trees.
For anyone who grew up with an aluminum tree, this museum should be a real treat. Visiting this museum will surely bring back nostalgia of Christmas's past. Many people who are environmentalists actually prefer aluminum trees as you can use them year after year. In an area like WNC where there is much beauty to be found all around, this aluminum tree museum fits in perfectly. If you look through old pics online of living rooms with aluminum trees, you have to admit there is a certain classy appeal.
The Collection
While browsing around the museum, you will feel transported back in time. With an Elvis Presley, Barbie, and Beatles tree, you may just feel as if you have taken a time machine back to the 60's. For anyone who grew up during this time period, this should be a blast. The museum is quite small and will not take more than 10 minutes or so to walk through. Below is a brief tour of a few of the most beautiful trees!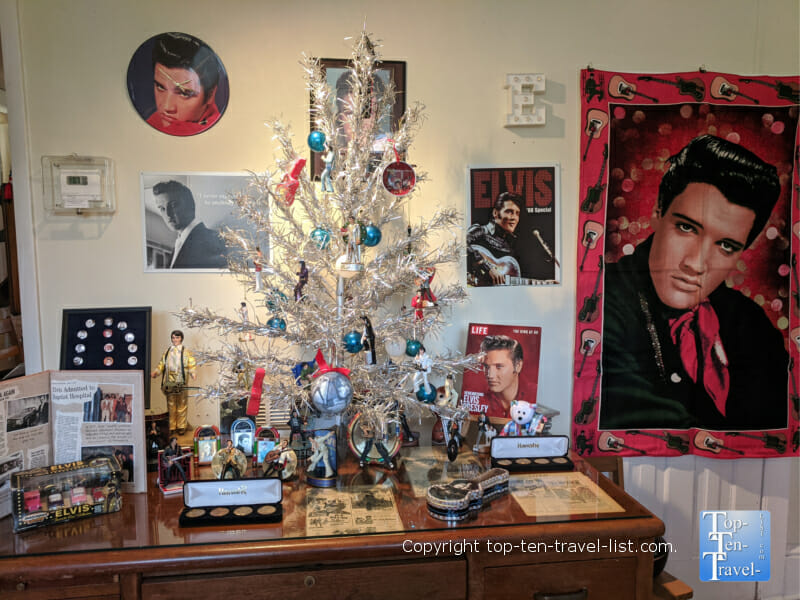 A few fun throwbacks to the past…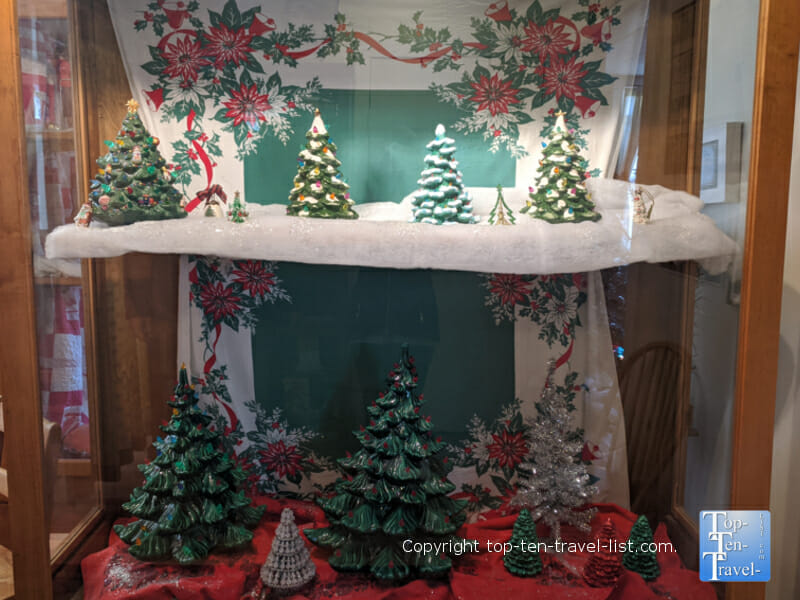 Location and Hours
The museum is located inside the historical Transylvania Heritage Museum located at 189 W. Main Street. The exhibit runs from November until January. Admission and parking are both free. Donations are appreciated. Note – there is a small gift shop featuring crafts and gifts by local artists.
More info on the Aluminum tree museum including dates/times for the current season
More holiday fun in Brevard
Heart of the Season – Annual Main Street event (taking place before Thanksgiving) to kick off the holiday season. Various galleries and restaurants offer special deals.
Holiday window decorating competition – Local businesses compete for awards. Vote for your favorite during the Light up the Night Holiday Stroll.
Downtown Holiday Stroll – This festive night of events includes the annual tree lighting, live music, food trucks, and voting for best storefront window. In addition, many stores and restaurants are open later than usual.