10 Things to do Over the Holiday Season in Asheville, North Carolina
Between the country's largest gingerbread competition and the renowned holiday celebration at the historic Biltmore Estate, Asheville has become a popular holiday destination in recent years. Add in a small chance of an early winter storm, a lineup of festive events, and a multitude of winter recreational opportunities nearby, and it's really no surprise that more & more people continue to flock to Asheville to celebrate the holiday season in the beautiful Blue Ridge mountains.
Below are 10 festive ways to get into the Christmas spirit this holiday season in Asheville.
1. View the incredible winning gingerbread creations at the Omni Grove Park Inn
2022 marks the 30th anniversary of the extravagant National Gingerbread Competition at the Omni Grove Park Inn. The annual holiday extravaganza continues to wow guests who travel far and wide to view the exquisite handcrafted pieces which are 100% edible and 100% creative. You may have seen typical gingerbread displays before, however, few can compete with the shear creativity of the gingerbread pieces featured in this beloved annual tradition.
Hundreds of talented artists from across the country compete for the prestigious title. 2018's winner created a unique rendition of Santa's workshop. Every creation really is extraordinary to say the least. The judging process is fierce with both creativity and construction taken into consideration. The prestigious judging panel this year includes top pastry chefs from shows like Top Chef.
The marvelous winning creation from 2018.
This event runs the entire month of December. Guests not staying at the resort can opt to view the various entries on select days. A $25 parking fee is in place, although the fee is quite worth it. If you enjoy other on-site activities like brunch in the gorgeous Blue Ridge Artisanal Buffet dining room, the fee will offer more bang-for-your-buck. This gorgeous dining room features floor-to-ceiling windows looking out over the serene Blue Ridge mountains. Hands down, it is the most scenic restaurant in all of Western North Carolina.
More information on the National Gingerbread competition
2. Enjoy the Downtown Holiday Lights display
Although not quite as impressive as the big city Christmas light displays, Asheville continues to add more color to the streets of downtown with each passing year. New for 2018, the city has put up several decorations from the well-regarded Winter Lights display at the North Carolina Arboretum.
Plan for an evening strolling around downtown. Grab a hot cocoa (treat yourself to a drink at French Broad Chocolate Lounge) or coffee from one of the great local roasters (High Five is amazing), shop for unique Christmas gifts at the Mast General Store or Woolworth Art Walk (home to 100+ vendors), enjoy the lovely lights, and cap the night off with a great dinner at any of Asheville's well-regarded foodie establishments.
A few great dining choices include: Tupelo Honey (creative Southern style entrees & a nice ambiance) Laughing Seed (tasty vegetarian food ), Blue Dream Curry House (excellent UK style curries), Jerusalem Garden Cafe (delicious Mediterranean fare) or Red Ginger (Best Chinese food in the area). If you prefer to avoid the hefty downtown crowds, opt for a quiet dinner at Vinnie's – Asheville's best Italian restaurant.
A full list of holiday events in Asheville
3. Stroll around Biltmore Village
Bitmore Village, a quaint historic shopping and dining area located just a few miles outside of downtown Asheville, is a great place to spend a few hours. Beautiful decor and lights adorn all the buildings. And thus, the ambiance is perfect for holiday shopping. Mark your calendars for the annual Dickens Christmas Celebration, featuring old-fashioned Victorian carolers, live entertainment, and a special craft market.
A few highlights in the Village include Andaaz (the best Indian food in town), Well Bred (an award-winning bakery), the Olde World Christmas Shop (gorgeous Christmas ornaments and decor), and Village Antiques.
4. Visit the Grove Arcade's Winter Wonderland festival
The Grove Arcade is an upscale local dining and shopping complex housed in a historical building built in 1929. The Grove is known as an architectural jewel with its' stunning ornate sculptures. During the holiday season, The Grove transforms into a Winter Wonderland with beautiful holiday decorations and ongoing festive events including visits from Santa Claus.
While you are here, there are a number of local boutiques to check out. If you want to relax for a bit, head over to the Battery Park Book Exchange, where you can scout out some new literary treasures while enjoying a cup of coffee or glass of champagne. Note: multiple signs informing customers not to read books before purchasing is a bit over-the-top, however, it's still a nice place to enjoy a drink in a cozy atmosphere.
5. Treat yourself to a liquid truffle at French Broad Chocolate Lounge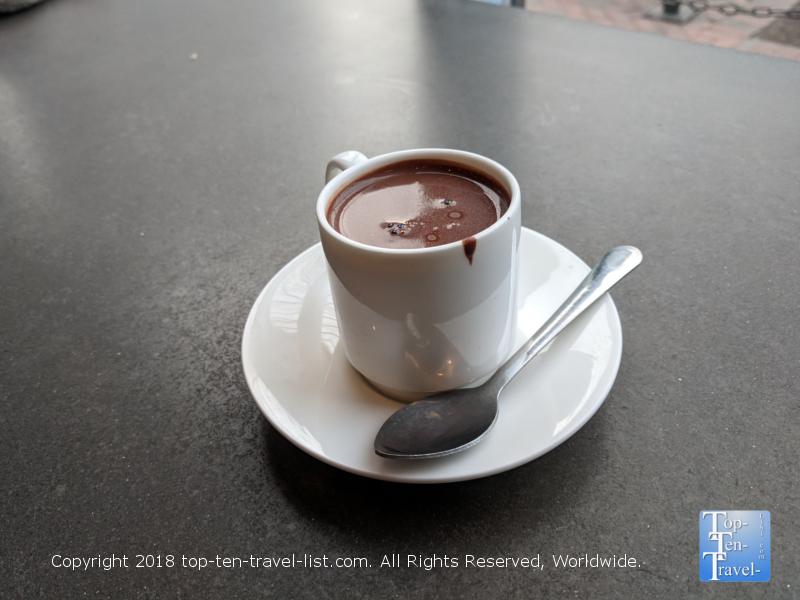 It's not rare to see an eager line standing outside the door to enjoy a delicious handcrafted specialty cocoa at French Broad. Really, nothing is more comforting on a cold winter's day that a relaxing mug of hot chocolate. Both traditional and European style drinking chocolate in various flavors, including salted caramel, dark chocolate, and vegan Buddha, are available. They also serve delicious desserts and creamy gelato.
So,after a few hours exploring downtown Asheville, take a break, give your feet a much needed rest, and enjoy winter's classic treat. For a real indulgence, cocoa lovers must try out one of the liquid truffles – it's like a shot of pure chocolate – the most indulgent treat in town. Grab a seat by the window, watch all the action downtown, and savor your chocolaty drink. Note: Be forewarned – service is very bad and leaves much room for improvement.
6. Treat yourself to a wonderful breakfast at the Blue Ridge Artisanal Buffet
The best breakfast experience in Asheville is found at the luxurious Blue Ridge Artisanal Buffet at the Omni Grove Park Inn. Although quite pricey, it's definitely worth the splurge for the diverse food assortment and amazing vistas of the Blue Ridge mountains.
The breakfast buffet is the best value at just $28 per person. The buffet features all your standard fare, along with a made-to-order omelet station, a delicious chia pudding bar, an oatmeal bar, fresh squeezed juices, and a doughnut bar.
Afterwards, enjoy a coffee by the gorgeous stone fireplace in the lobby. Check out the resort shops, enjoy the holiday decorations, and check out the winning gingerbread masterpieces.
Blue Ridge buffet menu and dining times
7. Enjoy a serene winter walk to a waterfall
Winter is a fantastic time to explore all the beautiful waterfalls and trails of Western North Carolina. As this region is home to more than 200 waterfalls and 100's of miles of trails within the Pisgah National Forest, there really is no end to the available recreational opportunities. As crowds begin to taper off this time of the year, the trails are much more peaceful. Also, parking is much less of a hassle.
A few breathtaking options within an easy drive of Asheville include Catawba Falls (a stunning 100 ft waterfall just a half hour away), Tom's Creeks Falls (an underrated 2 tiered waterfall about an hr from the city), and the Triple Falls trailhead (a 2.5 mile long hike to 3 incredible water falls located just an hr away). These options are all perfect for the winter season. Bonus – all 3 are pretty easy to get to as they are not located on the Blue Ridge Parkway. Be aware that the Parkway often closes down in the case of heavy snow and/or ice. It's best to check the closures page before you head out.
The best easy waterfall hikes near Asheville
8. Pick out your Christmas tree the old-fashioned way
Skip the run to Home Depot and instead opt for a scenic ride out to a local farm. Enjoy the fresh country air and the nostalgic trip down memory lane as you search for the perfect Christmas tree at a real working farm.
There are several Christmas tree farms within an easy drive of Asheville, although the trees tend to sell out really fast in this area so you must plan ahead. If you are looking for a more rustic experience, check out a Choose N Cut Farm like Boyd Mountain in the charming small town of Waynesville.
If you are looking to keep it simple, Smoky Mountain Christmas Tree Farm (also in Waynesville) is a nice choice as well. The half hour drive is so rustic and beautiful, and the farm itself quite beautiful with the Blue Ride mountains comprising the backdrop. And, if you want to keep the driving to a bare minimum, stop by the Western North Carolina Farmer's Market. Pick up some fresh local produce after choosing the perfect tree!
9. Take a walk around the North Carolina Arboretum
The North Carolina Arboretum is one of the top visited and most beloved attractions in Asheville. With a variety of maintained trails, it's a great place to work off extra holiday calories. The 2 mile Nature/Carolina Mountain trail loop is a great place to start. In addition, a festive Winter Lights celebration is held nightly from mid November until New Year's. Admission to the gardens are free, although there is a $16 parking fee.
A free alternative is the Botanical Gardens of Asheville. This beauty is located right in town and it's completely free to visit! The Asheville Botanical Gardens is a non-profit whose mission is preserving plants native to the Southern Appalachian region. The gardens are peaceful most of the year with little in the way of tourist crowds. On a cold day, you might even find yourself alone. There is an on-site gift shop specializing in local goods.
The ambiance here is so peaceful – this place is a great escape from the city cluster for an hour or so. The gardens look beautiful any time of the year, particularly during the peak of fall and after a snowstorm.
Other nice parks with decent sized walking/jogging paths include French Broad River Park and Fletcher Village Park.
10. Relax at one of Asheville's independent coffee shops
Coffee and cold wintry weather go hand in hand. A rich hot cup of coffee just doesn't taste the same on a warm summer's day. The winter season in Asheville is the perfect time to check out one of the local roasters. Asheville is well known for its' happening coffee scene and there are diverse options across town.
Enjoy your drink inside a unique double decker bus at Double D's. At Malaprops, you can enjoy treats and locally roasted coffee while browsing endless rows of books. Enjoy the best bagels in town and homemade cream cheese at High Five. For the most relaxed setting, consider visiting Izzy's, located just outside of downtown in a cozy old house.
Check out my full list of best coffeehouses downtown