8 Must-dos in Naples, Florida
Naples is one of the most gorgeous vacation destinations on Florida's Gulf Coast. The beaches are gorgeous, the city is gorgeous, the preserves are gorgeous. There's lot to do here here including high end dining and shopping, wildlife watching and bird watching, smooth sugar sand beaches, art galleries, and golf. Average winter highs hover in the mid-upper 70's, and thus, this is the perfect time of the year to enjoy the outdoors. A popular snowbird destination due to the mild winter climate, Naples offers no shortage of recreational activities.
Most notably, Naples is just a short drive away from the Everglades. Boat rides are available at the Gulf Visitor Center (located about an hour away), and tram tours are available at the Shark Valley Center (located about an hour and a half away). The Everglades is a great day trip for any nature lovers, photographers, and birders. For those who prefer to keep the driving to a minimum, no need to fret as there are plenty of interesting attractions around Naples and vicinity.
Here are 8 must dos on your first visit to Naples
1. Take a beach stroll at Delnor Wiggins
One of the top beaches on your must-see list should be Delnor Wiggins State Park. Not only is this beach one of the most beautiful, but it is also a shelling and bird watching hotspot. Take a long stroll along the soft powdery fine sand or opt to take up your activity a knotch via a stand up paddleboarding or kayaking excursion (rentals available). Despite the popularity, you can enjoy a little bit of peace and quiet as soon as you venture further away from the access point.
This beach offers numerous amenities to justify the $6 fee including BBQ pits, food stands, watersport rentals, water rinsing stations, clean restrooms, a short boardwalk trail, and picnicking areas. Delnor is known as one of the best beaches for swimming (due to the clean clear warm waters) and ample wildlife sightings (dolphins sighting are not rare).
Full list of amenities at Delnor Wiggins
2. Observe gopher tortoises at The Naples Preserve
This small free preserve features a short 0.3 mile boardwalk trail through pine flatwoods and oak-rosemary scrub. This is the best place in the area to see lots of gopher tortoises. I saw 5 within an easy 15 minute walk. Overall, a great place to get in an easy walk and soak in some Vitamin D on a mild winter day.
This preserve will not take up much time, so it can easily be incorporated into any itinerary. Nearby attractions to consider include the Naples Zoo (right next door), and Lowdermilk Park – one of the top rated beaches on the SW coast.
3. Dinner at Mediterrano
Naples's top rated place to dine, Mediterrano, is an iconic restaurant known both for its' upscale Mediterranean cuisine and lovely patio. So many great dishes here from the coastal Mediterranean regions of Spain, Italy, Greece, and Morocco. Start your meal with the Flaming Cheese Saganaki or delicious Tzatziki, both served with warm pita bread.
This restaurant is the best choice in town for vegans as they offer many delicious options, from vegan paella to spinach pasta with artichokes. The best choice, however, is the Vegetarian Delight dish which includes baked tomato stuffed with couscous, dolmeh, sautéed vegetables, and hummus. . So delicious!
The restaurant's lush patio has led to Mediterrano's ranking as one of the "100 best al fresco dining restaurants in America." The ambiance here really cannot be topped. The gorgeous colorful flowers hanging from the ceiling truly are beautiful. It's such a pretty setting for a date or celebratory occasion. Outdoor seating is available on a first come, first served basis. Reservations are recommended, especially during the busy winter months.
See the full Mediterrano menu
4. Brunch at EJ's Bayshore Cafe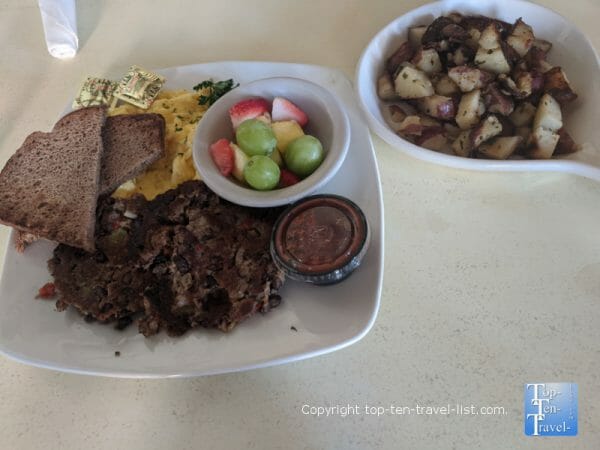 EJ's is the best choice for a delicious and laid-back weekend brunch experience. The restaurant is located in the beautiful Bayfront Shops plaza, a colorful area near the waterfront with lots of palms and fountains. The breezy patio is the perfect choice on a mild winter day. Their breakfast menu is quite creative with lots of interesting choices including Banana and Apple Cinnamon Stuffed French Toast, Chunky Monkey Waffles, Tofu Scramble, and various skillets and benedicts.
The Black Bean cakes entrée served with eggs, fruit, and toast is a nice hearty choice. This eclectic dish is different, yet a totally delicious choice for a filling breakfast. Espresso drinks, Colombian coffee, as well as mimosas, and champagne are available.
See the full EJ's brunch menu
5. Stroll the Naples Pier
A sunset walk along the Naples Pier is an absolute must while you are in town. The city's most iconic sight was built in 1889. Today, the historic pier is known as the best sunset destination in the city, as well as one of the best anywhere on Florida's Gulf coast.
An early morning visit is also a must. You really need to visit both day and night to take advantage of the mesmerizing beauty. Get out there are dawn to watch the surfers and dolphins. And do take a long walk on the super soft sand. This is the smoothest I've stepped foot on at on at any Gulf beach. Other amenities include volleyball courts, a concession stand, and fishing.
6. Visit the Corkscrew Swamp Sanctuary
The Audubon Corkscrew Swamp Sanctuary is a protected wetlands area featuring a 2.5 mile long boardwalk trail. As Corkscrew is one of the most popular tourist attractions in SW Florida, online reservations are required. The admission price is quite steep at $17 per person, especially as wildlife sightings have become less frequent in recent years. Regardless, it's a beautiful walk through nature if you don't mind shelling out a bit.
During your visit you will wind through many native landscapes including pine flatwood, marsh, and the largest old growth cypress forest in Florida. During our visit, we saw about 5 alligators (including 2 baby), gopher tortoises, lots of lizards, and several wading birds. Not as many as we were expecting, but altogether a nice day out in a tranquil & beautiful protected area. For those who prefer not to spend so much for a day in nature, there area number of free parks in Naples including Freedom Park.
Learn more about the Corkscrew sanctuary
7. Shopping & dining on Third Street South
This trendy shopping and dining area is located just 2 blocks from the pier. And thus, it's a great stop before enjoying a colorful Naples sunset. Take a walk around and enjoy the colorful buildings and beautiful mansions of Old Naples. The ambiance is wonderful with fountains, lush landscaping, and palms everywhere.
Lots of fantastic restaurants with alfresco dining, boutique shops, and art galleries will keep you busy. A true "see and be seen area," Third Street is a great choice for anyone looking to get dressed up, enjoy good food and drinks, socialize, and enjoy a hot night out on the town.
Check out the full Third Street South Directory to plan your visit
8. Savor an espresso at Tony's off 3rd
This upscale bakery is the perfect place to treat yourself to a morning espresso drink and pastry. Just looking at the pastry display counter makes you feel as if you have gained weight. Treat yourself to a chocolate croissant or cinnamon roll, both totally delicious and worth every calorie. Tony's also serves a full coffee menu. The Americano is smooth and delicious although the house coffee is a bit dark for my taste.
The best part of all is the beautiful patio which features a relaxing fountain. The morning is really the best time to visit as Third Street is not nearly as busy. Enjoy this super quiet time of the day as you savor a great espresso and delicious homebaked pastry. One one disappointing note, they only serve drinks in paper cups.