15 Amazing Daytrips within an hour of Asheville, NC
Asheville is a popular destination for foodies, beer connoisseurs, art lovers, and history buffs. Known as the "San Francisco of the East," the city is often praised for its' thriving art galleries and international culinary scene. Most tourists spend the majority of their time taking in the flavor of the lively downtown which is home to many independent restaurants, coffeehouses, and galleries. However, the most impressive sights lie beyond the city limits. The enchanting Blue Ridge mountains provide a stunning backdrop for any type of outdoor adventure. An easy daytrip beyond the touristy downtown will lead you to some of the state's most impressive natural wonders. Take a look at my most recommended daytrips from Asheville.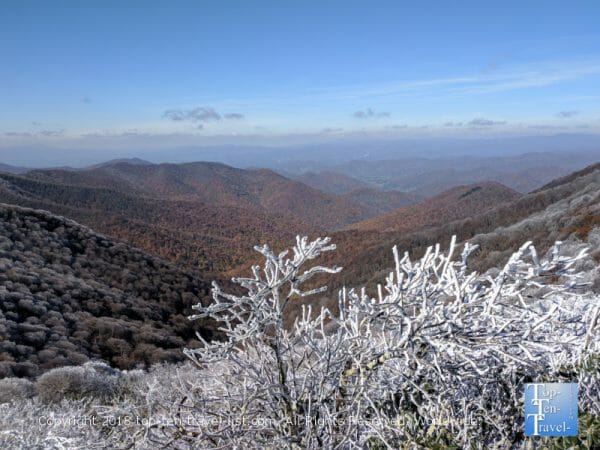 Below are a few spectacular daytrips, all easily accessible within a 2 hour drive.
1. Chimney Rock State Park
Distance from Asheville: 55 min
Highlights: Panoramic vistas of the Hickory Nut Gorge, 404 foot tall Hickory Nut Falls
Things to do: Hiking nearby: Shopping & dining in Chimney Rock Village, Bubba O'Leary's General Store
Where to eat: Coffee on the Rocks (great pastries/coffee), Medina's (homemade soup/sandwiches/salads)
The stunning 535 year old monolith known as Chimney Rock is easily one of WNC's most impressive sights. Tourists have been making the trek here for decades to enjoy the fabulous mountain scenery, the breathtaking waterfall, and the beautiful hiking trails. The heart pounding 499 step climb is quite a feat, although so worth it for the panoramic views throughout, especially via the majestic overlooks. For anyone unable to make the climb, there is an elevator (44 steps still required).
Equally impressive is a 1.5 mile hiking trail which leads to Hickory Nut Falls, a powerful 404 foot waterfall wonder which stands tall as the state's 2nd highest. You may remember seeing this beauty in The Last of the Mohicans.
Right outside the park lies Chimney Rock Village, a rustic shopping and dining area. Stop by Coffee on the Rocks to fuel up with a cup of joe and oatmeal before your exhausting stair climb. Lots of attractions to explore in the Village post hike, including cafes, tourist shops, old time photos, and an old fashioned general shop. Just a short drive away lies another of the region's most picturesque areas – beautiful Lake Lure (more on this gem later).
At just under an hour drive, you really cannot afford to miss out on one of Western North Carolina's top natural wonders.
2. Triple Falls Trail
Distance from Asheville: 50 min
Highlights: 3 incredible waterfalls via one hike, gorgeous fall foliage, access to a covered bridge, movie filming location
Things to do: Hiking, picnicking nearby: explore more waterfalls (Bridal Veils, Wintergreen, Four waterfalls trail), stroll downtown Brevard
Where to eat: Mayberry's (great soups & sandwiches in downtown Brevard)
With over 200 waterfalls to choose amongst in Transylvania County, it's tough to pick just which beauty to explore, especially if you are on a time constraint. One of the best hikes is the Triple Falls trail in beautiful Dupont State Forest. In return for a simple 2.2 mile hike, you will get to see 3 wonderful waterfalls including two 125 foot tall powerhouses. Movie fans take note – the base of Triple Falls was featured in The Hunger Games.
Triple Falls is just one of many natural wonders in "The Land of Waterfalls," an apt nickname for Transylvania County. Although crowded most of the year, the tourist traffic begins to thin out as soon as you begin your trek through the woods. If possible, time this one during the prime of autumn to enjoy the dazzling colorful foliage. And do take the short .2 mile detour to the photo worthy Dupont's covered bridge.
While you are in the vicinity, consider stopping by downtown Brevard to enjoy the quaint Main Street offerings. Antique shops, cafes, coffee shops, and galleries dot the charming district.
3. The Blue Ridge Parkway
Distance from Asheville: There are several entrances in the city. Plan your trip route via the Blue Ridge Parkway map
Highlights: Scenic overlooks, museums, hiking trails, waterfalls, amazing fall foliage
Things to do: Pisgah section scenic drive (MP 339-469), hiking, wildlife watching, North Carolina Arboretum, Crabtree Falls hike, Graveyard Fields hike, Richard Balsam hike (highest point on the Parkway)
Where to eat: Biscuit Head (awesome biscuits/self service jam bar/gravy flights)
Besides being regarded as one of America's prettiest drives, The Blue Ridge Parkway offers a number of fascinating attractions. From waterfalls and state parks, to historic landmarks, as well as leaf peeping and wildlife watching opportunities, this drive is your pathway to outdoor adventure in the gorgeous Blue Ridge region.
Points of Interest
NC Arboretum (Milepost 393) – Home to 434 acres of gardens, plus 10 miles of hiking and biking trails
Folk Art Center (Milepost 382) – Shop for unique handcrafted art pieces, browse galleries, and view historic exhibits
Linville Falls (Milepost 316) – The most impressive waterfall on the Blue Ridge Parkway, accessible via a moderate 1.5 mile hike
The Biltmore (Milepost 384) – Take a tour of America's largest home, the 18,000 acre estate built by George Vanderbilt in the late 1800's
Richard Balsam – The highest point on the Parkway at an elevation of 6053 feet. Hike a 1.5 mile pine lined trail to the summit. At 6410 feet, this peak comes in as the 10th highest east of the Mississippi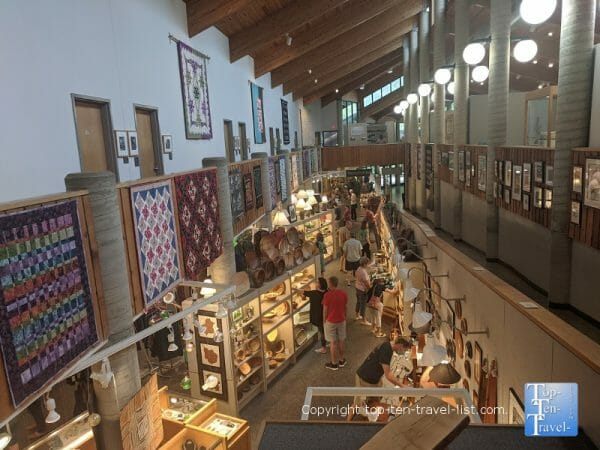 4. Greenville, South Carolina
Distance from Asheville: 1 hour
Highlights: Charming Main Street, great foodie scene, plentiful outdoor recreation
Things to do: Stroll around Main Street and Falls Park, Visit the Greenville Museum of Art, Bike the Swamp Rabbit Trail, Hike Paris Mountain State Park, Shop the TD Saturday's Market
Where to eat: Swamp Rabbit Cafe (premier coffee & a great patio), Handi Indian Buffet (best Indian food in the region), Greektowne Grill (tasty pitas and Greek salad)
Greenville is the perfect daytrip destination for anyone who wants to enjoy a little bit of recreation and a little bit of urban life. This quaint city features one of the best small downtowns in the South. The tree-lined oasis is loaded with unique shops, restaurants, and cafes. The acclaimed Falls Park features a waterfall, gardens, a pedestrian bridge, and quiet walking paths. Check out this full guide to exploring Greenville.
A few must-dos in the area
Swamp Rabbit trail -A beautiful tree-lined 14 mile long paved biking path which transverses through the downtown.
Museum of Art – Small, yet impressive collection with ongoing special exhibits. Free admission!
Swamp Rabbit Cafe – Awesome local coop and bakery featuring organic fair trade coffee and homemade sweets.
Shoeless Joe Jackson museum – Tour the home of a baseball legend- a must for fans of America's pastime!
5. Lake Lure
Distance from Asheville: 45 min
Highlights: Incredible scenery, Dirty Dancing filming location, annual Dirty Dancing festival
Things to do: Lake Lure boat cruise, Explore the Dirty Dancing museum, See the Lake Lure Flowering bridge nearby: Hike Chimney Rock
Where to eat: La Strada (excellent local Italian), Legends on the Lake (scenic view)
Lake Lure is a breathtaking destination for nature lovers, photographers, and movie buffs (a few scenes from 80's classic Dirty Dancing were shot here). Once you will arrive, you will see why National Geographic ranked it as "one of the 15 most beautiful lakes in the world." A leisurely narrated boat ride will take you around the lake, while your tour guide points out sights of interest including the stairs that Baby (Jennifer Grey) practiced her dance moves on. Lake Lure is hands down one of the most scenic places in the entire Blue Ridge area.
A few mesmerizing vistas from the cruise
6. Hendersonville
Distance from Asheville: 45 min
Highlights: Charming downtown, easy access to the outdoors, multiple vineyards & breweries
Things to do: Alfresco dining on Main Street, Bearfootin' Public Art Walk (summer/fall), Farmers & Artisan's Market (Sat May-Oct) nearby: Jump Off Rock overlook, Bear Wallow trail, Elijah gem mining
Where to eat: Joey D's (NY style bagels), Mountain Deli (homemade soups/sandwiches)
This quaint mountain town is located just 22 miles south of Asheville, yet offers a host of its' own amenities. In addition to an old fashioned Main Street district, you will find multiple orchards (it's known as the "Apple Capital of North Carolina"), vineyards, antique shops, and a popular gem mine. Access to numerous gorgeous waterfalls and hiking trails is another bonus for outdoor lovers. Be sure to stroll Main Street during the fall or summer season as 20 unique painted bears take over the streets!
A few must-dos in the region
Grandad's Apples – U pick or we pick apples, tasty apple cider donuts/cider/pie, great fall festival
Appalachian Pinball Museum – Play pinball to your heart's content for just $12. Cool place with a retro 80's theme
Bear Wallow Mountain trail – Beautiful easy/mod hike which features wide-open mountain vistas
Jump Off Rock – Scenic mountain lookout, 3 easy hiking trails on-site, relaxing non-touristy vibe
7. Looking Glass Falls/Moore Cove Falls
Distance from Asheville: 50 min
Highlight: 2 easily accessible waterfalls (one roadside) within close proximity
Things to do nearby: Skinny dip falls (popular summer swimming hole), Sliding Rock (hike to a natural waterslide)
Where to eat: Flat Rock Village Bakery (great pastries, great patio)
The most mesmerizing, easily accessible waterfall in close proximity to Asheville is Looking Glass Falls. Viewing this marvel of nature requires no hiking, and therefore, it's a great choice for anyone looking to keep it easy. The nickname comes from Looking Glass rock which takes on a mirror-like appearance in the winter as water freezes and reflects the sunlight. While the fall's height is a mere 60 feet, this is a powerful and motivating sight to behold.
Nearby (just 1 mile north in fact) lies the Moore Cove Falls trail in the beautiful Pisgah National Forest. While the falls are jut 50 feet (not much more than a trickle), what sets this one apart is that you can stand directly behind it. The trail itself is scenic and peaceful, and easy enough for most due to the short distance. In an area with more popular waterfalls, this one tends to be overlooked. Thus, the vibe is more rustic – a real treat in this day and age!
8. Catawba Falls
Distance from Asheville: 30 min
Highlights: Pretty fall foliage, shady with dense greenery, unique multi layered waterfall
Things to do: Hiking, leaf peeping nearby: explore Black Mountain Village (shops, restaurants, galleries)
Where to eat: Tupelo Honey (Southern style breakfast)
It's no surprise that Catawba is one of the more popular daytrips near Asheville. This spectacular waterfall is close to town, sees amazing fall foliage, and most importantly, is relatively easy to hike to. Featuring multiple cascades with a total height around 100 feet, Catawba is amongst the most mesmerizing in Western North Carolina. The trek through the forest is tranquil despite the oftentimes heavy foot traffic. Simply, a beautiful place to get lost in nature and enjoy rustic surroundings.
The hike is moderate due to several steep sections, and therefore, a perfect trail choice for anyone seeking to get in a good heart pumping workout. Time your visit during the peak of fall as this trail sees some of the most dazzling foliage in Western North Carolina.
9. Gorges State Park
Distance from Asheville: 1 hour
Highlights: Huge visitor's center, several trails ranging from easy-strenuous, 2 beautiful waterfalls
Things to do: Hike Bearwallow Falls (short, steep hike to a small waterfall), Rainbow Falls (moderate hike to an incredible waterfall), mountain biking (Auger Hole trail) nearby: Upper Whitewater Falls (tallest NC waterfall)
Where to eat: Fletcher Bakery Cafe (local bakery/homemade pastries) in nearby Arden
Gorges State Park is a wonderful destination whether you are a nature lover or an avid hiker. There are a range of trails here for every type of hiker. One notable hike here is the Bearwallow Falls trail, a short but steep 1/2 mile trek to a scenic overlook. The second is Rainbow Falls, a super popular, yet moderately difficult 1.5 mile out-and-back trek to a dazzling waterfall. Anyone up for a true hiking experience in the wilderness will surely appreciate this rustic trail. As a bonus, you can continue on another quarter of a mile (very steep!) to another waterfall beauty, Turtleback Falls.
While you are in the vicinity, you will want to make the 10 minute drive over to Upper Whitewater Falls. This spectacular 411 foot waterfall is the tallest in the state. Fortunately, it is easily viewable via a simple quarter of a mile walk on a paved path. Definitely a true beauty worth visiting while you are in the region. The lower falls (400 feet) can be accessed on the SC side although the trek is more arduous at 2 miles each way.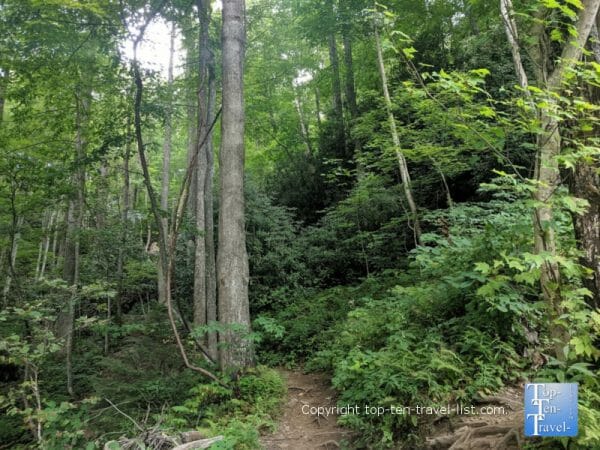 10. Mount Mitchell State Park/Craggy Gardens
Distance from Asheville: 1 hour
Highlights: The highest point east of the Mississippi, home to rare plants and wildlife, beautiful drive along the Parkway from Asheville
Things to do: Hike the Balsam Nature Trail, Enjoy mountain views via the scenic overlook, picnicking. nearby: Craggy Gardens overlook, Craggy Pinnacle trail
Where to eat: All Day Darling (local Asheville coffeehouse serving great pastries and a full breakfast menu -try the Shashuka)
Mount Mitchell State Park is easily one of the most impressive stops along the Blue Ridge Parkway. First off, the park claims the distinction of being home to the highest peak east of the Mississippi. Mt. Mitchell stands 6684 feet tall, coming in ahead of Mount Craig (NC) and Clingman's Dome (TN). Second, the high altitude means you will encounter plants and wildlife you will not see anywhere else in the state. Fresh Fraser Firs and many species of birds commonly found in northern climates are found here. Enjoy a leisurely stroll amongst the green pines via the Balsam Nature trail, an enjoyable 0.75 mile trek featuring the highest spring in the East.
A scenic overlook provides a bird's eye view of the mountains. Visit the park in late spring to enjoy a crowd free experience, or take your chances during the busy, but extremely scenic fall season.
Mount Mitchell is located 2.5 miles from Milepost 355 along the Parkway. Just 10 minutes away lies Craggy Gardens (Milepost 364), a super popular Parkway destination overlooking the mountains. Tourists come from all over to see the colorful rhododendrons that bloom in early summer.
11. Black Mountain
Distance from Asheville: 20 min
Highlights: Small town mountain vibe, easy access to natural wonders, thriving art scene, local shops and restaurants, multiple breweries
Things to do: Walk around Lake Tamahawk, Explore the Black Mountain Center for the Arts, Visit Black Mountain Cider nearby: Tom's Creek waterfall, Roaring Fork trail
Where to eat: Dripolator (great coffee in a cozy setting), Veranda Cafe (delicious homemade soups)
Black Mountain is a small charming mountain community located just 15 miles from Asheville. Recently, it was named one of the best small towns by Southern Living magazine. Most tourists head to the downtown which is lined with unique shops and restaurants. Stop by the Dripolator for a cup of delicious coffee in a unique setting. Then, check out a few of the local shops. The Town Hardware and General Store is a fun blast to the past. Also, there are a number of souvenir shops, galleries, and a wonderful little gem called Europa which specializes in authentic European gifts. For lunch, definitely stop by the Veranda Cafe for a bowl of potato soup and a pimento cheese sandwich.
In terms of outdoor recreation, there's no shortage of interesting places to visit. Do take a walk around beautiful Lake Tamahawk Lake. The half mile path follows the lake and features beautiful mountain views. If you are up for a bigger adventure, consider checking out one of the region's gorgeous hikes or waterfalls. There are 2 great trails in close proximity: Roaring Fork and Tom's Creek. Both hikes are relatively easy in terms of intensity, secluded, and feature gorgeous waterfalls in rustic settings.
12. Brevard
Distance from Asheville: 30 min
Highlights: Charming downtown with locals shops, coffeehouses, and galleries, quick access to the wonderful Pisgah National Forest, close proximity to beautiful waterfalls
Things to do: Looking Glass Falls, Moore Cove Falls hike, Crystal Mountain Gem mine, Transylvania Farmer's Market (Sat year-round), Brevard Brewing
Where to eat: Quotations Coffee Cafe (great coffee, historic vibe), Sully's Steamers (unique steamed bagels)
Brevard is the gateway to the "Land of Waterfalls." Transylvania County is home to over 200 waterfalls. Thus, there is no shortage of outdoor adventures to be had. First off, you will want to stop by charming downtown Brevard to fuel up prior to your hike. Stop by Sully's for a unique steamed bagel sandwich. The Green Vegas is the winner here. If you need a caffeine boost, stop by Quotations for an amazing cup of coffee from NC based roaster Counter Culture. Their drinks are fantastic, the shop is spacious and nicely decorated, and they also have a wonderful patio. Check out the various shops lining the old fashioned downtown. Stop by Mayberry's for a bowl of soup or fresh sandwich.
The beautiful Pisgah National Forest is home to endless hiking trails. Must-do hikes include the Moore Cove Falls trail (a small 50 foot waterfall that you can walk beneath), Courthouse (a rustic secluded trails which leads to an amazing waterfall), and the Pink Beds trail (5 mile loop through dense greenery). If you are not up for a hiking adventure, plan a stop at Looking Glass Falls, a powerful 60 foot tall roadside wonder.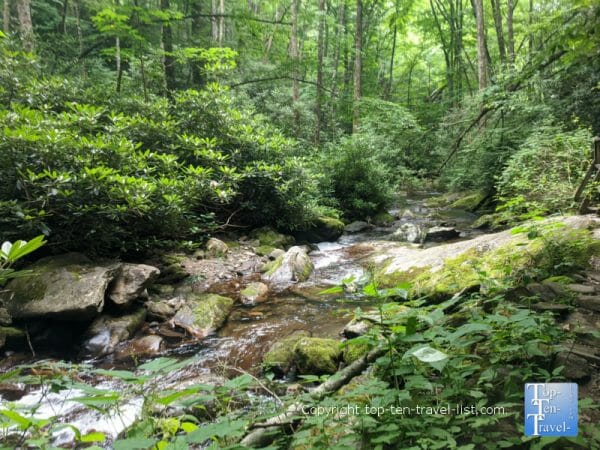 13. Smoky Mountains National Park/Cherokee
Distance from Asheville: 1 hour 10 min (Cherokee entrance), 2 hours (Gatlinburg entrance)
Highlights: America's most visited national park, huge black bear population, quick access to restaurants and attractions, beautiful waterfalls, abundance of easy hiking trails
Things to do: Laurel Falls trail, Clingman's Dome overlook, Roaring Fork scenic drive, Walk across Skybridge, Ober Gatlinburg tram ride
Where to eat: Pancake Pantry (best breakfast in town), Taste of Italy (authentic Italian), The Old Mill Restaurant (rustic charm, big servings)
The beautiful Smoky Mountains is America's most visited national park with over 12 million tourists in 2020 alone. While the park sees heavy traffic year-round and can get overcrowded, it's a fun vacation destination as there is plenty to do around the region. If you love wildlife, this park is one of your best bets for seeing a black bear (The Smokie's is home to one of the largest black bear populations). The closest park entrance to Asheville is the Oconaluftee entrance near Cherokee. While in the vicinity, you can also enjoy amenities in Cherokee including a beautiful roadside waterfall (Soco Falls), a short hike to one of the state's tallest waterfalls (Mingo Falls), Harrah's Casino, and the Museum of the Cherokee Indian.
Gatlinburg
If you are willing to drive a bit further, the Gatlinburg/Pigeon Forge area is home to numerous touristy attractions, live shows, museums, wineries, and endless gift shops. The Sugarland's Visitor Center is in this region and it's a wonderful place to begin your Smokie's journey. Ten minutes away lies one of the most gorgeous trails in the area – a 1.3 mile paved trek to 80 foot Laurel Falls. Another must-do is the 5 mile long Roaring Fork Motor Nature Trail scenic drive, home to historic attractions and hikes including the very popular Grotto Falls waterfall.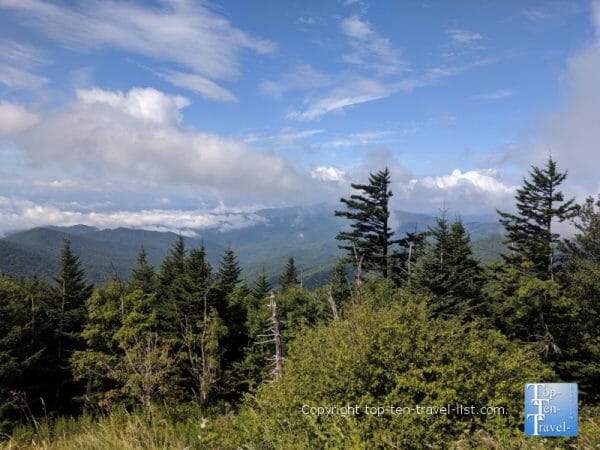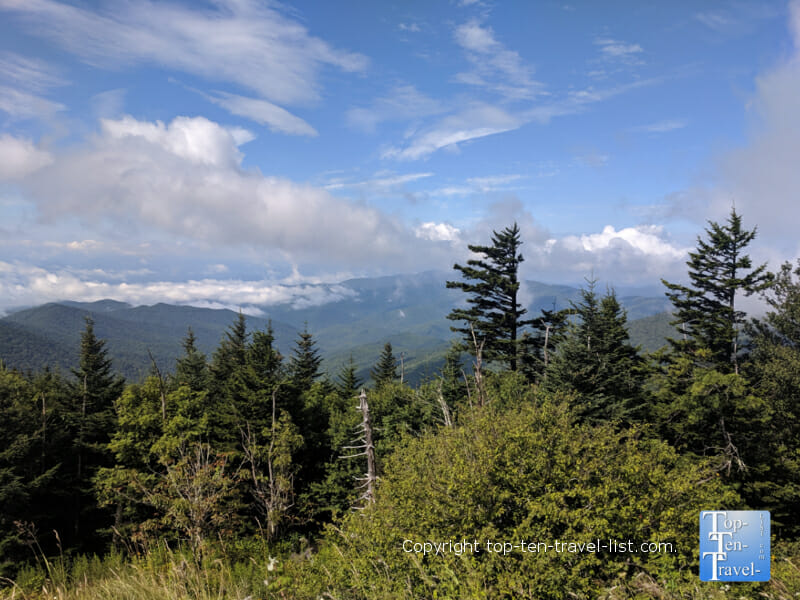 For more fun things to do in Gatlinburg, check out this helpful guide.
14. Boone/Blowing Rock
Distance from Asheville: 1.5-2 hours
Highlights: Rustic ambiance, peaceful, access to beautiful hikes, charming downtown
Things to do: Gem mining, Hike the Flat Top Mountain trail, Explore downtown Boone, Hike to Linville Falls, Drive the Blue Ridge Parkway, Check out The Blowing Rock, Hike the Glen Burney trail
Where to eat: Coyote Kitchen (great local Mexican), Mellow Mushroom (fun ambiance & apps)
Boone & Blowing Rock are both small charming mountain towns located in close proximity to numerous natural wonders and hiking trails. Despite being home to a mere 1000 people, Blowing Rock offers a number of enticing attractions. The Blowing Rock, an ancient 4000 foot cliff, is the oldest tourist attraction in the state. From here, you can enjoy a bird's eye view of the Blue Ridge mountains. Other popular attractions include the Tweetsie Railroad and Julian Price Park. If your visit falls during the winter months, you will want to check out Appalachia Ski Mountain – one of the South's biggest ski resorts. Also on-site is a nice ice rink.
Boone is another quaint town with a number of its' own amenities. First off, the downtown is quite charming and home to a number of local restaurants and shops. In addition to several breweries (try Appalachian Mountain), there's a gem mine (Foggy Mountain), a mini golf course, and various hiking trails.
It's best to combine a trip to Boone and/or Blowing Rock with area attractions like the Blue Ridge Parkway or Grandfather Mountain for a full day out.
15. Grandfather Mountain
Distance from Asheville: 1 hour, 40 min
Highlight: Mile high swinging bridge, fabulous views of the mountains, 12+ miles of beautiful hiking trails
Things to do: Walk the country's highest suspension bridge, Explore the Nature Museum and wildlife habitats, Hike the Nuwati and Black Rock trails
Where to eat: Pack a picnic
One of WNC's most beloved attractions is Grandfather Mountain located just minutes away from the beautiful Blue Ridge Parkway. For anyone who desires more of a commercialized outdoors/mountain experience rather than a rough and tough hike, Grandfather is a perfect option. There are numerous attractions here including hikes ranging from easy to advanced, wildlife habitats, a nature museum, a scenic drive, and picnicking facilities. Getting out there on the trails is a must to immerse yourself in the beautiful natural surroundings. The mountain provides habitat for over 200 bird species – take a walk on the Black Rock trail to see species native to the high elevation ecosystem.
Another highlight here (and the most popular tourist draw) is the Mile High Swinging Bridge. The 228 foot long bridge is located a mile (5280ft) above sea level, making it the highest suspension foot bridge in America. The panoramic views of the mountains from this high up really cannot be beat. Wintertime guarantees less traffic and better photo opportunities. At 5946 feet, Grandfather comes in as the tallest peak on the eastern escarpment of the Blue Ridge. Hiking the Grandfather Trail to Calloway Peak is quite the adventure, although suited only for the most experienced of hikers.